Beyond the 2nd Food Banking Summit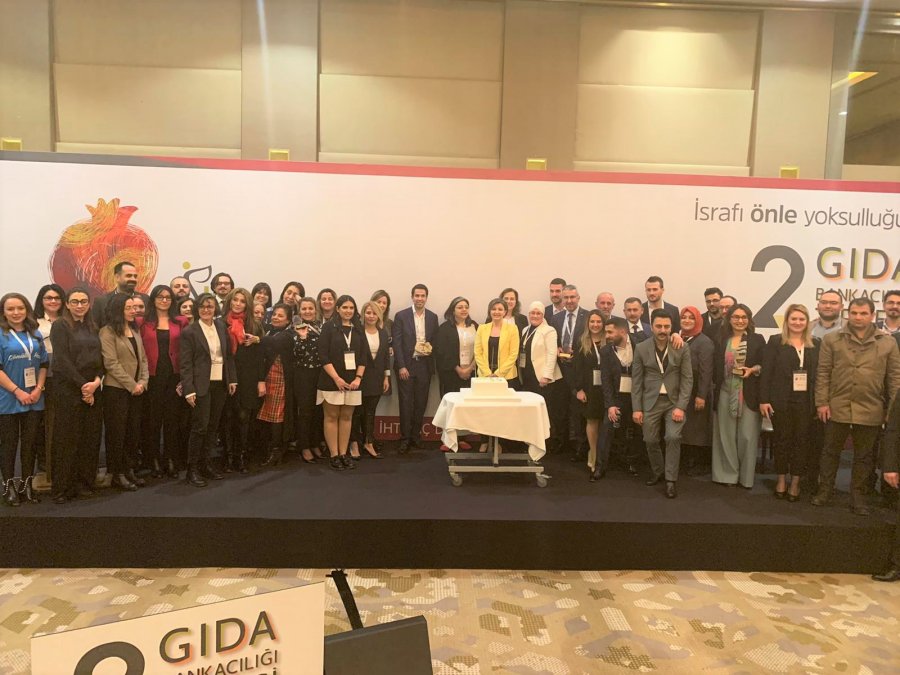 We ran the second Food Banking Summit, the first of which we organized last year, on February 20. I shared the happiness with you previously about getting all the stakeholders together for the first time for the 1st Food Banking Summit in Turkia. In this article, I will convey the 2nd Food Banking Summit, which was held with full content.
I would like to share the link to my article about the first event we organized last year primarily for those interested in the subject: https://www.serhansuzer.com/en/turkiyenin-ilk-gida-bankaciligi-zirvesi-ile-muhtesem-baslangic
A very comprehensive program in terms of food banking was prepared at the 2nd Food Banking Summit. I would like to thank our chairman of the board, Hande Tibuk, and all our professionals, especially our General Manager Ms. Nil, for her devoted work. Here is the comprehensive program that I mentioned: http://www.gidabankaciligizirvesi.org/tur/program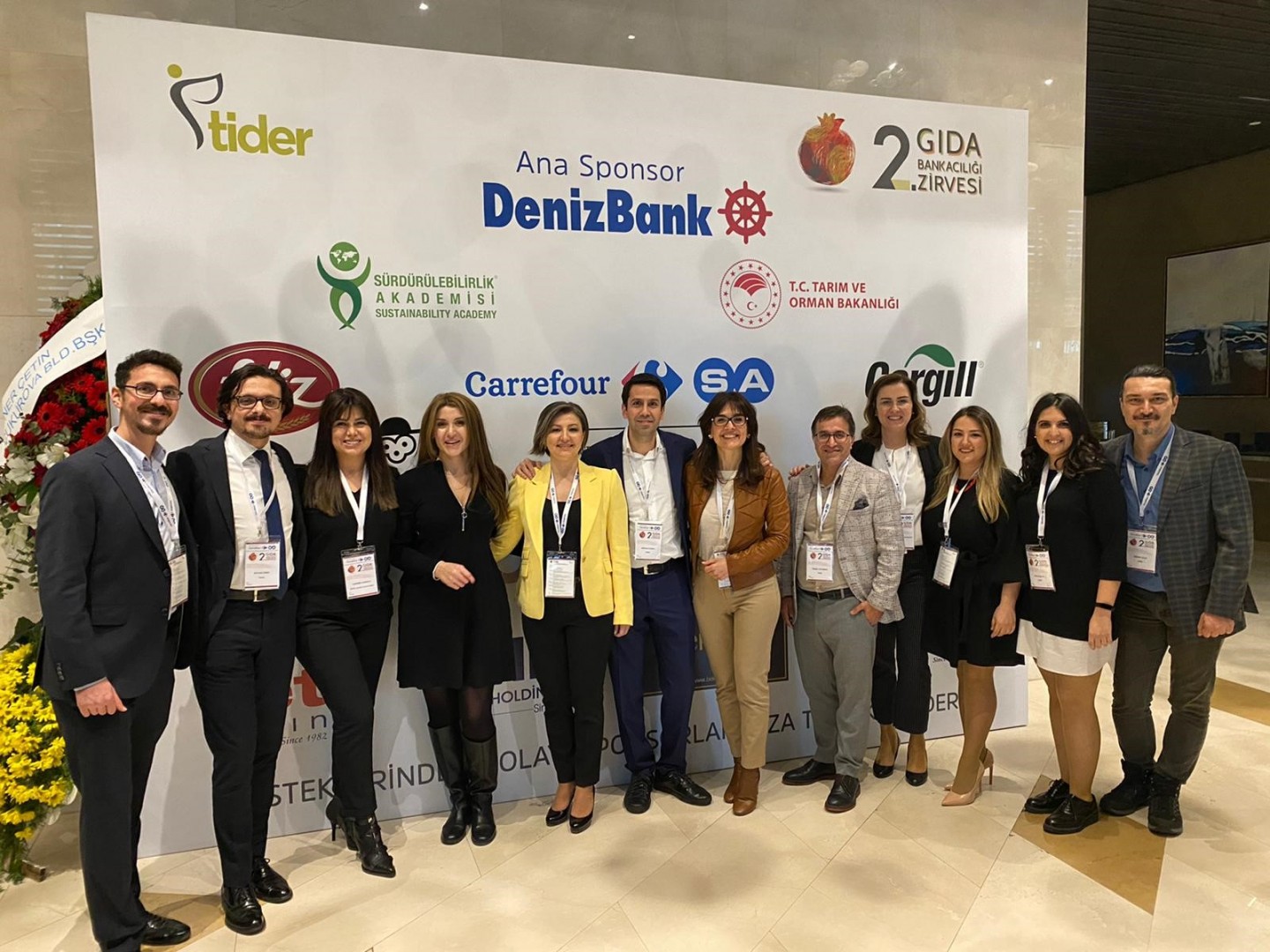 The 2nd Food Banking Summit started in such a cheerful environment.
The Sustainability Academy President Mr Murat Sungur Bursa took the stage first in the opening session of the program. He talked about the Sustainability Academy, which has accomplished important works in this field and talked about its relationship with TIDER and explained the relationship between sustainability and food banking.
TIDER's history and innovation award
Then I took the floor. I referred to the brief history of Tider, and mentioned that as the umbrella organization of food banking in Turkia, it conducts its role under certain standards in the effort to carry out its role as a civil society correctly and works together with other NGOs signing onto important projects in collaboration. I underlined that the NGO Disaster Coordination Platform, of which TIDER is one of the founders, has accomplished very important works in Elazig.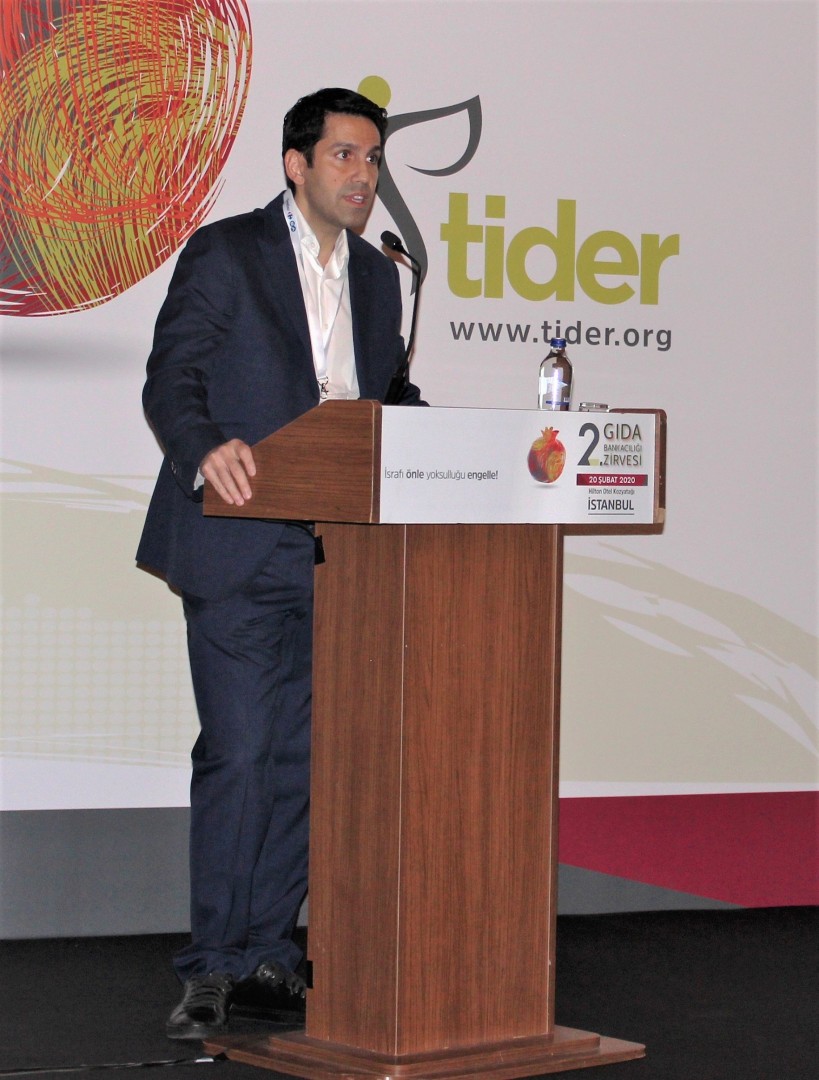 After me, our chairman of the board, Hande Tibuk, took the floor. Hande also summarized the Food Banking Summit in a sincere manner and said "welcome" to the participants.
In the opening session, the last speech was made by the Chairman of the TBMM Petition Committee, M. Belma Satır. She also explained how the Petition Commission started this business, how she crossed paths with us, what they did for food banking and the report they issued at the end. While she was speaking, I remembered when she visited me at our headquarters in Maltepe and directed this question to me "So tell me Serhan Süzer, what is food banking?". Then, thanks to her, she had organised for two public administrators to attend the FBLI (Food Banking Leadership Institute) event organized in Houston in 2017, where all food banking organizations around the world participated. At that event, we won the first innovation award among 8 finalists. It was a great honor for us, it was also great success in terms of Turkish NGOs. I hope that from now on, Miss Belma, as a member of parliament who has accumulated serious 'know-how' in food banking, distinguishes NGOs that do this business in line with her spirit, that is, to really benefit society, and to seperate fraudsters who pretend to be an NGO and try to make money.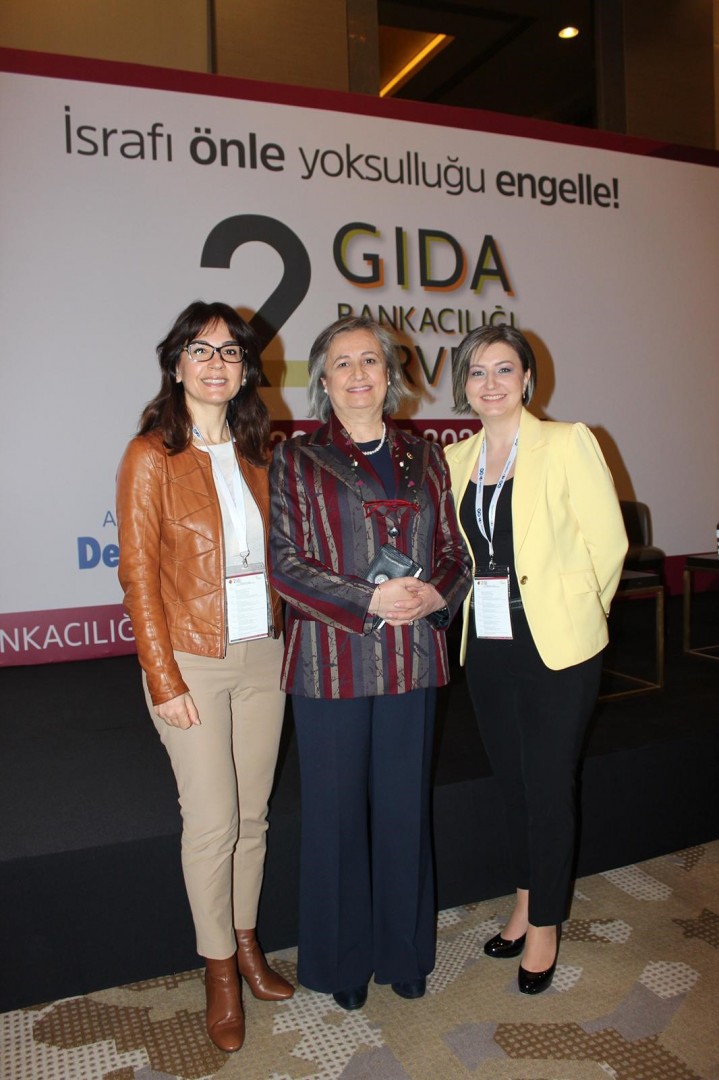 from left to right: Dilara Koçak, our MP Belma Satır and TIDER chairman Hande Tibuk
Experts from around the world
Afterwards, we witnessed the most prominent part of the day. "How is food banking done all over the world?" titled session commenced with the moderator of the "Global Food Banking Network" who came all the way from Chicago, Miss Gabriela Reno
Gabriela moderates the first panel of the day ...
Those who joined this panel remotely were Lindsay Boswell, Managing Director of Fareshare (England), Nichol Ng, Managing Director of the Singapore Food Bank, and Natascha Hinsch, Managing Director of Red Argentina (Argentine Food Bank).
Although there were some technical problems at the beginning of this meeting, which was made live over Skype, it was recovered after a while and continued without any interruption. They gave us valuable information about food banking.
The 'Corona' question attracted the most attention
After their speeches, I asked each speaker about their topics. The most interesting question of the day was when I asked the Singapore Food Bank Manager Nichol about the Corona virus, which was on our agenda. I asked him how the Corona virus outbreak affected Singapore and his own food banking operations. He answered my question as follows:
"This is a serious crisis. It affected the whole country, and its regions. It is even spreading around the world now. We all work from home, and we do not go out unless we have to. All markets and places that sell basic necessities have always been empty. Everyone is stocking it at home and, if possible, not going out. Of course, in such an environment, we may have difficulties in food banking operations that require manpower. Professionals relatively have to fulfil their duties, but we have difficulties especially in finding volunteers."

Many important topics
After asking one more question to all participants, Gabriella gave her thanks and ended the session. Then, our esteemed speakers expressed very important issues throughout the day. The topics discussed were; Development of Food Banking in Turkia, the Prevention of Food Waste, Recycling and Recycling Systems in Turkia, Waste Perception and Awareness in Turkia, NGO Solidarity and finally the panel which I moderated, "Capacity Building of Food Banking in Turkia made under the Project Study and Panel titled "Opinions of Institutions Participating in the TIDER Network". Here are some shots taken from these panels that I would like to share with you: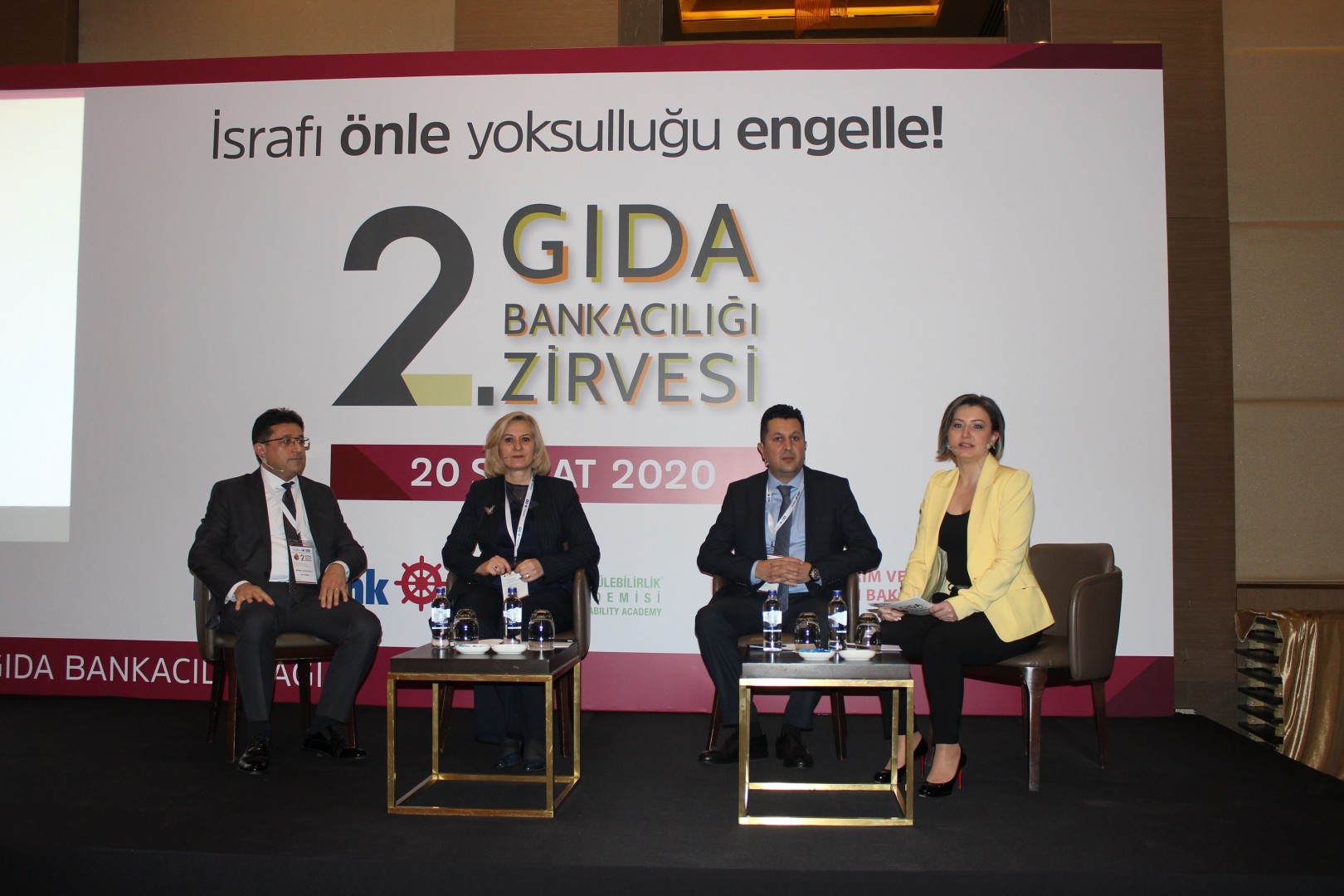 On the panel moderated by Hande Tibuk called "Development of Food Banking in Turkia", this is a photo taken of the T.C. Deputy General Director of the Ministry of Agriculture and Forestry, General Directorate of European Union and Foreign Relations, Ahmet Volkan GUNGOREN, T.C. Ministry of Environment and Urbanization, Zero Waste Inventory and Education Branch Manager Hulya Cakır and Turkia FAO, Senior Program Support Specialist, Mehmet TARAKCIOGLU.
These are some photos taken from the other important panels: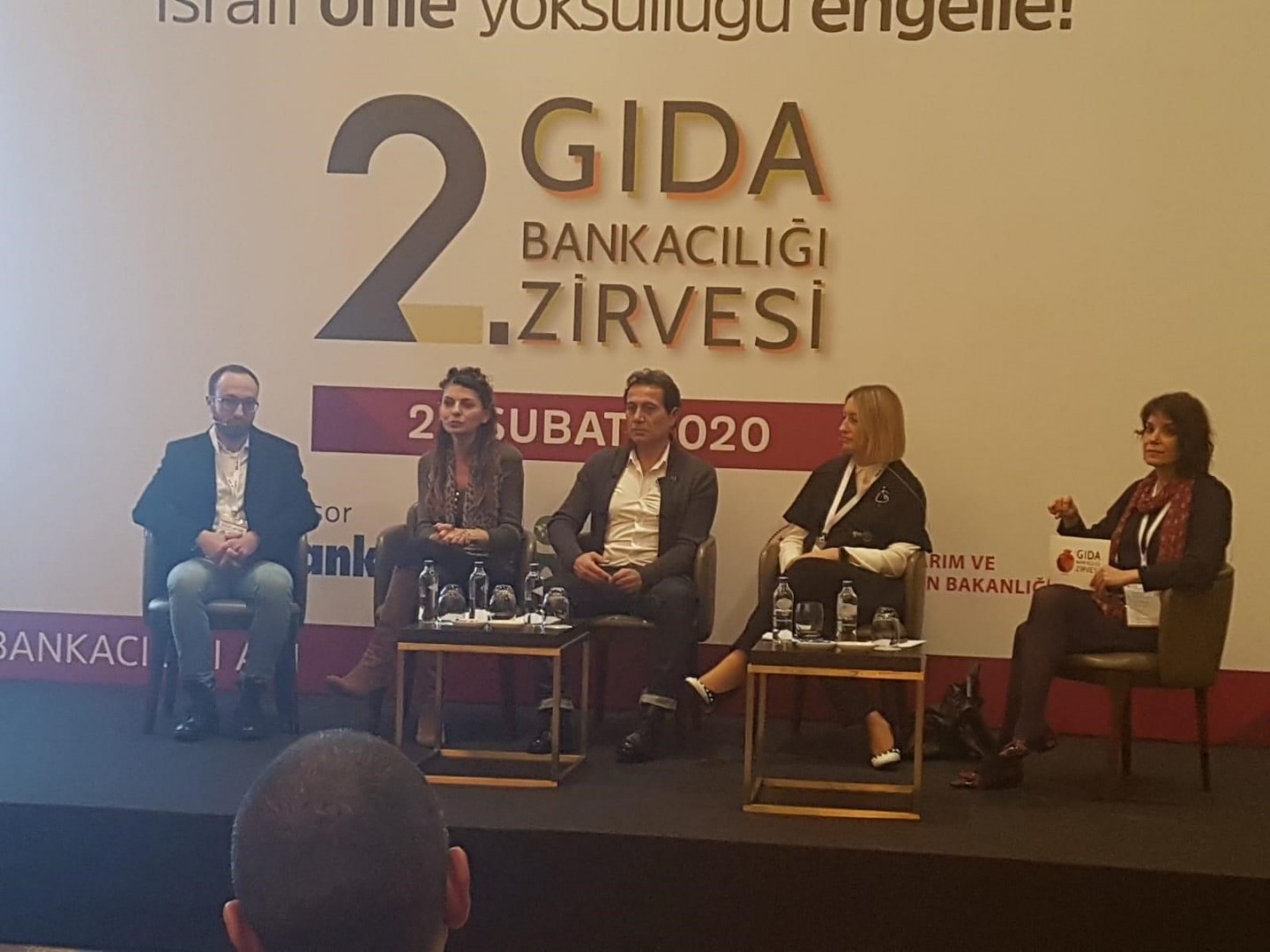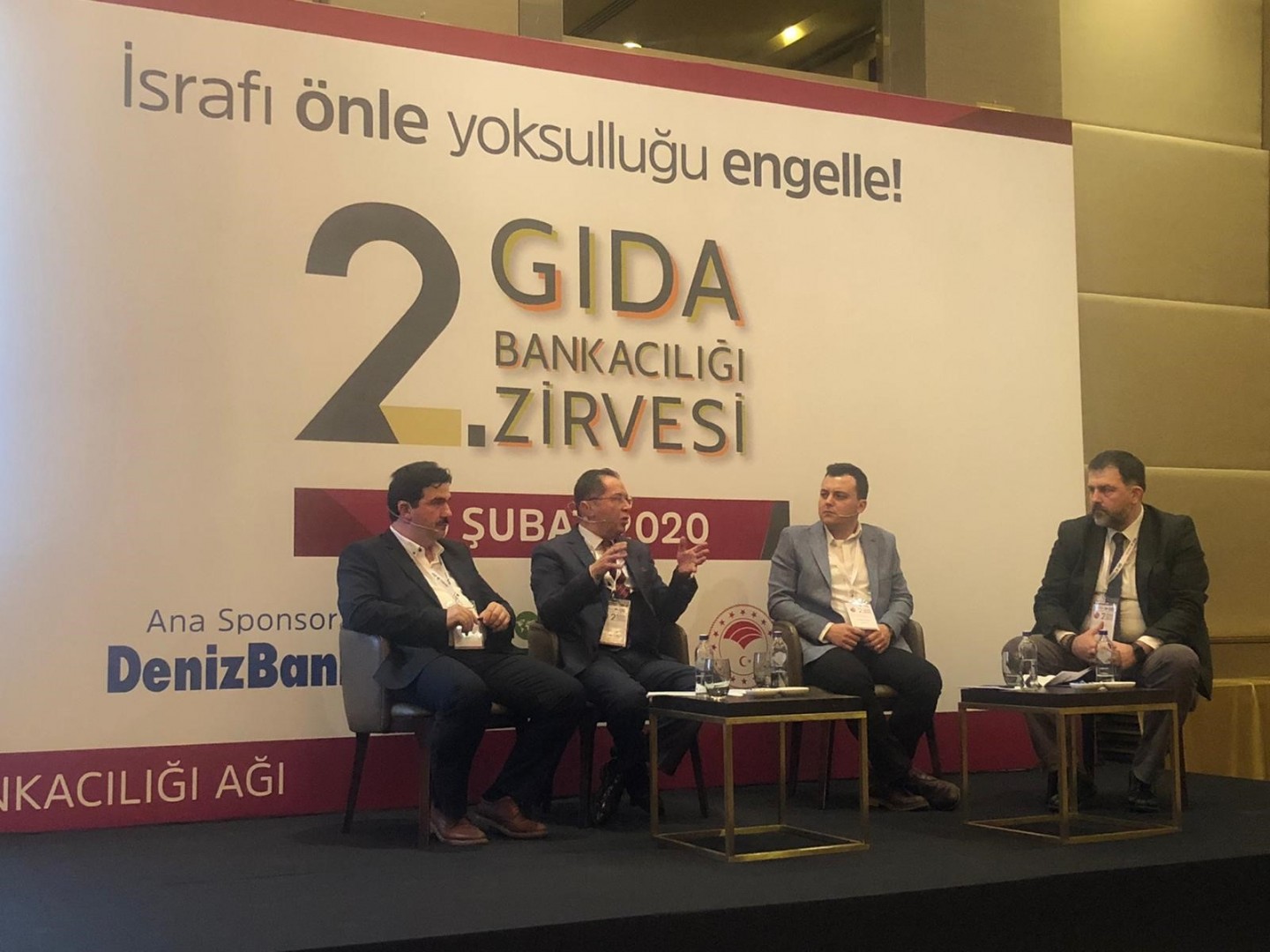 In the last panel of the day, Bulent Ozcan, Deputy General Manager of Financial Cooperation and Project Implementation of the Ministry of Foreign Affairs, Directorate of EU Affairs, Zahit Tiryaki, Head of the Red Crescent Sakarya Branch, Fatma Kocaman, Deputy Mayor of Bursa Mustafakemalpaşa and Rıdvan Oner, TİDER Supply Chain Manager, were present. As it was the last panel of the day, there was a sudden emptiness in the hall and everyone was tired, but still I think we talked about very important issues. I would like to share Ridvan's presentation to give you an idea: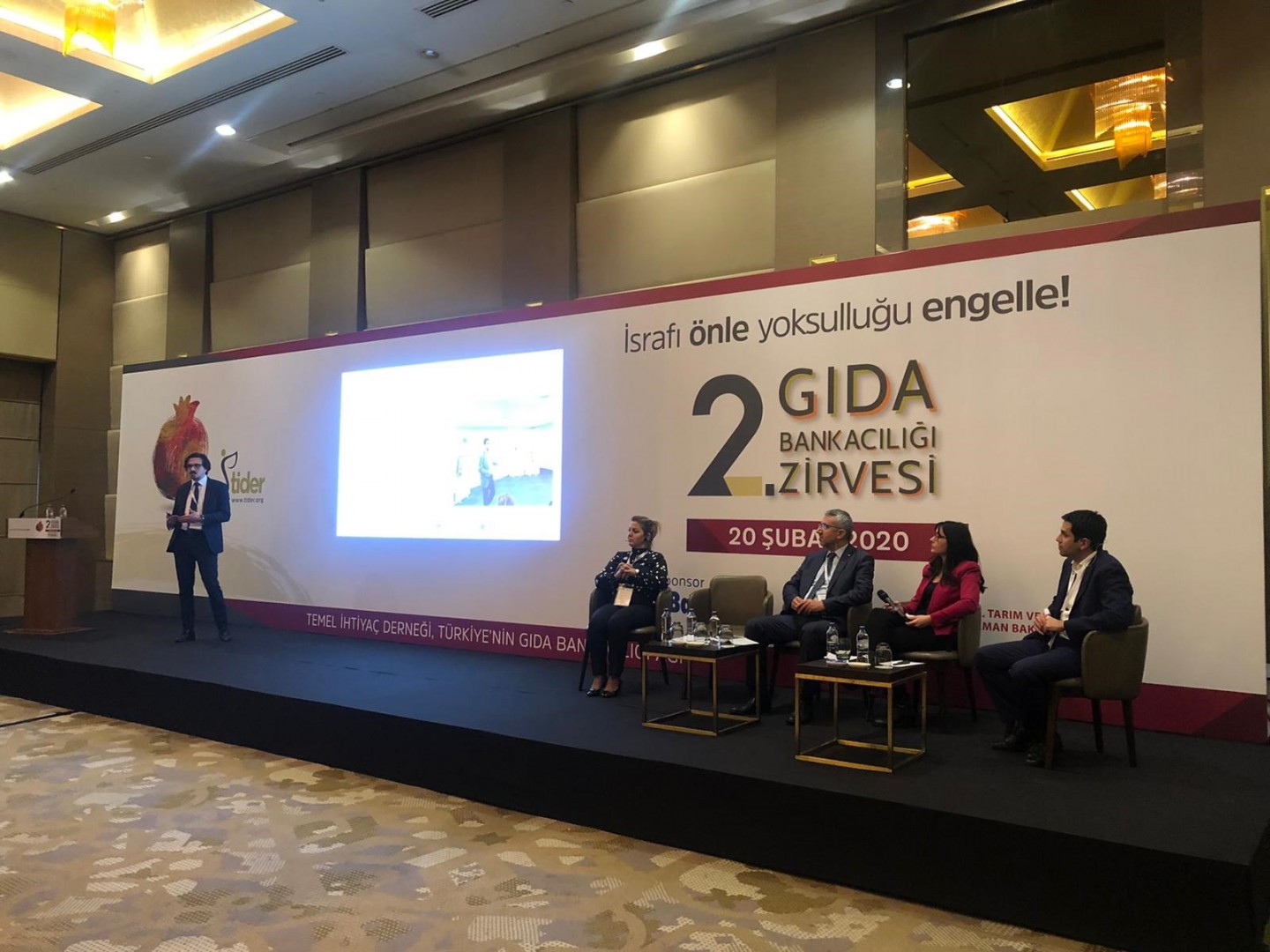 TIDER's Supply Chain Manager Ridvan Oner making a presentation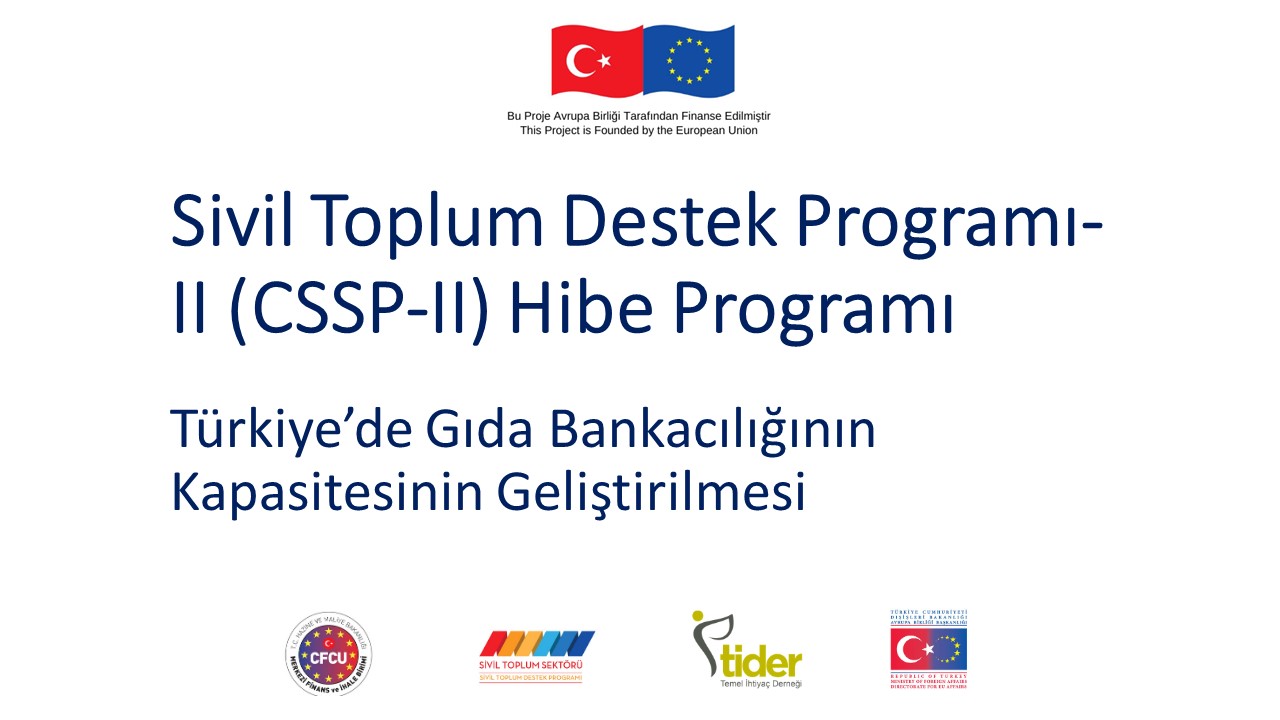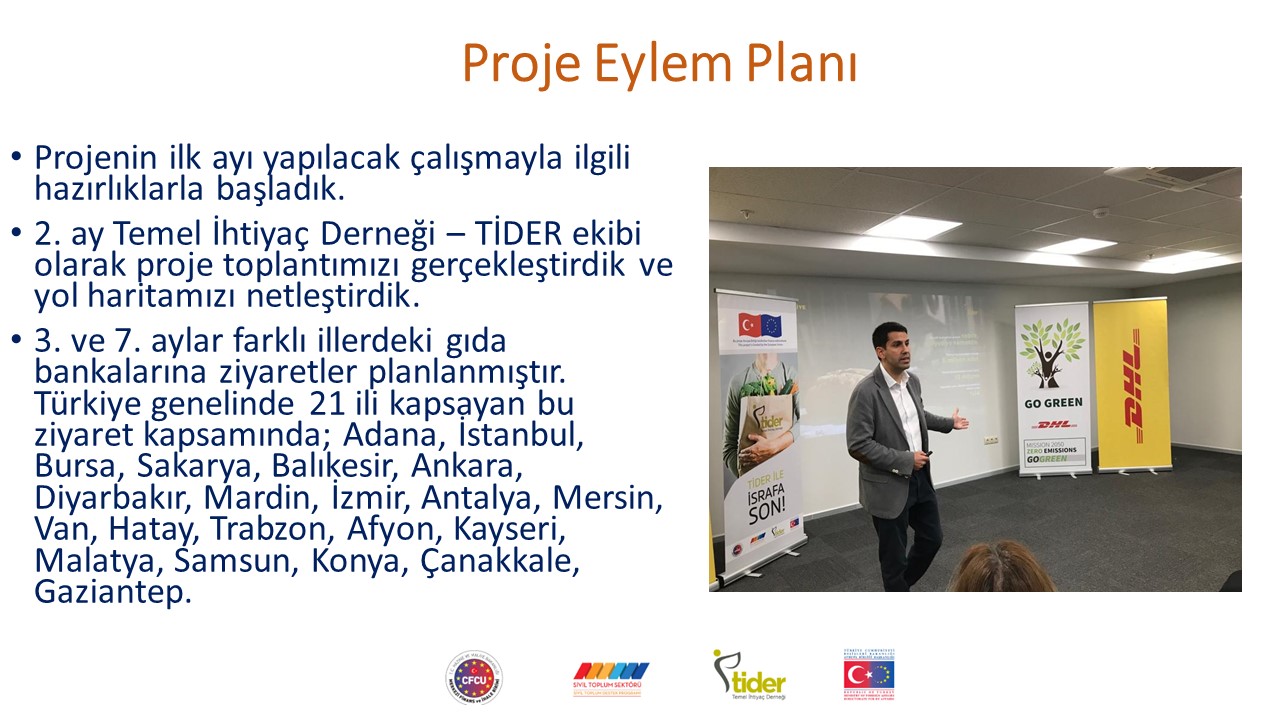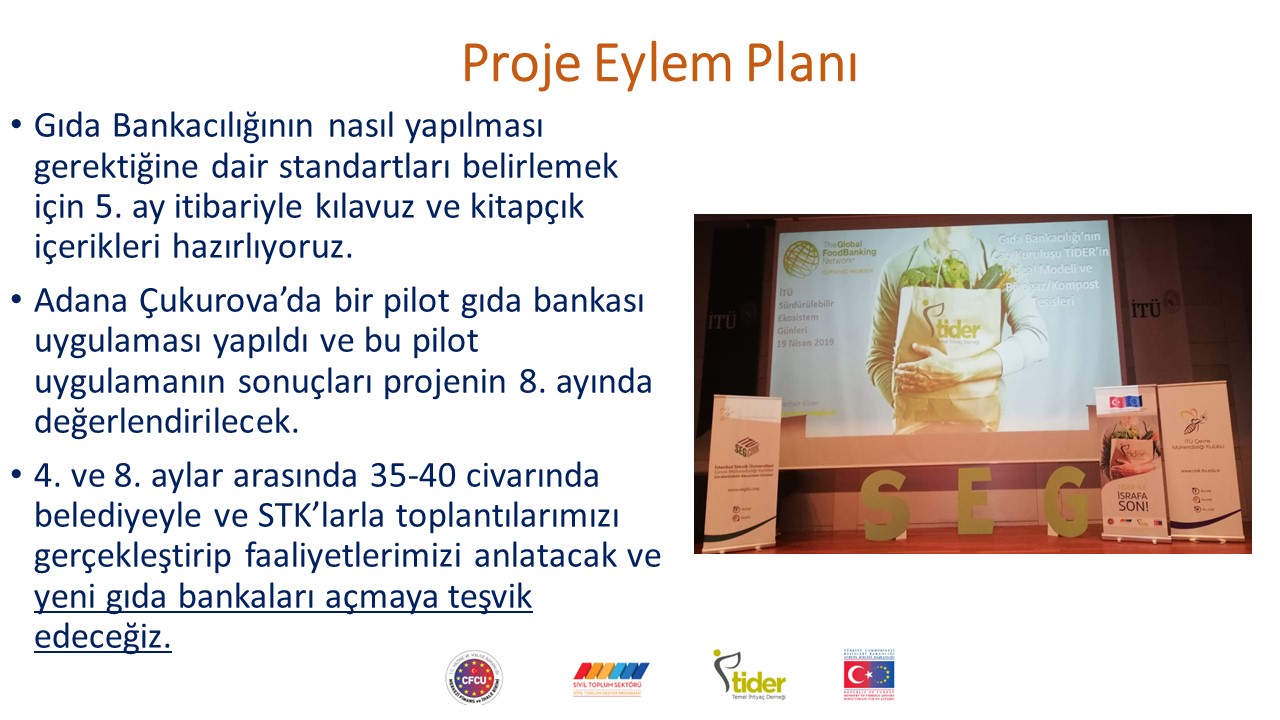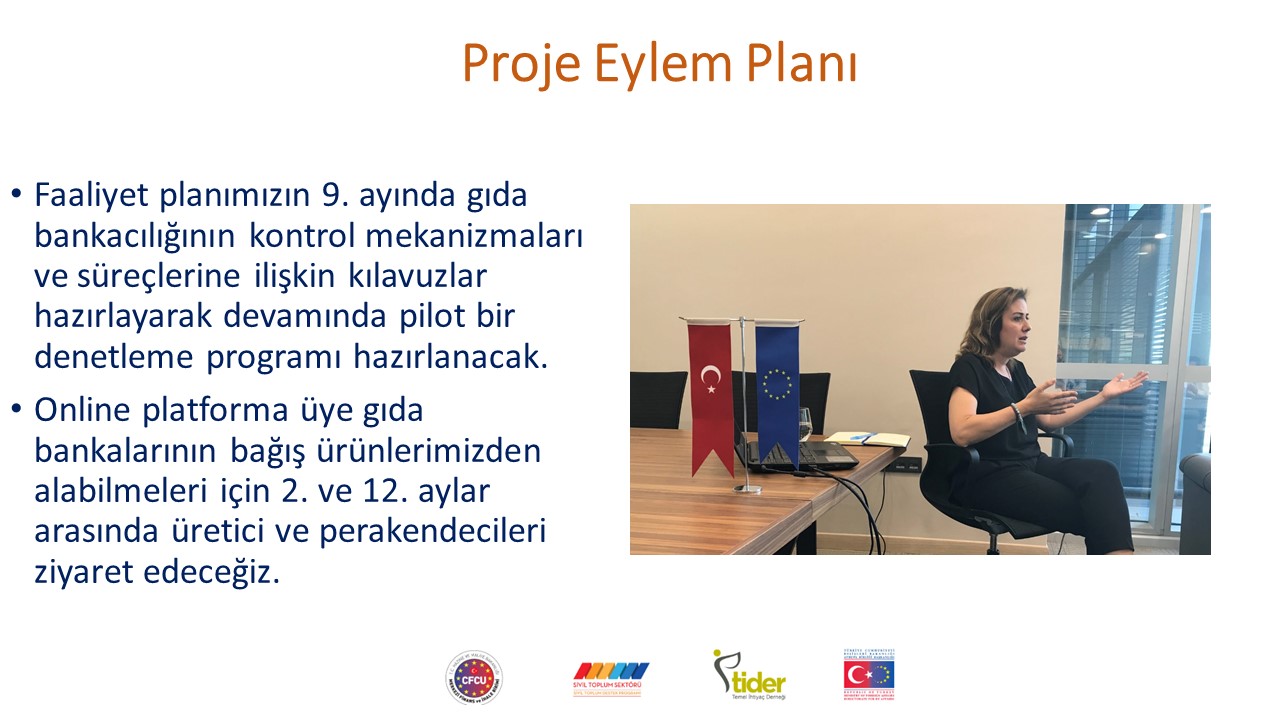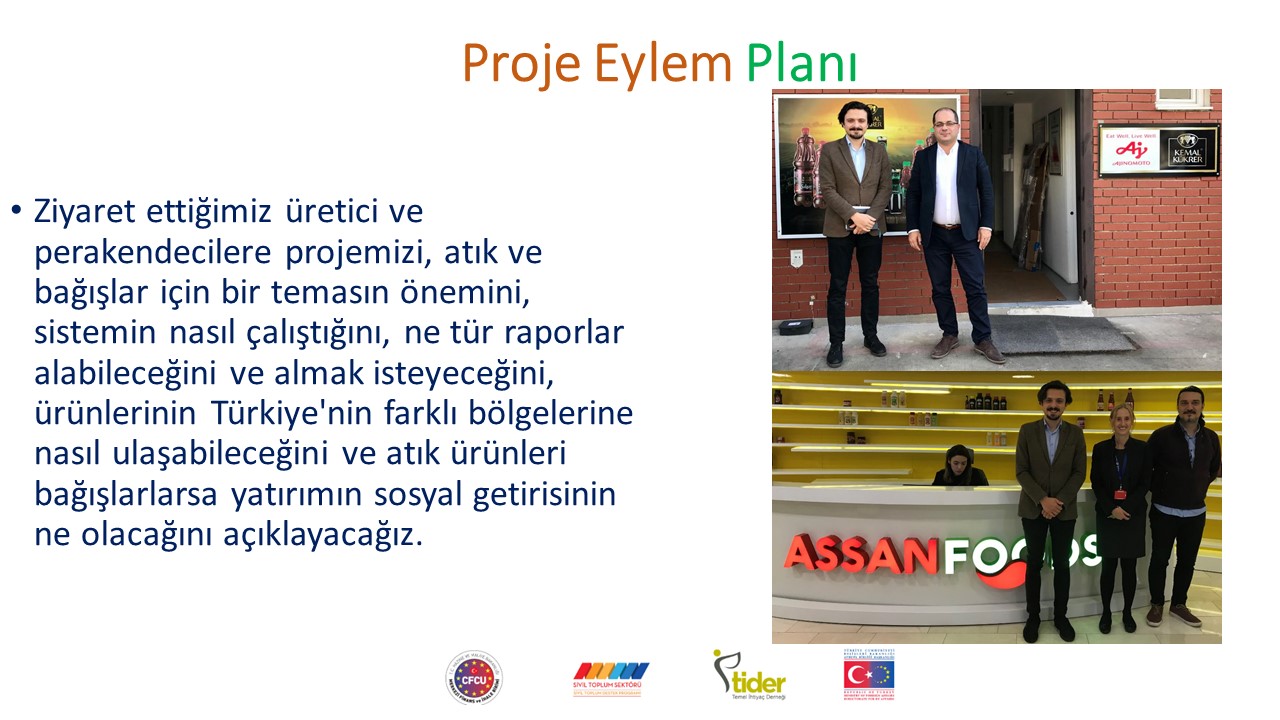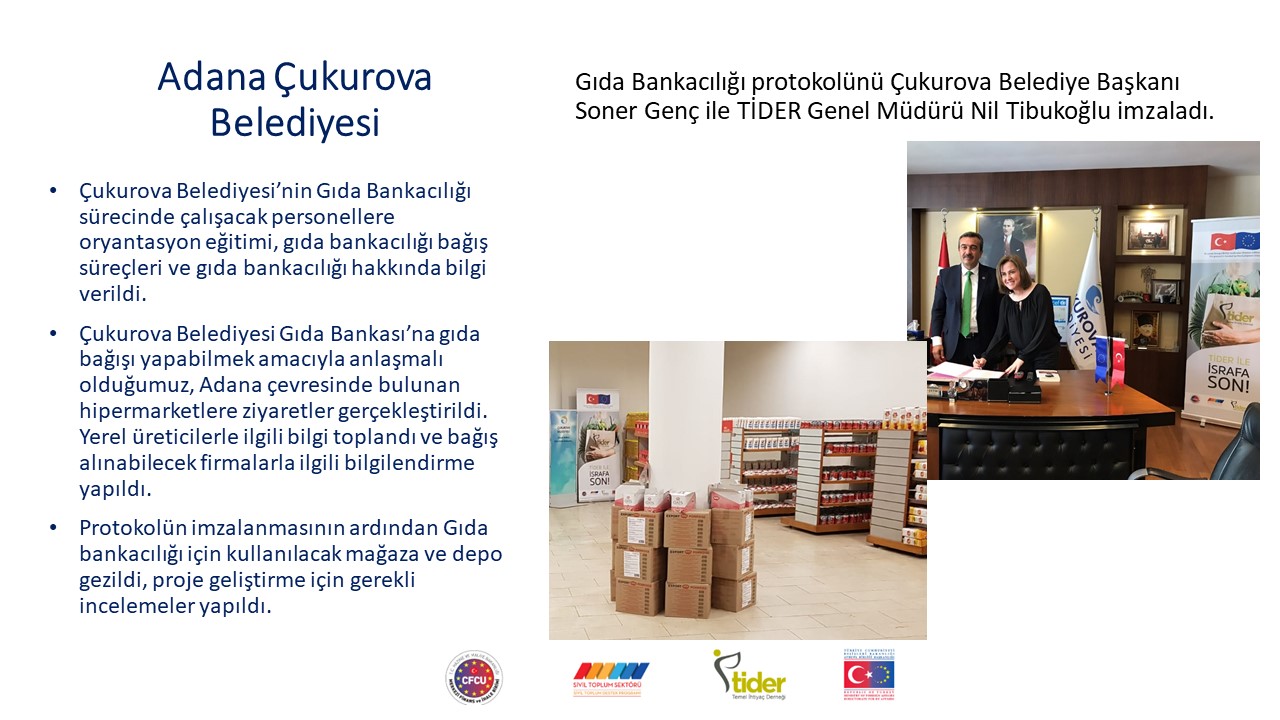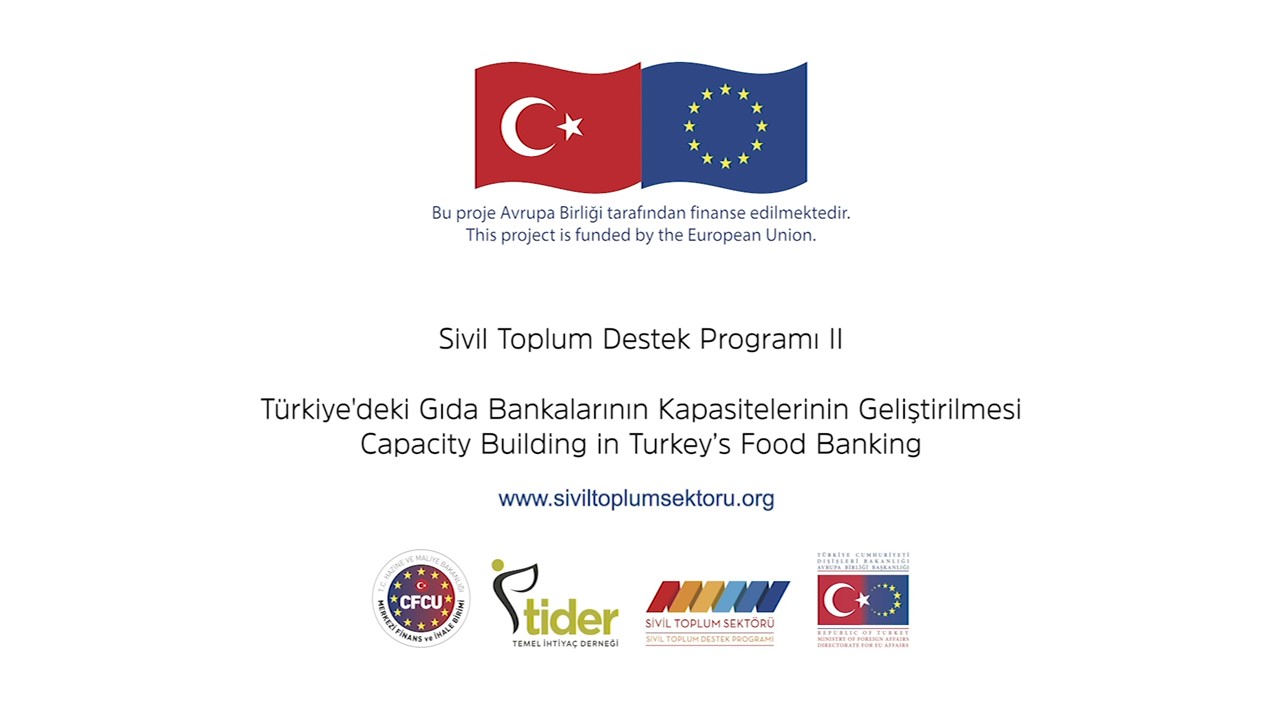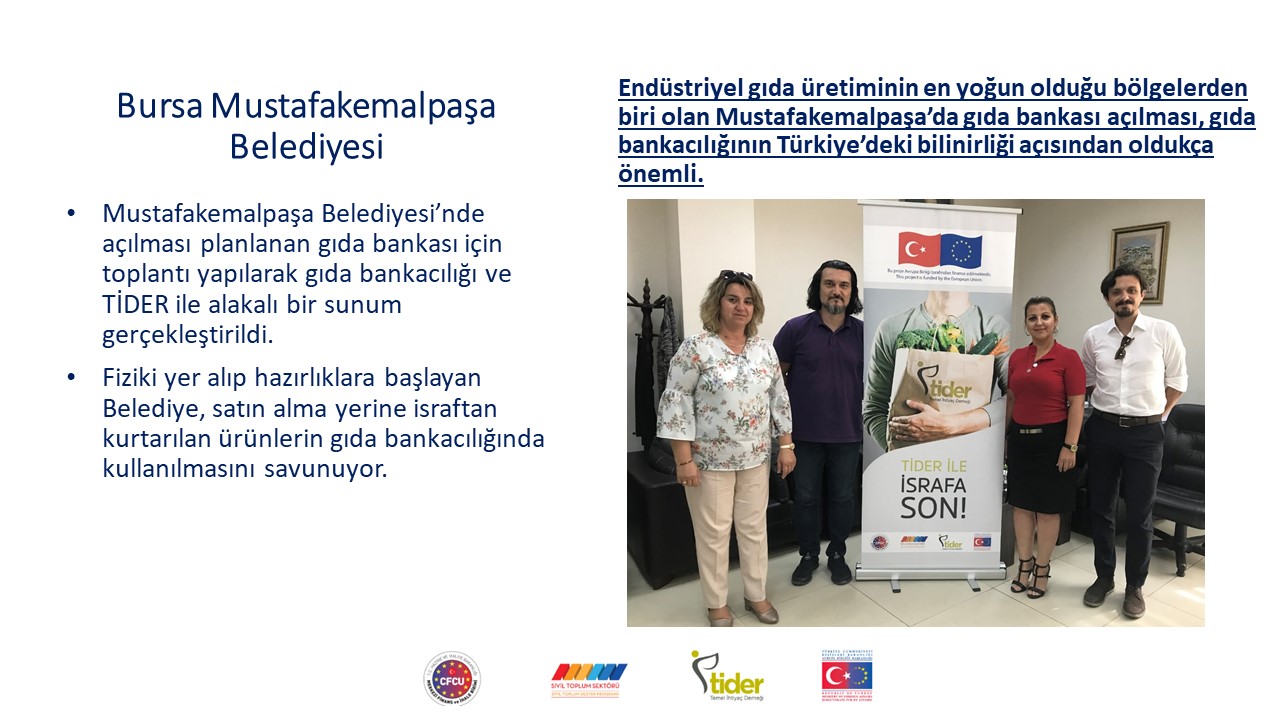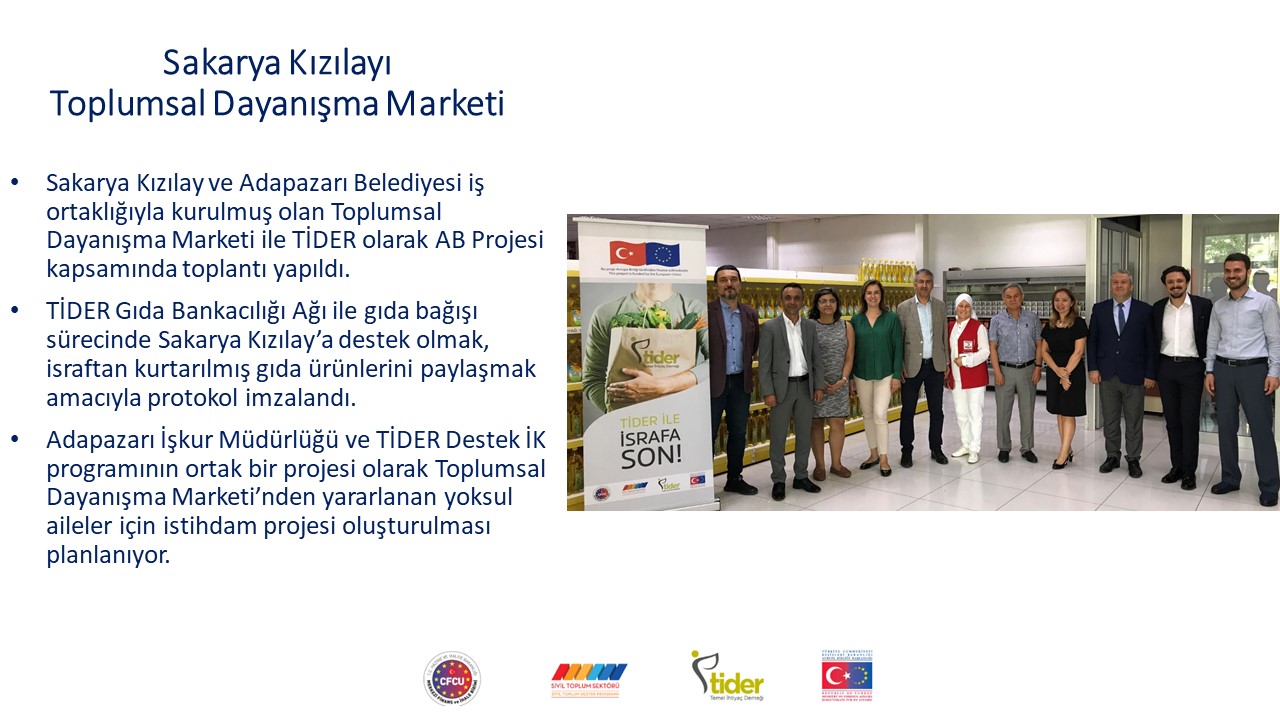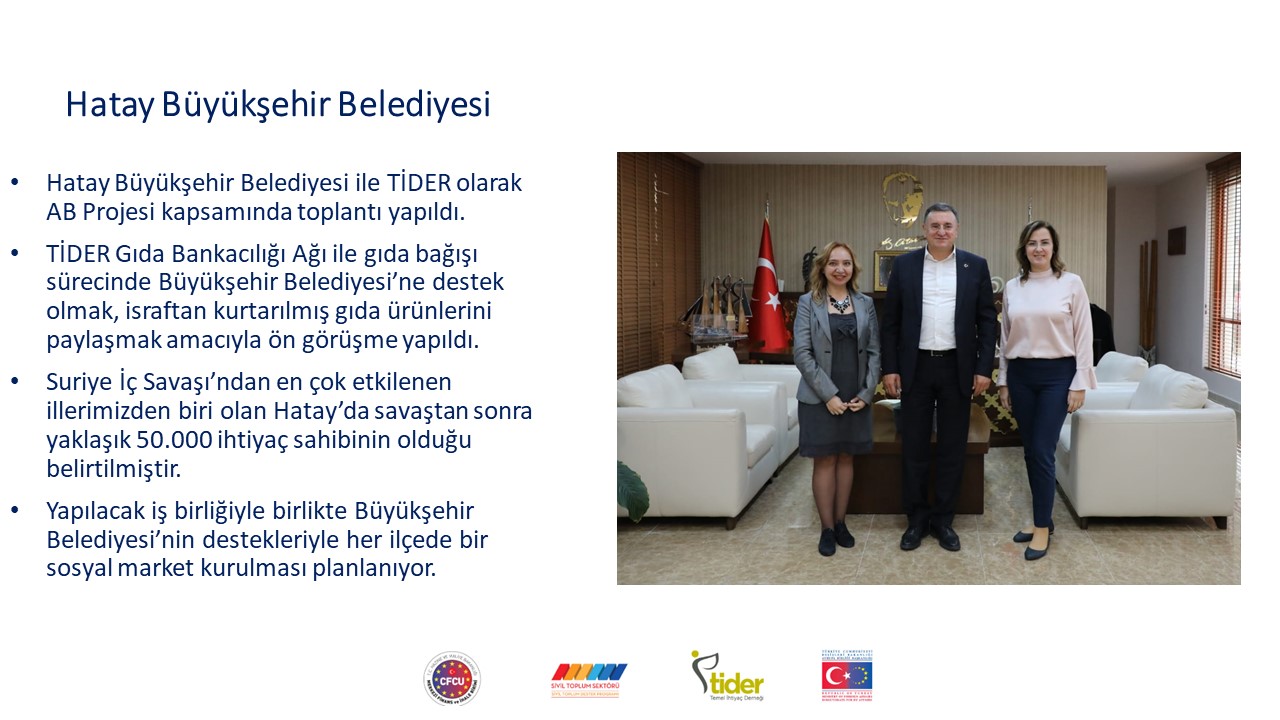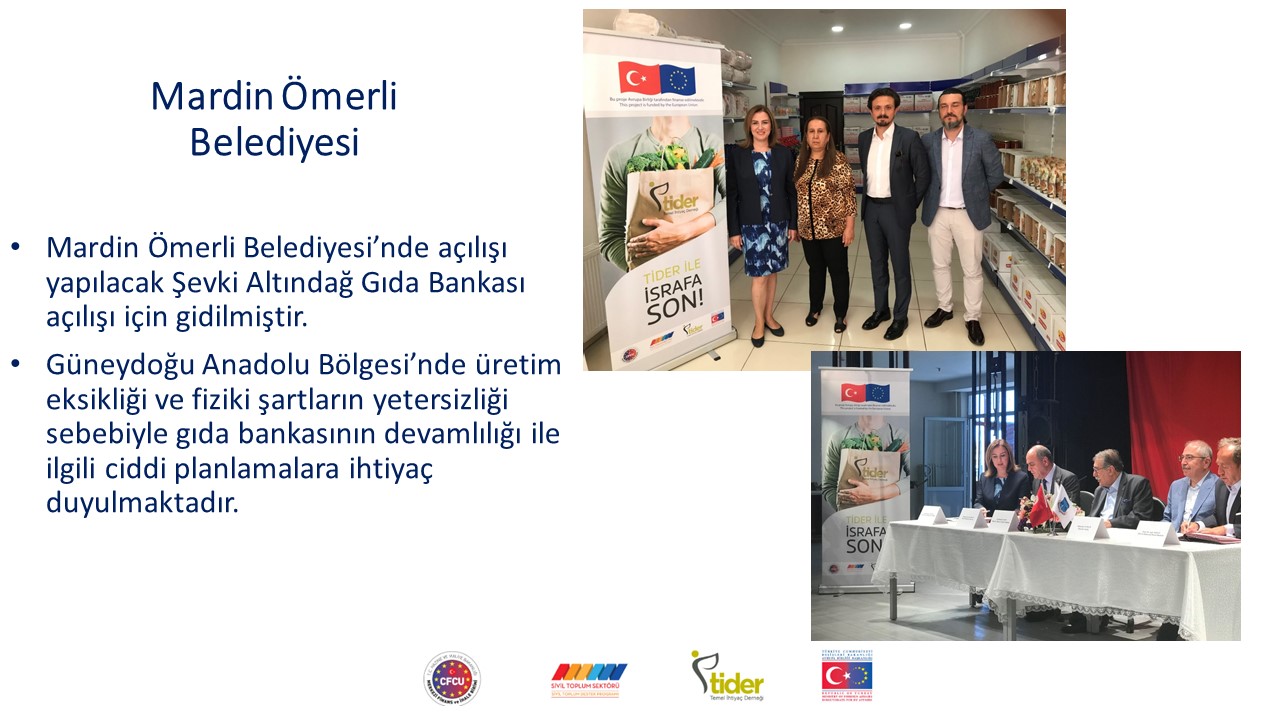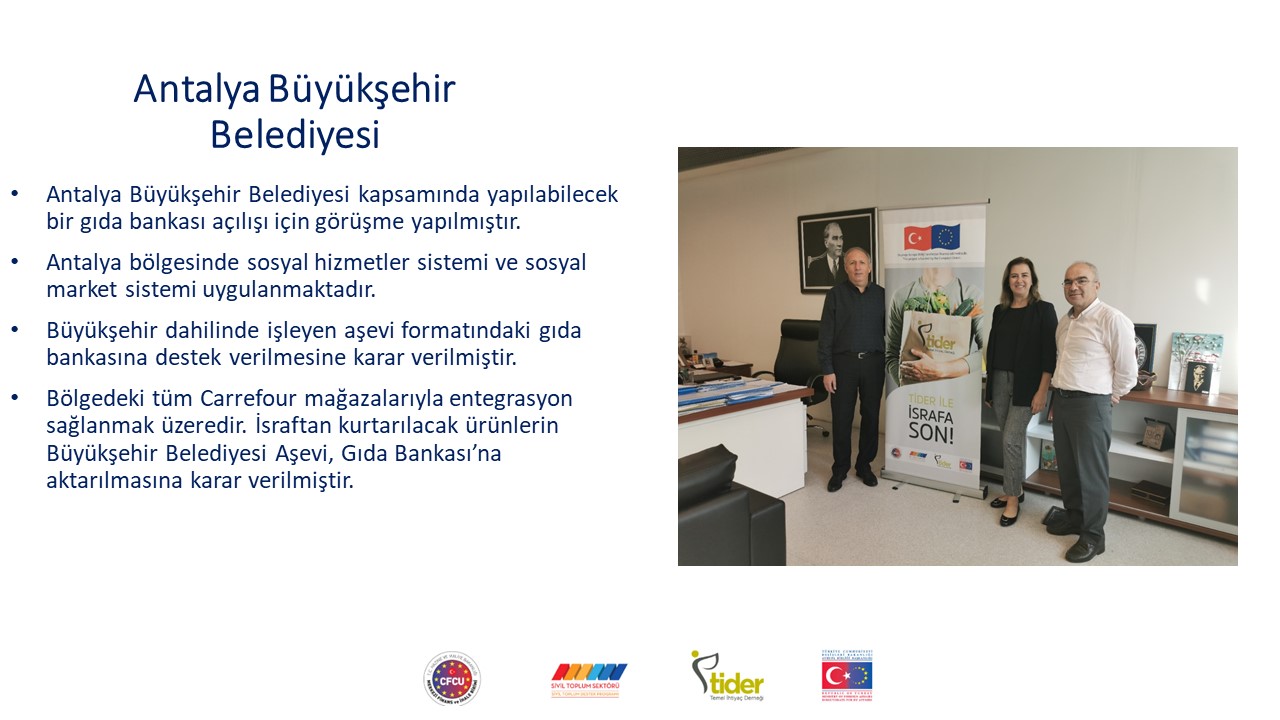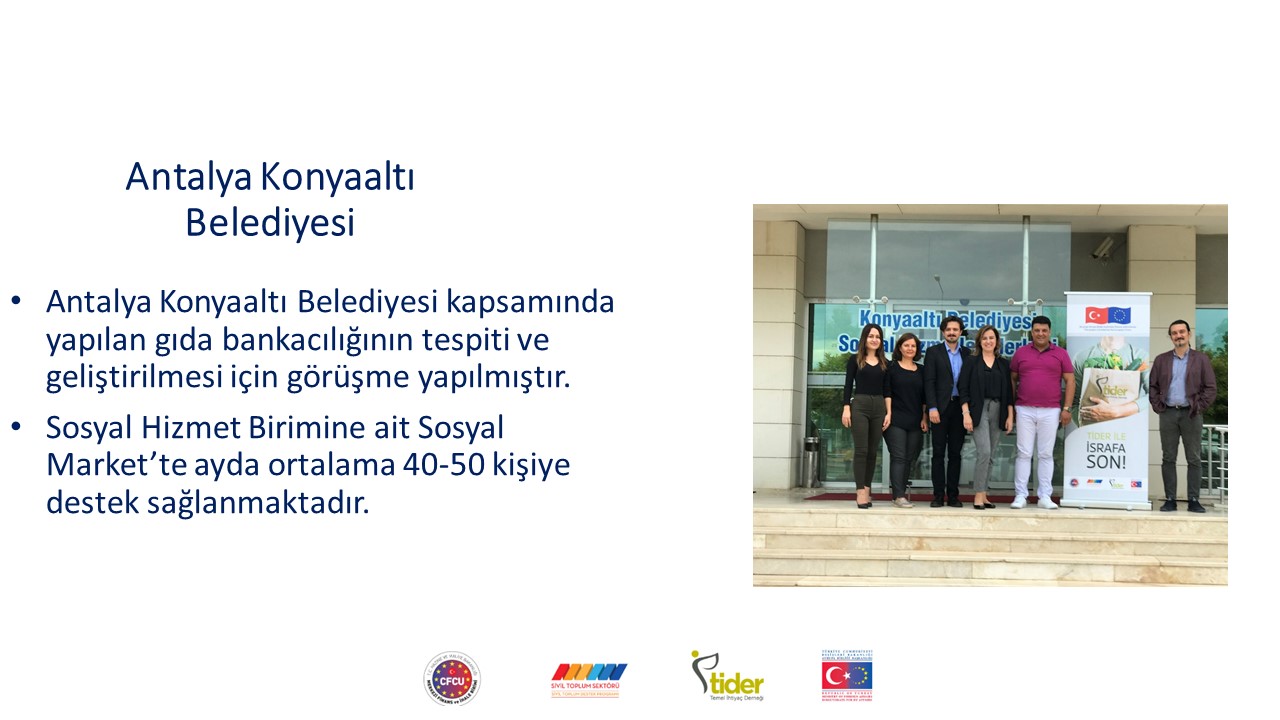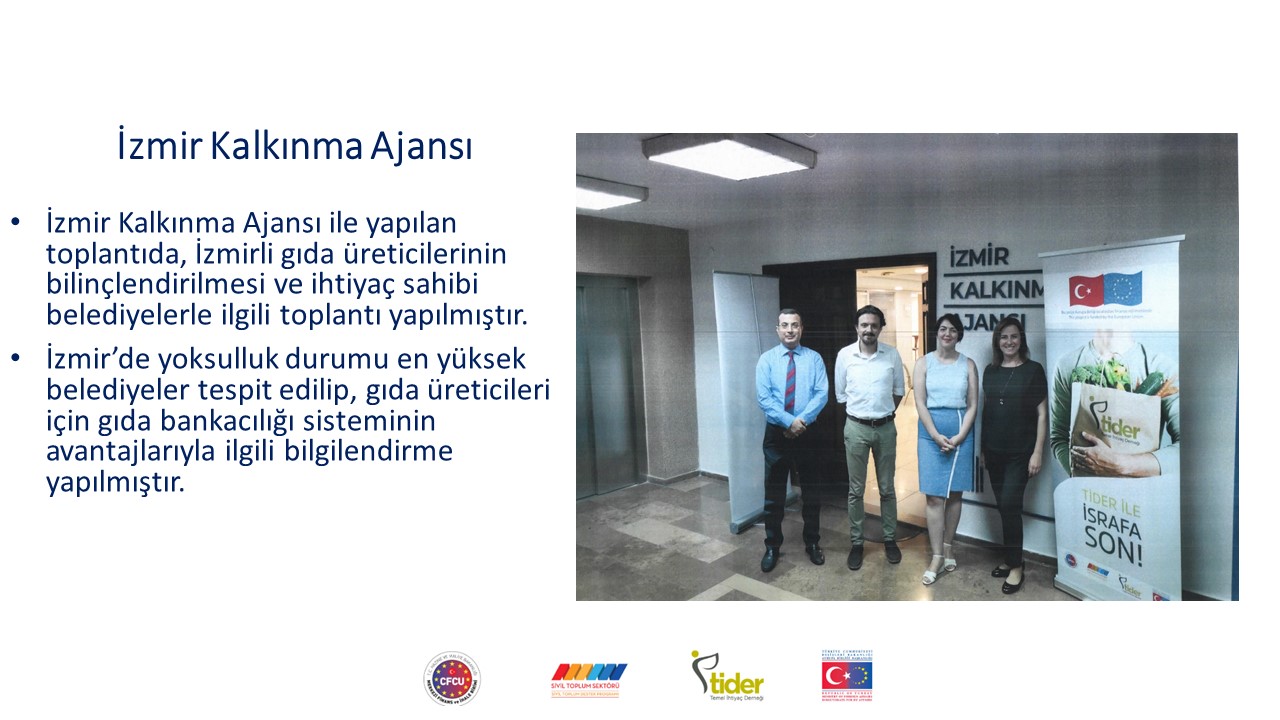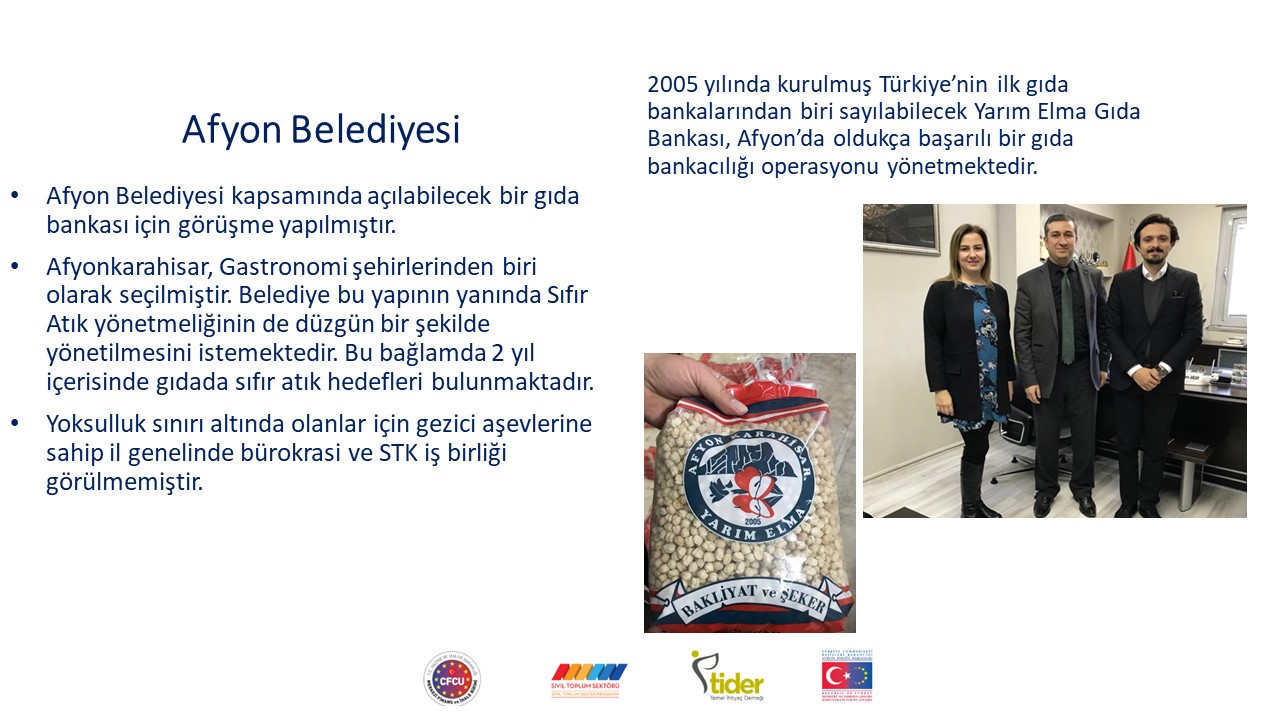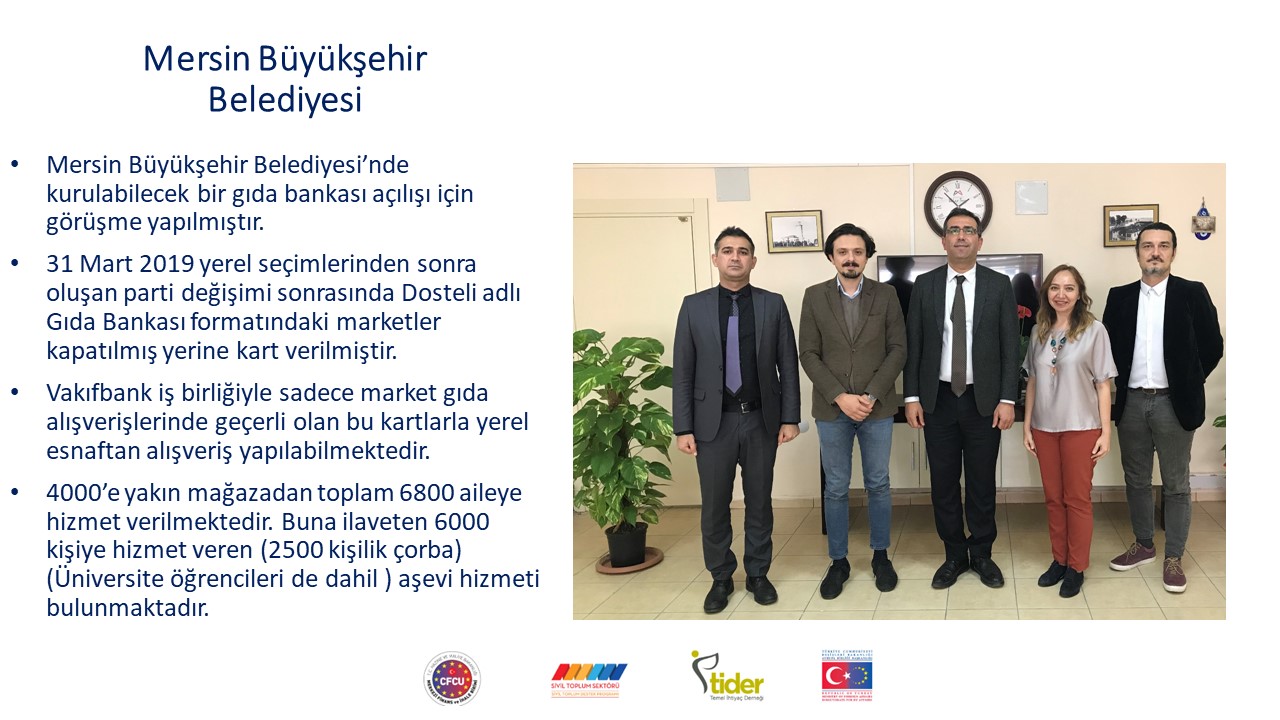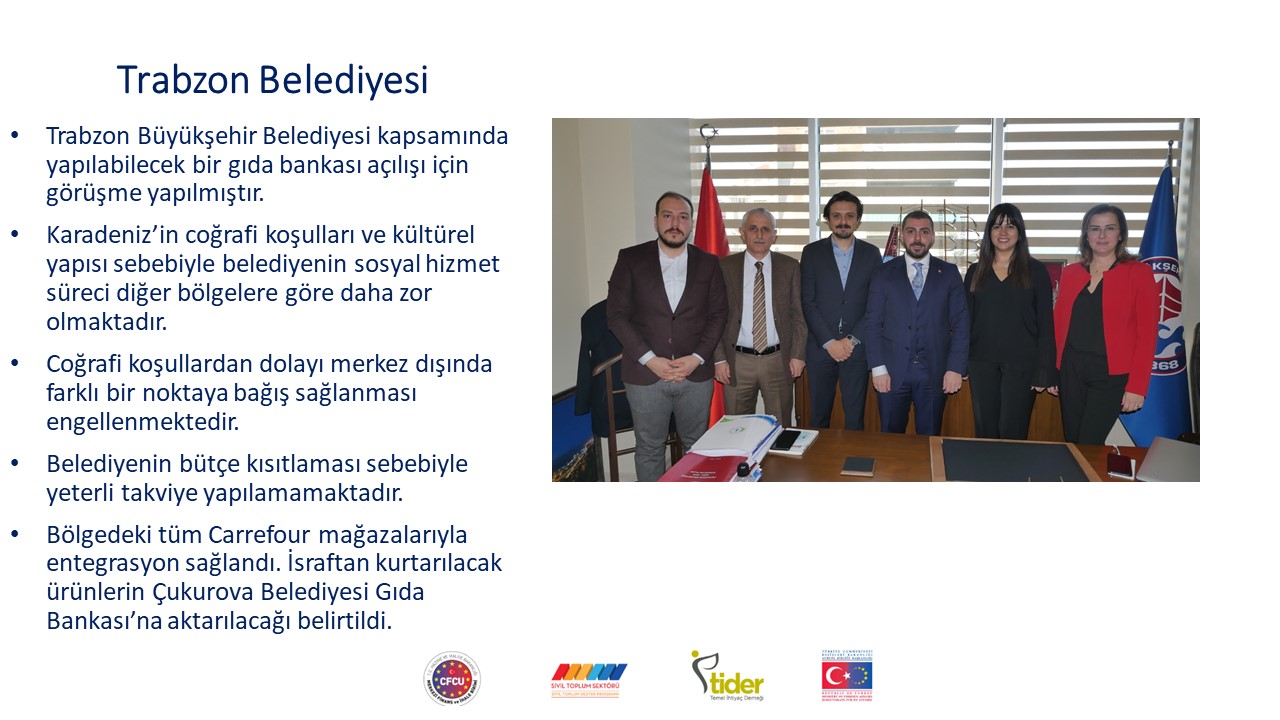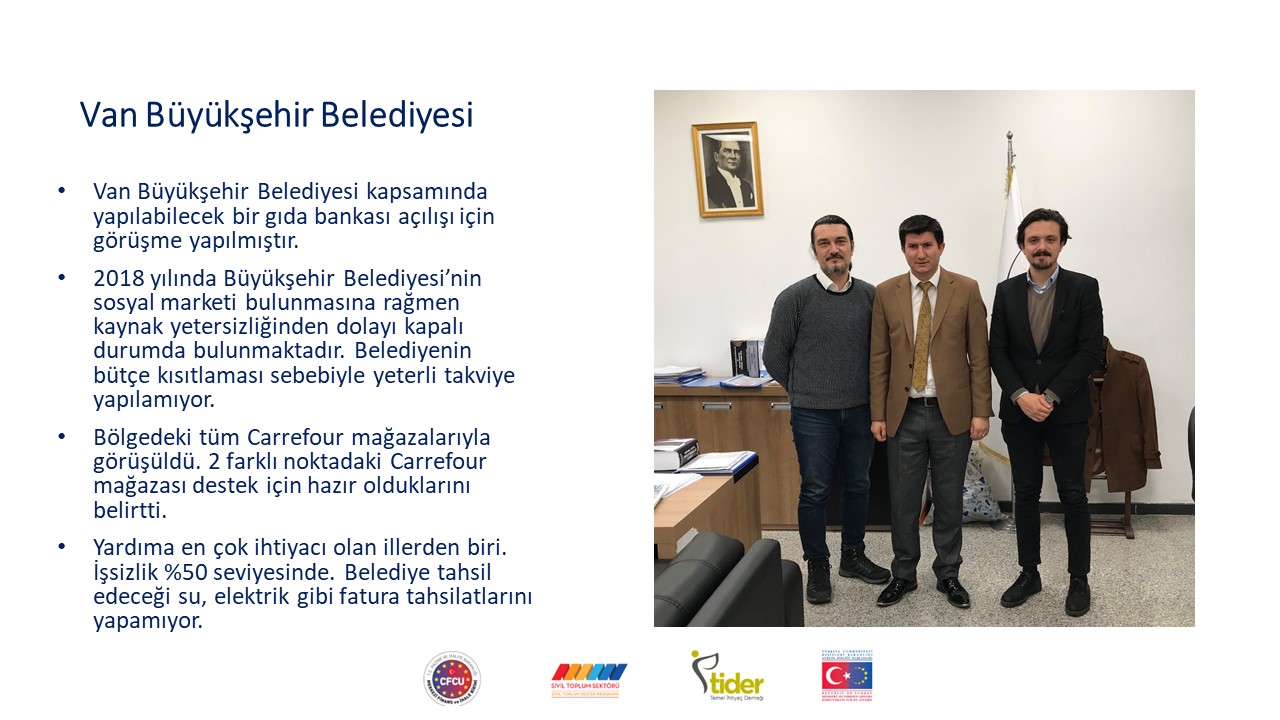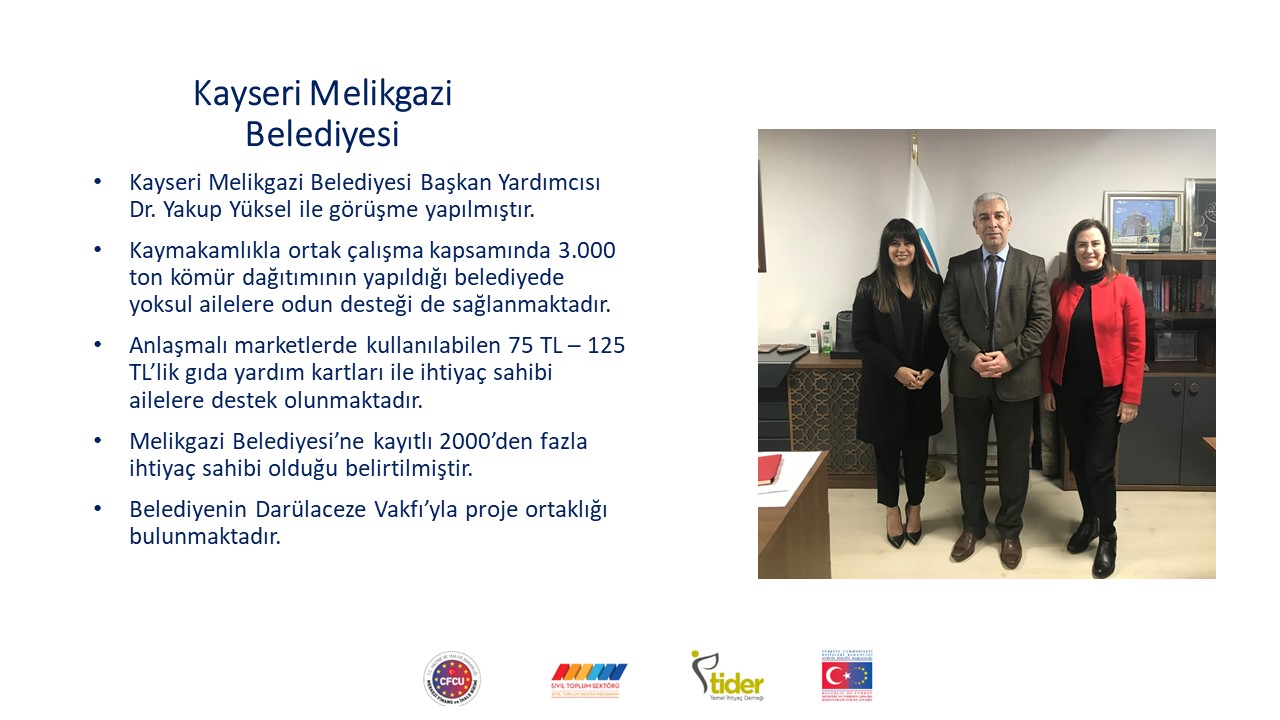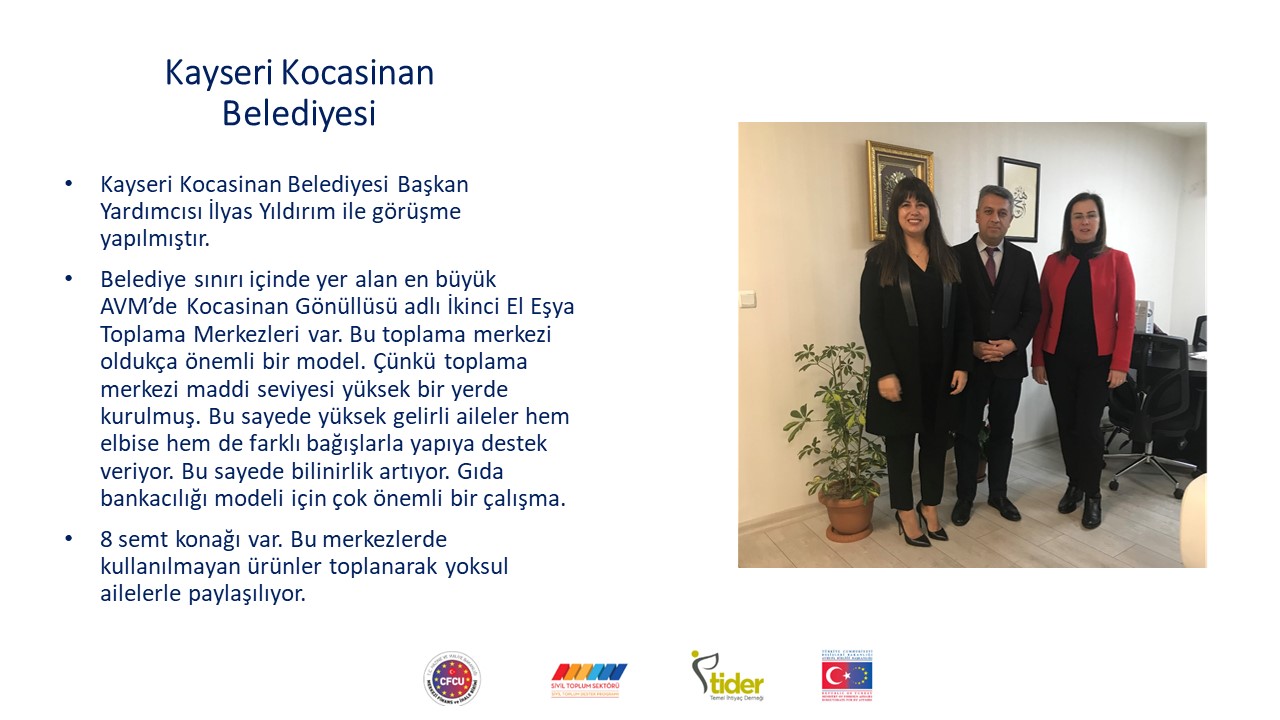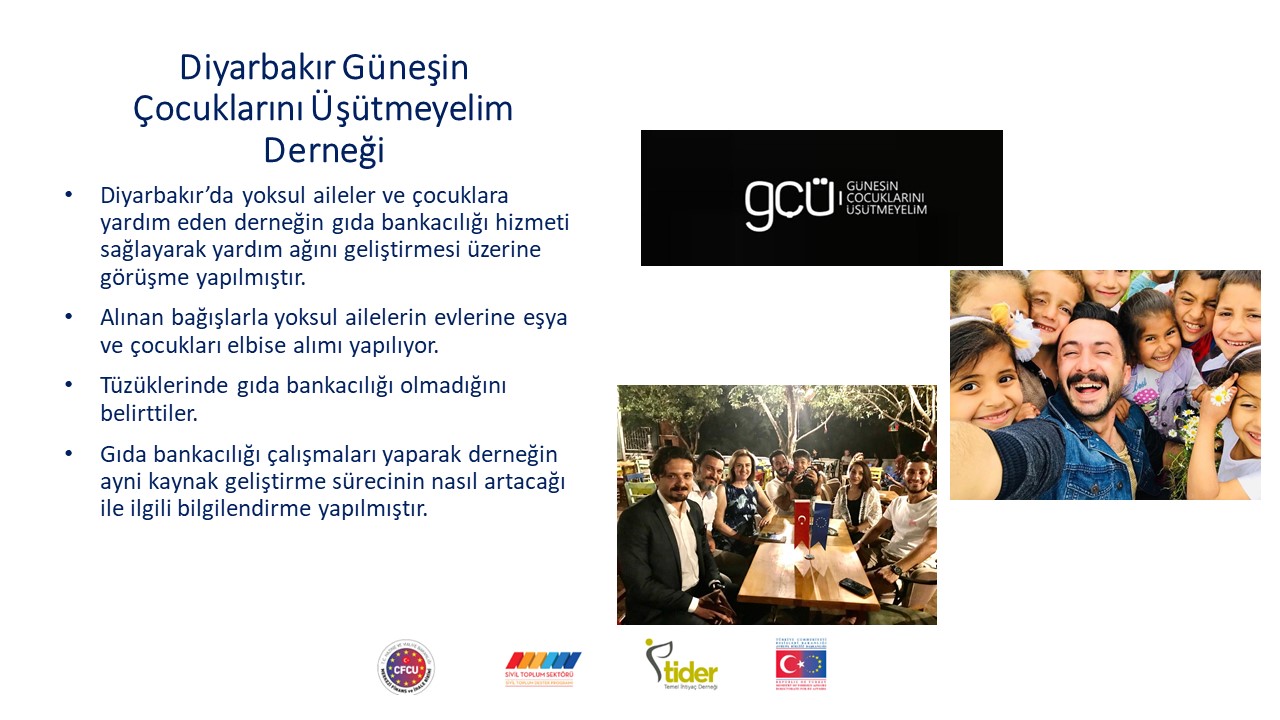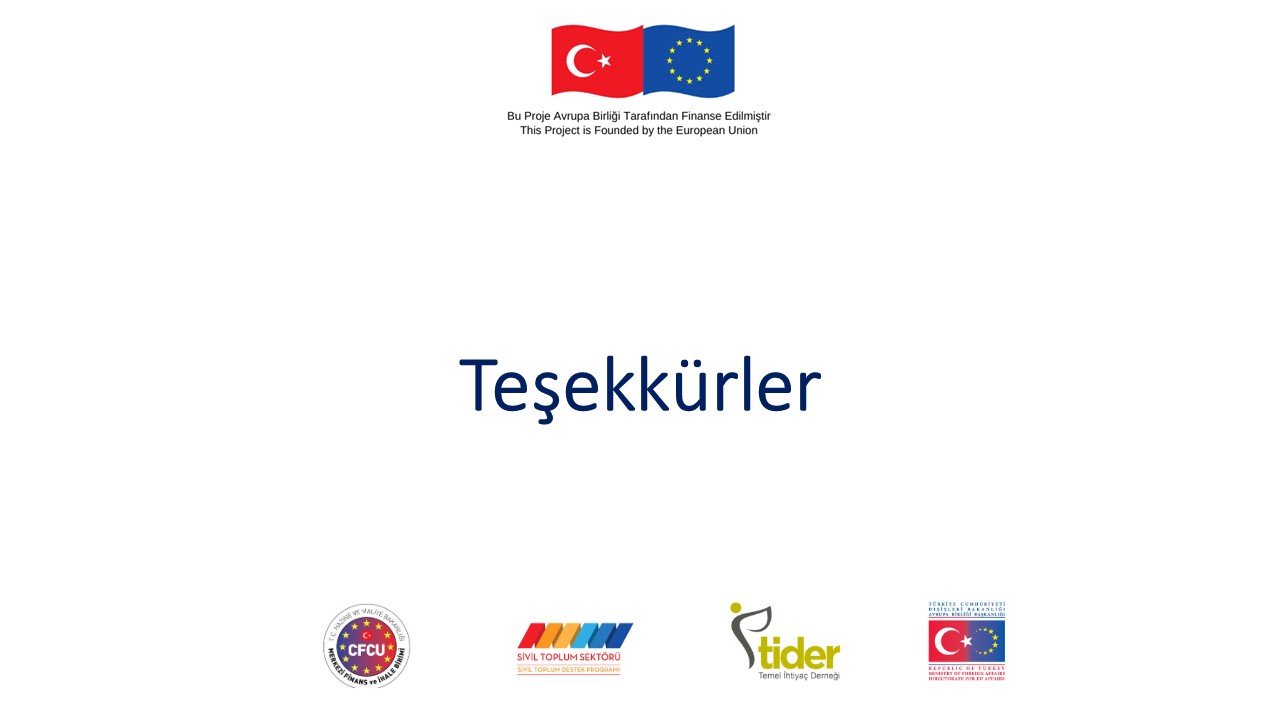 After the last speeches, we conveyed our good wishes and ended our panel.
Finally, the top 3 donors to Food Banking were awarded and then we presented plaques to the associations and food banks that are included in the TIDER network. Finally, we cut a cake to celebrate the 10th anniversary of TIDER and took pictures together.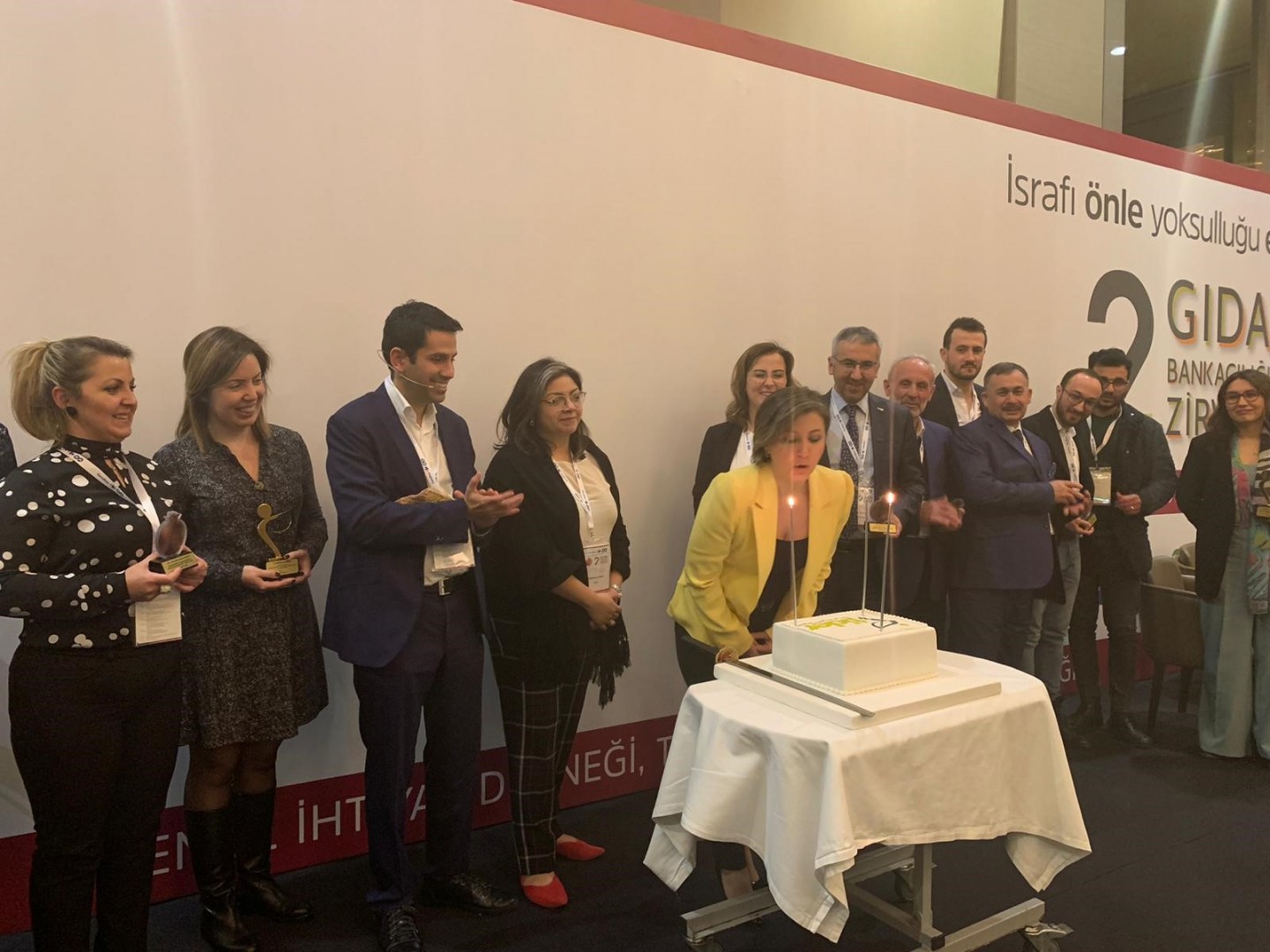 While cutting TIDER's 10th Anniversary cake. I wish many more 10-year celebrations ...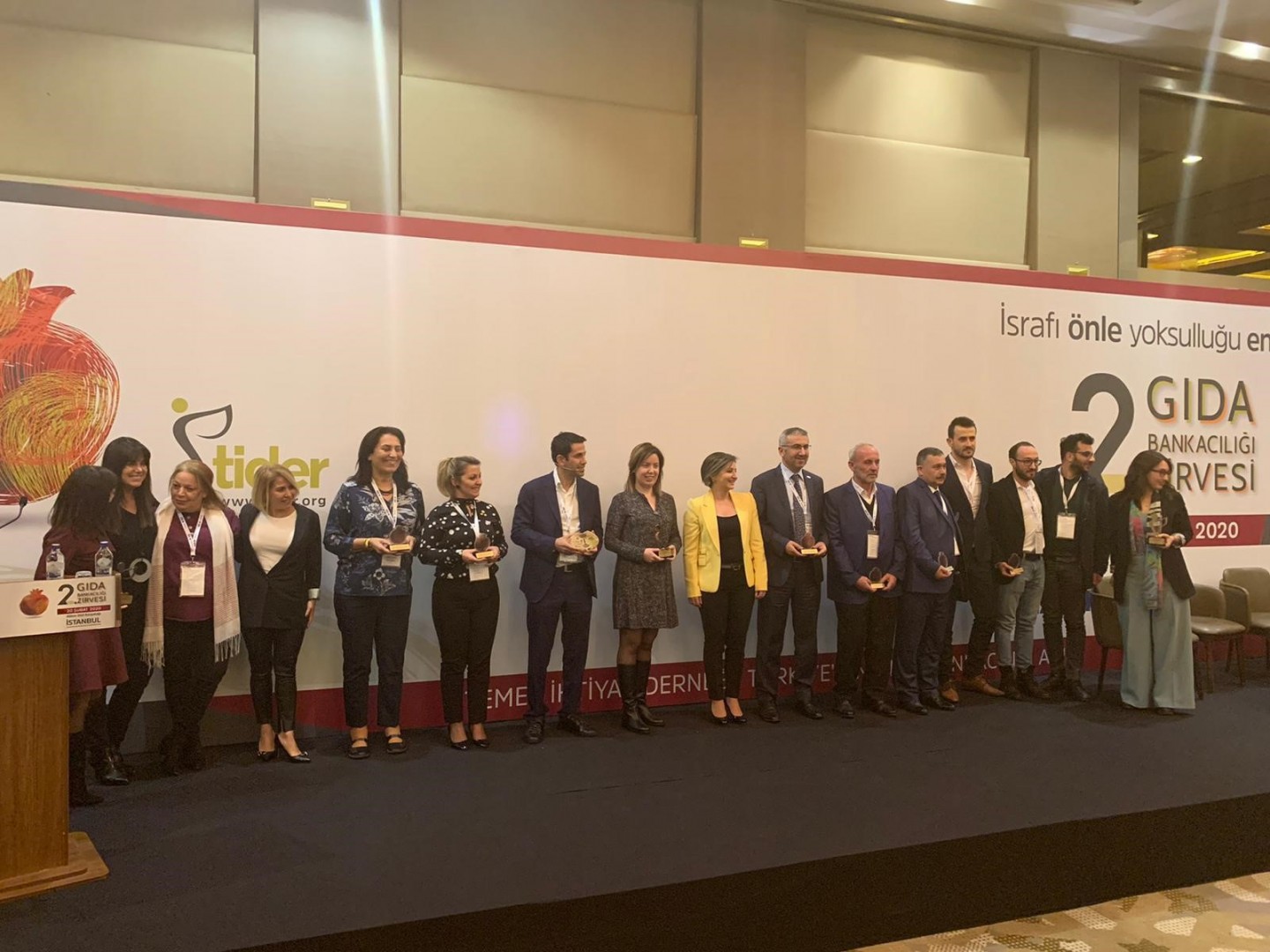 A photo taken at the end of the event

I would like to thank our sponsors for this wonderful event: Denizbank, Barilla, Cargill, CarrefourSA, Interactive Environment, Uludağ Beverage, Backup Reklam and Coop Event. Thank you for your presence.
In the current difficult times that we are going through, we wish to come together again for Turkia's one and only food banking event, for its third Banking Food Summit next year.
Tag: sosyal sorumluluk