A spectacular start to the first Food Banking Summit in Turkey!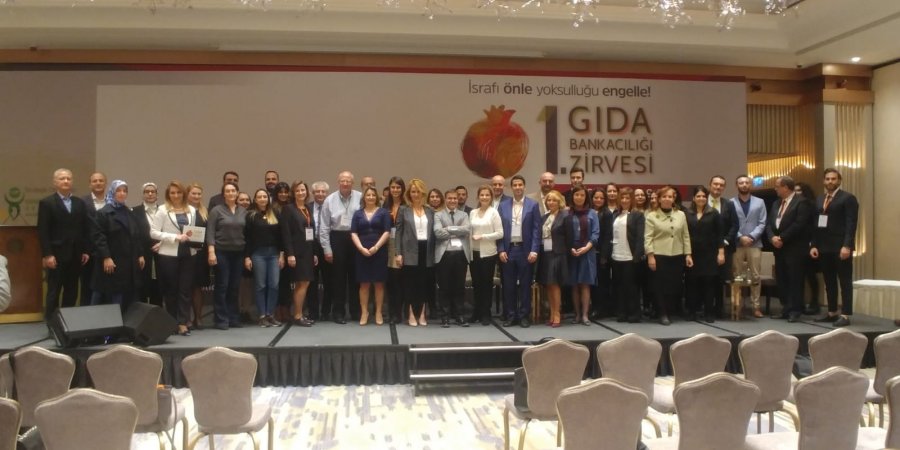 Last week I announced the news of the 1st Food Banking Summit with a high level of participation and efficiency in terms of both quantity and quality. With the valuable contributions of all relevant public, private sector and NGO authorities; We have the honor of taking very important steps on the most fundamental issues such as waste prevention, zero waste, fighting poverty and living rights.
I am happy and proud to have signed onto such a great event. When we decided to hold this summit two months ago, almost everyone in our close circle, who are experts in the field, said that the time frame to organize such event was too short and it would be very difficult to plan such an event in such little time. In order to relieve their concerns, I told them that "the hotel and all the international and national companies that have been supporting us for years, are ready". As a result, the board gave consent to this event that I insisted on so much and so we got started.
Time gave me justification. Despite the change in general manager in January and change to 30% of the team, we were able to put the event together as the current team was working hard and the organizations that we have been doing business with for years had given the same support at this event. I owe them my heartfelt thanks: CarrefourSA, Chep, Barilla, Cargill, Procat, GEN3 Creative.
I can't help but mention the support of our volunteers. Without volunteering, there is no civil society. I thank them very much for all their professional and moral support.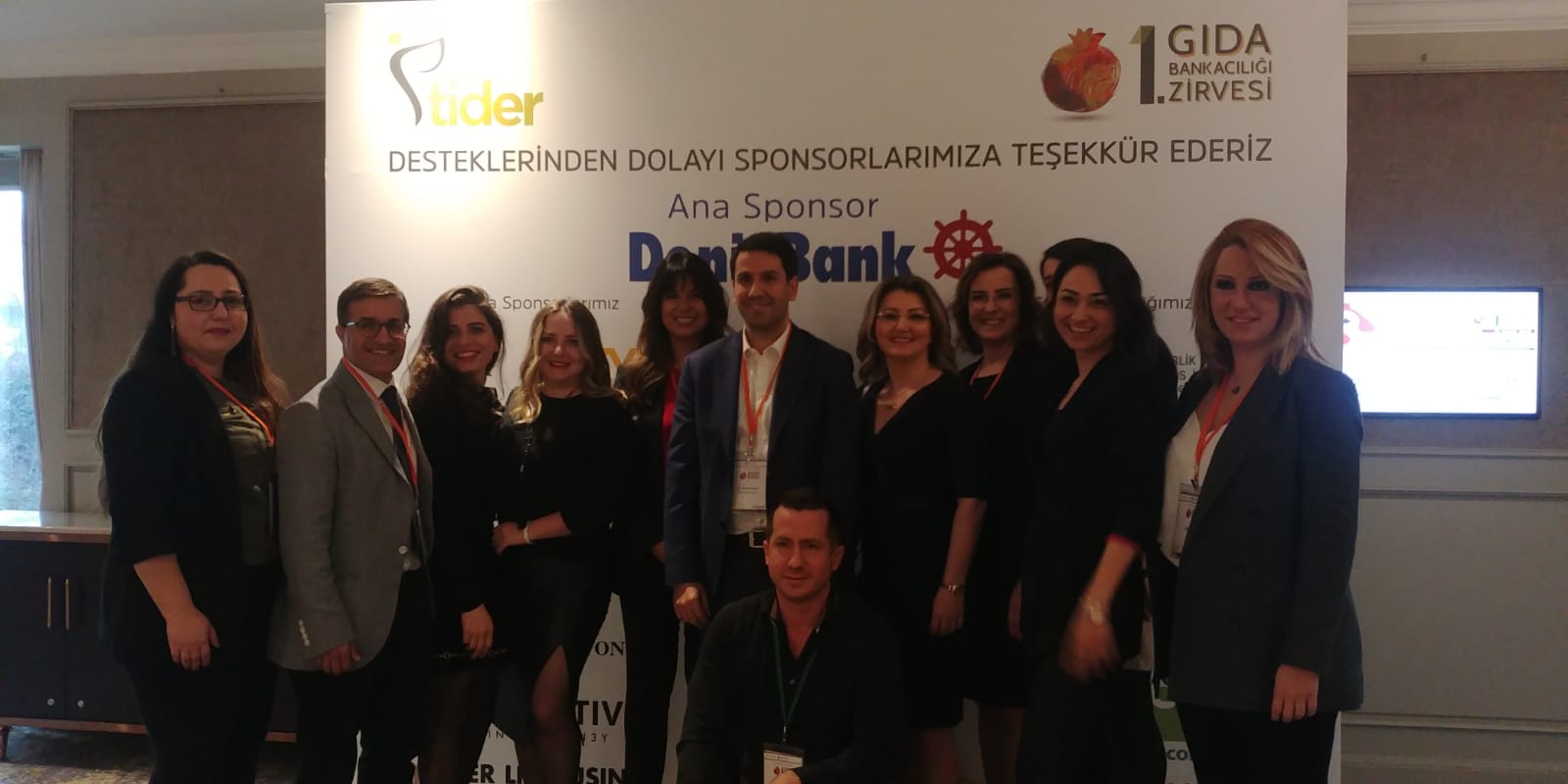 A photo taken with our volunteers
The presence of our strategic partner Sürakademi added strength to our strength. Many thanks to the valuable Sürakademi professionals.
The new sponsors of our event

I would also like to thank all of our sponsors who have recently joined our supporters' network and to those who have fully understood the importance of this event and joined in equally to support.
Firstly, let's start with our main sponsor: Denizbank
Media sponsor: Doğuş Medya Group (NTV and Star TV)
Venue sponsor: Ritz-Carlton, Istanbul
Organization sponsor: Coop Event Management
Technical Equipment Support: Technichane
Stage and booth design sponsor: Solution House
Transport Sponsor: Inter Limousine

I would also like to thank to Sevinç Satıroğlu, who worked hard all day long and made an amazing presentation without any expectations in return.
Finally, I would like to personally thank the dearest Özkan Zere for her closing speech as a pro bono.
The participation that exceeded our expectations

Now let's talk about the event… Honestly, I was saying to myself: 'This is a first-time organized event, and demands at first time held events are very little, and it will take some time before people understand the notion of our event therefore, we'd be lucky to get 100 people to attend this event,'. However, according to the official data, the number of participants had exceeded 200. The name tags prepared were not enough and we ran out.
The hall was jam packed up to about 3.30pm, and even had some standing viewers. After 3.30pm, the hall was starting to empty out a little as some people started to leave so they don't get caught in the evening traffic. Nevertheless, there was a considerable amount of people left to see the final panel which ended at 6.30pm.
In summary, in order for the Food Banking system to expand in an unbiased, transparent, honest and sustainable manner in Turkey, TIDER as host and Denizbank as the main sponsor, we were able to present the "The 1st Food Banking Summit" which was held at The Ritz Carlton Hotel in Istanbul with the participation of public, private and non-governmental organizations.
The opening speeches
At the summit, the discussion was around the food banking models in Turkey and those around the world, the legal regulations and the impact on the economy of food banking with the scope of zero waste.
Everything went smoothly except for some minor glitches. There was a lot of fog in Istanbul that morning. Due to the serious traffic delays, some participants arrived a little later. So, the event which was scheduled to start at 10am in the morning, started around 10.30am. As you can see from the program below, our first chairman Hande Tibuk made the opening speech.
http://www.gidabankaciligizirvesi.org/tur/program
Hande talked about our principles with a short, concise and beautiful opening speech. The turn was then given to me. I would like to share with you the content of my conversation with the important messages I relayed: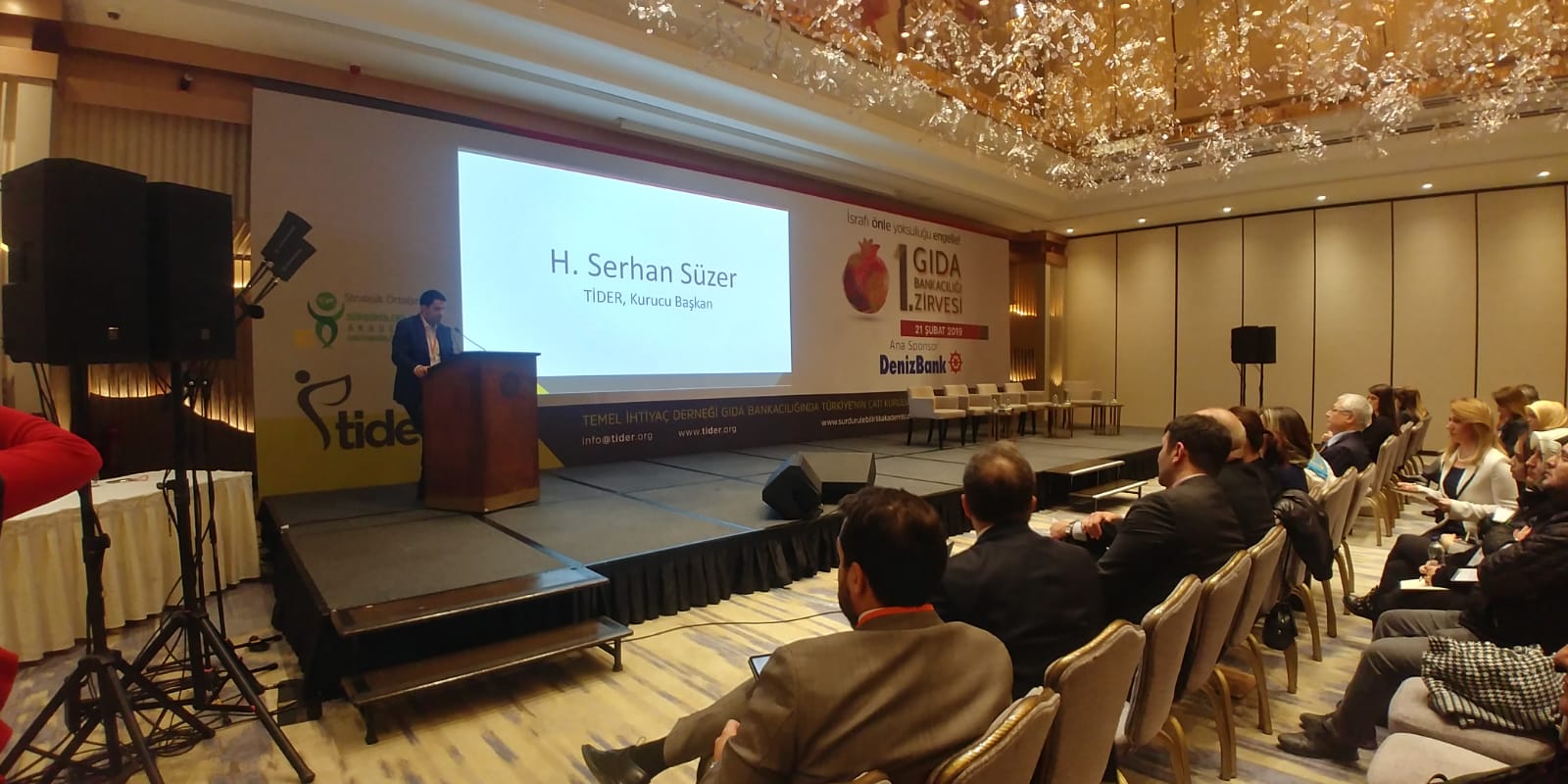 I started speaking of our history. I explained that in 2010, 8-9 food companies and their representatives established this association and that our initial aim was to deliver surplus products to the needy.

I emphasized that up until 2014 we had been a food retailer, but in 2014 we changed our model from just 'giving fish' to 'while giving fish, teach how to catch fish' model.

I stated that we built our whole structure on integrating two important visions:

Preventing waste

To ensure that those in need stand on their own feet
Then I talked about the TIDER model and how we want to spread it to the whole of Turkey and to at least 1,000 of our districts.

The goals of the summit
I continued on with my speech by explaining the goals of Turkey's first national food banking summit which I wrote about in my previous articles (https://serhansuzer.com/en/turkiyede-tarihi-bir-ilk-gida-bankaciligi-zirvesi):
1. To bring food banks together with the private sector to get more and regular donations,
2. To ensure that Food Banks adopt our principles of impartiality, transparency, honesty and sustainability,
3. To ensure that relevant laws and regulations are adopted in international standards in the near future,
4. To inform the private sector representatives who contribute to the system that they have legal interests, besides their moral obligations, such as "tax assessments reductions" in order to encourage them to donate more,
5. How food banking operates and the different models of banking in the world, along with practices and technologies to demonstrate to food banks in Turkey,
6. To honor and thank them by bringing food banking institutions, private sector representatives and public authorities to the forefront,
7. Bringing together the hard workers to share their efforts with everyone.
I ended my speech with "May the 1st National Food Banking Summit be propitious to our homeland, nation and mankind"

After my speech, the general secretary of Sürakademi, Murat Sungur Bursa took the floor. Mr Murat shared his experiences in the field of sustainability and social assistance. He gave practical examples. "The lack of effective food banking renders all sustainability activities as pointless". According to religious and cultural traditions, it is not permissible for us to go to bed while our neighbors go hungry. Today, instead of acting with our sense of justice, we have instead changed our neighbors" he added.
Words from Nemitz honoring TIDER…
After this good speech, the Global Foodbanking Network (GFN) manager Craig Nemitz took the floor. He also talked about our history and expressed how harmoniously GFN and TIDER have worked since the beginning and how much they care about our relationship. He also mentioned that we made history by winning the first GFN innovation award. Finally, he stressed that our common goal is to live in a world without hunger.
With his sympathetic and positive personality, Nemitz enriched the content by adding technical details about food banking and added flare to the speeches with the comments he made at the opening panel.
Now let's come to the panels ... The panels were colorful and informative. I would like to briefly share my comments about them here.


The necessity of food banking to connect with legislation
In the first panel, GFN's manager Craig Nemitz and United Nations FAO Deputy Representative Ayşegül Selışık spoke. In the panel I moderated, we received information about both the United Nations Food and Agriculture Organization (FAO) and GFN. We had the opportunity to listen to the perspectives of these NGOs, which have activities all over the world, on waste, poverty and food banking. We also had the chance to compare different models around the world. United Nations Food and Agriculture Organization (FAO) representative Ayşegül Selışık; touched upon the cooperation projects between Turkey and Central Asia, establish a system of food banking in Turkey and making them mandatory, and underlined the need for binding legislation. She also mentioned the importance of awareness and education in all these social assistance issues.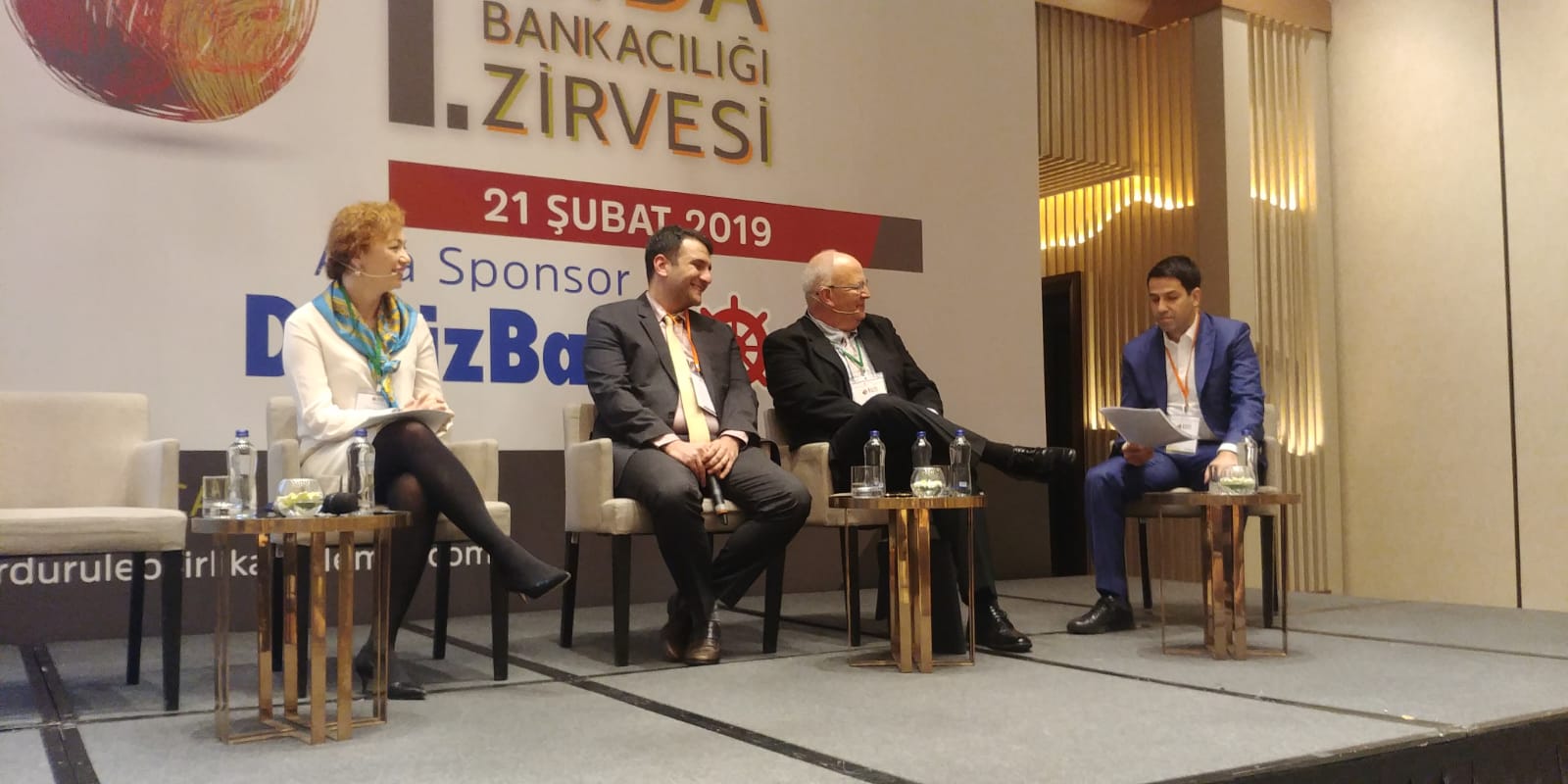 After the coffee break following the first panel, we had the opportunity to listen to the 'Support Cloud' and 'Support HR' platforms from our General Manager Nil Tibukoğlu and our HR manager Duygu Bekiroğlu.
These presentations were then followed by the afternoon panel presentation which was titled "Legislation in Food Banking in Turkey, Zero Waste and Applications". Moderated by the first food banking law in 2004, the former deputy Aziz Akgul, who is one of the founders of the TIDER took part along with valuable bureaucrats from the public panel which are: Ministry of Trade, Consumer Protection and Market Surveillance General Directorate Department Head. Yakup Güzel, Family, Labor and Social Services, Deputy Director of the Provincial Directorate of Social Services Ali Fuat Karaman and the Ministry of Environment and Urbanization, Zero Waste Inventory and Training Branch Manager Hulya Cakir…. Miss Hulya's ministry spoke of 'Zero Waste Vision' and what they do, Mr Yakup made a presentation about the ministry of commerce's view of food banking and Mr Ali Fuat explained what his ministry is doing about social solidarity and their perspectives on food banking.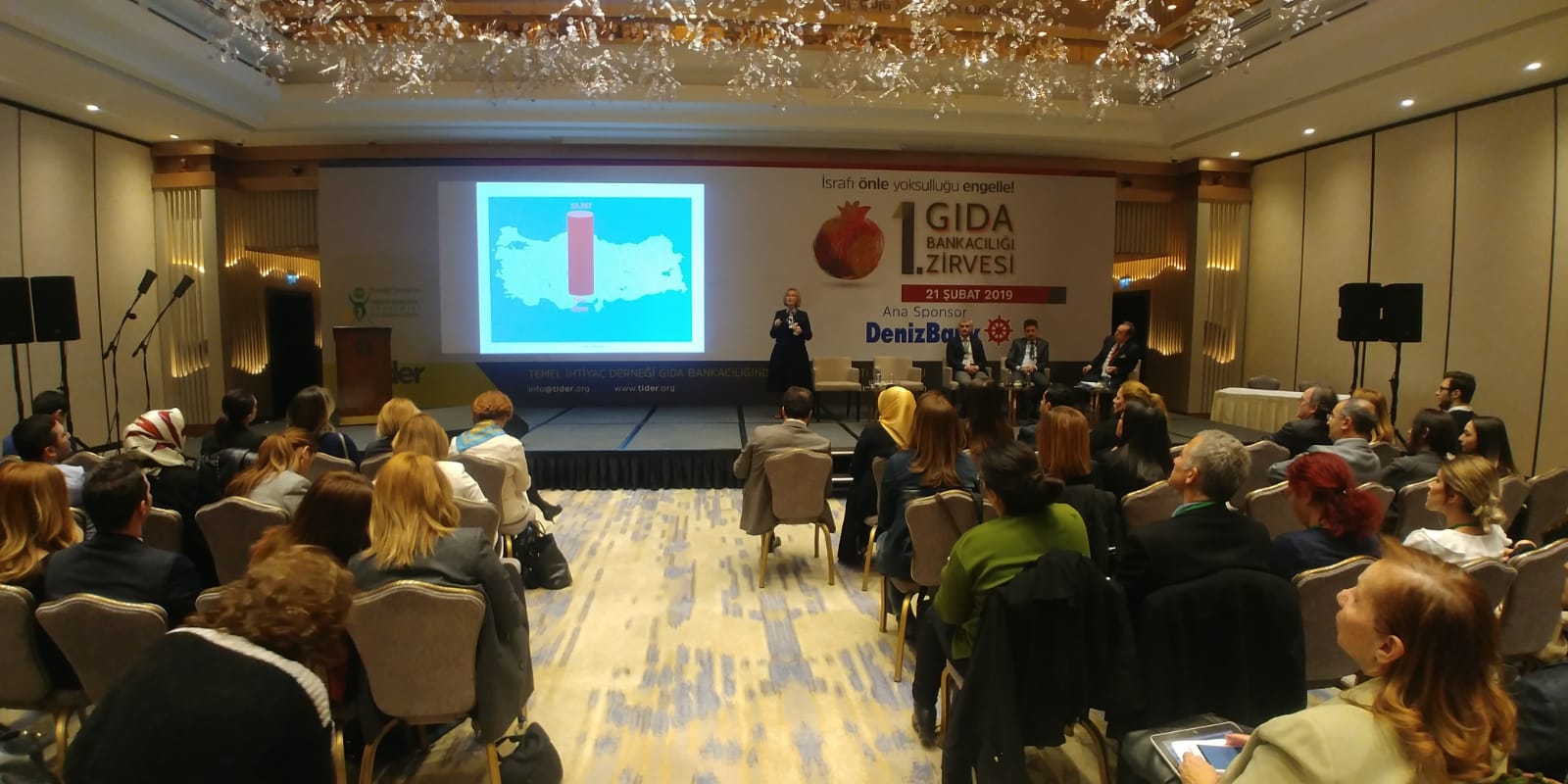 After the lunch break, a cooperation protocol was signed between Mr Mert Fırat, Founding Partner of Needs Map and Hande Tibuk, Chairman of the Basic Needs Association. We also signed the IDEMA TİDER cooperation agreement with dearest Güler Altınsoy, General Manager and Founding Partner of IDEMA and Needs Map. After the signatures, everyone gave a nice speech. On my behalf, I also mentioned that: Needs Map and IDEMA have always had a very good agreement with TİDER and have worked side by side and beyond this that I still have a mentality of "create innovation, show me something different". That's why I am personally very happy today to sign a cooperation agreement with an organization that has signed innovative models in social work such as IDEMA".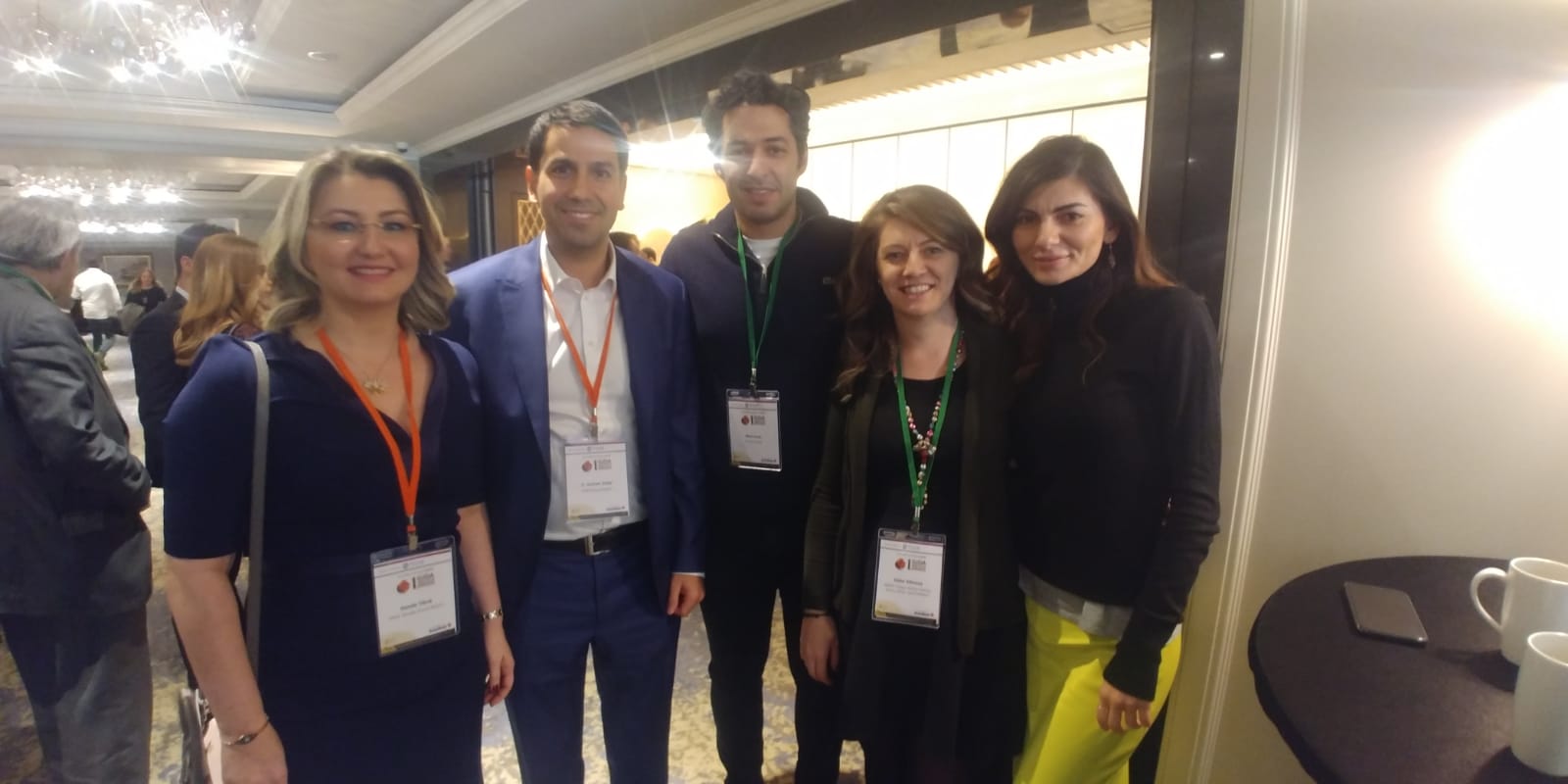 After these, we moved onto the next panels.
Our support panels
The management of those who have provided immense support to food banking since the beginning then made some speeches: CarrefourSA (Brand, Corporate Communications Manager, Melis Karatay Ebin), Barilla (Customer Service and Demand Planning Manager, Buket Yildirim) and CHEP (Corporate Communications Manager, Serhat Enyüce). This panel also had a very valuable moderator; dearest Talat Yeşiloğlu, Economist Editor-in-Chief, who took the lead of the panel with these valuable speakers. Everyone shared thoughts about what their firm is doing in Turkey and globally. Seeing how much these global companies attach importance to food banking and what they do, really gives hope. In addition, the main sponsor of the Summit, Denizbank's Agricultural Banking Sales and Performance Management Group Manager, Serhan Hacısüleyman, mentioned that 750 thousand tons of wheat is left to waste due to lack of technical equipment and spoke about the projects they have now provided to agricultural banking in order to reduce striking wastes like these.

Complementary models and 'zero waste'
After this panel, Dilara Koçak (Nutrition Specialist, FAO Zero Waste, Zero Hunger Project Supporter) was the moderator. In the presentation where valuable organizations such as Hayata Sarll, Deliler ve Veliler Association and IDEMA / Needs Map spoke, I also participated and spoke about TIDERS Support Market model. Ayşe Tükrükçü and Ali Denizci spoke about soup kitchens in their own unique way. My favorite part of this was just how sincere they were. I was personally pleased to speak at the same panel with these big-hearted people who had faced great difficulties in their lives and never gave up.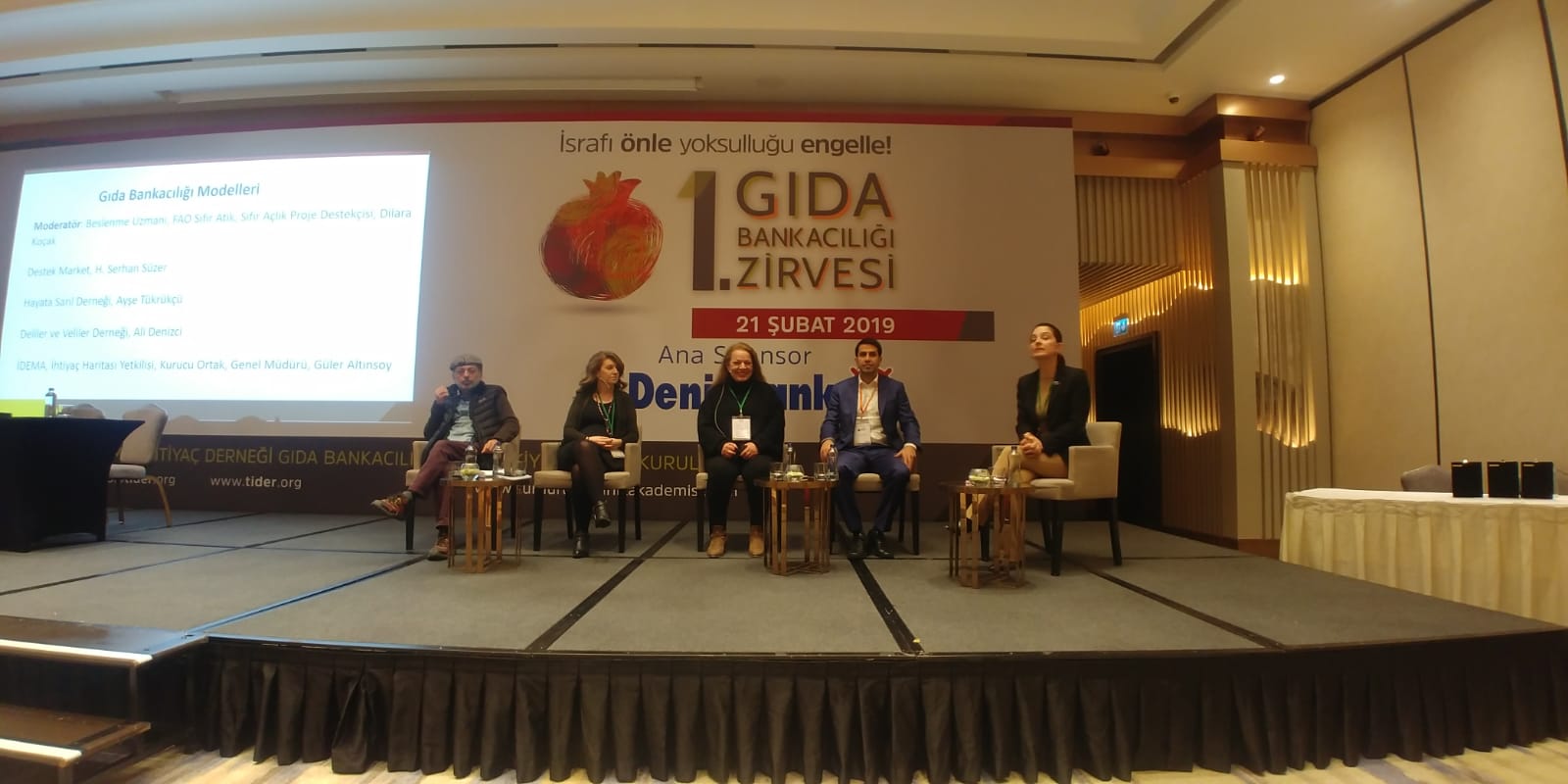 We talked about the need maps and the digitalization models brought to the CSO and how we can operate the systems of TIDER, which move with the physical model, and how both models complement each other. Güler explained the importance of civil society solidarity and explained how they complement each other. Meanwhile, the moderator of this panel Dilara Koçak, which is one of Turkey's most important nutrition experts and outside her role at FAO as a goodwill ambassador, is supporting TIDER in many aspects and forms. Finally, she enabled the sale of the shopping bags which she designed to be on behalf of TIDER. Many thanks to her.
After the coffee break, the 'Zero Waste Vision' was discussed in the last panel. This panel was moderated by Murat Sungur Bursa, President of Sustainability Academy. We were delighted that Sürakademi supported us as our strategic partner and that Mr Murat personally played an active role throughout the event. I think that our strategic partnership with Sürakademi will strengthen and add synergy to all parties. The panel featured valuable speakers in their respective fields. After the opening speech of Mr Murat, the TIDER Chairman, Hande Tibuk explained our vision of preventing waste. Accordingly, I would like to share the following matrix with you again: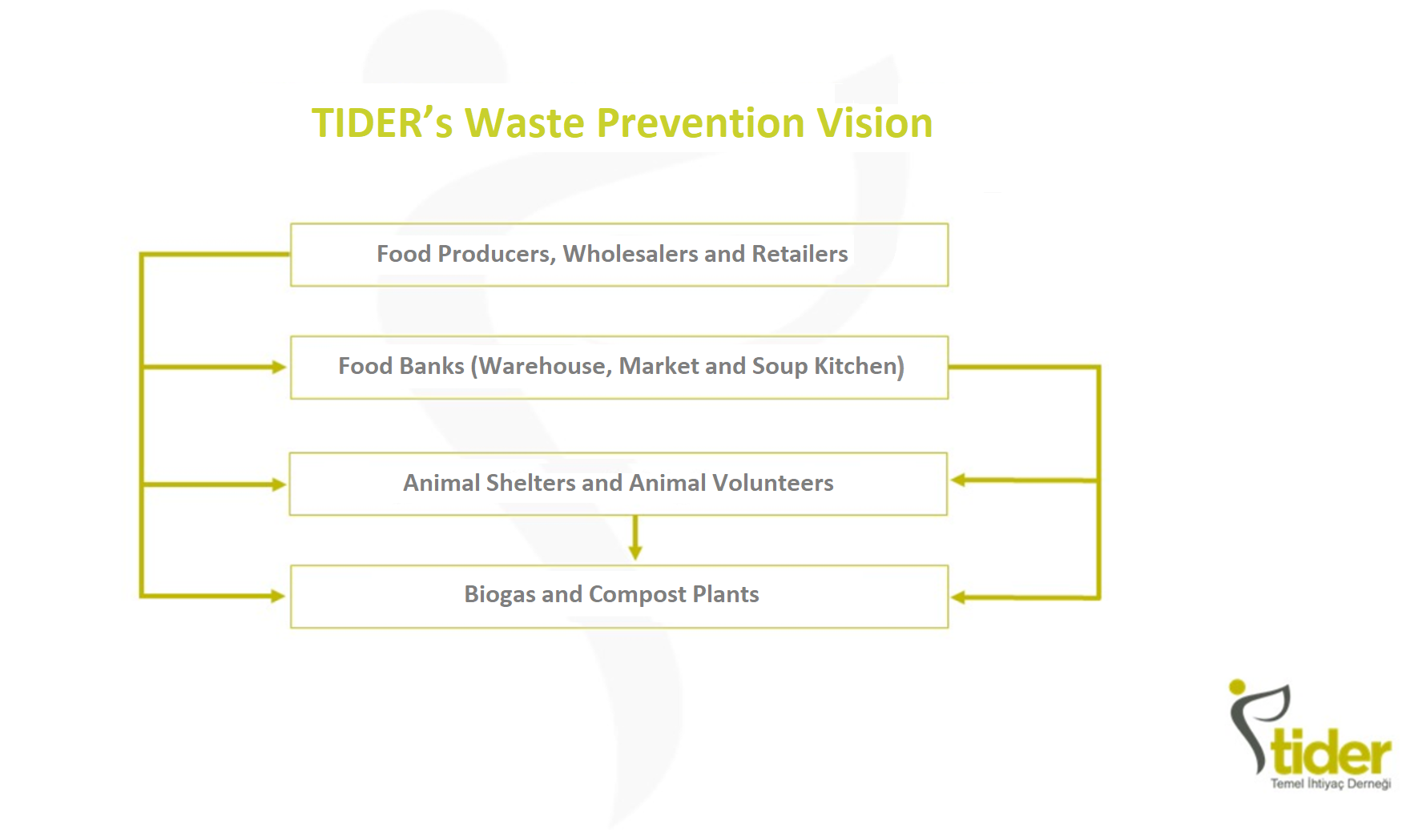 Afterwards, the Boğaziçi University Sustainable Development and Cleaner Production Center Coordinator Prof.Dr. Dr. Nilgün Cılız explained what they are doing as Boğaziçi University for their zero-waste vision and talked about their practices. The HayKonfed Official, Nihal Aydın also talked about the operations and cited the persecution of animals and said that there is much more to be done on this issue. There was even a video shown about this. The Biyoder Board Member Mehmet Ali Nalçacıoğlu made a great presentation about biogas and compost. In other words, everything tied back to; TIDER, the umbrella organization of Food Banking, HayKonfed, the Confederation of Animal Rights of Animals, and Biyoder, the sectoral association of companies engaged in composting with biogas, took the 'Zero Waste Vision' into consideration.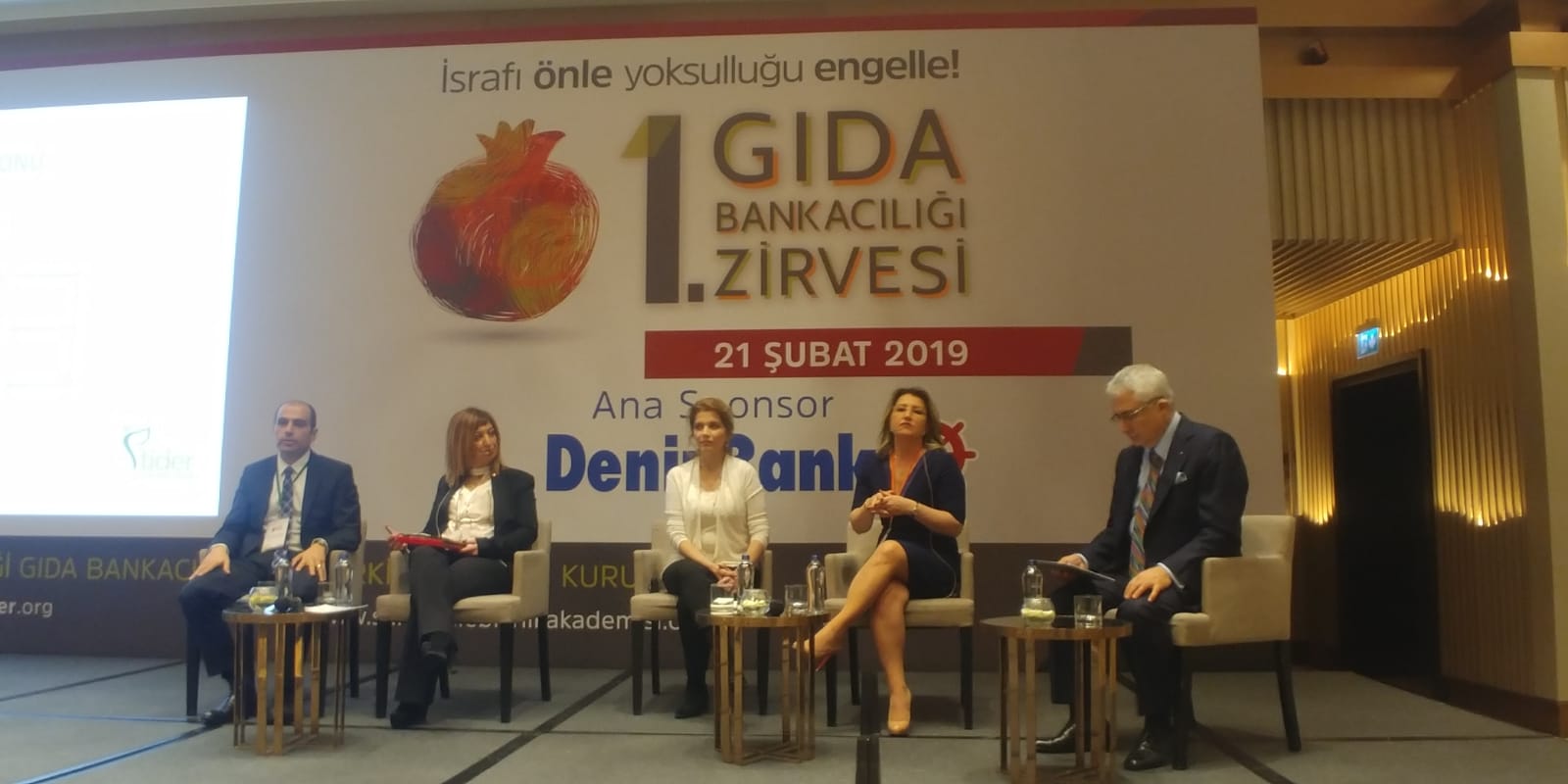 The event drew to an end with the speech of Özkan Zere, founder of Meander Consulting. He shared anecdotes about humanity with a deep philosophy. He ended his speech rhetorically about why the steps taken in the name of humanity like Food Banking Summits should be supported very much.
At the end of each panel and after Mr. Özkan's speech, we presented plaques to thank the participants and supporters. After the group photo, the event came to a close.
The second series of this event, which contributes greatly to 'Food Banking' and thus to humanity in every aspect, will be held on 20 February 2020.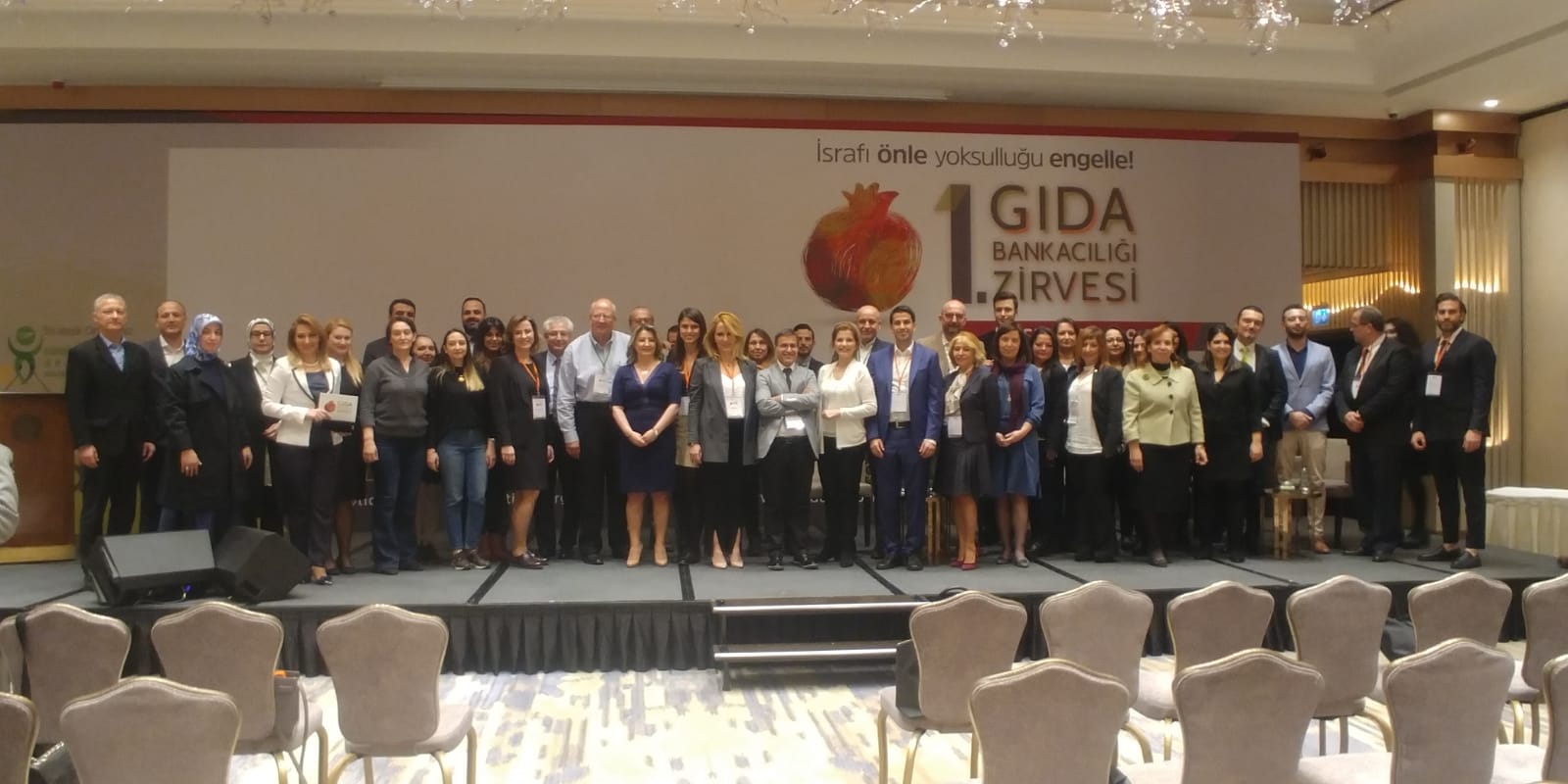 Note: After the Food Banking Summit, a lot of news appeared on national, local and sectoral media (written and visual). I would like to take this opportunity to share these with you:
http://share.interpress.com/download/video/finanscafe25022019ntv.mp4
http://web.interpress.com/app/document/viewer/6bca5231-8299-4e9d-a8bf-4dfd6b458bfa?cid=w1lfcx7EsKI%3D
https://www.ntv.com.tr/video/ekonomi/istanbulda-1-gida-bankaciligi-zirvesi,kc-i6H8a0kCkQnNNn-3pXw
https://www.gidaturk.com.tr/2019/02/1-gida-bankaciligi-zirvesi-gerceklestirildi/
Tag: sosyal sorumluluk