Floating Solar Energy Systems 2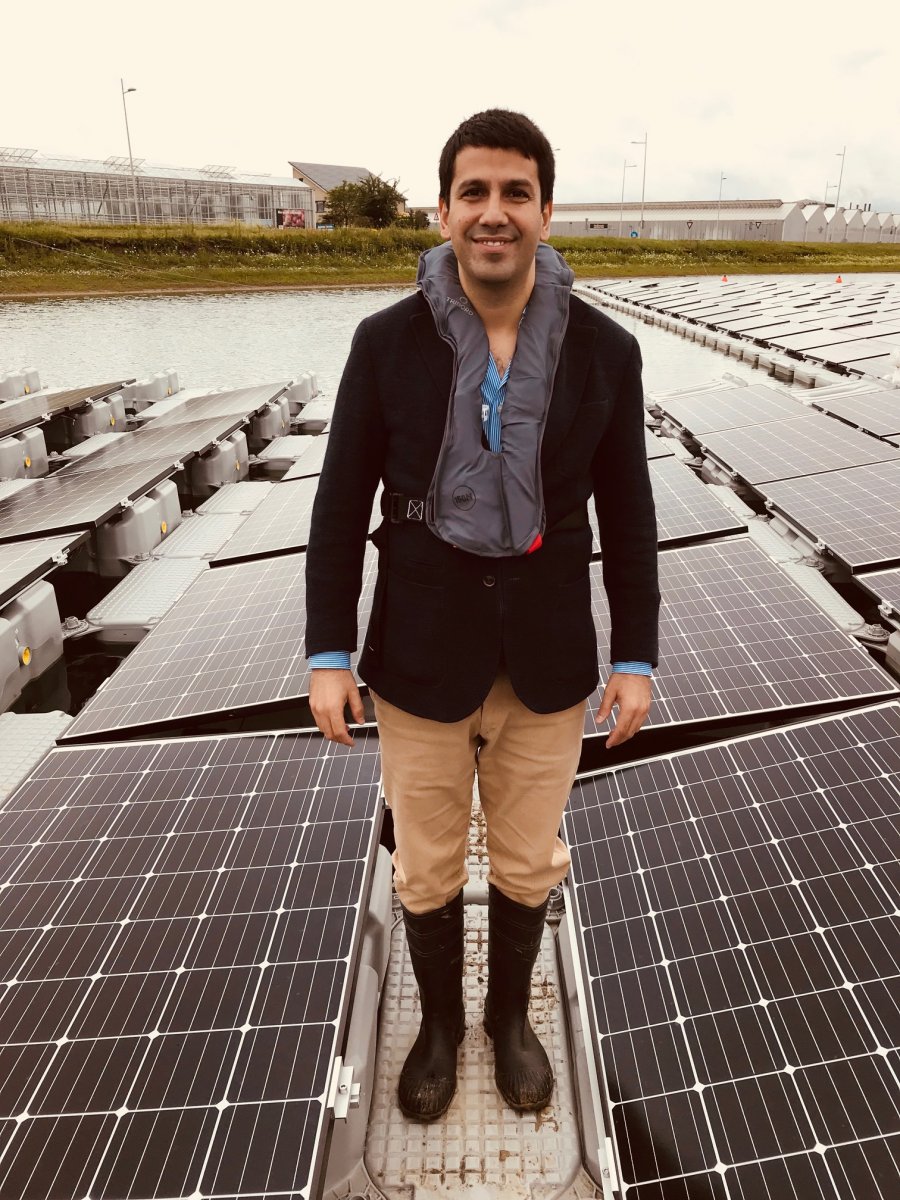 In the first article of this year, I had covered the subject of Floating Solar Energy Systems (floating SPP). I have written 8 consecutive articles about the epidemic on the days when we are currently experiencing the Covid-19 outbreak (including the April 23 article). Now, I will write my first coronavirus independent article about floating SPP. This time it will be a more technical article as promised in my first article.
I would like to share with you the first article I wrote about floating SPPs for the purpose of reminding you: https://serhansuzer.com/en/yuzer-gunes-enerjisi-sistemleri-1
First, in order to explain the technical issue, let me give you a general perspective on this. Floating SPPs consist of four main components:

1. Floating system
It is the hardware on which the PV panels are mounted, the panel angles can be specially adjusted and prevents the system from sinking by providing buoyancy. I am talking about the special pontoon system that will keep the solar energy system on the water surface.
2. Anchoring/attachment system
It is the system located between the floating system and the water floor, which ensures that the panels remain at the same angle and prevents the whole system from moving independently, and is anchored on the water floor.
3.Underwater cable
It is a wiring system that transmits the electricity produced in PV panels, completely isolated from the external environment, from the desired connection point under the water.
4. PV system
They are photovoltaic panels where every desired technology can be used. Generally, crystal technology is used (polycrystalline, monocrystalline w/ PERC, PERT, Topcon etc.) but we can witness that different technologies such as thin film are also used.
I had mentioned in my first article about the founder and CEO of Temiz Creative Technologies Consultancy and Engineering Inc (TYT) company, Mr Barış Arıcı, whom shared his technical guide with me. I am sharing this technical guide with you in my blog post with his permission. There is enough technical information in this report. I would like to thank especially Barış, Aydın, Sami and the whole TYT team for their support. Now let's get to their reports. You can find their technical reports below: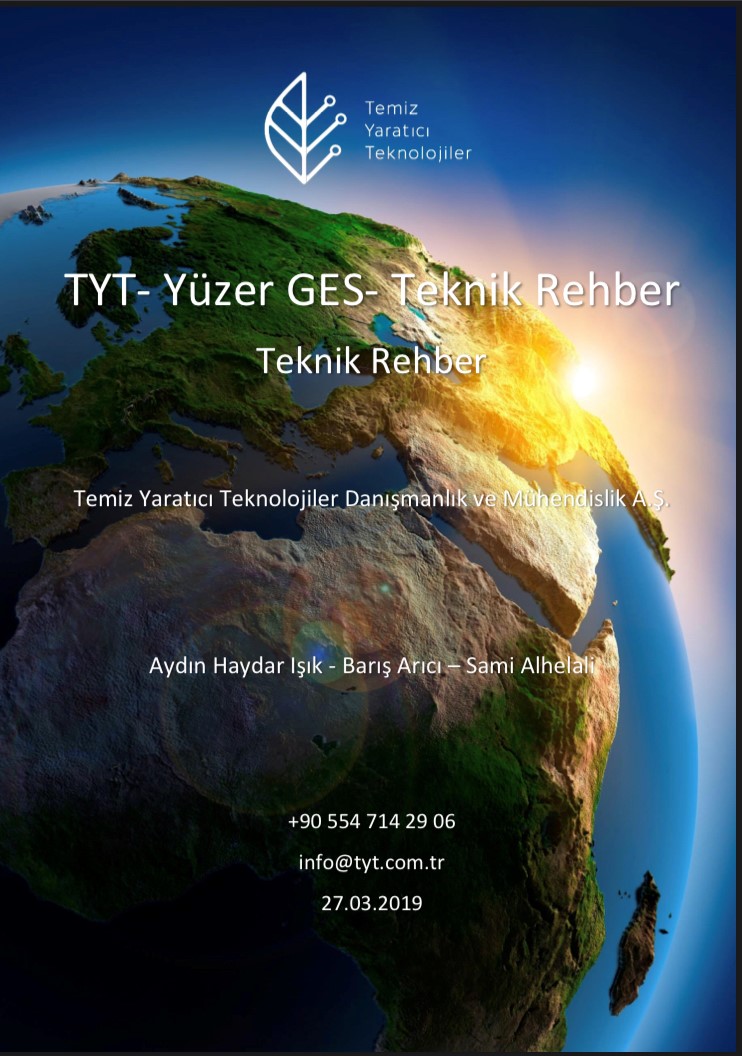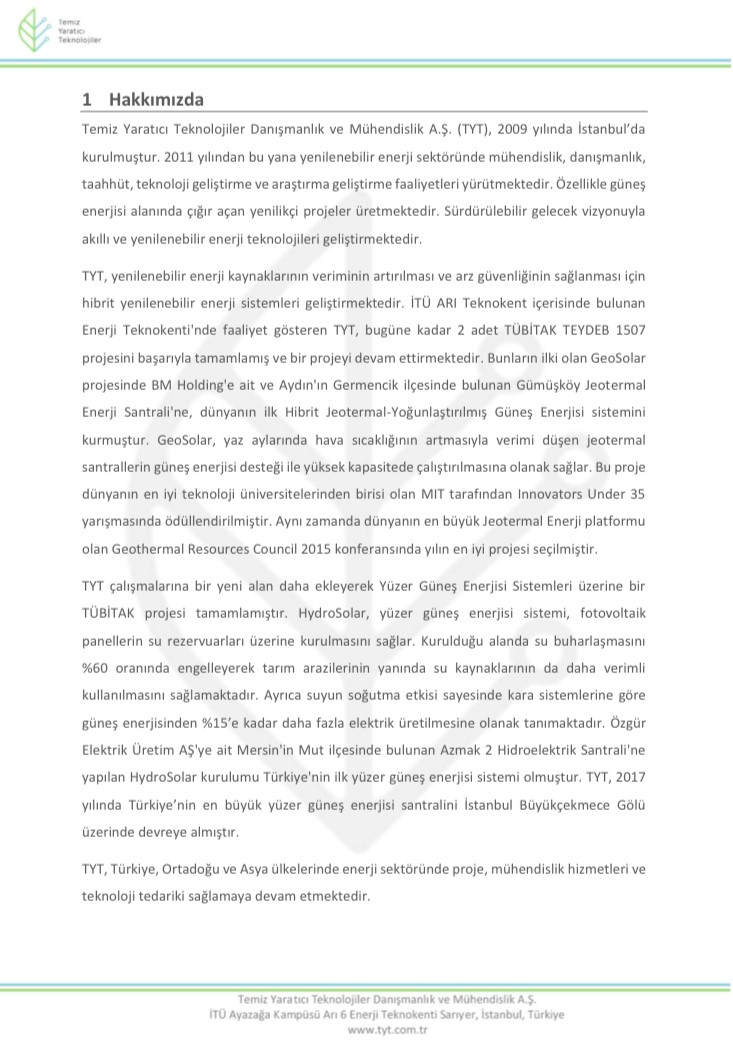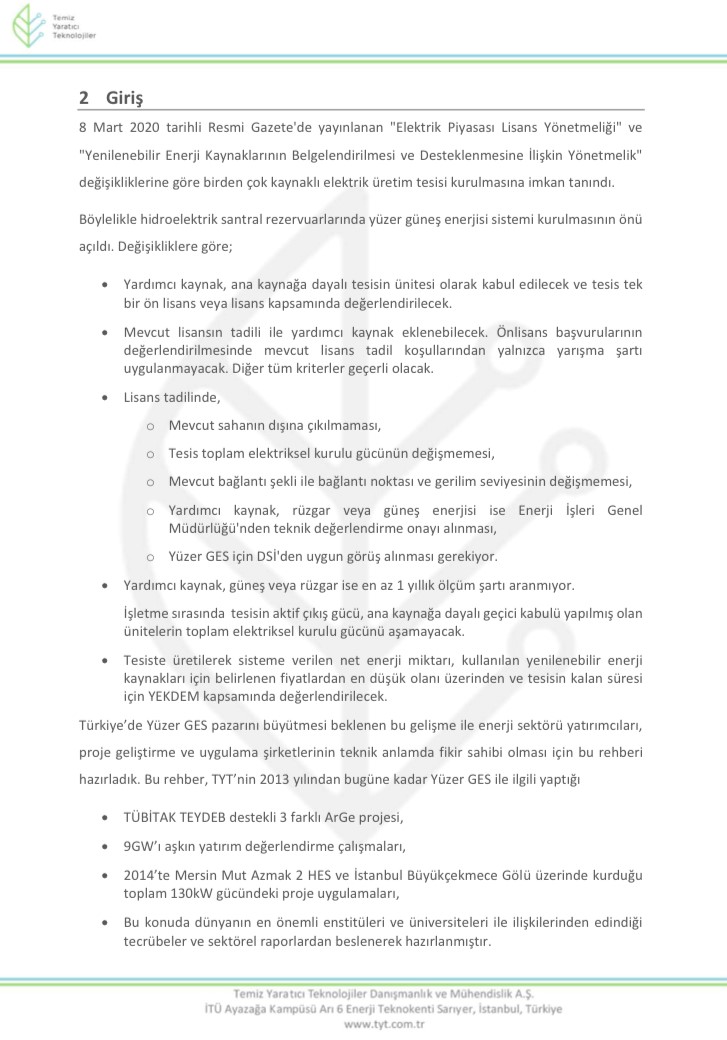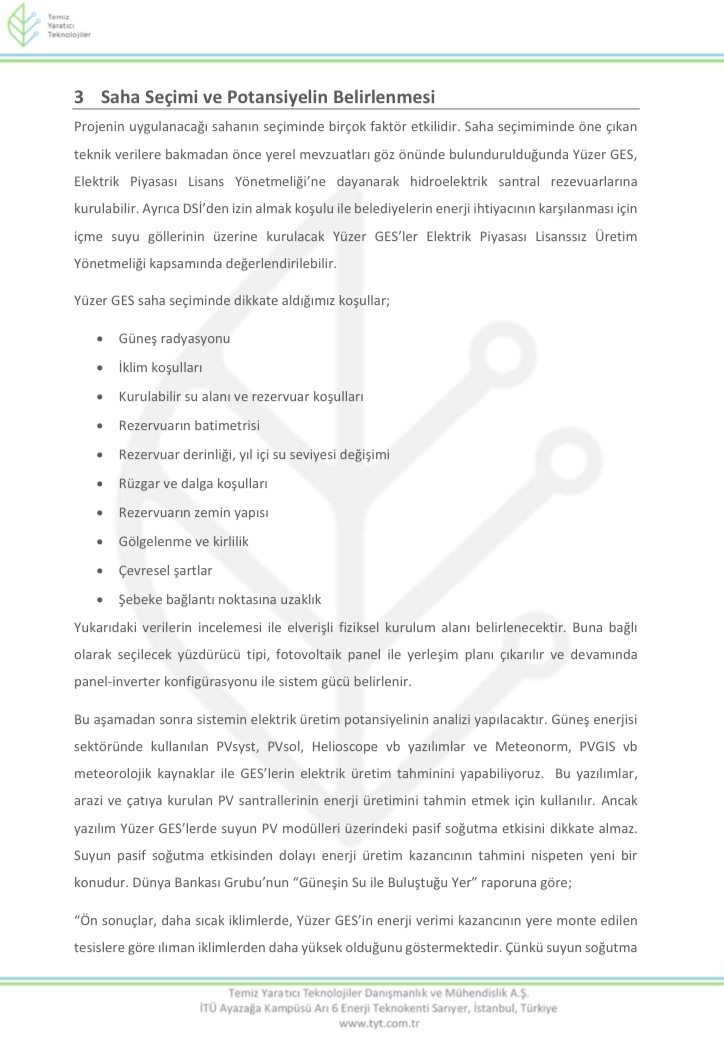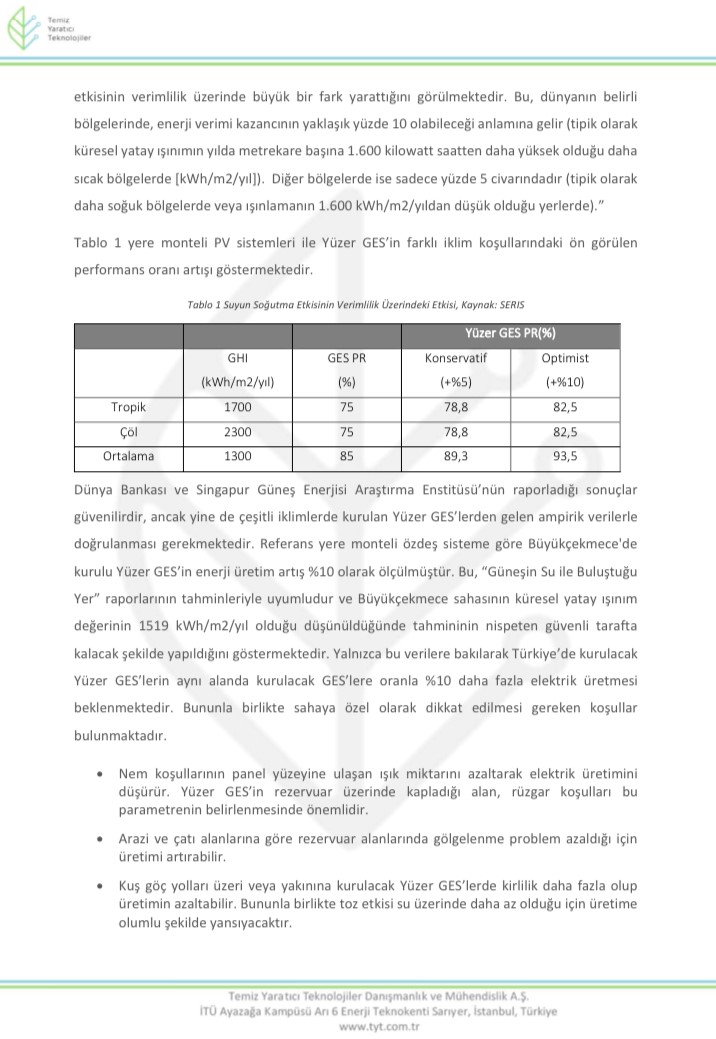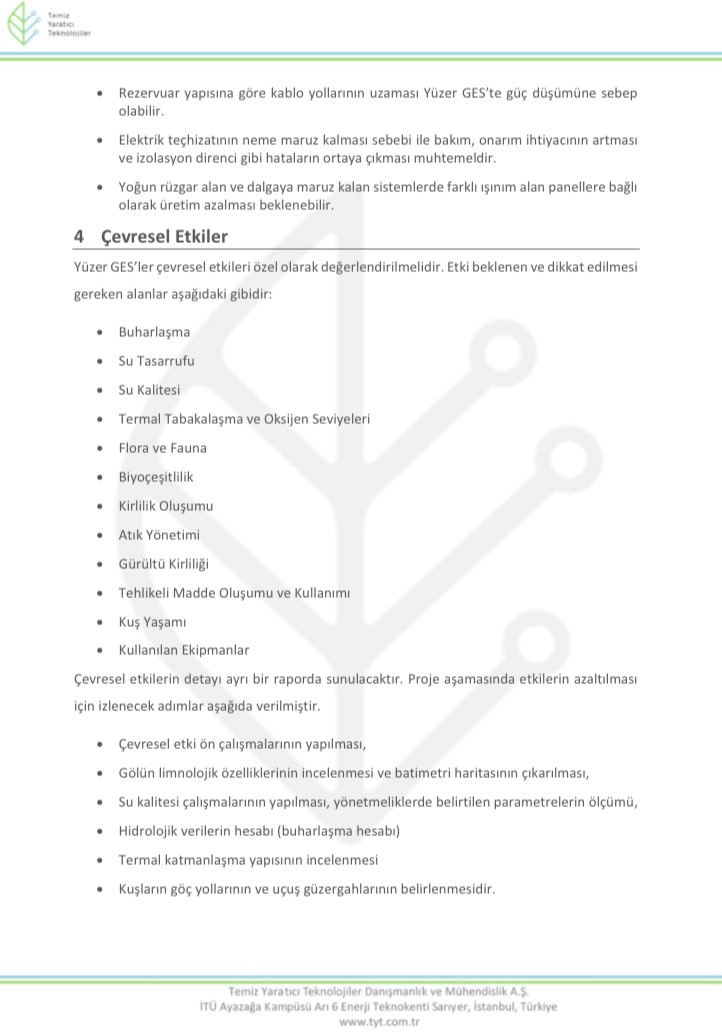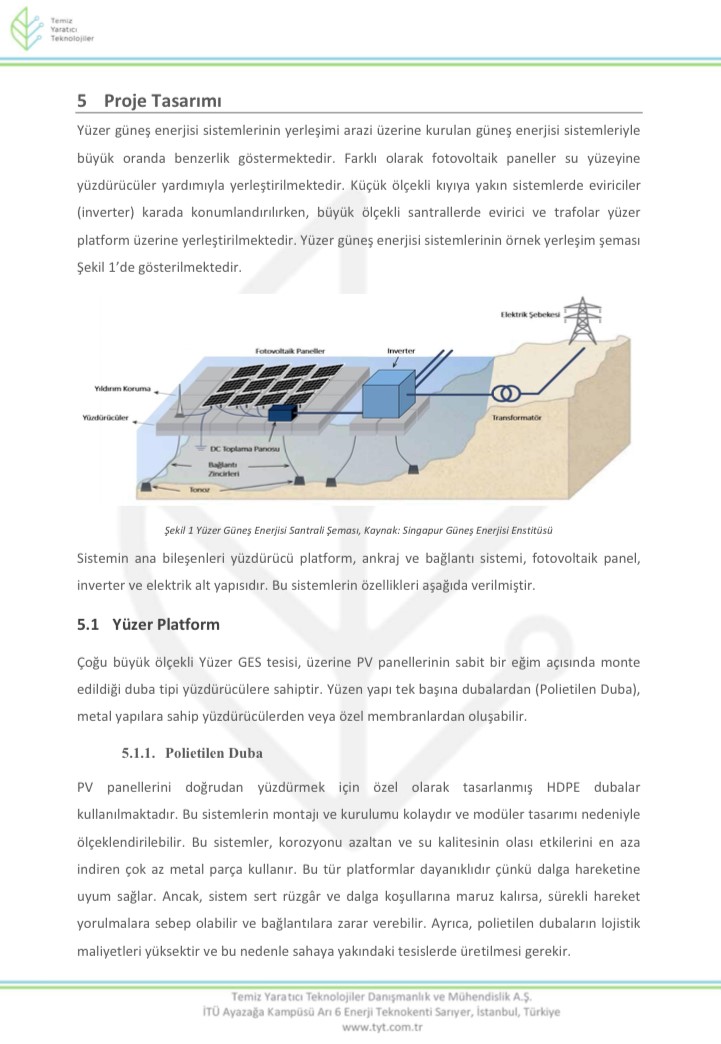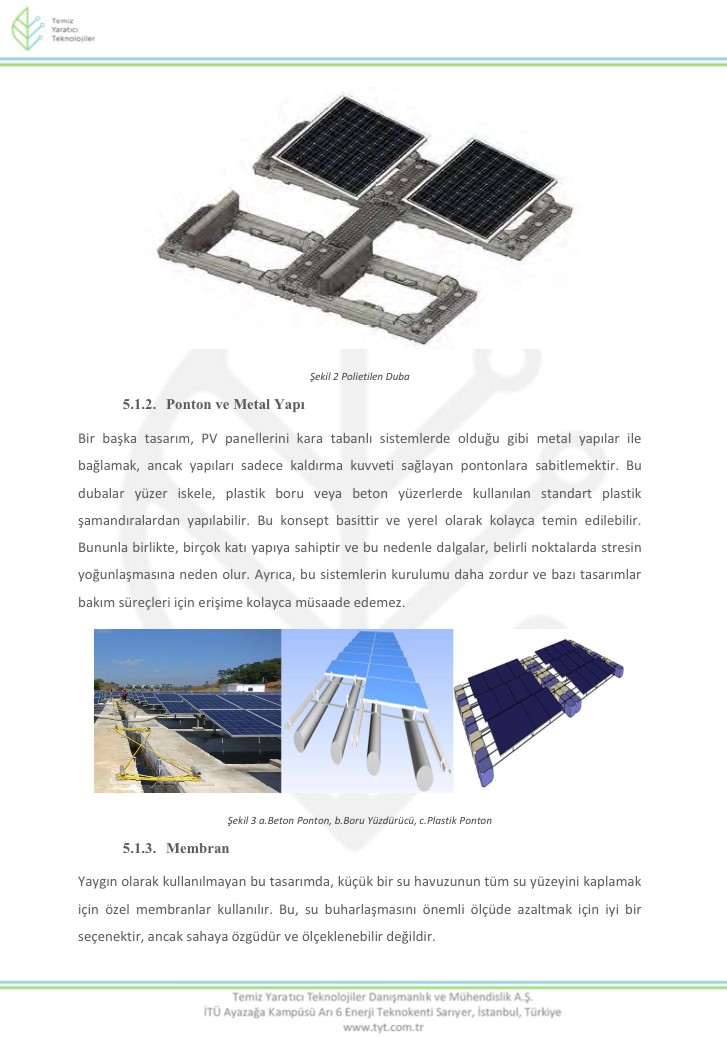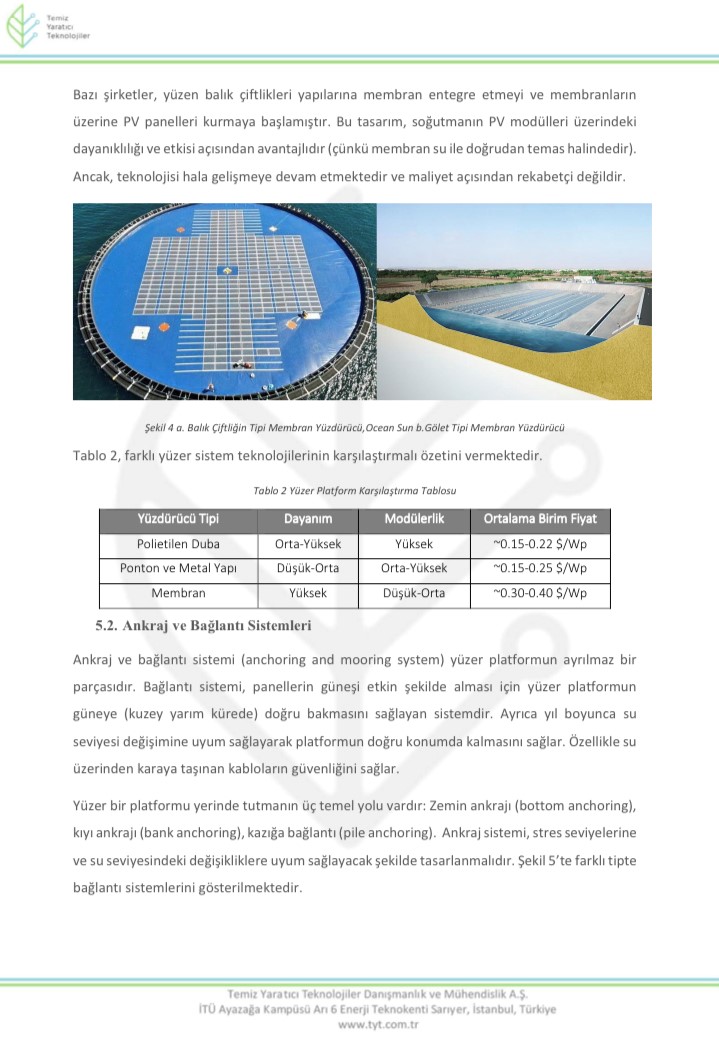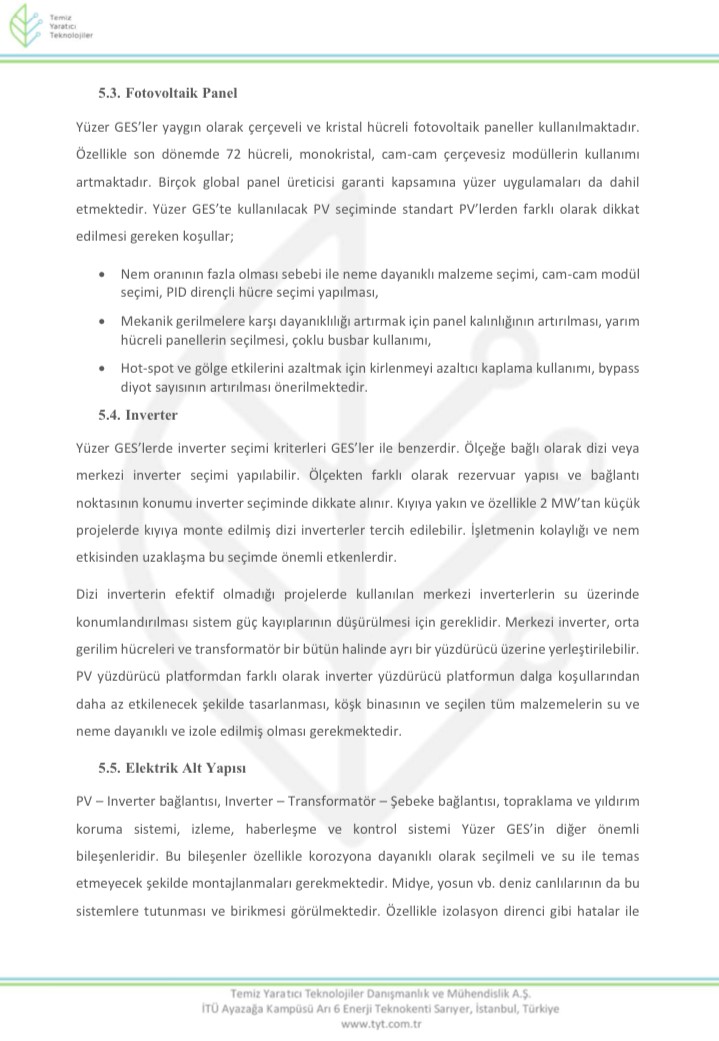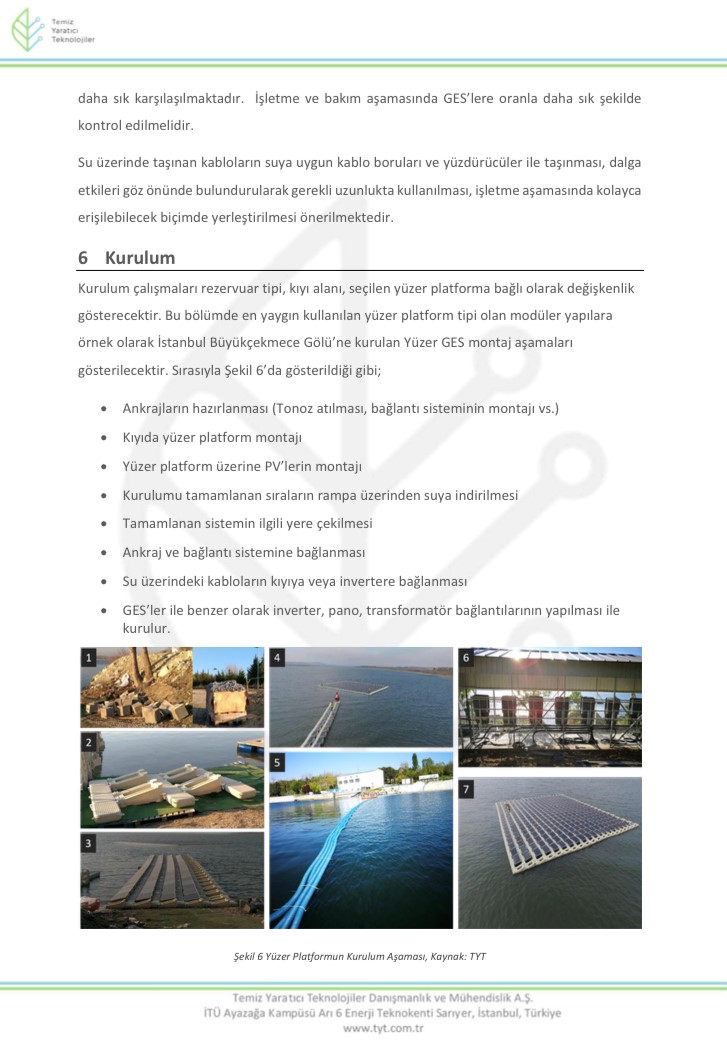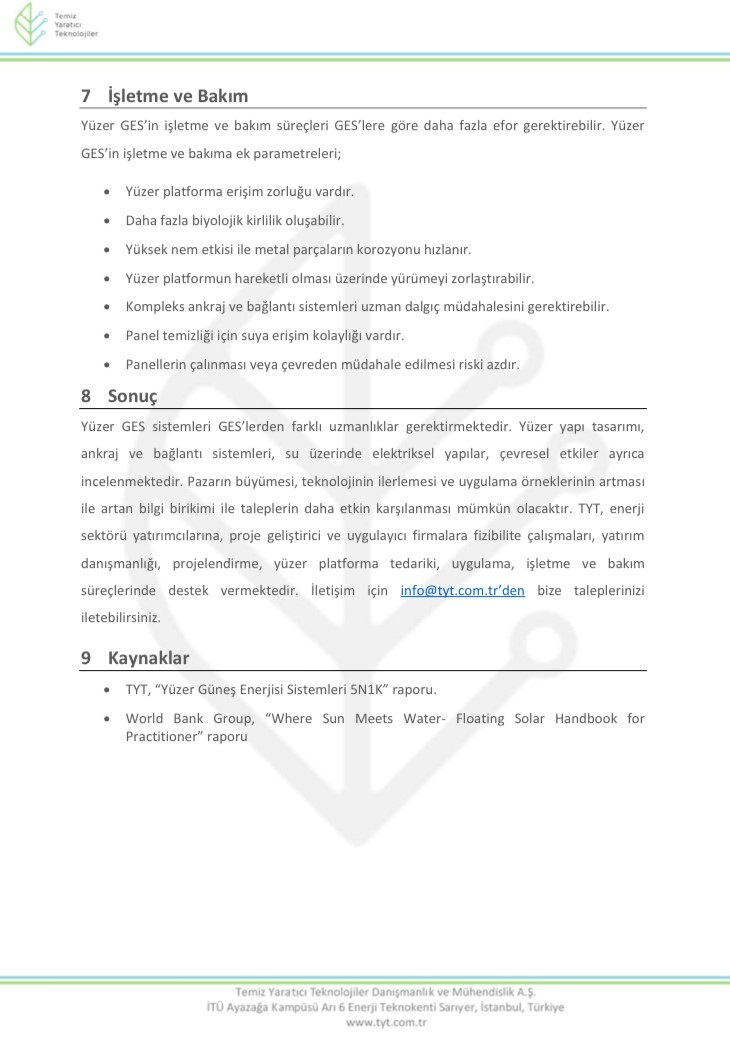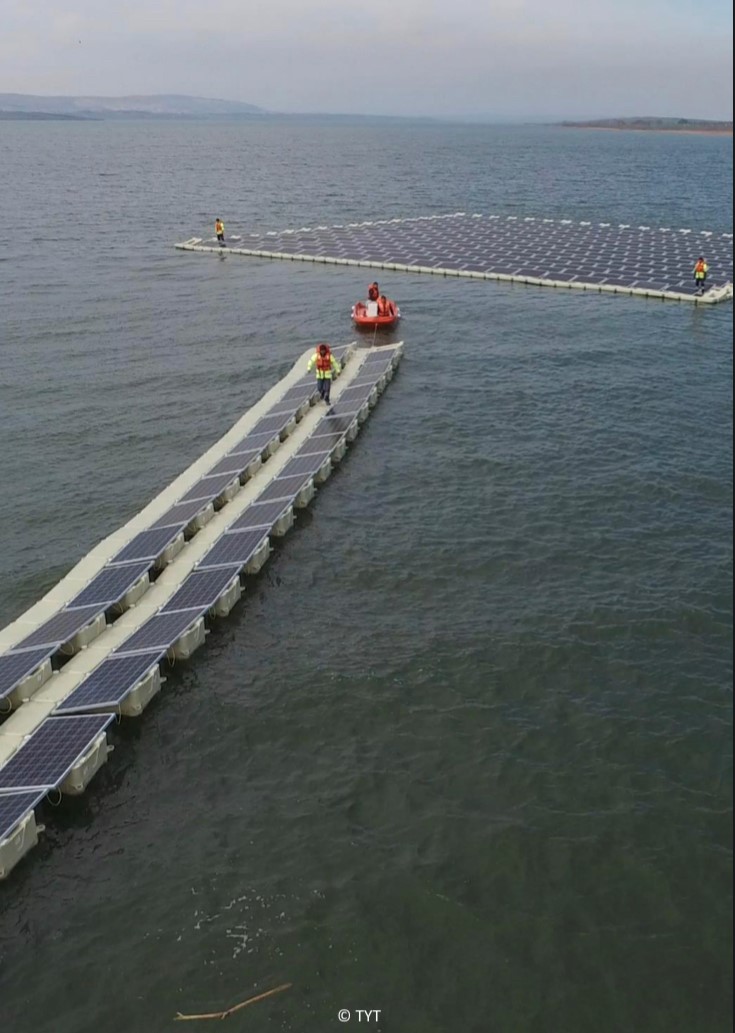 After reading this report, I would like to give you a vivid example of a floating SPP that I visited. We visited a floating GES built on a man-made pond in the Netherlands as a guest of the French firm Ciel et Terre, the master of this work. As far as I remember, the shore anchorage (Bank Anchoring) was used to fix this power plant with an installed capacity of 3 MW. They created a corridor system in order to maintain and install monocrystalline solar panels that are frequently placed on polyethylene barges. Investors of this system, in which a central inverter is used, were very satisfied with the return of the project, although they made this investment in a place like the Netherlands where solar radiation rates are very low in our opinion. Here are some pictures I would like to share with you from this visit: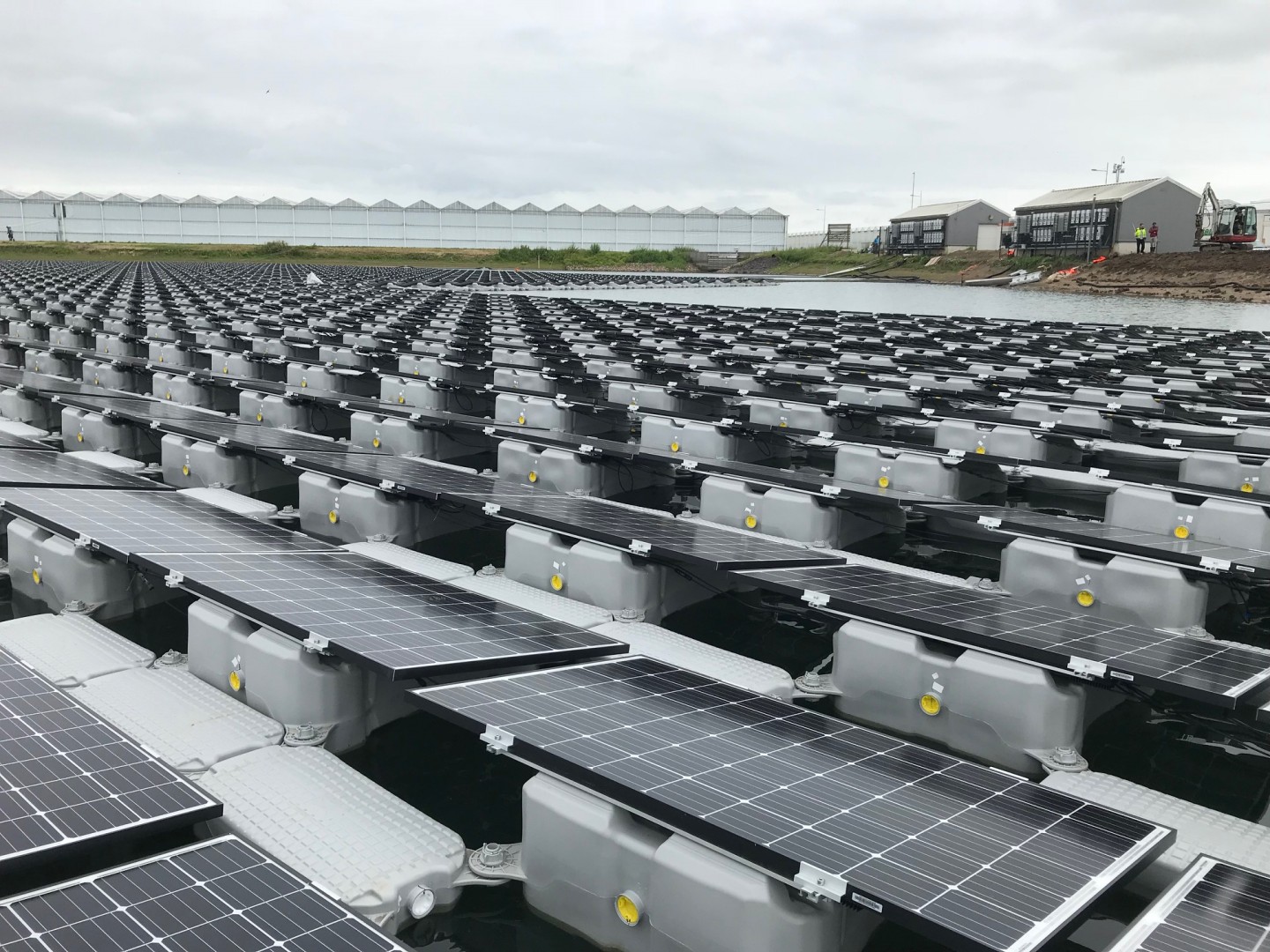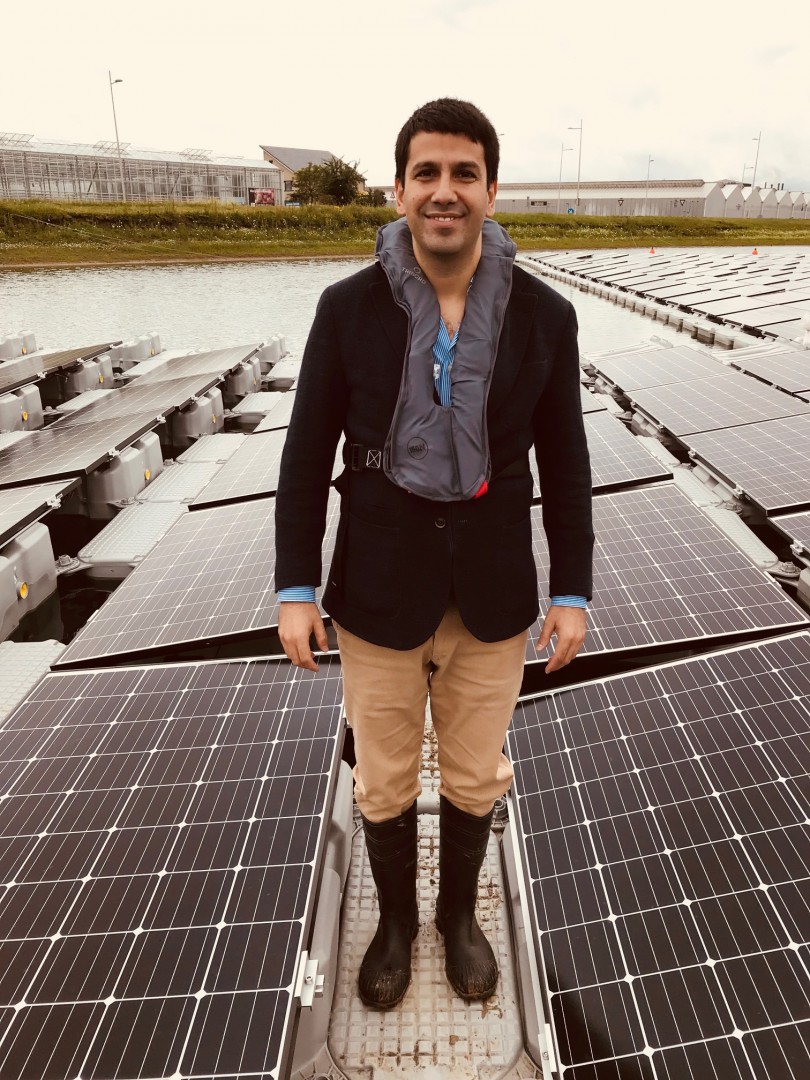 As you can read in the above report, according to the "Electricity Market Licensing Regulation" and the "Regulation on Certification and Support of Renewable Energy Resources" published in the Official Gazette dated March 8, 2020, it was possible to establish a multi-source electricity generation facility.
This paved the way for a floating solar energy system in hydroelectric (HEPP) reservoirs. In my opinion, floating SPPs will be established not only in HEPPs, but also in water channels, wetlands such as lakes and ponds, and even in the sea.
Once we get over this Covid period, it is expected that there will be a surge on floating GES in Turkia. We want everywhere to be equipped with solar panels as soon as possible, let's produce our own energy and ensure our energy independence!
Tag: ekonomi