Witnessing history at the United Nations (1)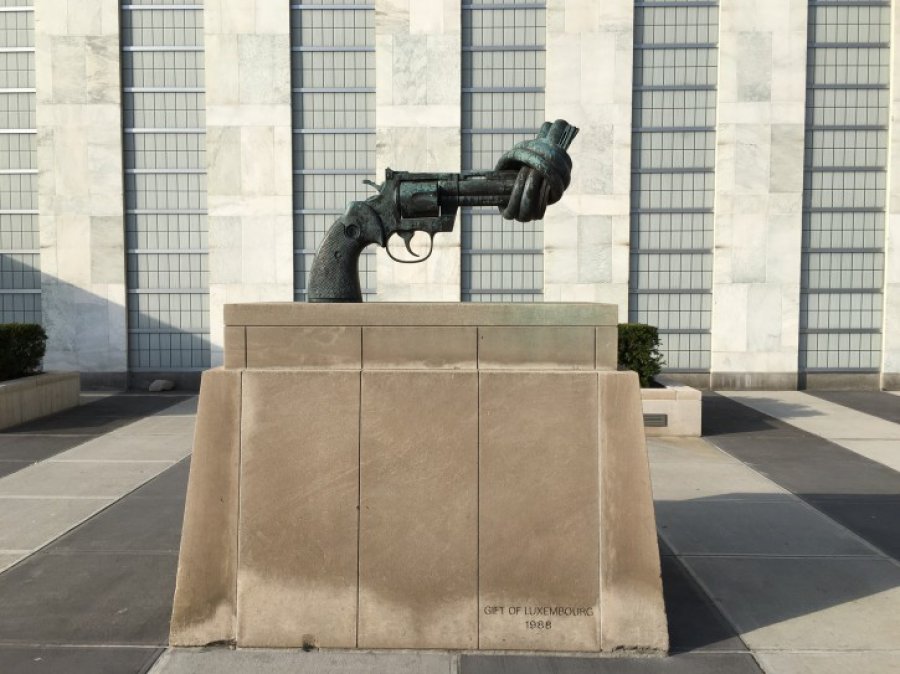 I was honored to be a guest of the United Nations and a witness at the Paris Agreement Signature Ceremony, an event world leaders attended on April 22 in New York and one that will have historical consequences for the future of our planet. I will share my impressions in four instalments, the first of which is an account of my experiences prior to the signature ceremony.
I had left the city over the weekend for some relaxation on an island I much enjoy. As I glanced at my inbox while dining with some friends at a fish restaurant on Saturday evening, I noticed an invitation from the United Nations. Assuming it was spam I left it unread and returned my attention to the pleasurable conversation at the table.
That fun night out was followed the next morning by a leisurely morning, a tour of the island and the trip back to the city; suddenly, the evening was upon us. It wasn't until I was back at home that I checked my mail more carefully and was astonished to see the contents of the e-mail I mentioned earlier. This is what I found:
Dear Mr. Serhan Suzer,
On behalf of the Secretary-General, it is my honour to invite you to attend the High-Level Signature Ceremony of the Paris Agreement, that will take place at the United Nations Headquarters, in New York, on 22 April 2016.
The successful adoption of the Paris Agreement at the twenty-first session of the Conference of the Parties to the United Nations Framework Convention on Climate Change in Paris, France, on 12 December 2015 provides a solid foundation for a low-carbon, climate-resilient transformation of the global economy and our societies. By signing the Agreement on 22 April and accepting it through their national processes, countries will help ensure the Agreement enters into force and get implemented as quickly as possible, in collaboration with a wide range of other actors.
The opening and signature ceremonies in the morning will be followed in the afternoon by the high-level interactive dialogue "Taking Climate Action to the Next Level – Realizing the Vision of the Paris Agreement". Representatives from member states, civil society, private sector, finance and the academic world will share perspectives on how they are working together to accelerate action, replicate and scale-up successful activities that deliver the transformative implementation of the Paris Agreement. A short closing ceremony will bring the day to a close on a high note.
Your presence throughout the day will contribute to making this date an historic milestone in which the world moves from aspiration to action in tackling climate change. Please confirm your participation by return of email (ccst@un.org), at the latest by Friday 15 April.
I look forward to seeing you in New York on 22 April. Working together, we can build a safer, more sustainable and prosperous world for all.
Selwin Hart
Director
Secretary-General's Climate Change Support Team
Having done a little research to ensure the invitation was real, I accepted without hesitation. I then called my assistant to ask that a flight and hotel in New York be booked for the relevant dates.
This was an extremely meaningful invitation for me. I still had no idea how they had found me. While it is true that I have been involved in some groundbreaking projects involving renewable energy and sustainability, I suspected that it was my fairly recent acquaintance with people close to the UN that had led to my receiving an invitation. In the end what was most important to me was the realization that all of our efforts had borne fruit and I would be able to witness such an historic occasion.
After an uneventful flight from Istanbul to New York on April 20, I settled into my hotel on the corner of 48th St. and Lexington. It was an interesting and nice coincidence that my room number was 1905, the year of Galatasaray's founding — and this in the same week that the club won the European Championship.
The following day I needed to pick up my official invitation. I got in touch with Richard, who works with Iraqi Princess Nisreen El-Hashemite, a dear friend of mine with many high-ranking contacts at the UN. Richard, who is a real expert on the inner workings of the UN, was kind enough to pick me up at my hotel and walk me through the required procedures. Because we were at the head of the line I received the first invitation. It was obvious that those in the back of the growing queue would have to wait for at least one and half hours, even though most of them were, as far as I could see, people with expertise and influence in their own fields.
We were able to get out of there in a good mood. That week I had the opportunity to meet up with a number of close friends in New York. I took advantage of the period before the signatory ceremony to meet up with various groups for coffee, a meal and a chat.
When the big day arrived I got up at 5.30 and went down to the gym, as usual. I warmed up, got a bit of a workout, called Turkey, had breakfast and left the hotel at 7:50 to ensure I would arrive at the United Nations building located a few blocks away in plenty of time for the official ceremony scheduled for 08:30.
As I approached the building I overheard someone speaking English with a Turkish accent and unconsciously turned in that person's direction, only to see that it was none other than the mayor of Istanbul, Kadir Topbaş. He was surrounded by a group of children wearing UN T-shirts and was asking, "Do you know Istanbul?" I continued on my way with a smile.
At 08.10 I passed through security and entered the building. I'd like to share a few photos I took before I did so.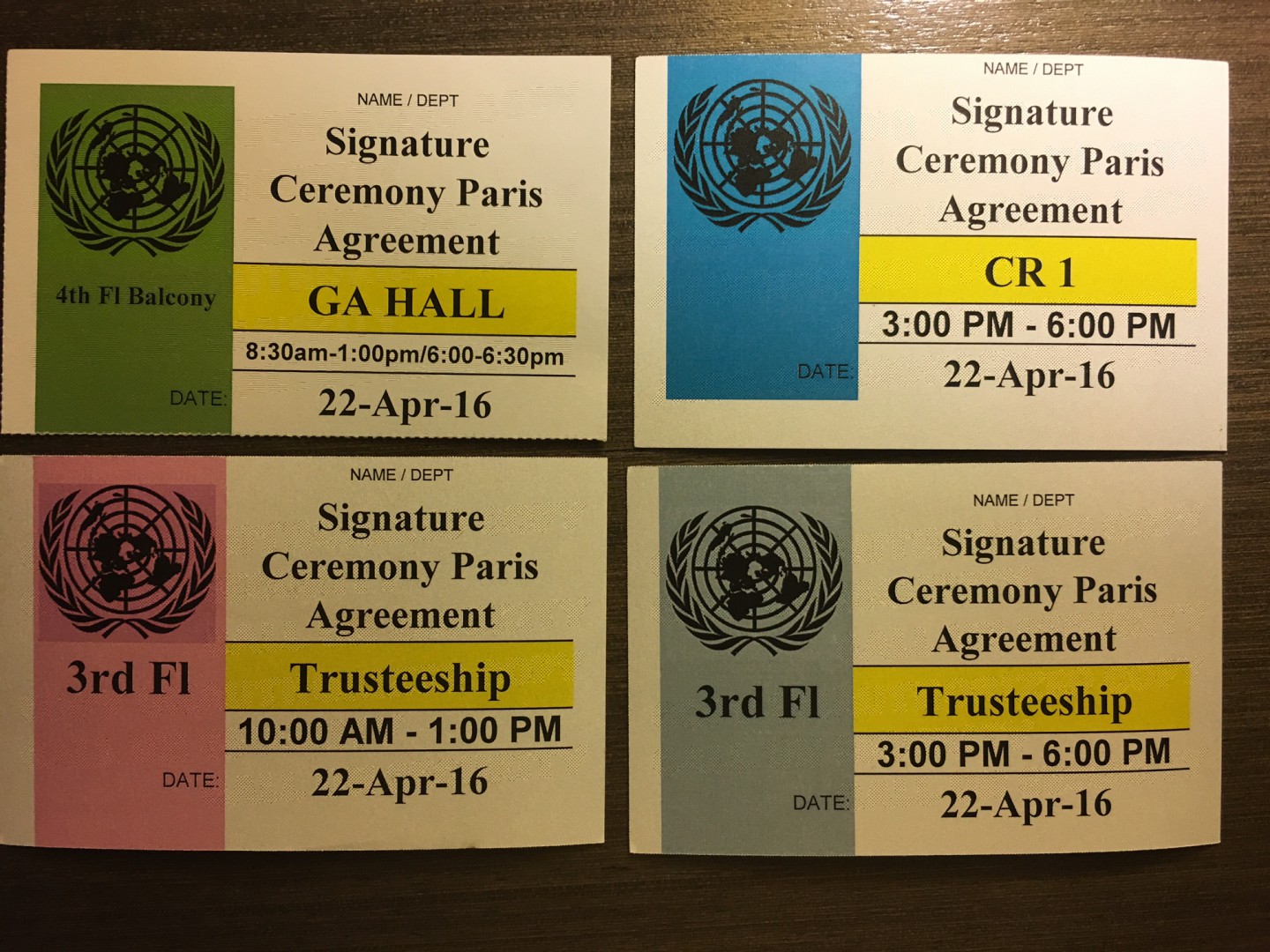 The invitation and accreditation enabling entry​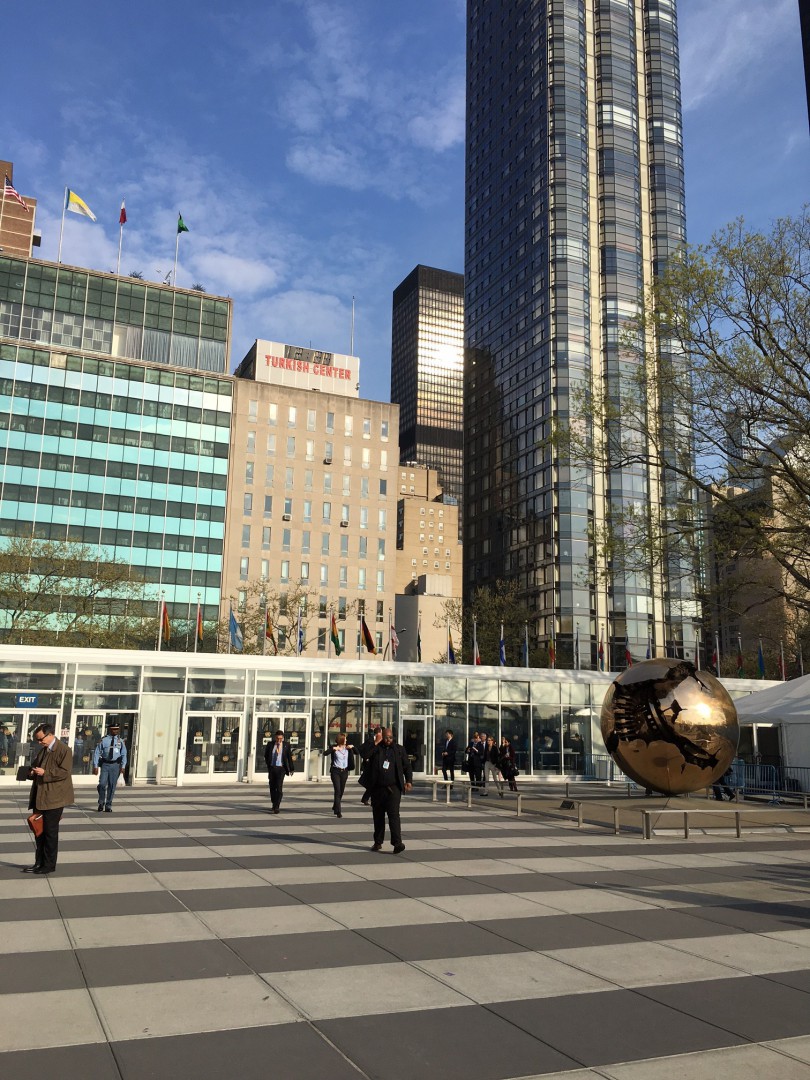 The entrance to the United Nations. Just across from it can be seen our "Turkish Center."​

The amazing bronze sculpture "Non-Violence" by artist Carl Reutersward located in the courtyard of the UN headquarters.​
Do you wonder what I witnessed inside? This blog entry is only an introduction to my impressions of the Paris Agreement signatory ceremony, but I will provide this brief summary for now:
The Paris Agreement caps off the most comprehensive attempt ever to deal with greenhouse emissions and was signed by more countries in a single day than any other international agreement in history. The agreement will be open for additional signatures until April 21, 2017. Turkey was among the more than 130 nations that signed it on the first day. Attending the ceremony on behalf of Turkey was Minister of the Environment and Urban Planning Fatma Güldemet Sarı, whose signature represents our country's commitment to reducing greenhouse emissions and preventing average global temperatures from increasing more than 1.5 to 2.0 degrees in this century, among other targets. Until my next article, where I'll share some of the thoughts going through my head before the historical ceremony started, as well as some important information concerning sustainabiity...
Tag: ekoloji