Why Canadian Universities are being preferred?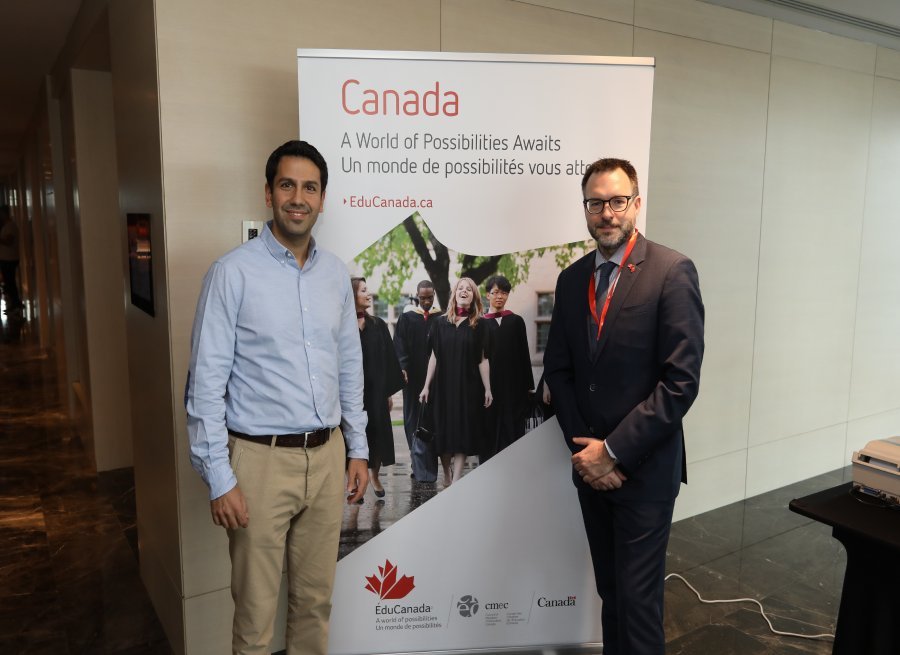 In the past few weeks, the Canadian Consulate got in touch with me to advise of the 'Canadian Education Week' and that they wanted to speak with and conduct a video of successful people who have graduated from Canadian Universities and advised for that reason they'd like to do this with me. For this reason, I'd like to share with you why Canadian Universities are being preferred and my opinions regarding this.
I happily accepted the interview by the consulate. Miss Cansu from the production team 'Organisation Studio' came and the video was taken. As a result an entertaining video was produced.
Afterwards, I visited the 'Canadian Education Week' event last Saturday. The event was organised and held at the Wyndham Grand Hotel in Levent which had many representatives from Canadian universities, colleges, language schools and Turkish students who wanted to study there. There was a huge interest shown in the event. Here are some photos taken from the event: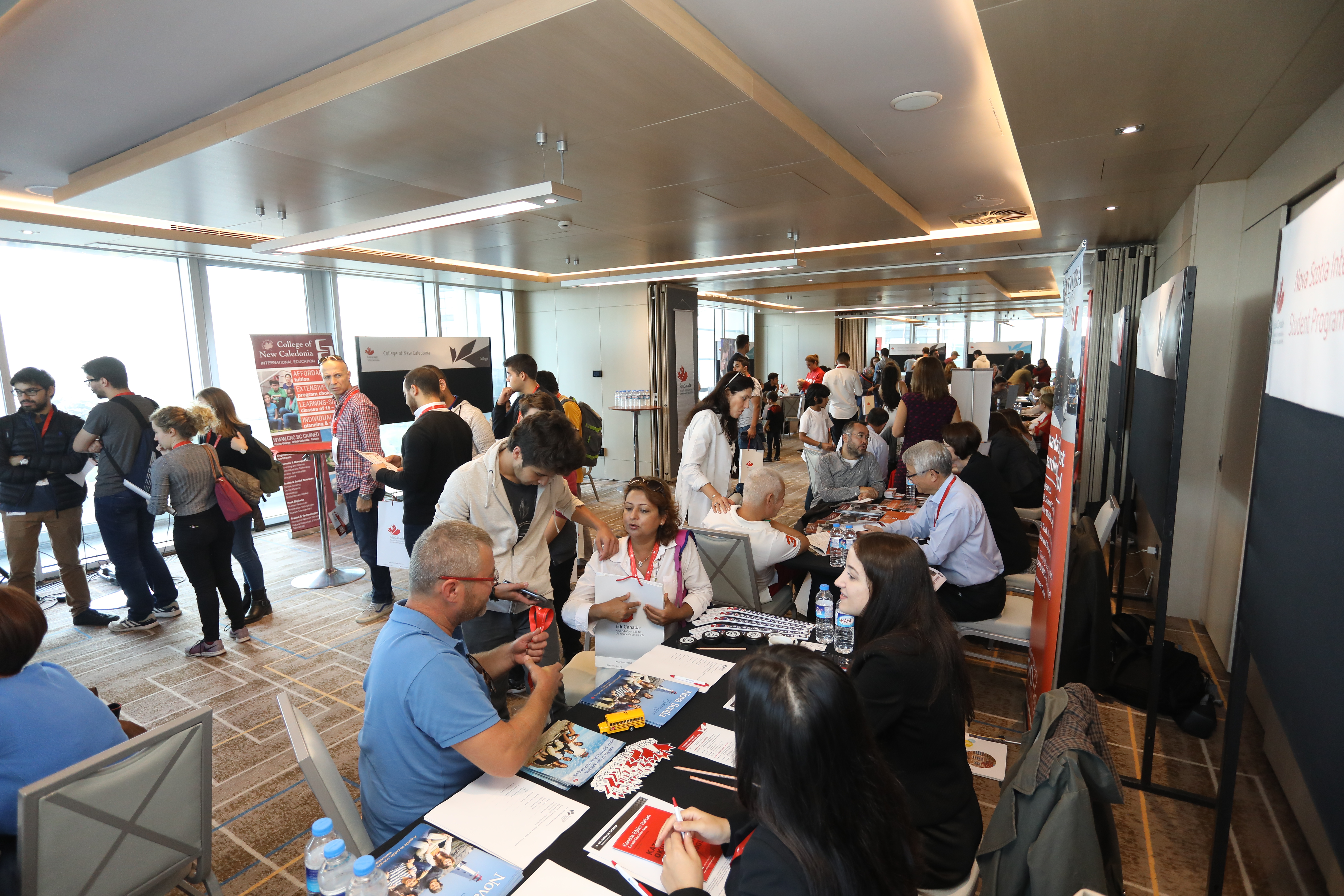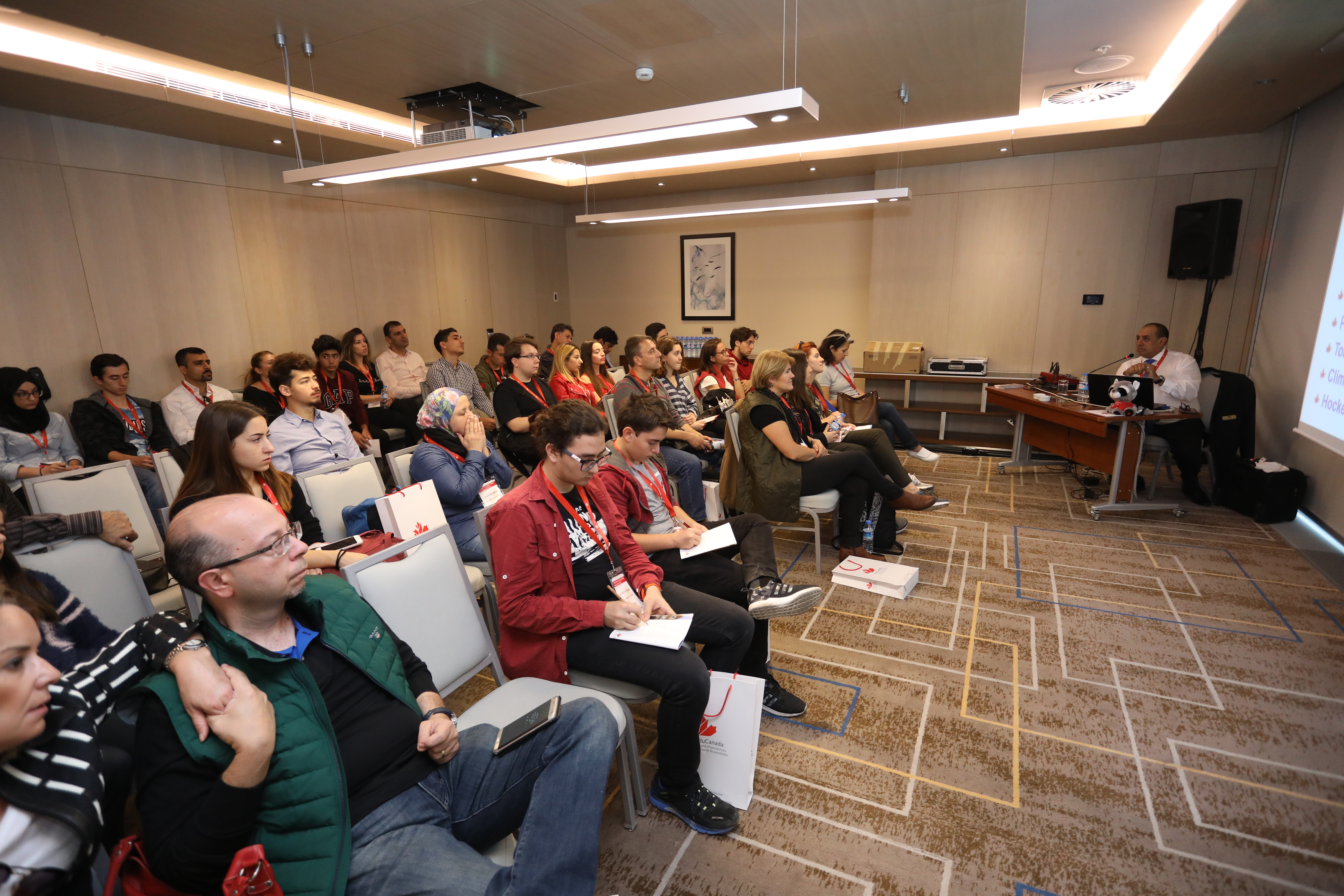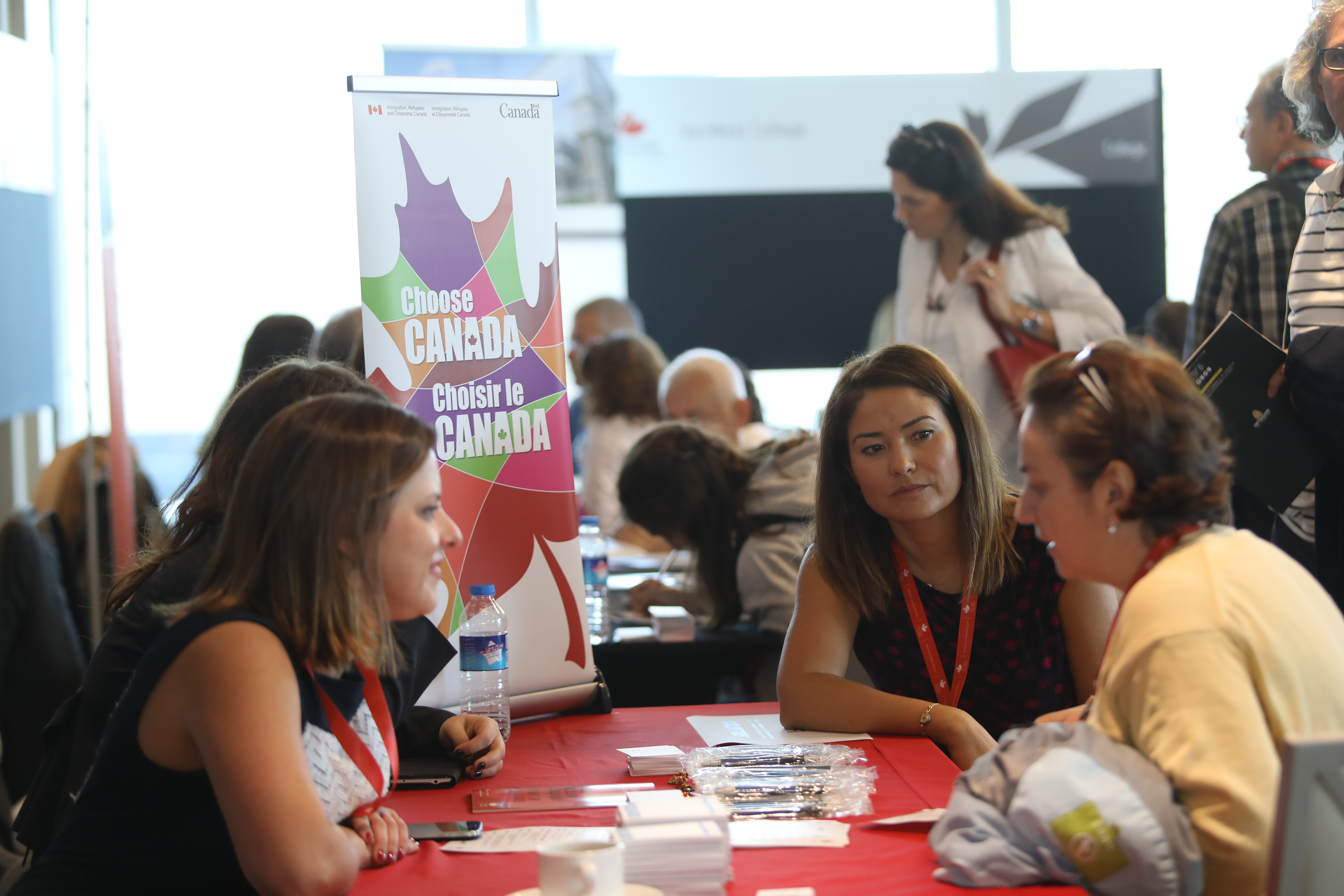 As it got crowded, this was a sign of the growing interest for Canadian universities. At the same time, I had the chance to see the Canadian Montreal Consul General, Mr Ulric Shannon. We took a memorable photo together at the entry, as per below: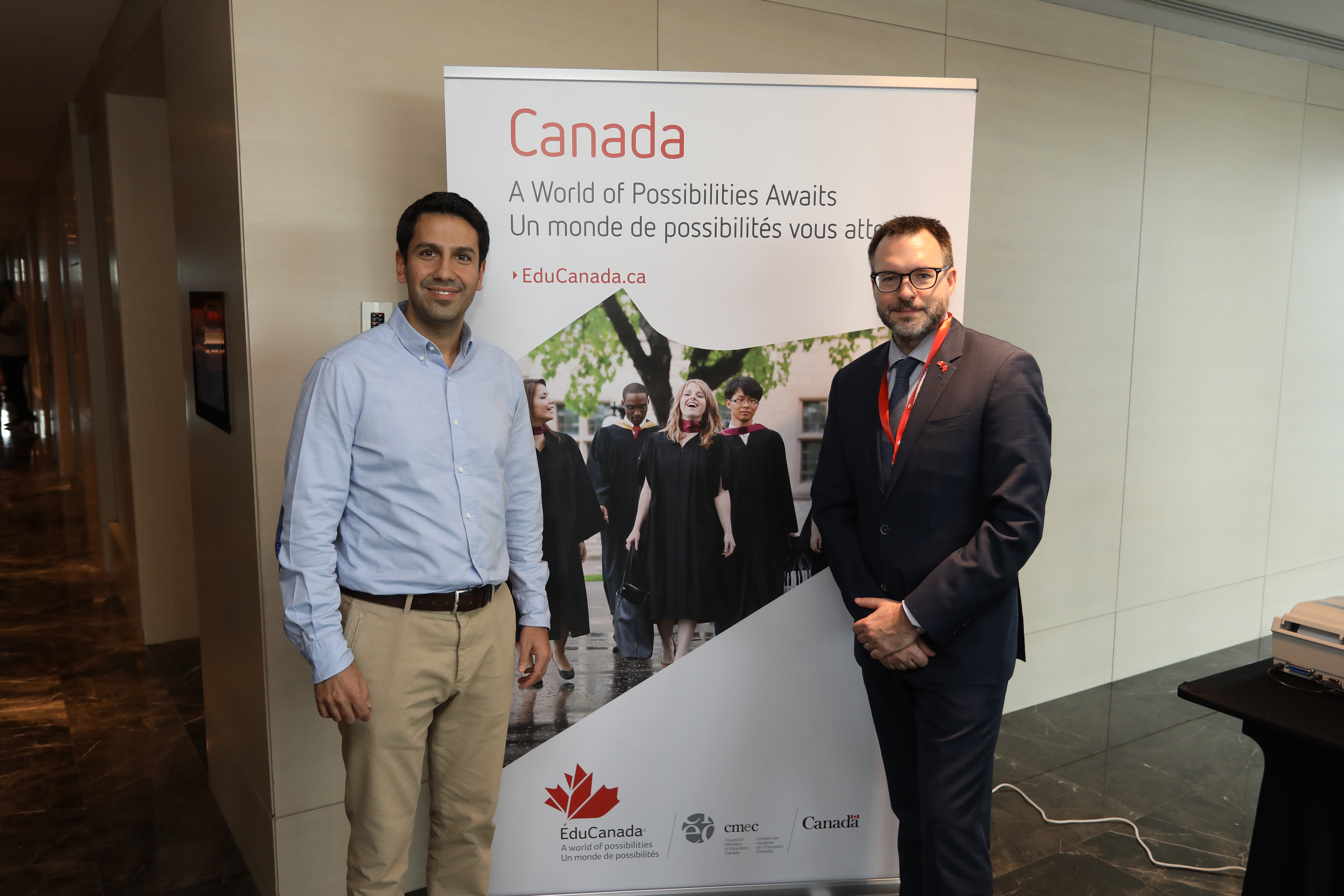 Again in the past week, Mehmet Emin from our McGill University graduates Whatsapp group advised that this year there were 800 applications to the McGill University and as below, the article that was shared by Nuran Cakmakci titled 'USA out for the youth, Canada and Europe in' which confirmed the change of interest and popularity of Canadian universities being on the rise.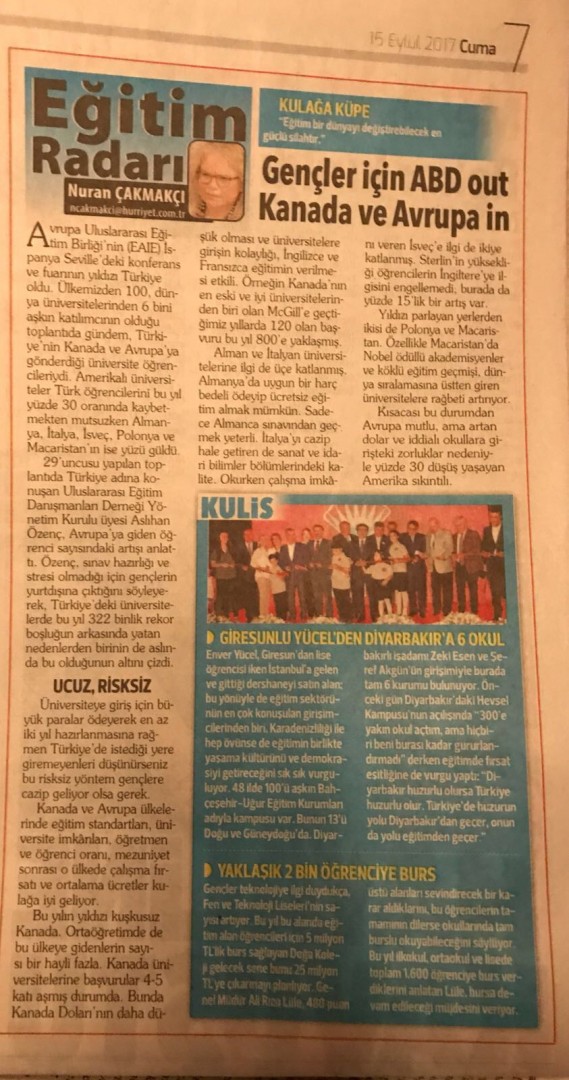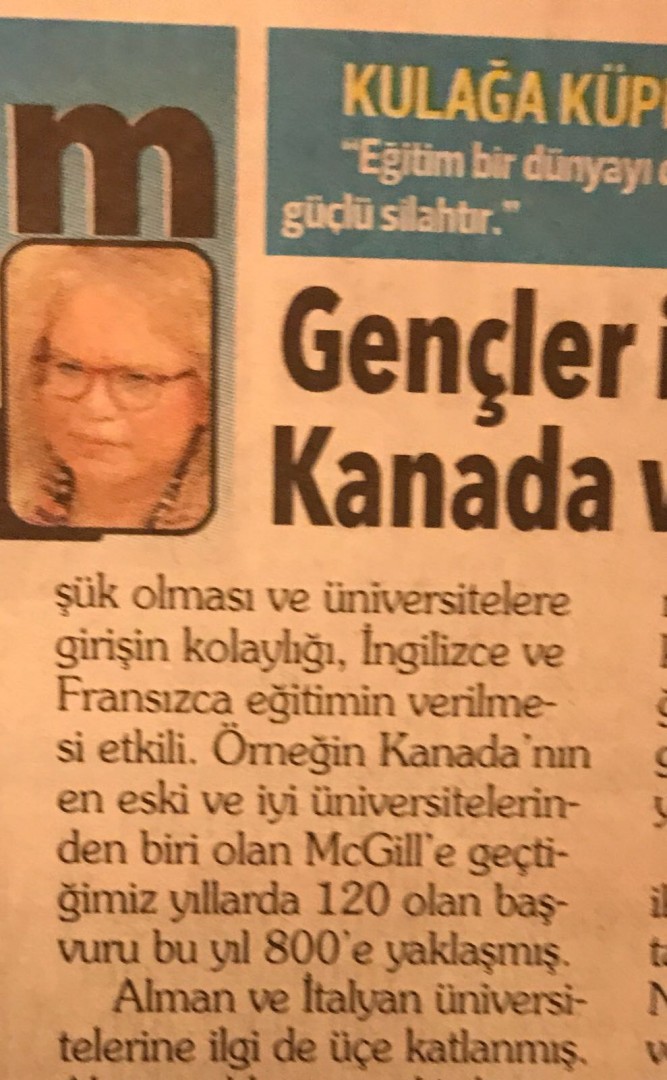 I thought about this topic over time. At the time I was studying, of 30,000 students at our university, there wasn't even 10 Turkish students undertaking this education, whereas now there has been 800 applications to my university alone and so I'd like to share the reasons for the huge interest for Canadian universities. My findings of this topic are:
The education quality is equal to of those of American universities
There are very well known establishments which have proven themselves regarding this topic. The quality of education in American universities sits below the standard levels of Canada. I believe the education of those two countries are head to head. How do I know this? From the graduates. When I compare the graduates from American universities to those graduates from Canadian universities, I don't see a difference, infact I can say that graduates from Canadian universities in the general scope are one step ahead. And many people are aware of this fact.
Graduates securing good futures
Besides the general quality, after their education, Canadian university graduates have been able to achieve great success in their careers and have proven themselves with this in many areas. Of course, every school has successful or unsuccessful, beneficial or non-beneficial students. You couldn't however merely distinguish this. Although I can say that when you look at the general averages, Canadian university graduates have a higher success rate when compared to other country universities. Also in the past few years, the Canadian Prime Minister, Mr Justin Trudeau, who has become quite popular, has also increased the interest in Canadian universities. If I have had some contribution to this also, how happy am I.
The affordability factor
Students of American universities have always paid more than Canadian university students. Canadian university expenses are deemed to be more suitable. In addition, if you are a Canadian citizen or have a residency permit, you won't pay nothing more than an application fee at government universities.
Liberal and relaxed environment
The youth don't like to be under pressure. They want a free and relaxed environment. Canadians generally support being liberal. Canadian universities don't put pressure on students and believe they have come to a mature enough age to be responsible. Of this respect, they leave them to be but their success criterion is made clear. If this freedom stops students from attending lessons, then they can't be successful. While Canadian universities provide a free environment, under no circumstances do they allow for this environment to be abused, and that way they can't graduate, that's why there is a good balance.
1 year working permit post graduation
Graduates are automatically entitled to a 1 year working permit. If they find a good job and continue working well, it can even lead to Canadian citizenship. For this reason, studying in a country like this can guarantee a good future and a great start to one.
Citizenship
A lot of people want to be come citizens of this beautiful country where education and health care have no expense. This figure is increasing year by year. As the worlds second biggest country of landmass, Canada has a population close to Americas of ten to one. Of course due to its cold weather, the general public live close to the border. Although the migration rules are becoming more difficult, there have been much citizenship candidates. Families of these students who go to Canada to study also support this view point. Because the families can also choose to migrate there.
Students of English and French languages to be preferred
In Turkey, as a foreign language, the emphasis is more on English and French schools. There has been a high interest to schools in Canada from applicants who know both these languages especially English and French, especially schools which educate in French, have shown much interest to the French influenced and rooted state Quebec and infact also to the city I studied in, Montreal.
The beauty of the city
While on the topic of Montreal, I cannot stress how fun and entertaining the cities in Canada are. Montreal is one of the cities with the highest number of restaurants and entertainment venues when compared to its population. It's culture is synthesis with the European and Americans and the city has people from many ethnic backgrounds. When applying for universities and visiting each city one by one, I was taken back and effected at first sight by Montreal the most. Although it was the only Canadian university that I applied to, McGill University was the one university that I truly wanted to study at. This wish came true and I was so pleased to have made great friendships in this beautiful city. You can find the details of my commencement at McGill University in my previous article at this link:
http://www.serhansuzer.com/en/broadening-my-horizons-at-mcgill-
The successful representation in the recent years
As per last weeks 'Canada Education Week', Canadians have signed up to many important events like this one. Also, there has been an increase of establishments supporting the idea and putting Canadian universities at the fore front. With all these campaigns, naturally there has been an increased interest for Canadian universities.
Like the benefits I mentioned above, if considered, you can learn more about the possibility of your child sty studying in Canada at this link www.educanadaturkey.com .
At the same time you can send your questions to the related establishments via this site.
I wish all the success to my friend who are considering studying there. Enjoy it.
Tag: kültür