What I learned from a defiant legend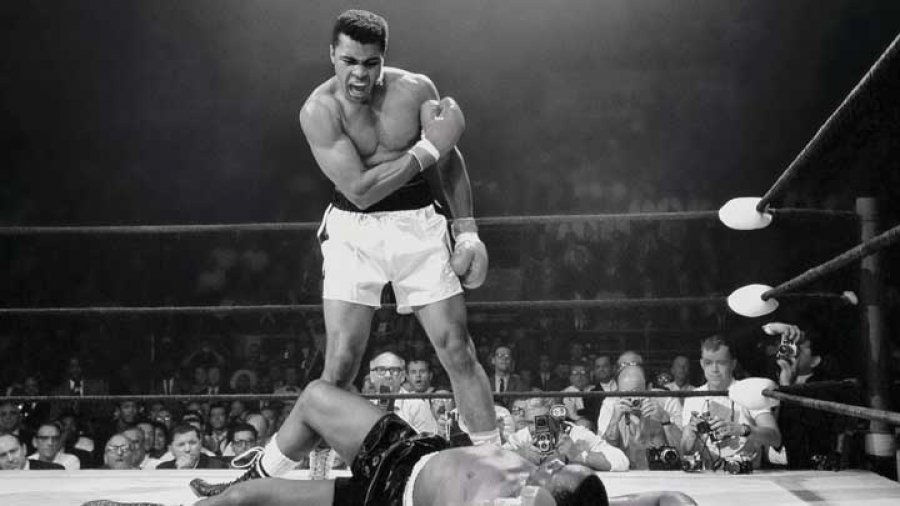 The moment I learned last week of the death of Muhammed Ali, I started to remember all of the things that had drawn me to the legendary boxer over the years: his sportsmanship, which made a lasting mark on the history of boxing and of mankind, his activism and his immortal sayings.
I remember, as a boy, seeing Muhammed Ali on TV for the first time, and turning to my father after the repeat of the match against George Foreman to ask, "How can he knock out a man bigger than he is?"
Dad replied, "He's got something the other boxers don't. He's more agile and fast-footed than any of them. They just can't keep with him." I was unsatisfied with that response and a question kept running through my head: "Boxing is about punching with your fists. What do feet have to do with it?" Many years later, I got a clear answer to that question from my trainer while I was practicing kick-boxing. Boxing is actually about coordination and the boxers most skilled in coordinating the actions of their hands and feet are always a step ahead.
I had discovered Muhammed Ali at a young age. He was, in a sense, one of my childhood heroes and has been my personal number one favorite in terms of the sports figures I have followed with admiration. I would read every article and watch every program about him that I came across. It pained me to read last week that we had lost him, and that is why I have chosen to dedicate this post to him and to share with you my analysis of who he was and my thoughts concerning his life.
First, for those of you who don't know much about him, I've excerpted some information from Vikipedi, the Turkish Wikipedia:
Born in Louisville, Kentucky on January 17, 1942, he was christened Cassius Marcellus Clay Jr. and was of mainly African, as well as Irish, (on his grandfather's side) descent. He began training as a boxer at 12 and soon won the AAU and Golden Gloves national titles. After winning the Light Heavyweight gold medal at the 1960 Summer Olympics in Rome, he turned professional, and was already a rising star at age 18.
In 1964, at age 22, he took the World Heavyweight title from Sonny Liston. Not long after the Liston fight, Clay changed his name to Muhammad Ali upon converting to Islam. From 1967 to 1970 he was forced out of his beloved sport for refusing to be inducted into the armed forces. "I ain't got no quarrel with the Viet Cong," he remarked. Not only did he face a $10,000 fine and five years in prison, he was denied a boxing license and stripped of his passport while the case was being appealed. During this period, he suffered financially and declared bankruptcy. He was able to get by with help from his family and fees paid for a college speaking tour. When his conviction was overturned in 1971 he returned to the ring. His fight against Joe Frazier in 1971, dubbed "The Fight of the Century," ended with his first professional defeat. Experts agreed that the two bouts he had fought after a hiatus of three-and-a-half years had been insufficient preparation for the fight against a reigning champion. In 1973, when Ken Norton broke Ali's jaw as he won on points, there were many outside of Ali and his circle who thought his career was over. But he persisted, beating a series of rivals in his quest for the title. Eventually, he got his revenge by beating Ken Norton.
In 1973 a rematch was arranged with Joe Frazier, who, in the meantime and as a surprise to everyone was knocked out in the second round by George Foreman. Ali therefore was scheduled to fight Frazier first and then Foreman, and he went on to knock out both of them, allowing him both to regain the championship title and to prove he wasn't washed up. In 1974, punters gave Foreman 7-1 odds of beating Muhammed Ali, who countered ferociously in round eight, knocking Foreman down and regaining his heavyweight title by knockout, only the second boxer to do so since Floyd Patterson. In 1978, Ali lost to Leon Spinks before winning their next bout, making him the first heavyweight champion to win the belt three times.
He retired as champion in 1978. As a pro who was beaten just 5 times, Olympic and World Champion Muhammed Ali was the uncontested champion of champions until age 36, having won 56 bouts, 37 of which were knock-outs. In addition to his incredible sports career, Muhammed Ali was an activist. I agree that the he was the best fighter ever, but it was his character that made him a legend. Here are some of the reasons I look up to Ali:
Two days after returning from the 1960 Olympics in Rome, he was told that a restaurant served whites only, upon which he his gold medal into the Ohio River to protest racism. He was presented with another gold medal at the 1996 Olympic in Atlanta, but at a time when it mattered he showed that he was prepared to give up the honor of having a gold medal and make a stand for basic human rights. Muhammed Ali always stood up for his core principles and took a number of actions in defense of human rights.

He refused to fight in the Vietnam War, summing up his feelings by saying, "I ain't got no quarrel with the Viet Cong." For that, he was stripped of his title and barred from the ring. But he was undaunted. Three years later, having won his appeal, he regained his title and got his life back on track. He backed the anti-war cause to the end, unflinching in the face of hardship and setting an example for others. Although he was considered a traitor at first, his country came to realize he was right and ended up proclaiming him a hero.

In an interview in which he emphasized the importance of hard work, Muhammed Ali said he could have won the matches he'd lost and blamed most of his defeats on his own mistakes. If he'd worked harder and taken them more seriously, he could have won, he said. As an example, he cited the bout in which Norton broke his jaw. The night before he had gone to a nightclub and he had also made the mistake of underestimating his adversary. Ali advised everyone to take their work seriously. In his next match against Norton, Ali would knock his opponent down.

In a physical sport like boxing, Muhammed Ali used not only his fists and feet to best his opponent, but his wits as well. He deliberately "trash talked" his rival in the lead-up to the match in order to dominate them psychologically. This made it easier to finish off his demoralized opponent. Ali proved to us repeatedly that even in what appears to be a purely physical undertaking (such as boxing), intelligence provides a built-in advantage.
He developed new boxing techniques. Saying, "Float like a butterfly, sting like a bee," made his opponents feel that they could land a punch only if they could catch him. It was hard to keep up with his speed. Even those rivals who did keep up would wear themselves out so that they were too tired to throw a punch. That's how Ali managed so often to wear his rivals out and knock them out in the later rounds. He would also land a flurry of punches rather than a single powerful blow in order to knock out his opponents. The lesson here is that even in the most straightforward endeavor modifications and improvements can make all the difference in gaining a winning advantage.
So did this legend have no flaws? Nobody is perfect. In documentaries about Ali I've watched, he is mainly criticized for two things. One is his weakness for women. Muhammed Ali had 4 wives and 9 children. He cheated on all his wives. I think it's normal for women to be attracted to a man who is so popular and so powerful in the ring. To tell the truth, there aren't many men who would have the self-restraint to remain faithful to a single woman if they were in Ali's shoes. It may be hard for women to understand that about men. Relations are complicated, but there are some exceptions. Below you'll find a link an account of the undying love of an elderly couple. Unfortunately, this couple appears to be the exception to the rule in the world today:
http://www.milliyet.com.tr/gundem/yasli-ciftin-duygulandiran-aski-2259853/son-dakika-gundem/SonDakikaGaleri/09.06.2016/2259853/default.htm?PAGE=4
Another thing for which Muhammed Ali is criticized is his behavior and disloyalty to Joe Frazier. One of the greatest supporters of Ali when he was barred from the ring for three years, from 1967 to 1970, was Joe Frazier. The world heavyweight champion at that time, Joe Frazier won his first title fight against Ali in 1971. It was Frazier who first beat Ali. Although he had a smaller build than Ali, Frazier was formidable. Even so, he lost his second bout with Ali through the referees' decision and the third bout in a knockout. Ali was criticized for what he said about Frazier before and after the matches, going so far as to call Frazier an "ugly gorilla" as he sought psychological dominance. Years later, after he'd retired, Ali said he regretted his language.
Despite everything, Muhammed Ali gained millions of fans and was a true legend who led the way to a world with less racism and prejudice.
Let's remember Muhammed Ali with some of his most famous sayings, photos and a video showing 20 of his knock-outs.
20 of Muhammed Ali's knock-outs:
https://www.youtube.com/watch?v=AN13ZQdnXsc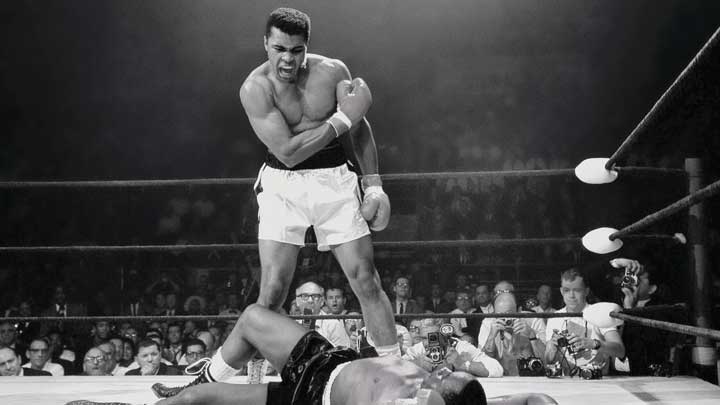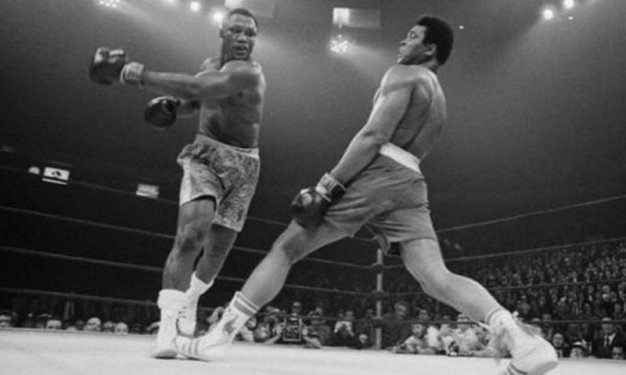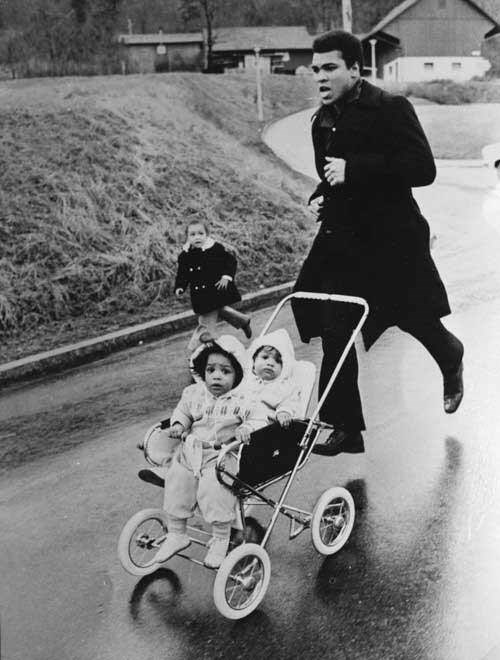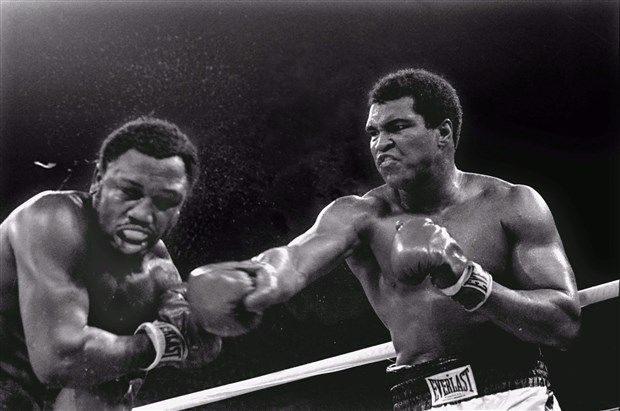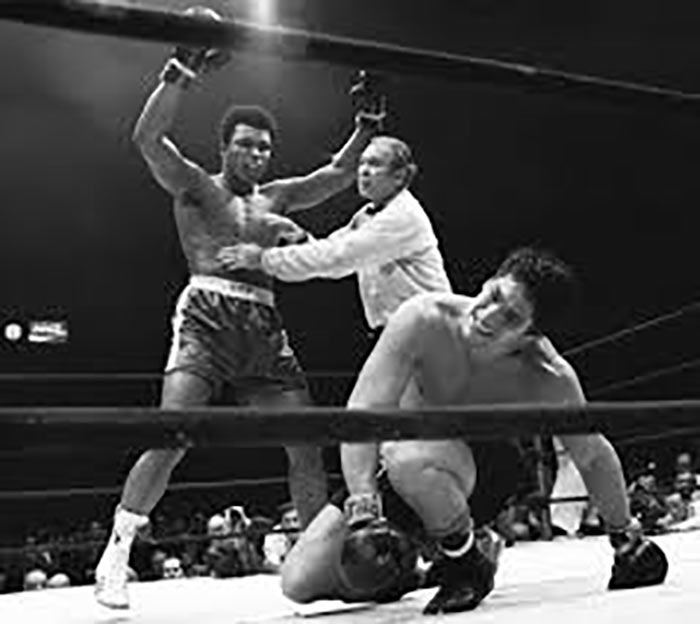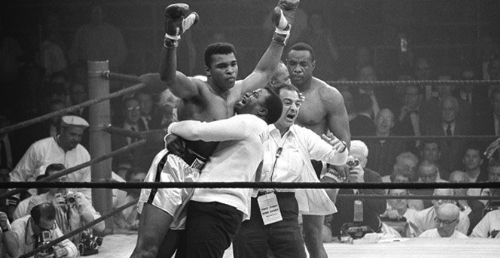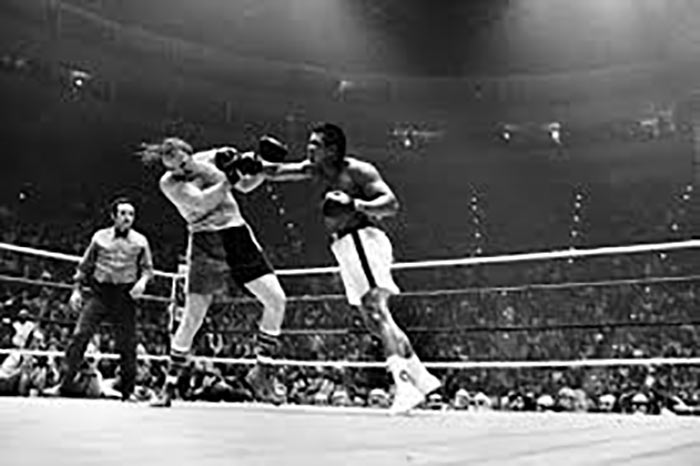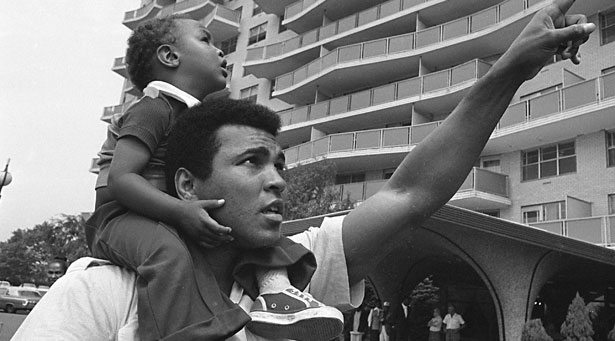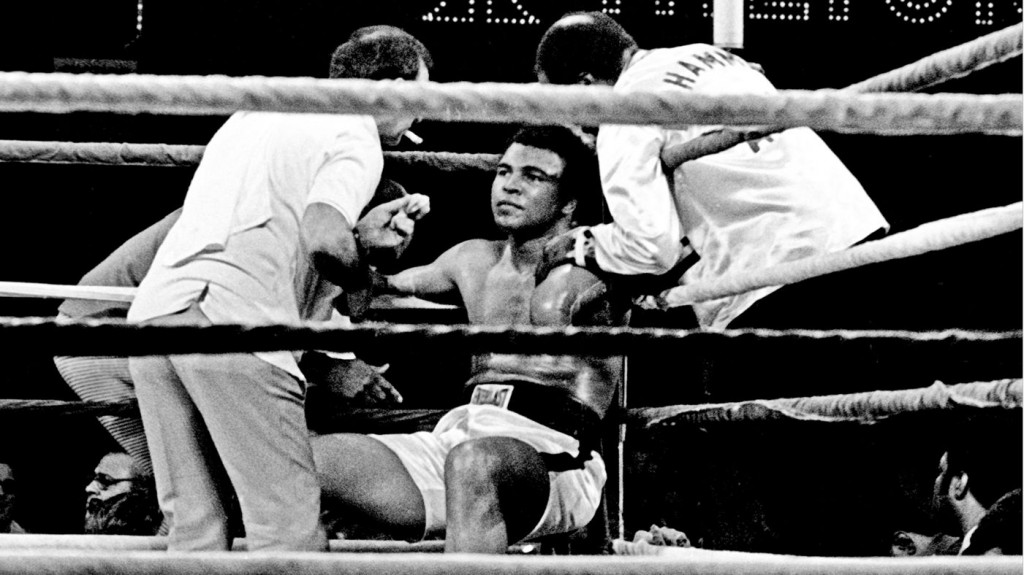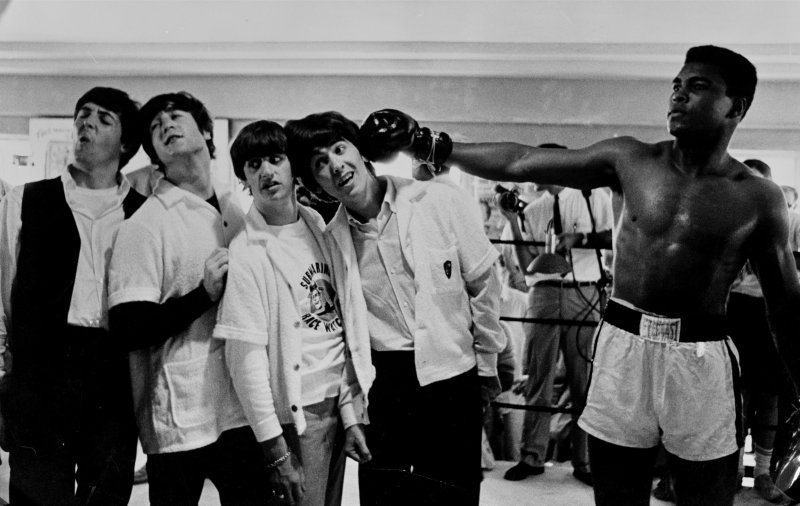 Memorable quotes from Muhammed Ali:
Success makes a man a star, character makes him legend.

He who is not courageous enough to take risks will accomplish nothing in life.

Age is whatever you think it is. You are as old as you think you are.

I set out on a journey of love, seeking truth, peace and understanding. l am still learning.

The man who has no imagination, has no wings.

It isn't the mountains ahead to climb that wear you out; it's the pebble in your shoe.

Champions aren't made in gyms. Champions are made from something they have deep inside them–a desire, a dream, a vision. They have to have the skill, and the will. But the will must be stronger than the skill.

I hated every minute of training, but I said, "Don't quit. Suffer now and live the rest of your life as a champion."

I was the Elvis of boxing.

The best way to realize your dreams is to wake up.

I am America. I am the part you won't recognize. But get used to me. Black, confident, cocky; my name, not yours; my religion, not yours; my goals, my own; get used to me.

I wish people loved everyone else the way they love me. The world would be a better place.

It's just a job. Grass grows, birds fly, waves pound the sand. I beat people up.

I'm so fast that last night I turned off the light switch in my hotel room and was in bed before the room was dark.

I'm a fighter. I believe in the eye-for-an-eye business. I'm no cheek turner. I got no respect for a man who won't hit back. You kill my dog, you better hide your cat.

If my mind can conceive it, and my heart can believe it — then I can achieve it.

Don't count the days, make the days count.

The man who views the world at 50 the same as he did at 20 has wasted 30 years of his life.

Live every day as if it were your last because someday you're going to be right.

It's lack of faith that makes people afraid of meeting challenges, and I believed in myself.

I don't smoke but I keep a match box in my pocket. When my heart slips towards sin, I burn a match stick and heat my palm with it. Then I say to myself, "Ali, if you can't bear this heat, how would you bear the unbearable heat of hell?"

To the question, "Was life hard?" I reply: "I survived."

Only a man who knows what it is like to be defeated can reach down to the bottom of his soul and come up with the extra ounce of power it takes to win when the match is even.
Last of all, I'd like to share an anecdote with which I fully agree:
When I am champion I'm growing to grow a beard and put on a pair of old jeans and a battered hat so nobody recognizes me as I walk down the street of the town. I am going to keep walking until I found someone who loves me for who I really am. When I find that person I am going to take them to my $250,000 home up on the hill of my million-dollar property, show them my Cadillac and the indoor pool I use on rainy days, and say, "These are all yours because you love me for being me."
Stay well…
Tag: spor, yaşam