To be voted successful is one thing; to be voted successful by doing good is quite another..
I have to thank Fortune Turkey firstly for including me in last month's "40 under 40" list of the most influential young people in business, secondly for publishing a detailed interview I did with the magazine and thirdly for giving the interview such a great title. With the promise of keeping it brief, I'd like to share the positive sides, as well as the few needless mistakes that appeared in the piece. And then I'll talk about the success criteria and values that I truly believe in.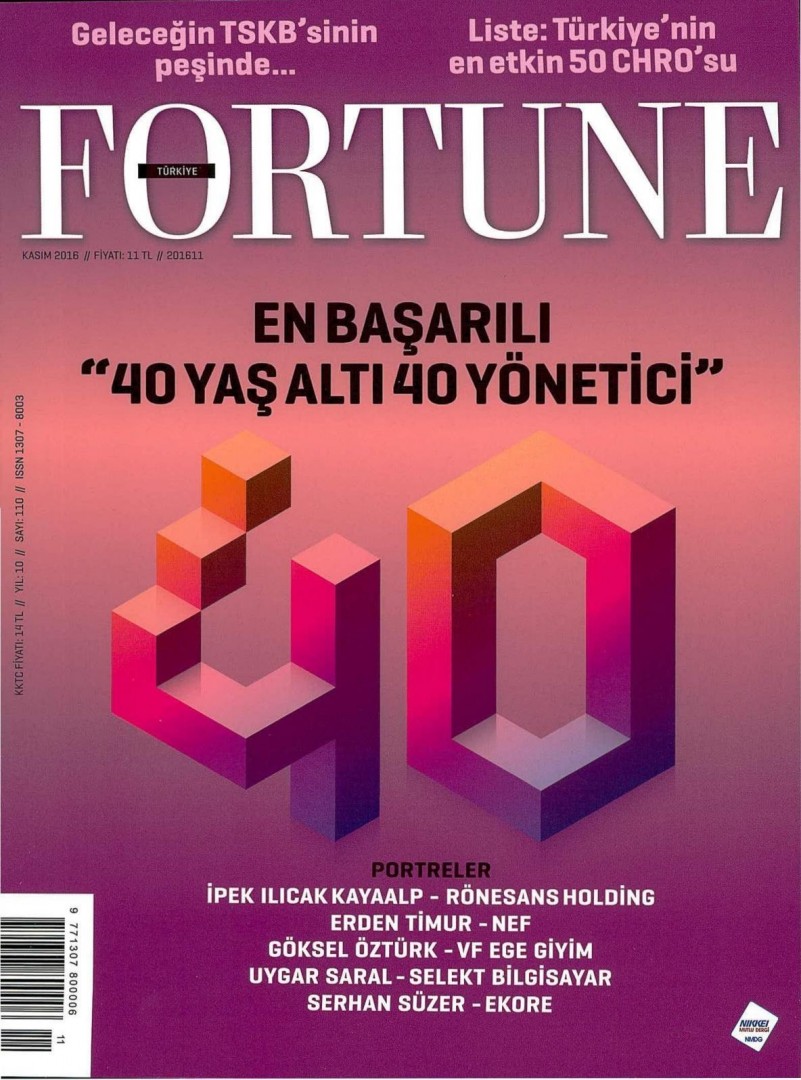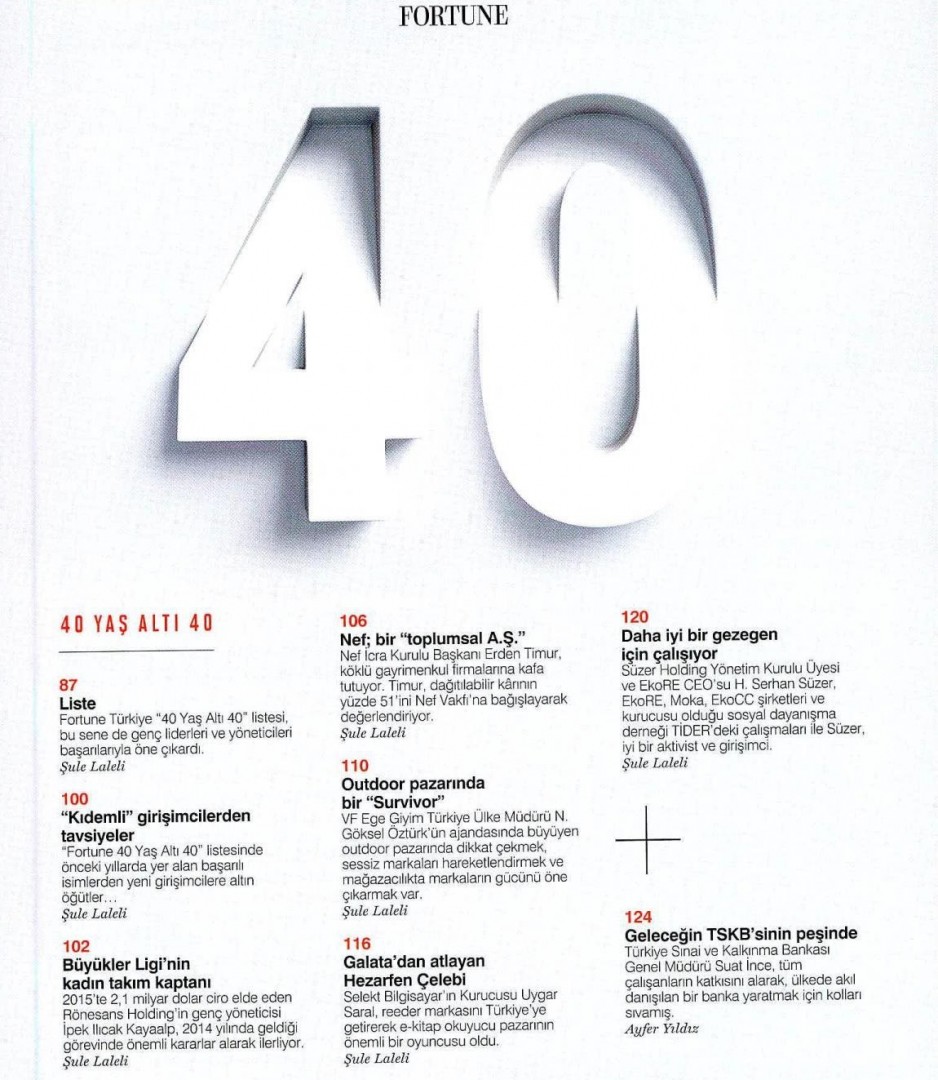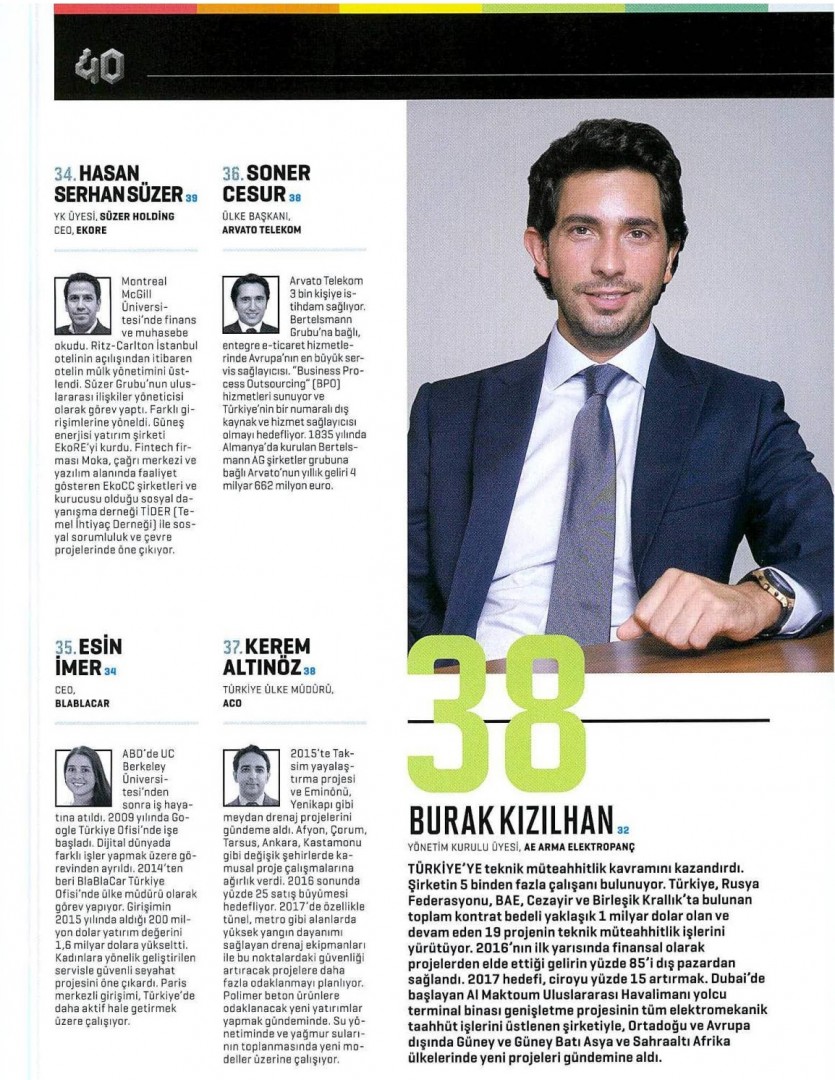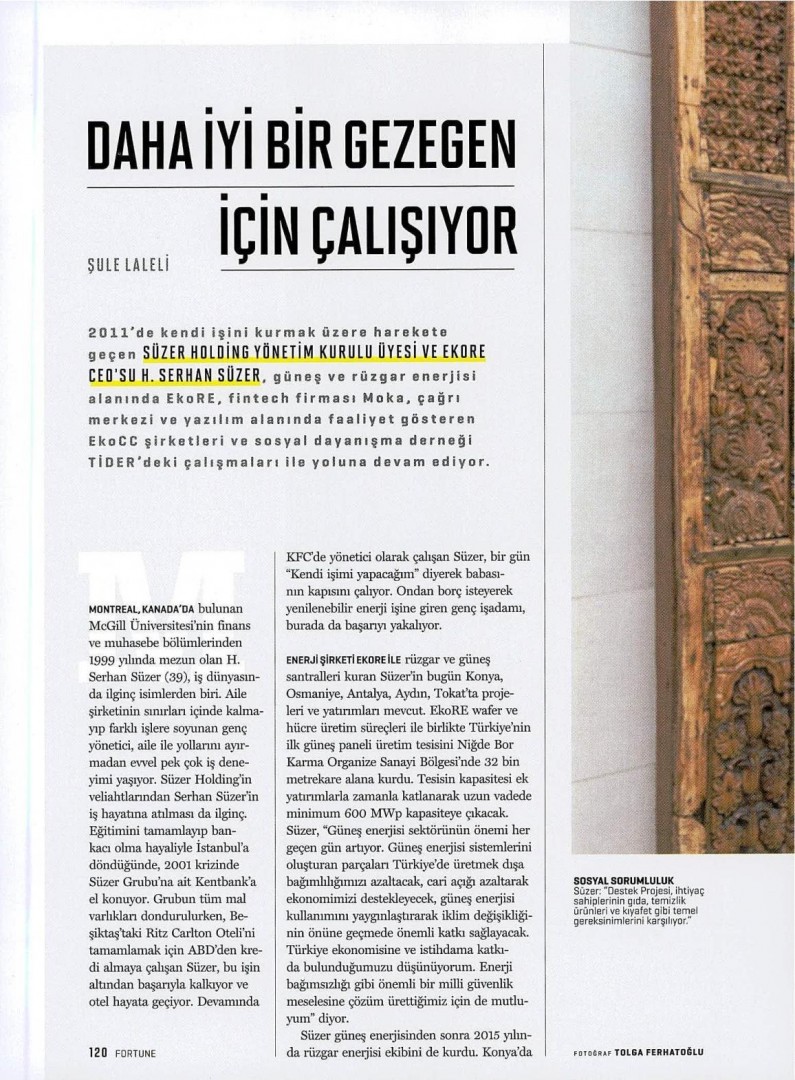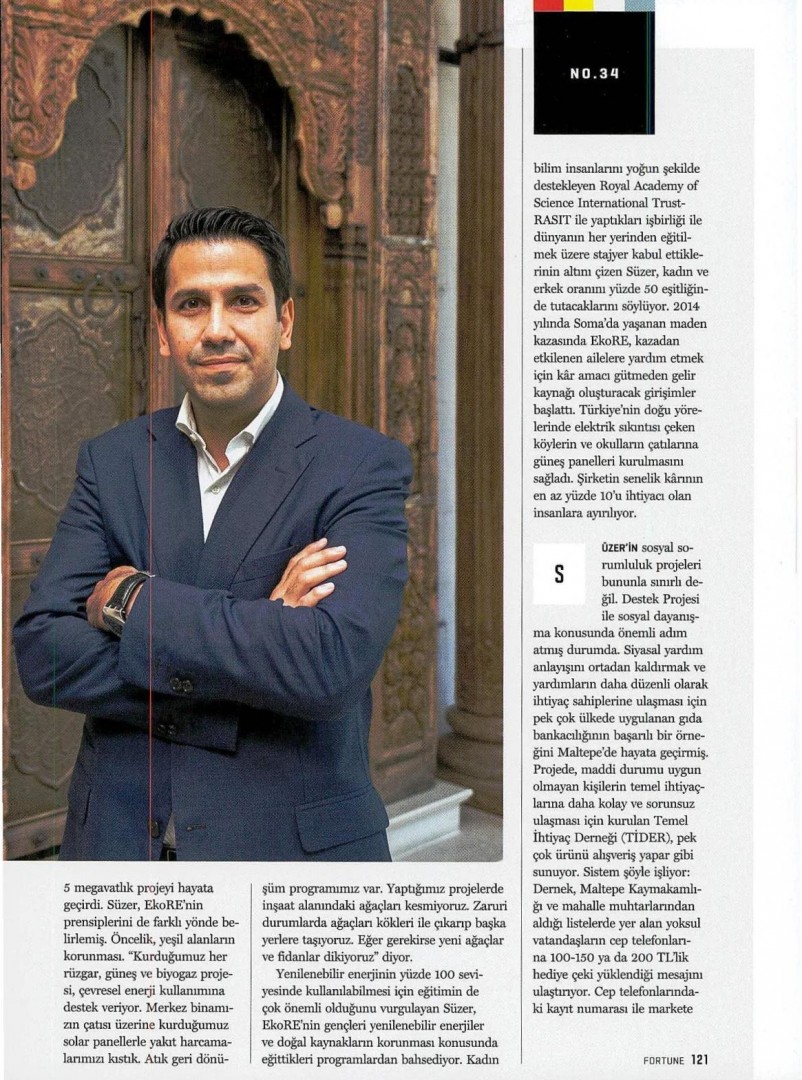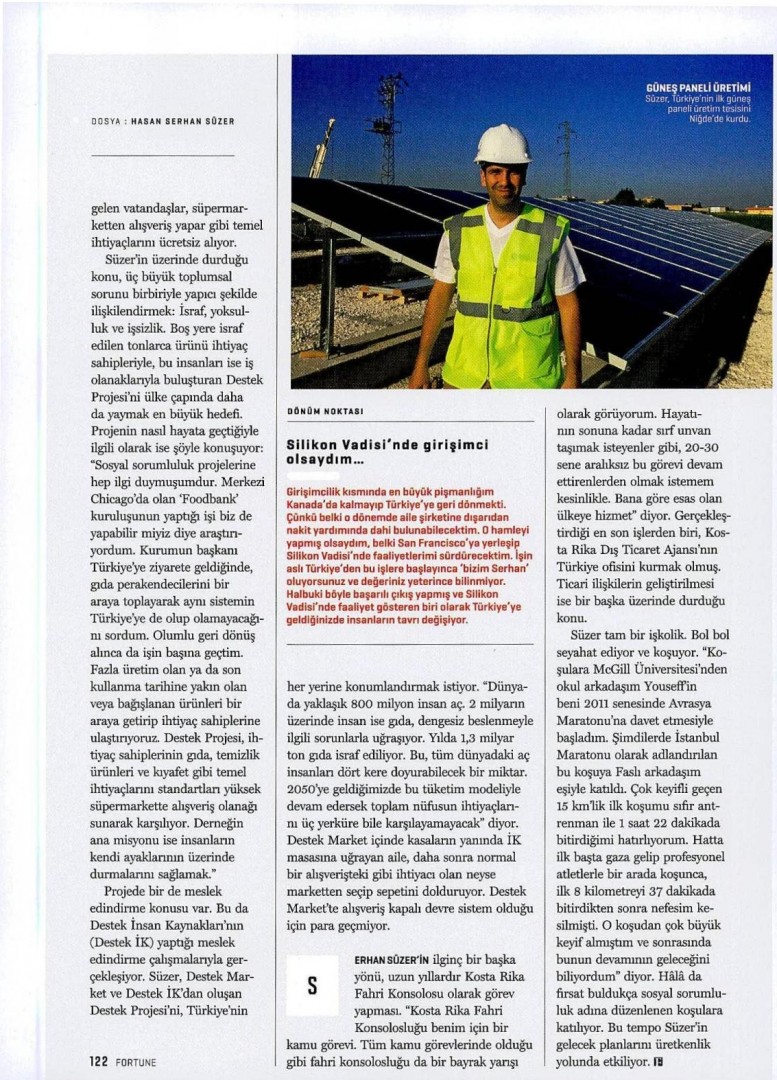 As you'll see above, Fortune Turkey published its "40 under 40" list of influential young business people in last month's edition of the magazine. The story of my making it onto the list and also doing an interview goes back a long way. For some two years, Mahinur Hanim from the PR agency we work with had been adamant that Fortune wanted to talk to me and include me in their Under 40s list. And every time she did, I told her that I didn't really believe in those kinds of rankings or see much point in taking part. So I kept putting off the interview for another year.
The same conversation came up again during a call a few months ago. The magazine had requested an interview again and I was all set to defer the thing for the same reasons as always when Mahinur Hanim drew attention to two points that made this year different. Firstly, my name had been put forward in particular by Fortune's head office in the USA, who definitely wanted an interview. According to Mahinur Hanim, it was my credentials as a businessman, my work in sustainability and my civil society projects that had drawn their attention. They were planning an interview that would set some kind of example. I was about as shocked as I was honored to have been noticed all that distance away in America. Mahinur Hanim thought it might be partly to do with the international speeches I've made lately; but she said what mattered was that I being watched at the global level. The second reason that she claimed made this year different gave me cause to chuckle down the phone: she was reminding me in so many words that because I was now 39, it would be the last year I'd be eligible for the list.
For a better planet...
At Mahinur Hanim's insistence and by virtue of the entirely reasonable arguments she put forward, I cited a few important conditions and said I would do the interview if they agreed to them. Fortune did agree. The interview took place at the Ritz-Carlton Hotel in Istanbul and was conducted by an extremely professional journalist by the name of Şule Hanim. From my point of view, it was an easy interview. The only drawback was the limited time we had. We also had to do photos (this has always been my least favorite part of any interview).
As a whole I found the published article positive. The title, in particular, appealed to me; after all, "Working for a Better Planet" is, I think, an apt and elegant description of my credentials and objectives. Fortune featured the interview both on the front cover and as one of the "highlights" on the index page inside. So that's how my first Fortune interview came about.
That said, I did have one or two problems with the piece. This was largely to do with the fact that some of the points I particularly emphasized were not addressed properly. Let me share them with you.
Clichés that overshadow hard work
One of my preconditions for the interview was that the career I have built for myself through a lot of hard work should not under any circumstances be defined in terms of the Süzer Group. Nonetheless, I am described in the subtitle to the piece as a "member of the Süzer Holding board of directors". First of all, the information is incorrect. I left the Süzer Holding board of directors years ago at my own initiative. As I have made clear on previous occasions, I have no relationship with Süzer Holding beyond the shareholding that my father gave me, and on no account am I involved in an active role. Furthermore, apart from being plain misinformation, this is the kind of invidious error that could lead people who don't know me well to underestimate the values I have striven hard to create in line with the objectives I set myself years ago. Add to that a cliché that really makes me crazy (the description of me as "one of the Süzer Holding heirs") and I think my reaction will be more understandable.
When I asked the magazine team how they could have used this wording when I had emphatically presented the correct information, I was told that the problem arose from various additions made by the editor at the last minute. Mistakes can always be made; I don't want to make a big deal about it. But I should point out that these frequently made mistakes are based on clichés and preconceptions and simply remind me of the reservations I mentioned at the beginning.
My true motivation right now comes from having finally begun to reap the rewards of my last five years of hard work. One example of this is our 5 MW Kulu (Konya) project, which went into operation in October. Do check out the video we made:
Kulu (Konya) project video: https://www.youtube.com/watch?v=Fys0WSUkXk8&t=11s
Another problematic phrase used in the interview concerns TİDER (Basic Needs Association). The piece talks about "doing away with the notion of political assistance", whereas I actually said that it would be more appropriate for municipalities to spend their budgets on infrastructural investment (their fundamental duty), rather than purchasing products for the purposes of providing social assistance. I also pointed out that their assistance work should be handled by NGOs. Shifts in meaning over sensitive issues like this are not exactly pleasant.
The suggestion that I was looking into whether we could emulate the work of the Chicago headquartered Foodbank is also wrong. In the interview I told the story like this: 'When I was a director at KFC and Pizza Hut, we were looking into social responsibility projects to take on. At the time, a dinner was hosted in honor of Bob Horney, founding chair of the Foodbanking Network, and a lot of food companies attended. As someone who makes decisions fast, I raised my hand 15 minutes after hearing Horney outline the food banking model and said we wanted to be part of it. Later, we joined forces with seven-eight food companies to set up the Food Banking Association.' I guess this was abbreviated because there wasn't enough space, but in the process the meaning of what I said was altered.
Confusion over technical details
The caption above a photo of EkoRE's project in Niğde reads "Turkey's first solar panel production facility", which unfortunately is incorrect. There are more than 20 solar panel factories in Turkey, but they're all involved in module production, or in layman's terms the assembly part of the process. Our system handles not only module production, but also the two preceding processes, known respectively as solar cell and wafer production. In other words, the finished product will have the highest ratio of constituent parts made in Turkey of any solar panel. I explained all this during the interview. Yes, there may have been some confusion because the subject is technical. We haven't yet built the factory either. We plan to produce our first panels in 2018. We're talking a long-term project here.
Furthermore, it would have been good to see Moka and EkoCC mentioned at least briefly. Moka is on the way to becoming a major fintech company. And EkoCC will very soon be a call center of considerable size. It isn't just a call center either; the company also produces software. A serious amount of hard work has been invested in both companies. I do realize that space is limited, but to talk only about EkoRE, TİDER and my role as Honorary Consul of Costa Rica doesn't give a full picture of what I do.
Also, journalists don't usually want to share the interviews they do. But when the interview is written up, typos and changes in meaning are sure to arise because I tend to talk about pretty technical subjects. I don't expect anybody to get a handle on these things in the space of one hour; that would be unfair. But particularly in the case of interviews that deal with technical issues, I do think the written version should be shared with the interviewee and any errors corrected ahead of publication.
The 'doing good' criteria of success
At the end of the day, it's good to appear on this list. It shows that the work we do has been noticed. Specifically, I find it more meaningful to be ranked among successful business people than on a rich list. So I'm grateful for that. As I wrote above, I hope that these mistakes will remain a thing of the past.
Equally, although there are merits to appearing in these sorts of rankings, I think the real criteria of richness are different. To my mind, it's far more meaningful to be in possession of cultivated human values and to be recognized for it.
To give an example, I always tell our staff that it's both possible and right to be a good professional and a good person at one and the same time. As far as I'm concerned, the criteria for being a good professional are as follows: Diligence, self-confidence, a methodical approach, proactivity, being able to represent your company in the best possible way, team playership, practical capability and high levels of motivation.
As I see it, the criteria for being a good person are as follows: honesty, dependability, conscience and loyalty, altruism, dedication and sincerity.
I'd like to see my entire team able to be both good people and good professionals through the right blend of these criteria. The Needs Map, a sister organization of TİDER (Basic Needs Association), has produced a list that summarizes perfectly the things I keep trying to tell colleagues at work and people close to me. Take a look at: https://onedio.com/haber/yureginin-derinliklerindeki-iyilik-isigini-hic-sondurmeyenlerin-12-genel-ozelligi-742372.
My birthday and my true achievement
With all that now behind us, I'd like to leave work things aside and say a word or two about my birthday, which I celebrated last weekend. This year, I decided to celebrate just four-five days before the day and asked around 100 close friends to join me. I actually had another list of 300 names I feel close to, but with time so short I was only able to invite 100. When it comes to my 40th next year, I'll probably get to ask all my close friends. And I'll probably have a joint celebration with my twin, Baran.
The show-up rate for occasions and get-togethers like this is generally around one in three in Istanbul. So when my assistant, Aysun Hanim, was handling the reservation, she asked whether a down-payment for 30 people would be enough. If you do the math, she was right. Out of 90 invites, you'd normally expect 60 people to cry off because of traffic, kids, sickness, travel, etc. But I told my assistant that 50 guests might show up and that she should make the reservation accordingly.
But would you believe it, no less than 70 of the 100 friends I'd invited turned up at the party with just two-three days' notice. Even some of the people who'd made their excuses came. The guys at 360 Istanbul didn't know where to fit everybody. They started off by extending the tables already there. Then, when that wasn't enough, they brought in more tables and chairs. If you ask me, this was a nice problem to have to deal with. I got to catch up with many friends I hadn't seen in a long while.
To give you an idea of the event, I'm sharing a video of the party.
My birthday video:
https://www.instagram.com/p/BNUT8OSh3uaOLUMB0M9IIhrObbRt0GslHZLco00/
My point is this: money has never been a priority for me. As far as I'm concerned, doing things right, exceeding expectations, setting an example and valuing people are far more important. At the point where I am today, we've started making money anyway. And things have now started to snowball. If in future I can bring off the projects I have in mind, I'm pretty sure that I'll appear in the Fortune Global list within the next 5-10 years.
If so, they'll probably come over from America to do the interview. The first signs of this are already coming through. I received a personal invitation to the United Nations for the official signing ceremony of the Paris Agreement. I have spoken on behalf of important institutions such as the United Nations and Crans Montana on sustainability and renewable energy in countries like the United States, Canada, Brazil, Austria and France.
And this month I will be speaking live in Paris on sustainability and renewable energy as part of the "24 Hours of Reality: The Road Forward event". This is due to take place on Tuesday December 6th at 5 p.m. Turkish time. Earlier in the same session, former US Vice President, Al Gore, who launched the Climate Reality initiative, will be speaking on Turkey. Those interested can watch my talk on www.24hoursofreality.org. #SürdürulebilirYaşam. I also want to thank Ergem (Şenyuva) for putting in a good word for me at this event. Being noticed not only in Turkey, but also in the international arena foreshadows the work we will be doing worldwide in years to come.
To me, my greatest fortune and achievement are the fact that so many people came to my birthday party at such short notice and that we truly value each other. To put it another way, it's nice to be voted successful; but the nicest thing of all is to overcome all the challenges, stick to your principles and do good, and yet still be successful. The rest is just detail.
Tag: enerji