The most surreal country in the World: Iceland (1)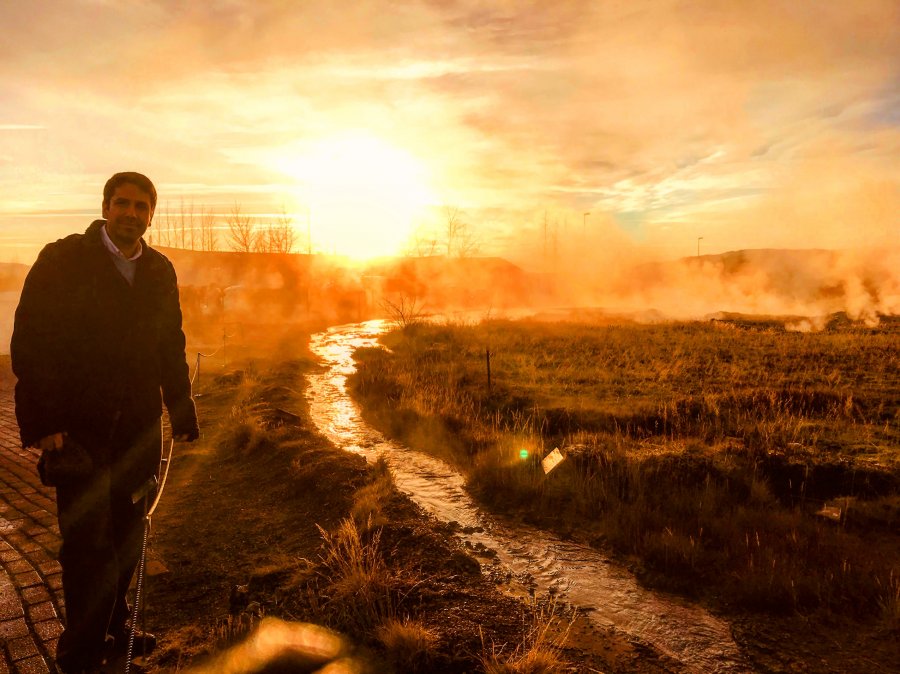 In my last article, I had shared with you that I had chosen Iceland for my birthday and what I had expected to happen in the 4th phase of my life, which were made of thoughts I experienced during my long road trips. In this article, I will share the details of this wonderful holiday and the observations I made about this beautiful country which gave me much mind and soul relaxation.
The day before I went to Iceland, my twin Baran gave me two very interesting pieces of information while we were having a chat. Baran said:
"I had met a model from Iceland, and she told me a few things about Iceland: their countries English name is Iceland, meaning Ice Country. The name of their Northern neighbor is Greenland or Green Country. The country generally covered in ice which is found in the poles is named the Green Country, and the country which is more in the South and where the climate is milder is Iceland. At the time when the Norwegians discovered this country, they consciously named it the Ice Country so that no one will come to the island. And in order to trick travelers, they named the country which is much colder and covered in ice, Green Country (Greenland). In other words, it's a form of psychological manipulation. Of course, since that time, the names of the countries have remained the same.
So, Iceland is not what the name states and is not a country of ice. Yes, it's cold. While I was there, the weather was between -1 and 5 degrees. However, the -20 degrees that I was accustomed to in Canada was certainly not there.
"Free to kill Turks"
Another interesting piece of information I received was the "Free to kill Turks" law which was enacted in Iceland. Until the 1970s, this law remained intact, until the Icelanders who realized how ridiculous such a law from centuries ago was and therefore, they had it removed. I then looked this up online and what Baran had said was true and that there was a law like this.
According to the news on http://www.hurriyet.com.tr/izlandada-turk-oldurmek-serbestti-27174137; In 1627, the Ottoman navy, led by Murat Reis, captured around 400 Icelanders in approximately 26 days. Due to the kidnappings that happened in the cities of Grindavik, Austfiroir and Vestmannaeyjar, the murder of Turkish citizens who set foot in Iceland in 1627 was given the heads up which meant they were free to do this.
However, no Turkish citizen was killed with this law. In fact, years later this law was forgotten. This law, which gave them freedom to kill Turks, was abolished in the 1970s. For more detailed information, please visit this link http://uskudar.biz/tarih/turk-developer-kuz-kormans-kuzey-denizinde-türk-korsanları. This is also the link to the original source: Http://www.ismennt.is/vefir/eyglob/sagave/tyrkir.html.
And I hit the road
After hearing about these interesting facts, I began to wonder more and more about this country. I finally flew to Copenhagen on Friday, November 23rd. I can say however that I didn't fly with a clear mind because I had to answer all these phone calls right up until the plane took off. After I had finished up on the last phone call, I hung up and could not sleep because of the thoughts in my head after I had slept on the plane for 2 hours the night before. I was happy that there was a stopover in Copenhagen. Because to be honest, I don't like big and chaotic airports such as Heathrow in London or Schiphol in Amsterdam. Doing stopovers and transfers from these types of places are a real torment.
I got off at Copenhagen. At the exit point of the plane, there were Danish police officers waiting for passengers so they can conduct passport controls. To tell you the truth, these European practices really bother me. They make you feel like you've come from a 3rd world country. At the exit of the plane, I gave my passport to the female Danish police and said that I would fly from here to Reykjavik, the capital of Iceland. She asked me if I had a visa for Iceland. I told her that there was no need for an Icelandic visa, and that a Schengen visa was sufficient. She then said that his was not the case, but at the same time hesitated and asked her superior something in Danish. After she spoke with her superior, she turned around to me and said, "I'm sorry I confused it with the Faroe Islands. Yes, you can enter Iceland with a Schengen visa." and handed back my passport and wished me a good flight.
I was in Copenhagen in the year 2000 for the UEFA Cup, which Galatasaray won. That's why I have a special place for this city. I was comfortable at the airport because it was not big and crowded. All the seats that travelers were given to sit on were specially designed with cushions. Parquetry flooring. In this comfortable environment, I opened up my laptop and had the pleasure of answering incoming messages and phone calls. Then I went to the gate of the Iceland flight. To make my life easy, I was traveling with a suitcase that was only big enough to take on board and a backpack. I then got onto the plane that was going to Reykjavik.
Arriving in the city of Reykjavik
After a comfortable two-hour flight, I finally landed in the capital city. After getting off the flight, the first thing I did was to go to a car rental company. After organising the rental, I headed for the car. The first car I ever had was the one I purchased during my university years in Canada which was a Nissan Pathfinder. In a place like Iceland which had similar climate to Canada, it was a nice coincidence that amongst all the vehicles, I got a Nissan Jeep Qashqai.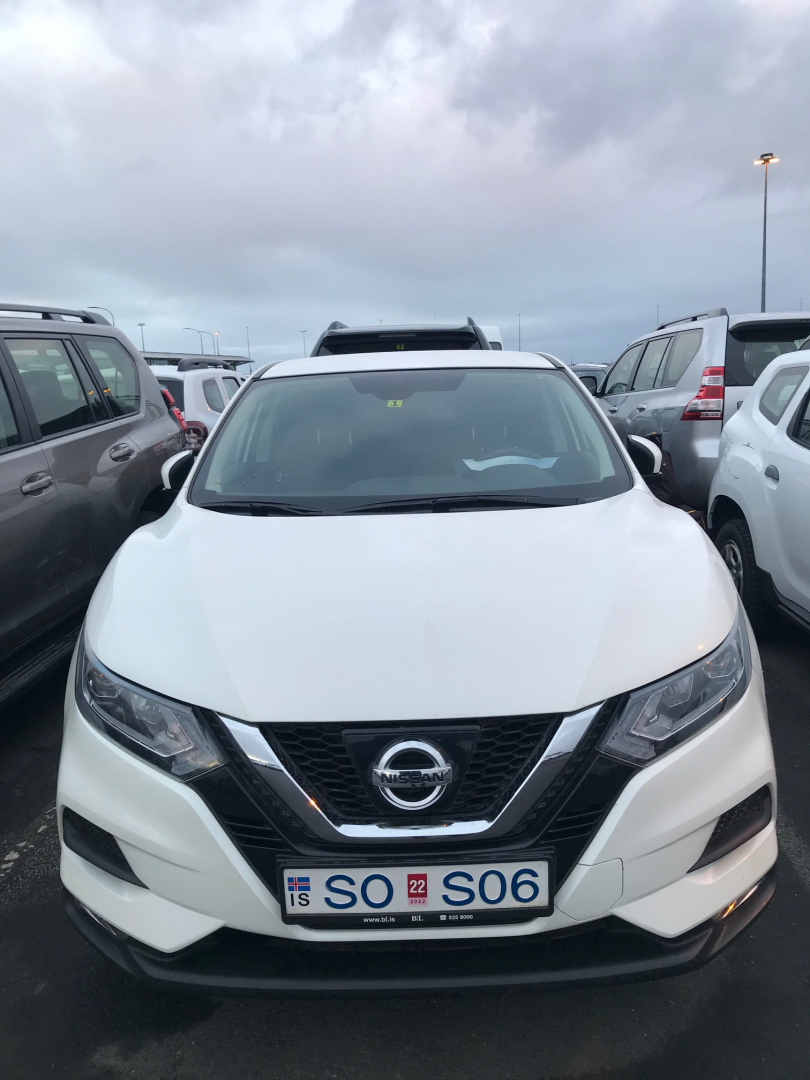 After the last checks, I was ready for the trip. When I left the Keflavik Airport to go to the capital of Reykjavik, as always, I turned on the Icelandic radio and started listening to Icelandic songs just for the sake of curiosity. It was interesting, I liked it.
After about a 1-hour drive, I arrived in the capital, Reykjavik. I'm usually good at picking hotels and restaurants. The hotel I chose came out above my expectations. I would highly recommend the Canopy Hotel operated by Hilton. The design, service quality, location and the comfort given to guests was a full score from me. The price is a bit expensive, but you get what you pay for.
Harp and the "Golden Circle"
As soon as I left the hotel, I went out and walked to the cultural center of Harpa which is one of the capital's most stunning buildings. Designed by the Danish architectural firm Henning Larsen Architects and the Icelandic artist Olafur Eliasson, he won the European Union's Mies van der Rohe design award. The exterior facade, made of colored glass and illumination, was designed in phase as if Iceland was the surface of the earth. The Black Mirror and Sense8 series on Netflix have filmed here using it as its main stage set. You can see the images of Harpa below: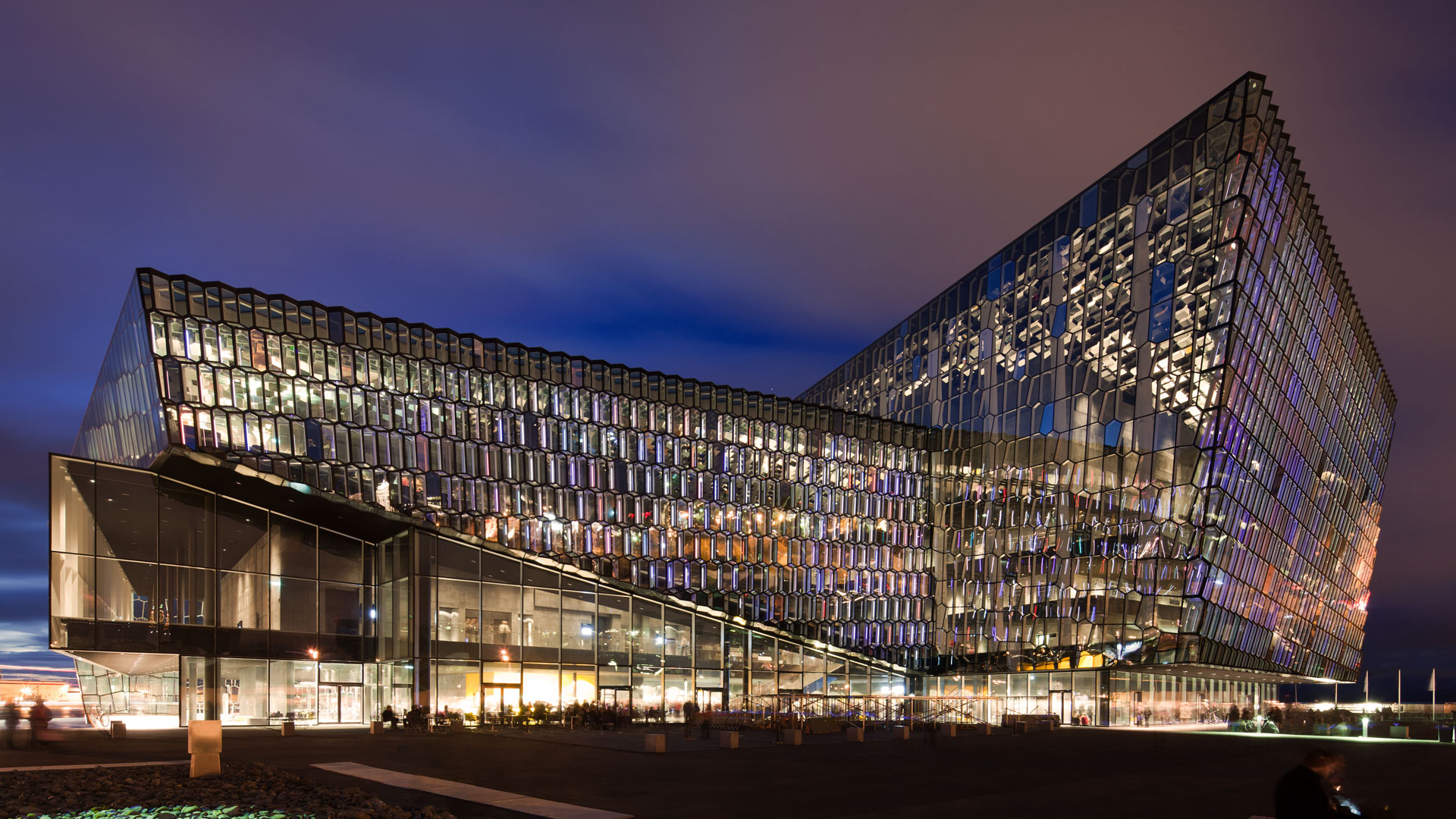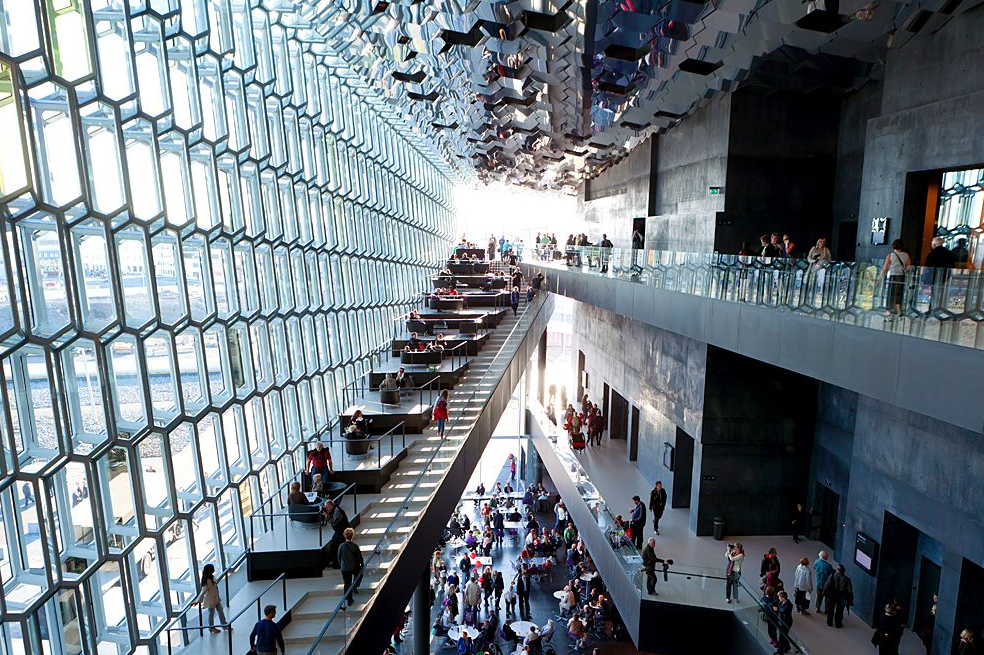 After I left Harpa and did a short city tour, I had a meal at the Grill Markadurinn. The grills at this restaurant were pretty good. You can make a reservation at http://m.grillmarkadurinn.is/en/. I would like to share with you the two photos I took while touring around the city: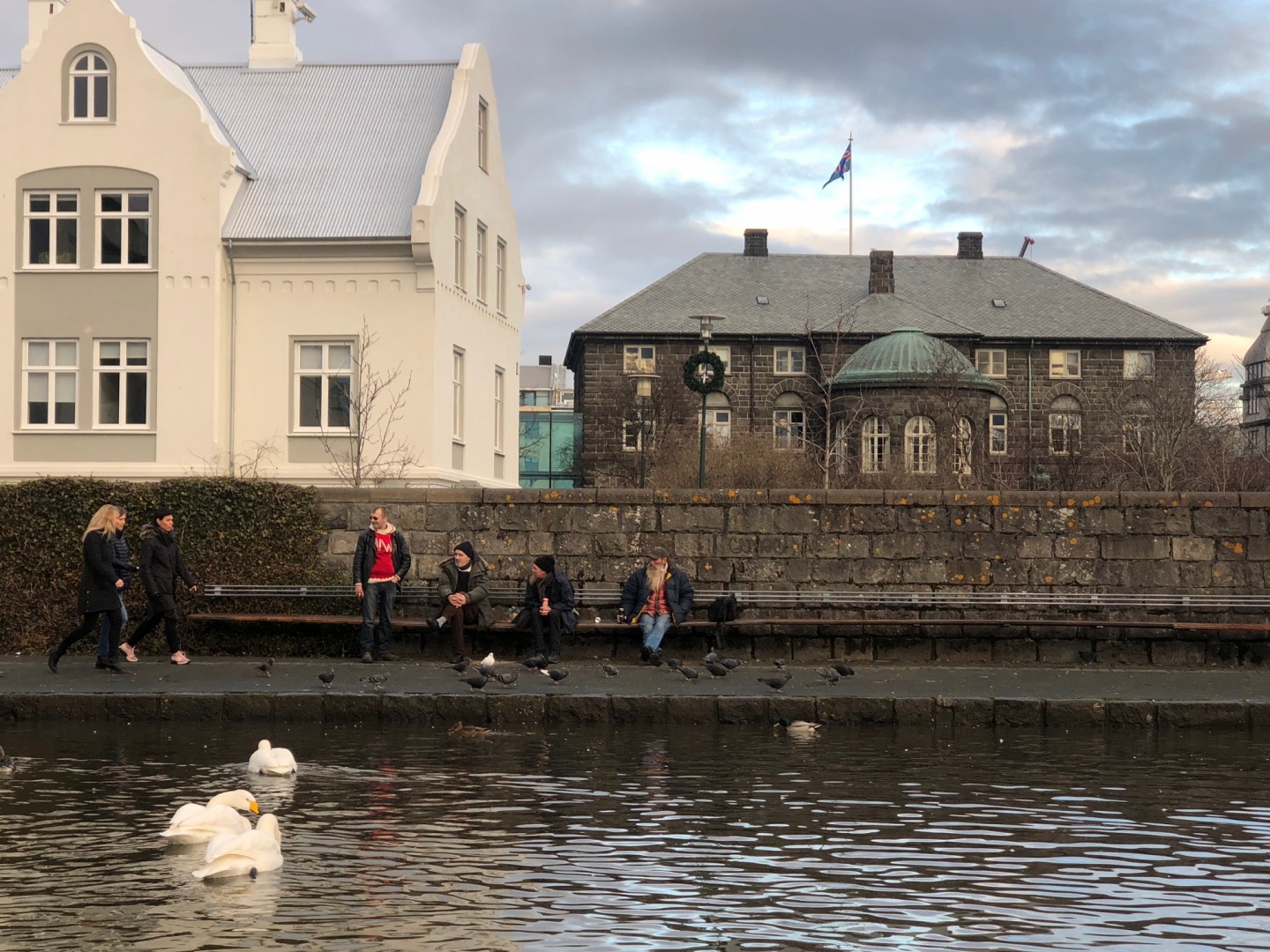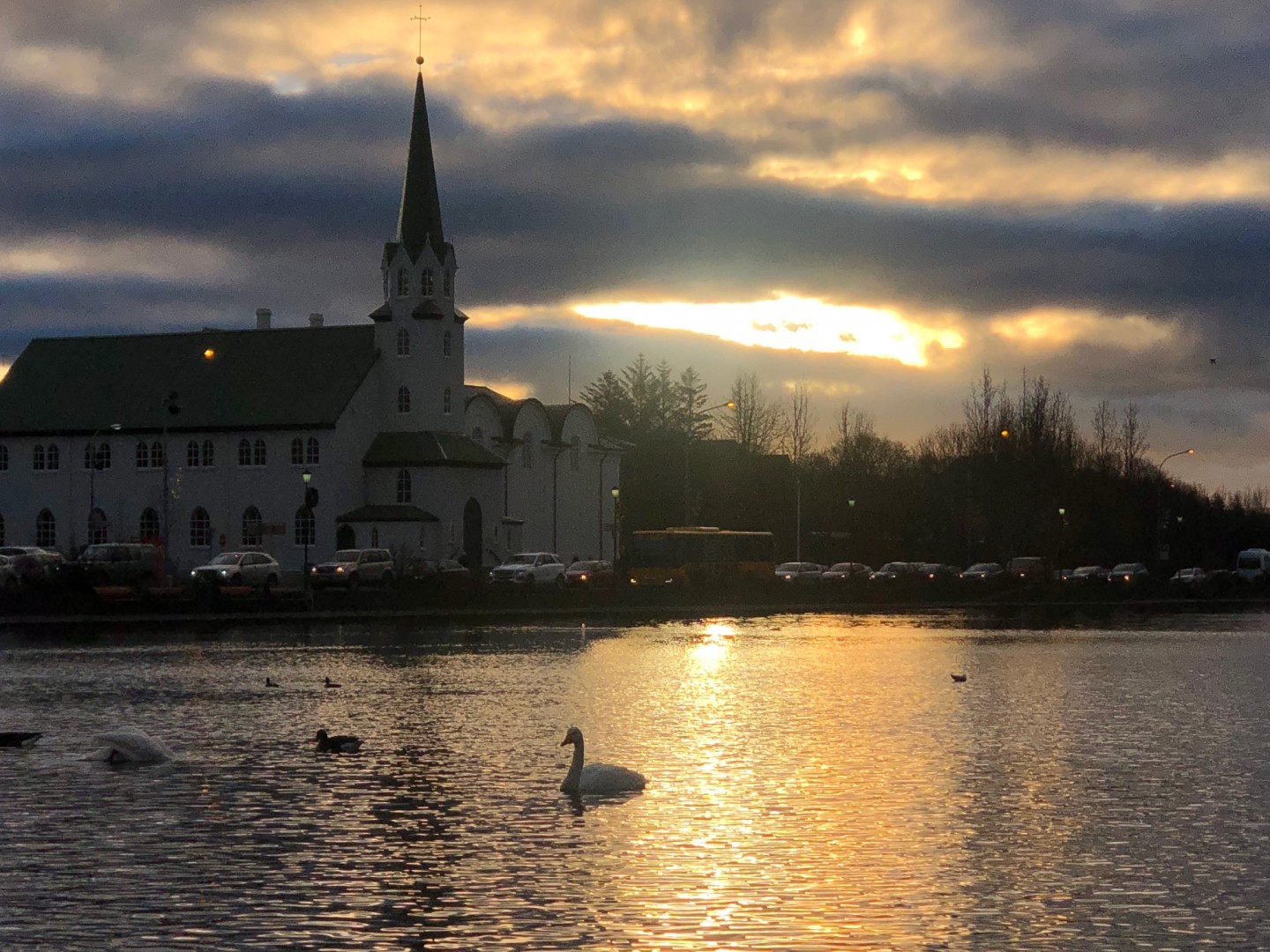 Afterwards, I went back to my hotel to rest. The next morning, I woke to phone calls from Istanbul. After answering the phone calls and having breakfast, I got back on the road.
I met a friend there and then as we planned, we went towards one of Reykjavik's most classic monument "Golden Circle". This tour is one of Iceland's top 3 popular tourist attractions: The Gullfoss Waterfall, Geysir Geothermal Region, and Shingvellir (Thingvellir) National Park. The route works around an area of approximately 250 km which means you visit the capital of Reykjavik and return back to Iceland in the form of a circle.
We just planned to do half a circle to stay in the southern city of Vik that night.
The Geysir Geothermal Region was especially a wonderful visit. I was already looking out for the geothermal springs while on the road as these are the most important things that have been told to me. On this road trip, there was smoke coming out of everywhere, from left to right, top and bottom.
Transitioning to the bright side with geothermals
Since I work in the field of renewable energy, this is especially one of my areas of interest. Geothermal is the best revenue generating area where you can achieve the best efficiency if you find the right vessel in renewable energy types. You can always and continuously produce energy from the right source because it is like a sub-oven underground. In other words, geothermal is a type of renewable energy that you can provide as a base load. Of course, as I mentioned before, it is important to find the right vessel. You can catch the heat source from underground by opening up a well. Opening up each well is an extremely costly process. Opening the well in the right place is the most critical point. Even people who are experts in this field are too many times mistaken. You've opened up a well, the resource is inefficient, which means you're throwing out millions of dollars. But on the other hand, you opened up a well, you got the right vessel, bingo! You can earn some serious income. Sounds familiar, doesn't it?
Yes, petrol also works with a similar discipline as geothermal. Petrol is also a source which is found underground, and everyone tries to catch the right vessel. That's why many of those in geothermal work have moved to this area right after petrol. Since petrol is burned in today's world and nature is polluted, I define those who move from the petrol business to the geothermal sector as those "who have passed from the dark side to the light side". The most successful experts in this field are generally Icelandic. I think this is not surprising; It is very natural for the Icelanders to specialize in these areas because the country consists of fully active volcanos and geothermal springs. Also, my general opinion is that the Icelanders are smart, disciplined, calm and friendly. These features enable them to achieve successful jobs in their careers.
Since the articles I write about technical subjects receive the lowest rating and attention, I am now stressing the technical issues in between these kinds of articles which I write about my travel or about myself, so that people can read it. This is my new tactic

Impressions of Geysir
I had lost myself in the magical environment of Geysir, one of the most important destinations of the golden circle.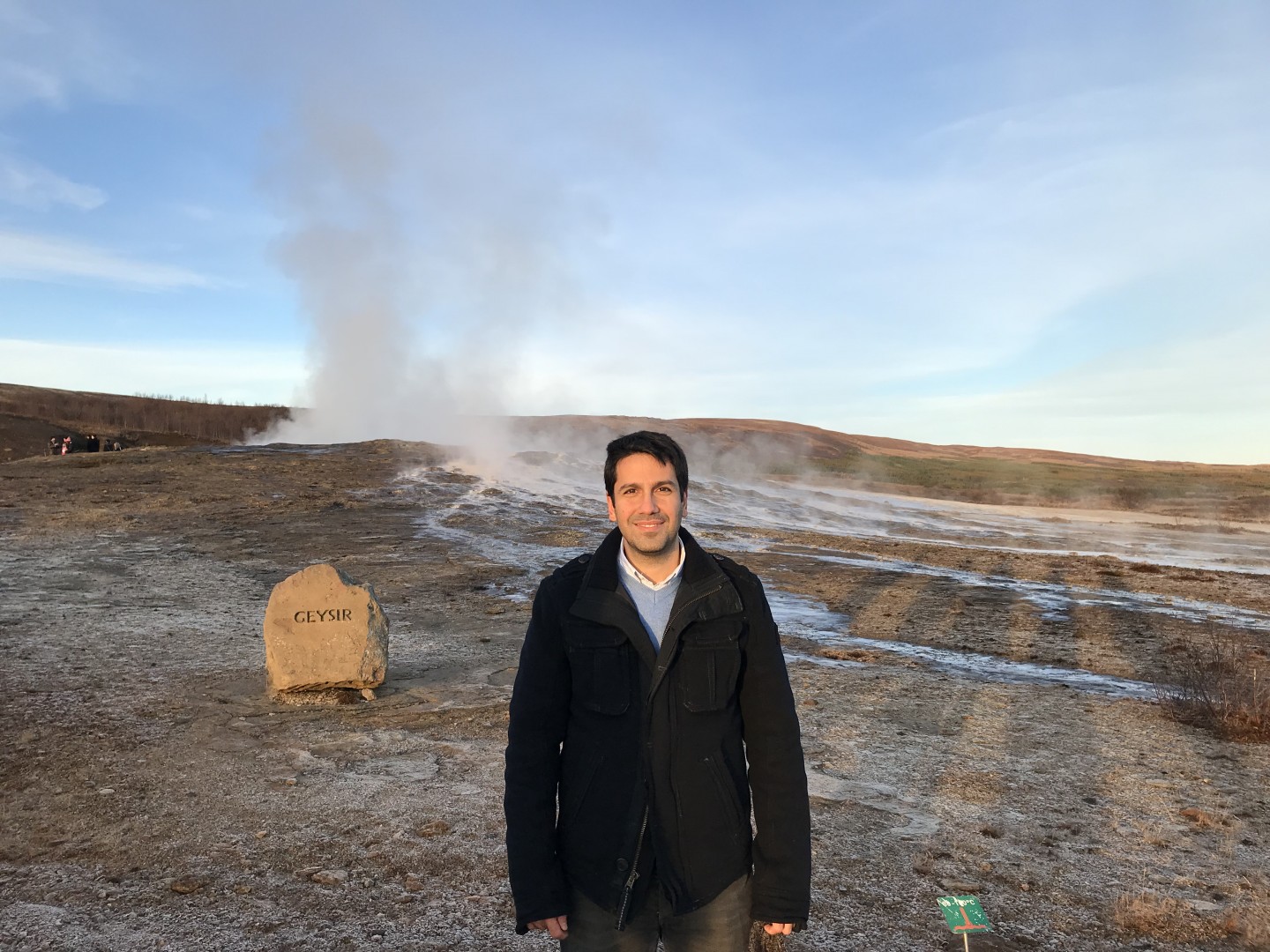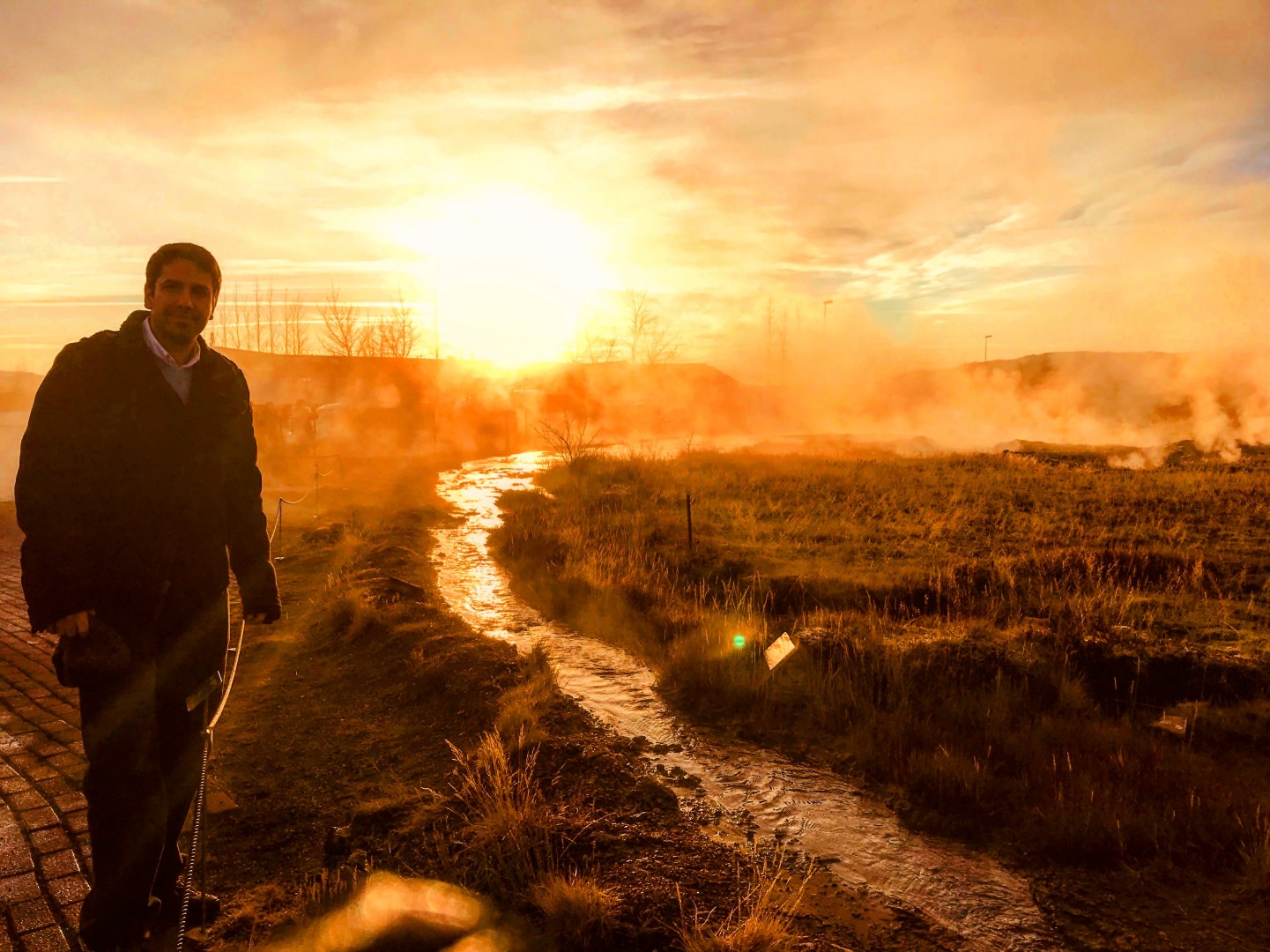 As I went up there, taking as many photos as I can, I was drawn to the water that got blown out of one of the most unbelievable springs that just erupted. After a few more eruptions, I took the following photo.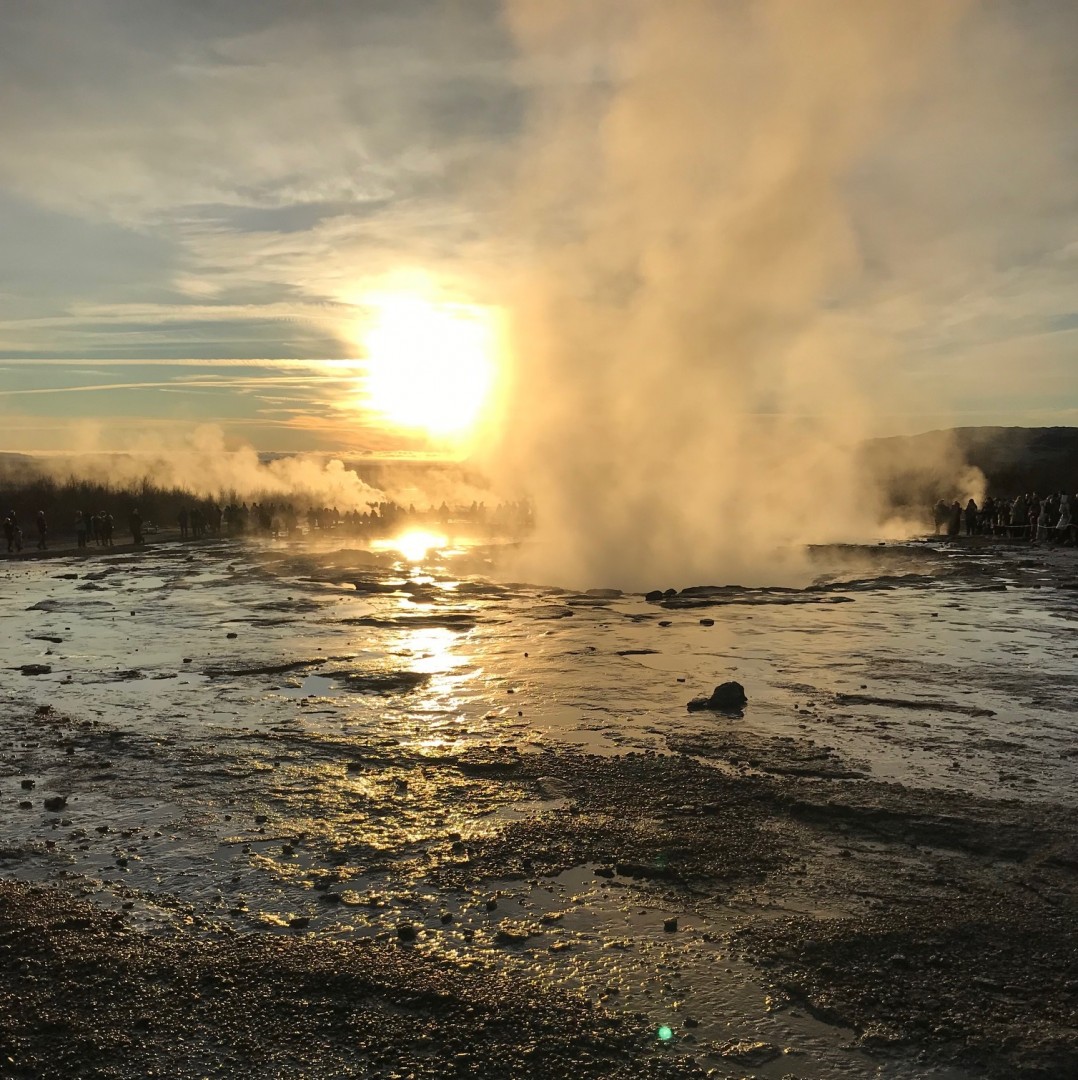 This is the video of the thermal water spraying out to the earth:

After this visit, in order to warm up, we went to the tourist center. After walking around that center which had restaurants and shops inside, we took the below photo and got to the car and back on the road.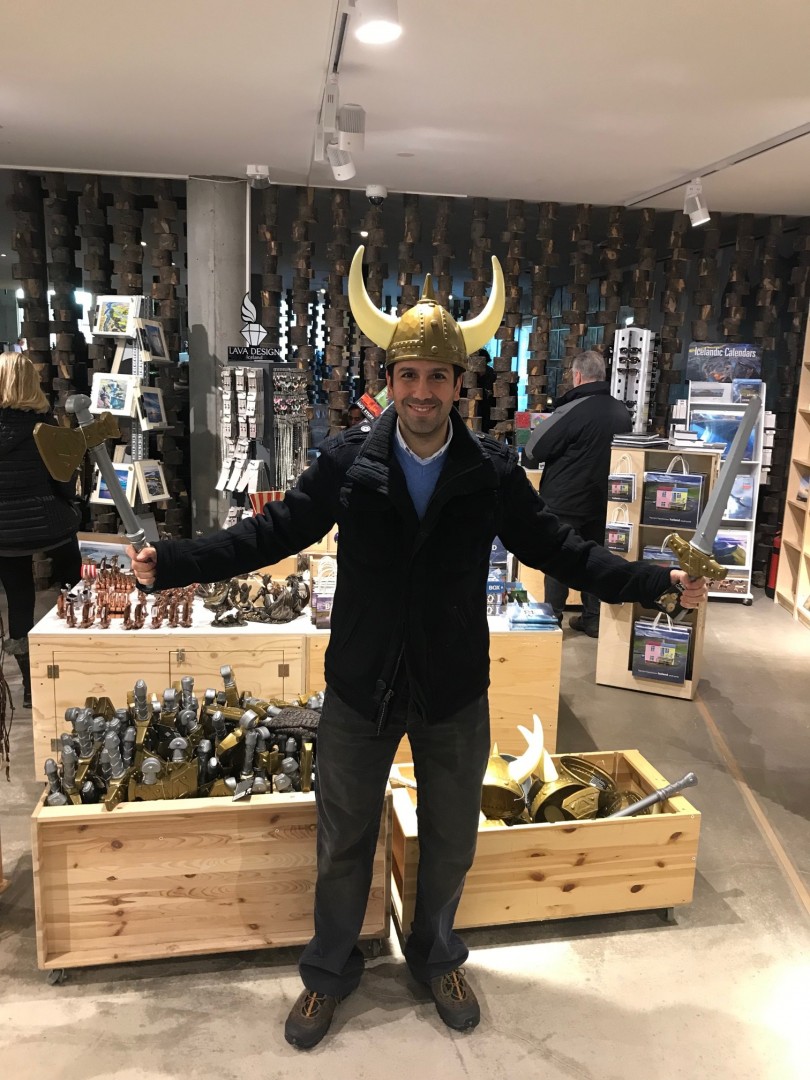 This is the spirited Viking of Turkey, Serhild Suzersson

We then carried onto our journey to reach out last stop, Vik. On the way to Vik, we stopped at the Rangarping Eystra Waterfall: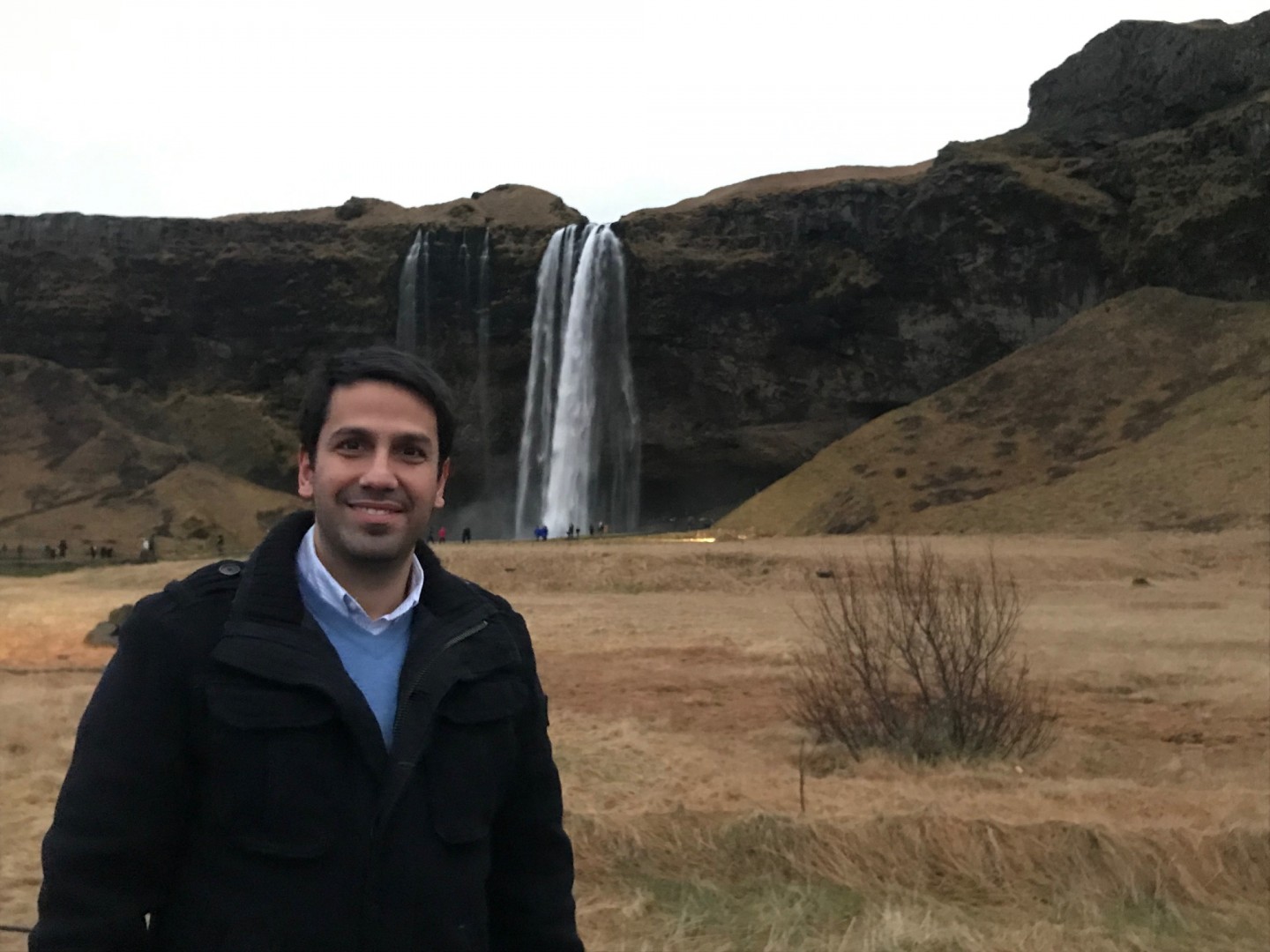 I would also like to share with you the photos I took along the way: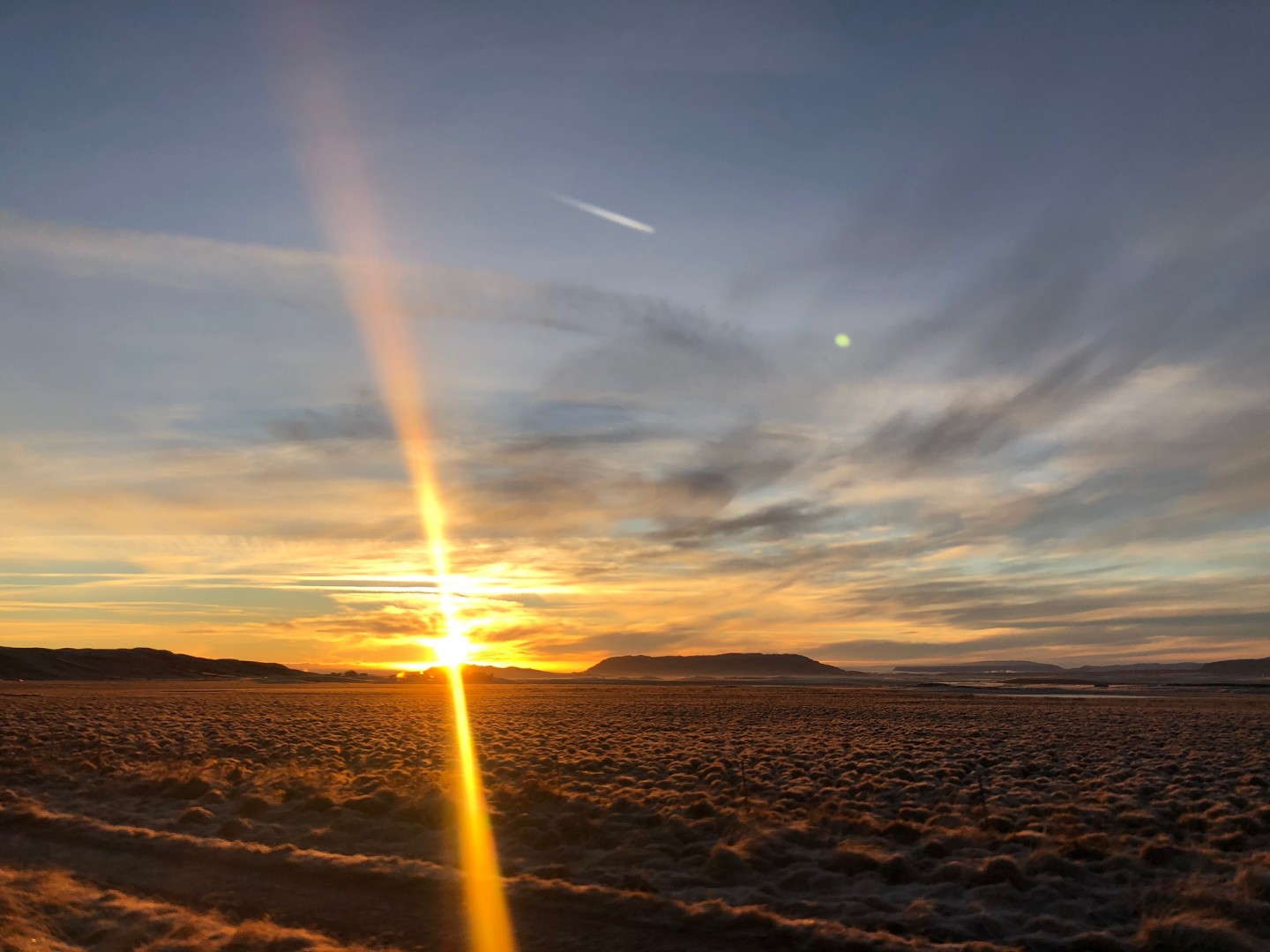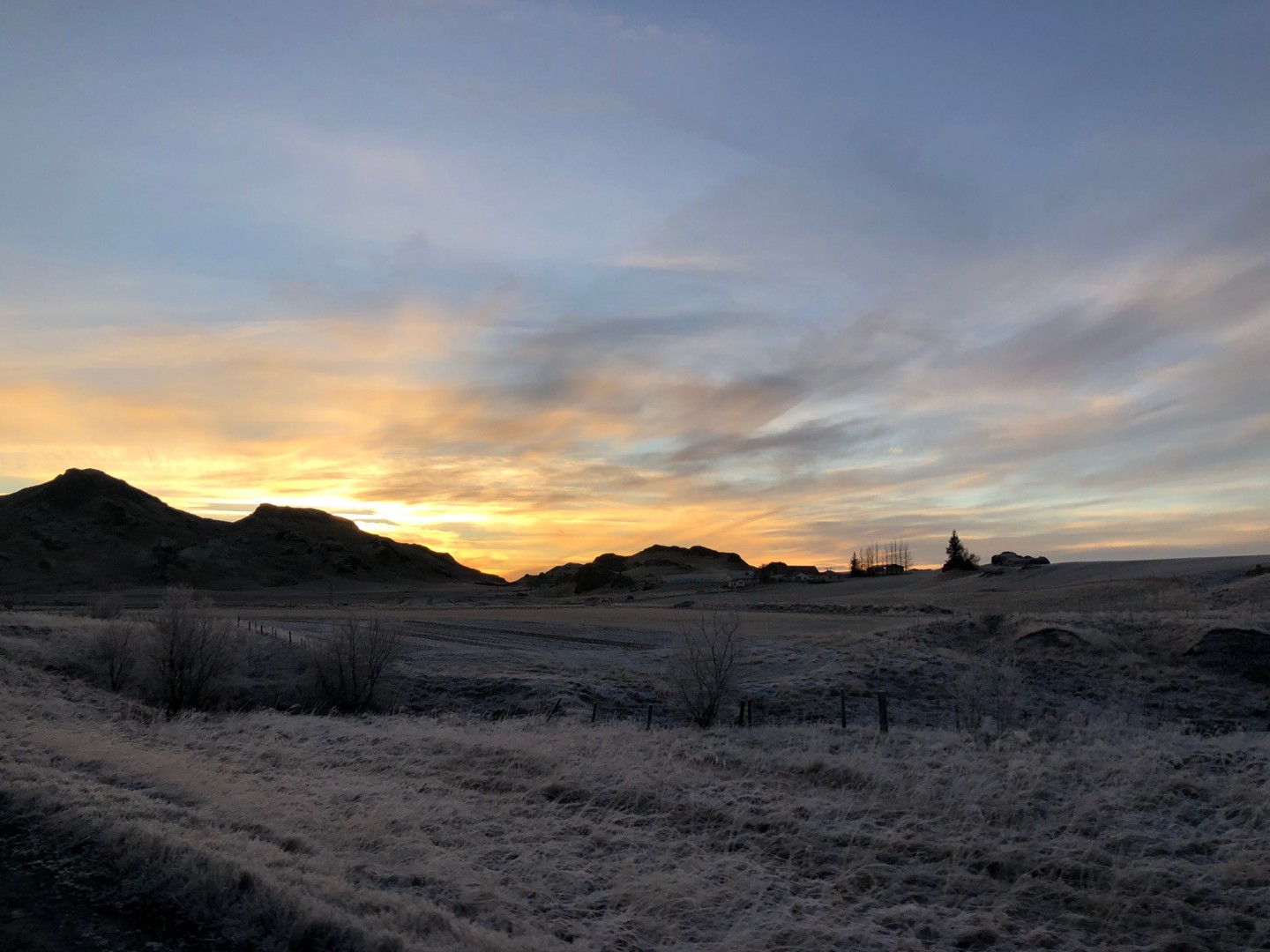 In fact, the full name of the city of Vik is Vík í Mýrdal. Vik means bay or cove in Iceland. So, it's actually Mýrdal Bay. Here everyone calls this lovely town of Vik either bay or cove. Besides, you will always see the work Vik at the end of all the other words. For example, the name of the capital city is Reykjavik which becomes Reykja Bay. By the way, I have to say that this word is easier to pronounce than it seems. It is pronounced "Reykevik" in Turkish. We eventually got it right with much practice. Another example is the name of the airport where Keflavik is located. So, Kefla Bay.
Vík is a small coastal village in the south of Iceland, about 180 kilometers away from the capital Reykjavík. Mýrdalsjökull is an important center for tourists and settlers around the glaciers (source Wikipedia).
The original burger
When I first entered Vik, I went into the wrong street. When I saw that the name of the street was "Hatun Street" it was interesting for me to see that we use the same words in two very different languages therefore I took this picture (For my foreign readers, I don't know what the word Hatun means in Icelandic, but in Turkish it means "woman").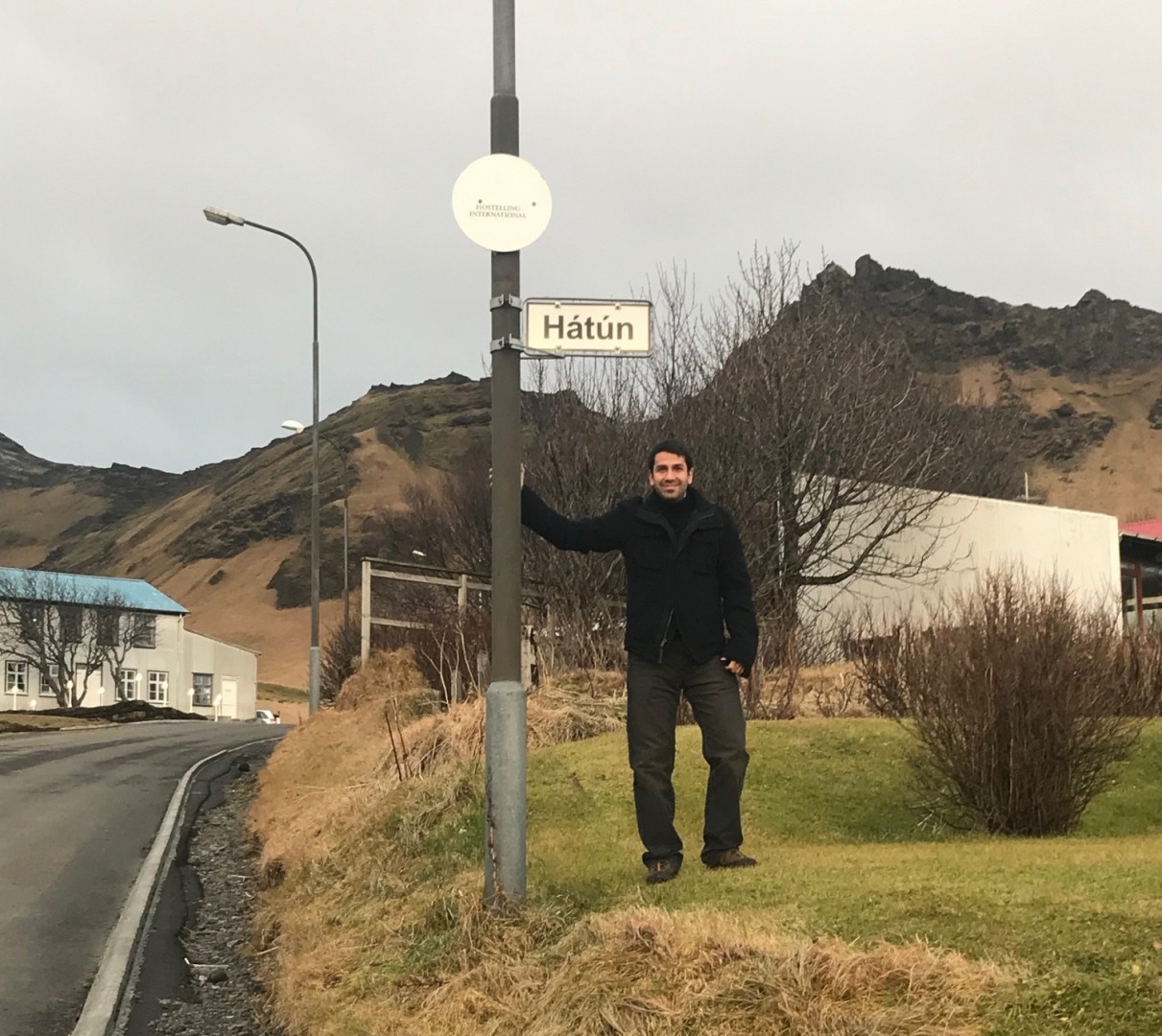 My stay at the Icelandair hotel in Vik really left a nice impression upon arrival. But their rooms, as opposed to the lobby, have never been invested in or updated. In other words, the hotel's lobby is rated 5 stars while the rooms are rated 2 stars. So, it was quite disappointing for me. Yet, it is still perceived as one of the best hotels in Vik. After leaving my things to the hotel, we went to one of the two recommended places.
The first place I went to in Vik is called Smidjan. This is the link to the restaurant: http://smidjanbrugghus.is/. The hamburger is perceived as an American product. But I can honestly say that out of all the burgers I have eaten, the best one was here. They owe this to the fact that the animals being brought up here are in a natural environment and the other products are very fresh. There's also a pub here. Enthusiasts can try all kinds of beers from different parts of the world. This also includes the beer that they have produced themselves.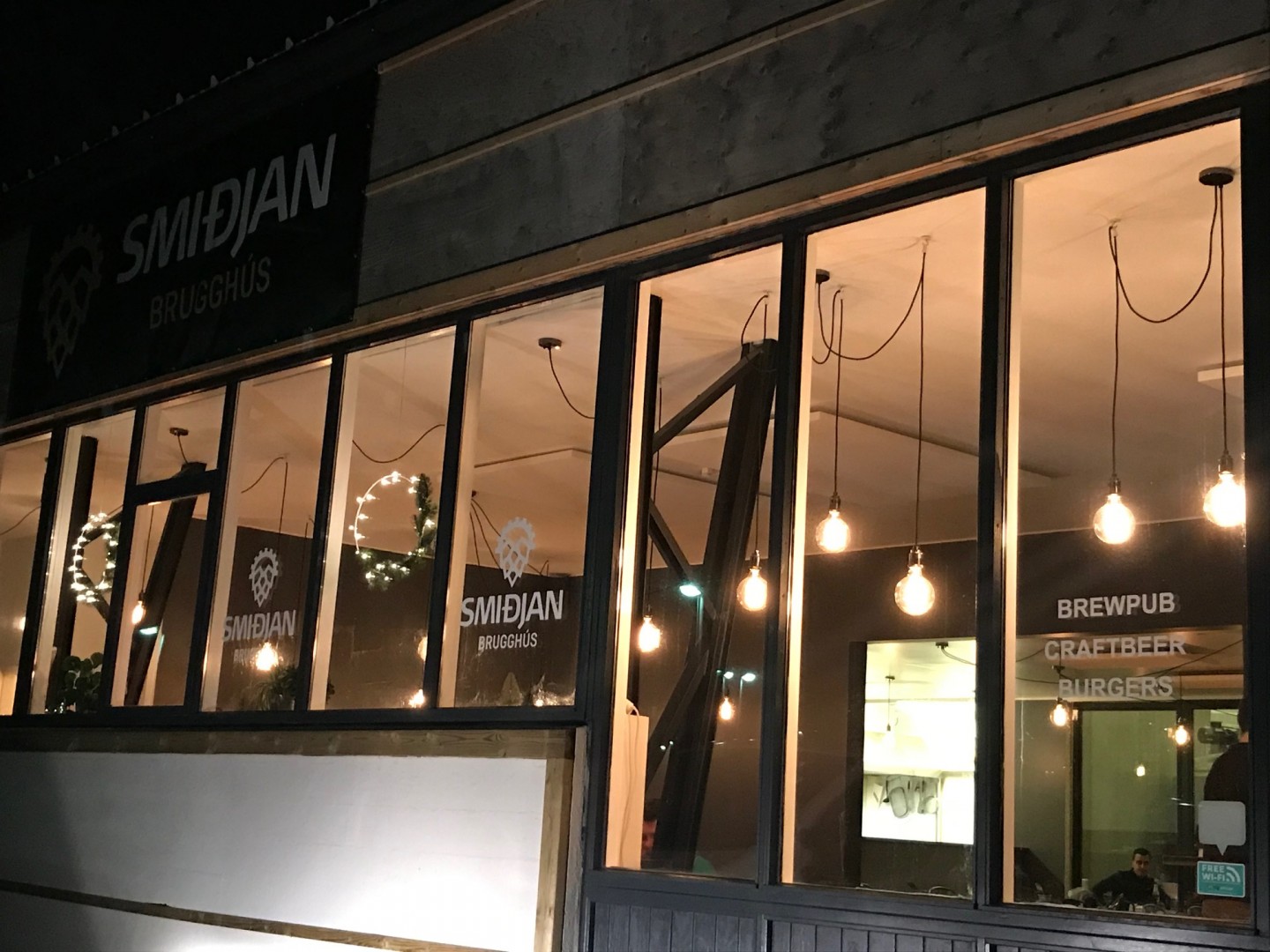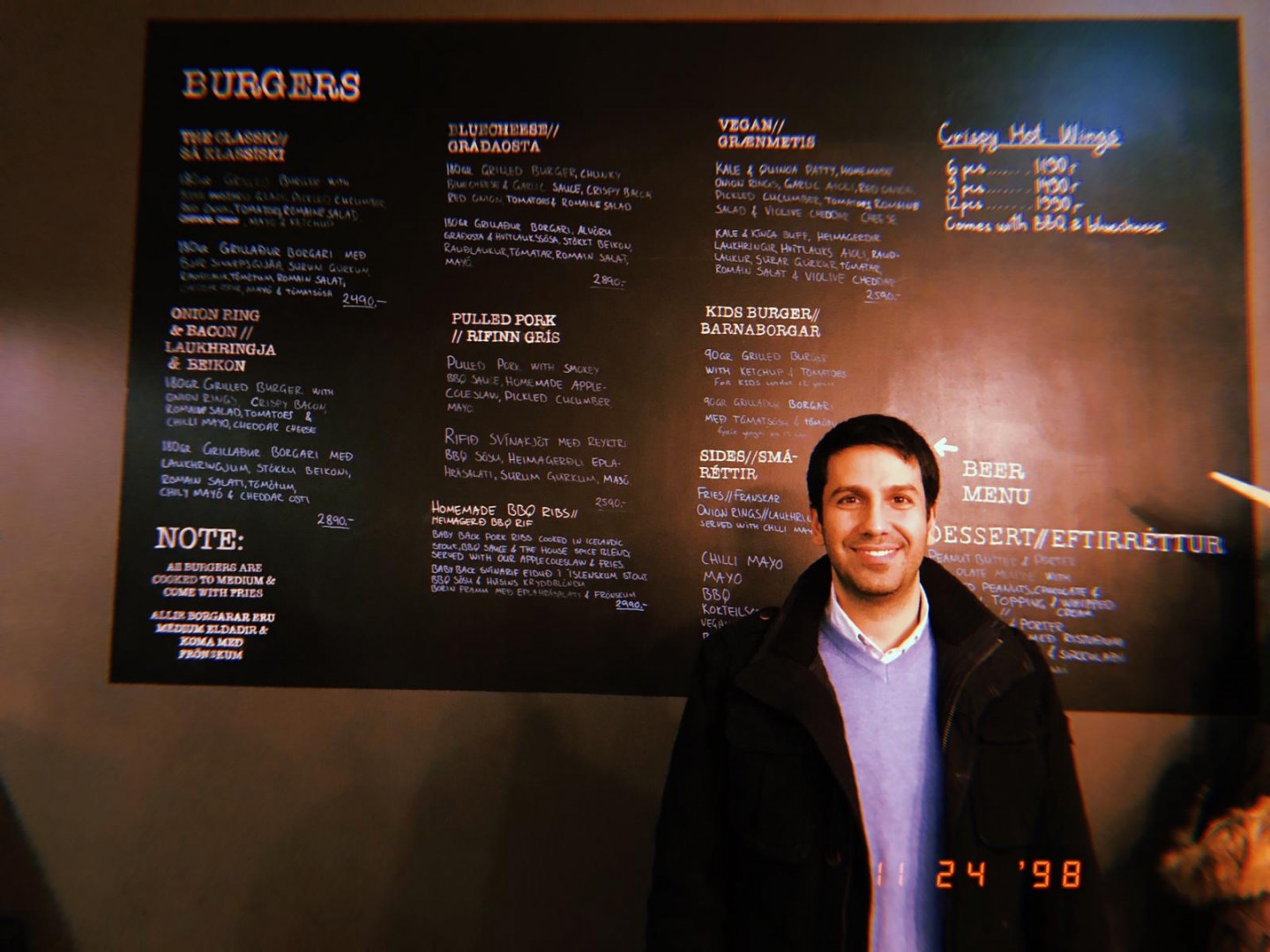 After having the burger, I then tried the dessert. It was delicious. After the meal, we had the opportunity to chat with the Smidjan's employees, who were the ones that prepared these delicious dishes.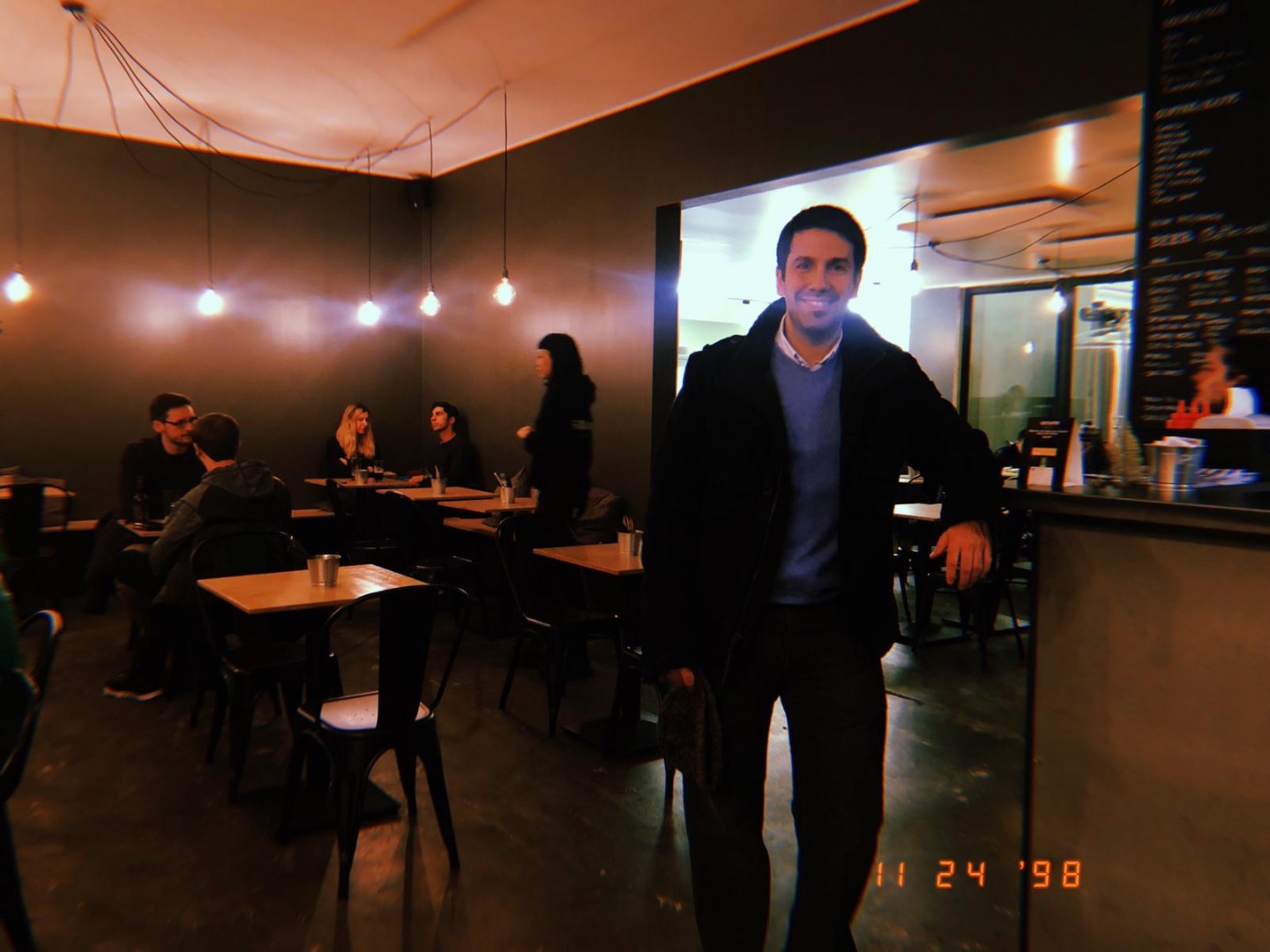 An abundance of Polish
When I found out that there were Poles (short name for Polish people) working in the restaurant and in the kitchen, and since my holiday, this was the fifth Polish person I came across, I asked the girl behind the counter "are there a lot of Polish people here?". She smiled at me and said, "The biggest population on the Island after Icelandics is Polish. Poles who don't have enough opportunities in their own countries prefer to work here because they can save a lot of money in Iceland". She had answered another one of my questions. It was interesting to me that the Poles were so settled into Iceland. And of course, you cannot physically distinguish the difference from Icelandic people and Polish people. After speaking a couple of words in English to them, you can understand it from their accents.
I asked the same girl "Is there a place where we can listen to music here?". The girl smiled and said that they don't have that kind of music here in the same village, but the hostel located nearby had a "Jam Session". People living here come together and make their own music. I liked this idea very much. I quickly asked "where is this hostel? How can I go there from here?". She then described it to me.
An unbelievable "jam session" experience
After leaving the hamburger joint, we went straight to the hostel. There was something very interesting about the environment there. It was an environment that I really wanted to see, and I was glad to be in. For example, as we entered, Gülcan, who was born and bred in Belgium, welcomed us. When she realized that I was Turkish, she immediately started to speak in Turkish. I also got all the tips about Iceland from her. She had confirmed that a total of 100 Turks currently live in Iceland.
We went inside; there were many young people there who were either Polish, Spanish, German, American, Canadian, French and from other different countries. Some were making music and the others were just listening. We had the opportunity to chat with everyone there. It was like the United Nations. Everyone's common interest was to enjoy the music and the moment. I even remember saying "This is the direction the world has to go". Everybody who had a different instrument in their hand contributed to the making of music, while the rest listened to their music with great joy.
First a French guy performed. He sang three solo songs. One he wrote himself. Afterwards, a young Spanish and a Polish woman performed.
After their great performance, everyone who had a musical instrument filled the room.

At one stage when I was having a conversation with the Polish rasta-haired boy next to me, I asked, "What are you going to play?" He said, "Darbuka". When he said that I laughed and asked, "What kind of instrument is that?" He started to tell me. What he told me was that it was actually a kind of drum that you would put between the legs. I then told him that a Darbuka is usually taken under the arm and showed him how big the normal size is. In a very surprised way, he asked me, "How do you know that?". I told him I was Turkish. His reaction was very funny, "Well if you are Turkish then why are you asking? Isn't Darbuka originally from your country?" he asked. I then said, "the reason why I asked you was because I wondered how a Pole would describe one of our national instruments". I then finished my sentence by saying, "this is the first time I have come across a Pole who will be playing this instrument". He laughed and said, "I'm moving over with the other musicians". I told him to make the most of it.
I can honestly say that I had a surreal night in Iceland. I couldn't believe what I saw. In a small Icelandic village like Vik, I couldn't believe that I met at least 10 people from all over the country who came together to mix and play many different types of music, including Turkish tunes.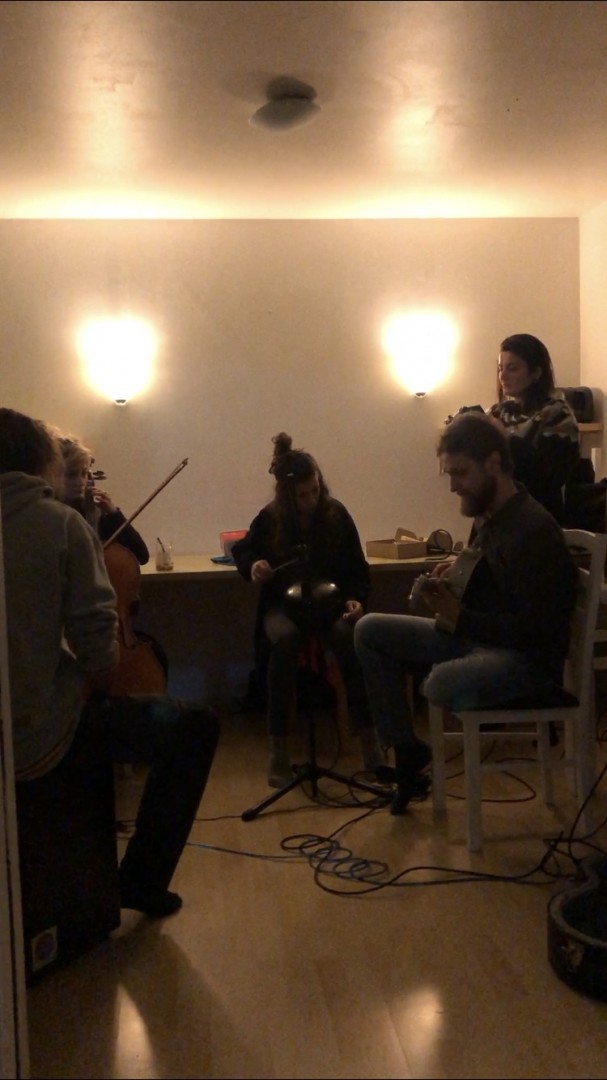 The future shape of the world

Make a note of these. This is an indication of how the world will be shaped in the future. What matters is humanity. The unification of people in different cultures and backgrounds with common values and universal values such as music, love, respect and compassion will continue to accelerate.
This process will of course not be easy. I will continue to do my best to provide an environment in which humanity lives in peace and prosperity and enjoy life. Maybe there will be great struggles with generations of hatred, such as racism, but eventually humanity will mold into the environment in which it deserves.
After that night I returned to the hotel with great pleasure. The next day, it was time to move on to the east, where there were glaciers and waterfalls.
Note: I planned to write about Iceland in one single article. However, as I have accumulated a lot to be told, I decided to write my article in two parts. In the next article, I will share my experiences in Iceland from November 25 onwards.
Tag: gezi