Who will be the greatest tennis player ever?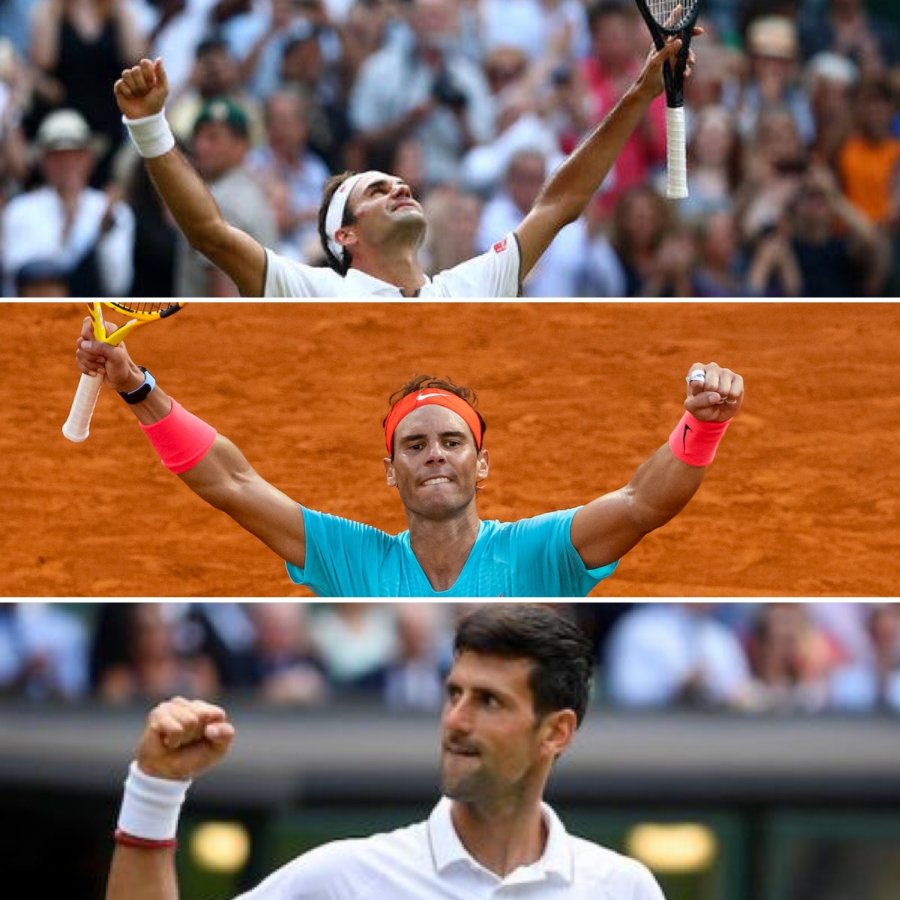 Last Sunday, the French Open Tennis Tournament was played by Nadal who defeated Djokovic in an epic final. Nadal, the athlete who won the tournament by far the most, won the 13th trophy and increased the number of Grand Slams to 20 and became a partner in Federer's title with the highest number of Grand Slams ever. At this stage, all tennis lovers have this question in mind: Who will be the greatest tennis player ever before their careers are over? Federer? Nadal? Djokovic?
I've always loved tennis. I can even say that I played tennis at the TED (Tenis Eskrim Dagcilik) Sports Club until the age of 11 and I even thought of becoming a professional at some point in my life. As life throws me in another direction, the love of tennis in me has never changed. I generally follow tennis tournaments, and even if I am in an irrelevant place, I always listen to the news of tennis, even if it is involuntary.
I have had a favourite tennis player in every period of my life. For example, I admired Andre Agassi and took his playing style as an example when I was playing tennis. Although I used both hands, I started playing tennis with my right hand like Agassi, just like him, my backhand was double-handed and again like Agassi, my ball spin hit was good. I would give the balls lots of spins. When I stepped from childhood to youth, my height grew to 1.80 just like Agassi.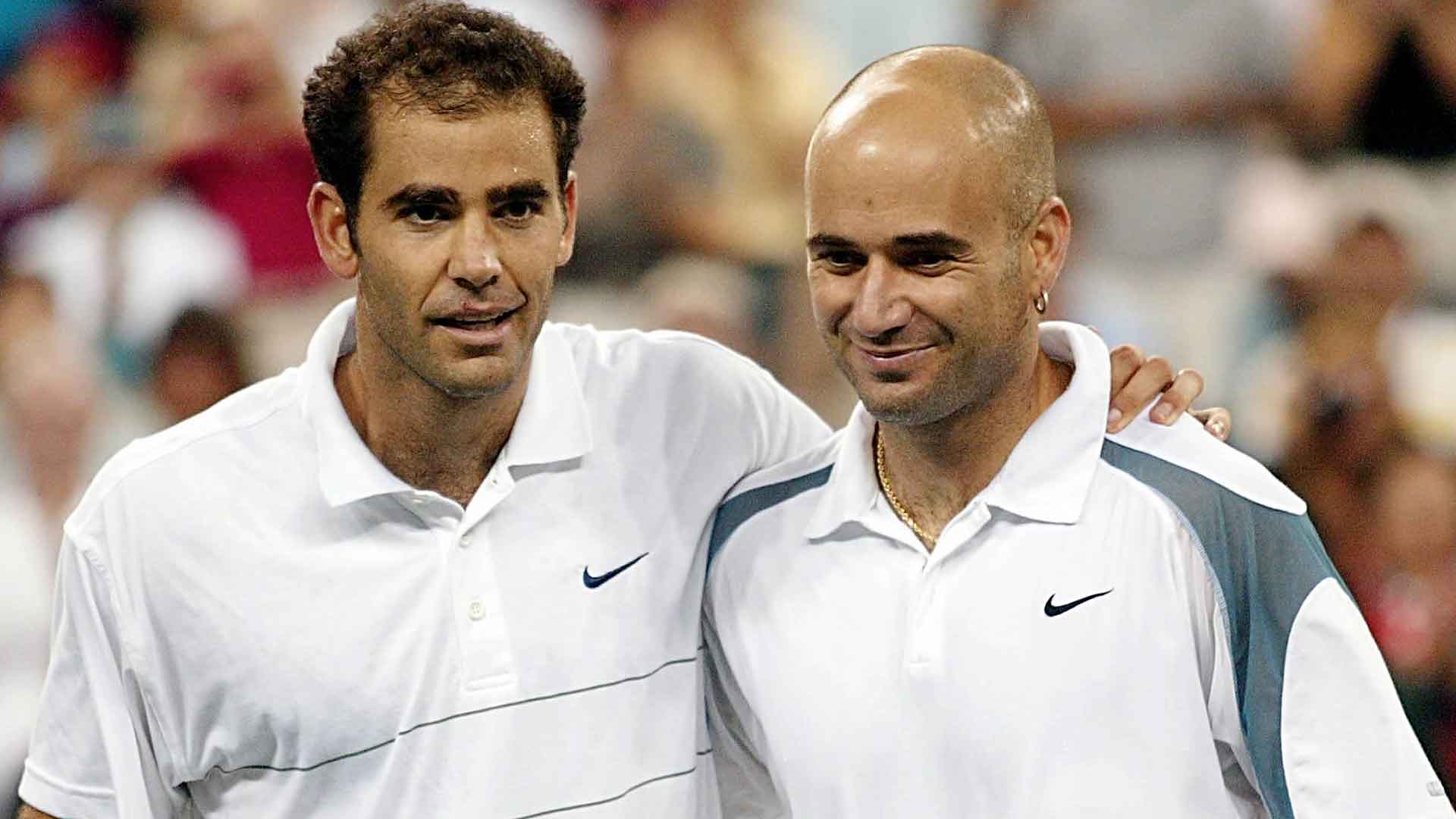 I also liked Pete Sampras, who appeared at the same time as Agassi. Sampras would play a one-handed backhand. Thanks to his height and stability compared to Agassi, he achieved greater success. Sampras won 14 Grand Slams during his time and became the most successful tennis player of his time. Agassi was like the crazy kid in the neighbourhood. He added colour to all the tournaments he participated in, he performed very well in some years but due to his personal problems, won the tournaments he participated in, and disappeared in some years. To me, his biggest chance in life was to marry another legend of tennis in women like Steffi Graf. He married Graf at the end of his career. Steffi Graf picked up his life. Perhaps Agassi could have won more tournaments if tennis had entered his life early, rather than at the end of his life. Nevertheless, the fact that he won 8 Grand Slam tournaments and was amongst the players who won all the Grand Slams makes him one of the tennis legends.

A legend is born
As this favourite duo slowly retreated from the tennis scene, another great tennis player appeared: Roger Federer. Before long, another tennis player I liked very much took the stage at a very young age: Rafael Nadal. He caught all the attention when he beat Federer and won his first Grand Slam at the French Open at the age of 18. You can watch the video of Nadal beating Federer with a big surprise at the French Open and silencing 15,000 spectators at https://www.youtube.com/watch?v=iPZcb6bhmY8.
The favourite duo of Agassi-Sampras was replaced by Federer and Nadal. In this sense, tennis audiences who think like me are very lucky. A tennis player was added to this new favourite duo shortly after, and the double rivalry began to be replaced by triple rivalry. The third name was Novak Djokovic. Grand Slam tournaments and all other tournaments generally continued to be won by this trio. Can you believe it? If you look at the Grand Slams, Federer won Wimbledon in 2003, then Nadal won the French Open in 2005, and then Djokovic won the Australian Open in 2008, joining the Grand Slam winning rush and starting the rivalry trio. From 2008 to 2018, the championships generally alternated between this trio. Although Federer has not won the Grand Slam for the last 2 years, Nadal and Djokovic have continued to win. Another common feature of this trio is that they all won all 4 Grand Slam tournaments.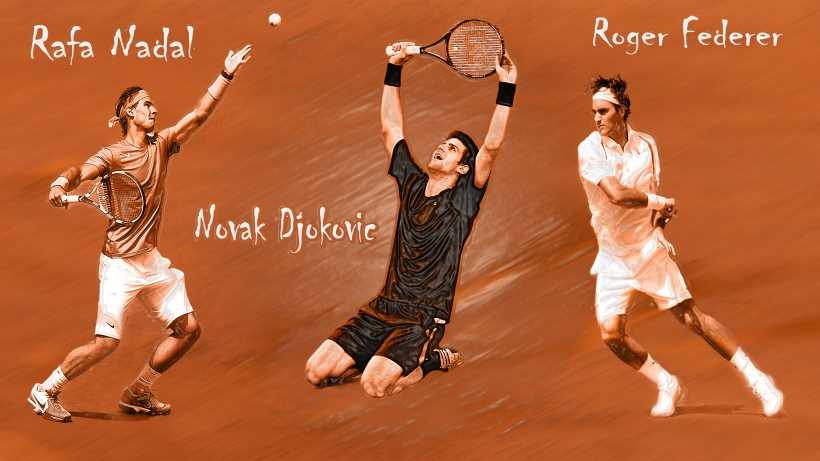 Djokovic gets less sympathy
Even though I especially like Federer and Nadal amongst this trio, I have no need to lie, my heart did not warm up to Djokovic. I try not to be prejudiced here, but besides being a complete athlete, following every ball and trying to get every point, I have never seen an extra feature of him as a tennis player. Nevertheless, the fact that he has won so many tournaments shows very clearly his success.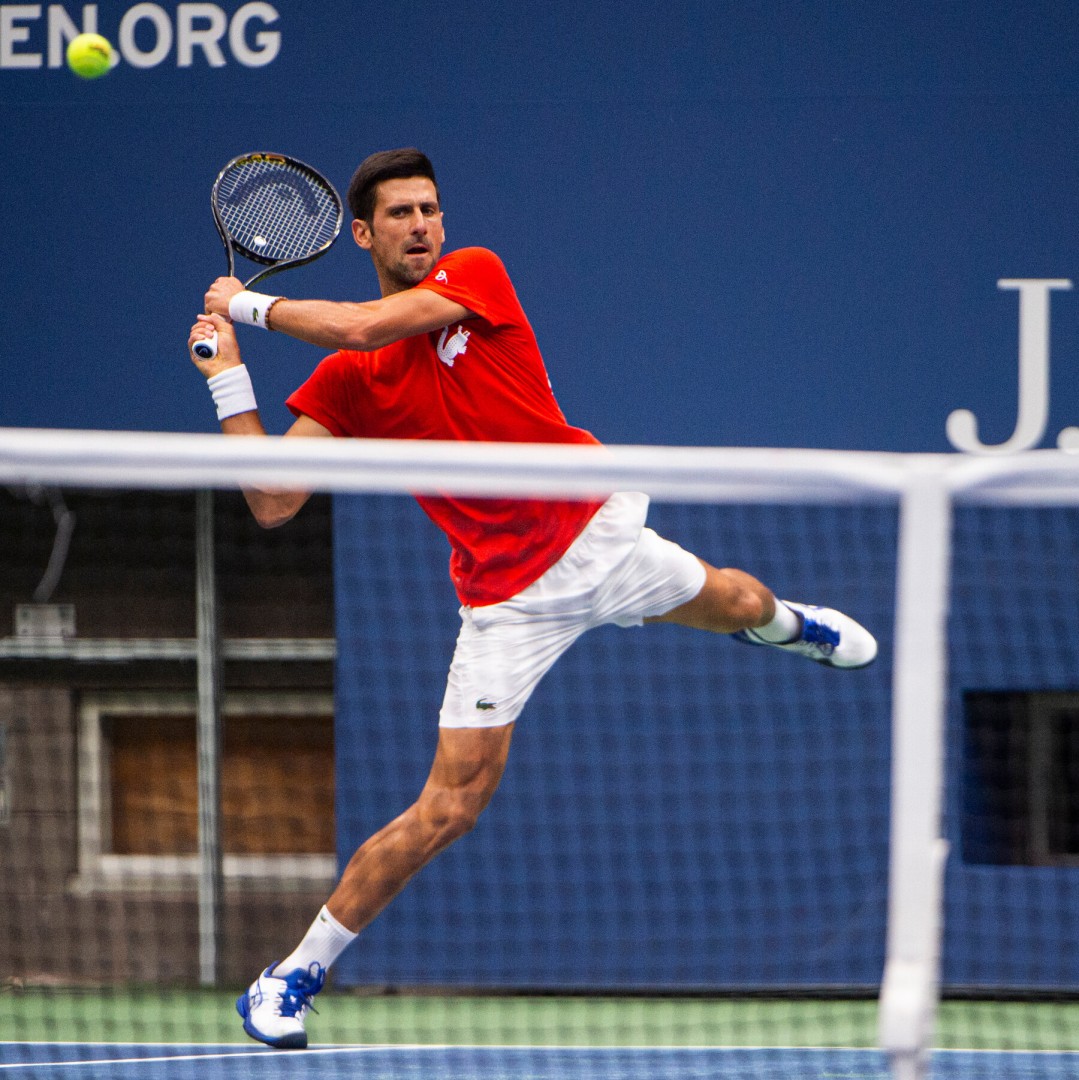 For example, Federer's lethal forehands and one-handed backhands give the ball an incredible angle and Nadal's athletic build and powerful hits have always enlivened the game. The services of all three are very good.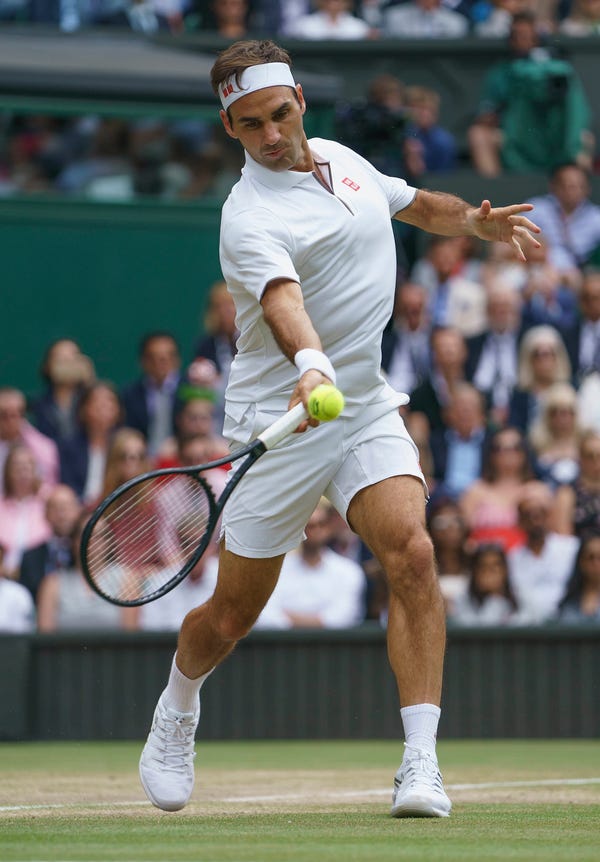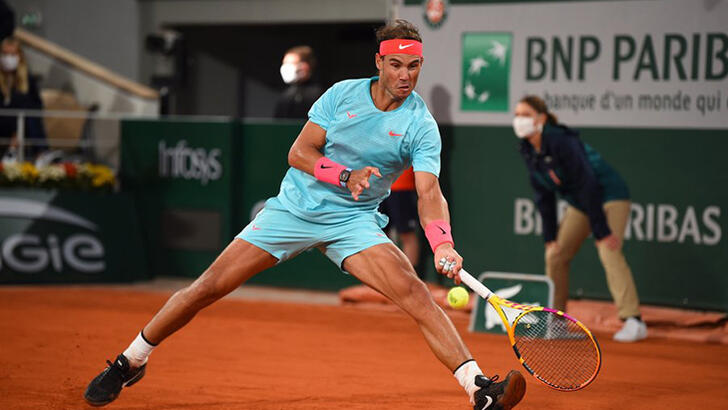 It is not only my opinion that Djokovic, who is the least popular of these trio, is less popular despite all his successes, it is the opinion of tennis lovers in general. Let us listen to the following statement from his former trainer, another tennis legend, Boris Becker, to the Daily Mail after Djokovic was disqualified in the last American Open tennis tournament he played because his ball hit the line referee's throat:

Not being as popular as his rivals bothers him
"I was afraid that something like this would happen to Novak. When I was his coach, I was constantly warning him not to throw the ball like this. … I think it makes him nervous that he is not as popular as Roger Federer or Rafael Nadal. He is someone who wants his accomplishments to be appreciated. Playing at the same time as those legends Nadal and Federer, there is great contention between them. It annoys him that the love shown to them is not shown to him. He should go to his house and talk to (his wife) Jelena. He should just focus on tennis. He needs to learn from his mistakes. He must see where he went wrong and contain his nerves. I warned him a lot. He should listen to himself now. "
Of course, we should not be unfair to Djokovic. He has made a name amongst the best ever, with what he has done so far. However, we need to remember what the legendary athletes have in common. These athletes become legendary not only with their success but also with their character structure. Just like Muhammad Ali.
Speaking of achievements, let me share the statistics with you.
Federer-Nadal-Djokovic: Grand Slam totals by years
(For the purpose of comparison, I noted the total number of Grand Slam titles they have achieved so far)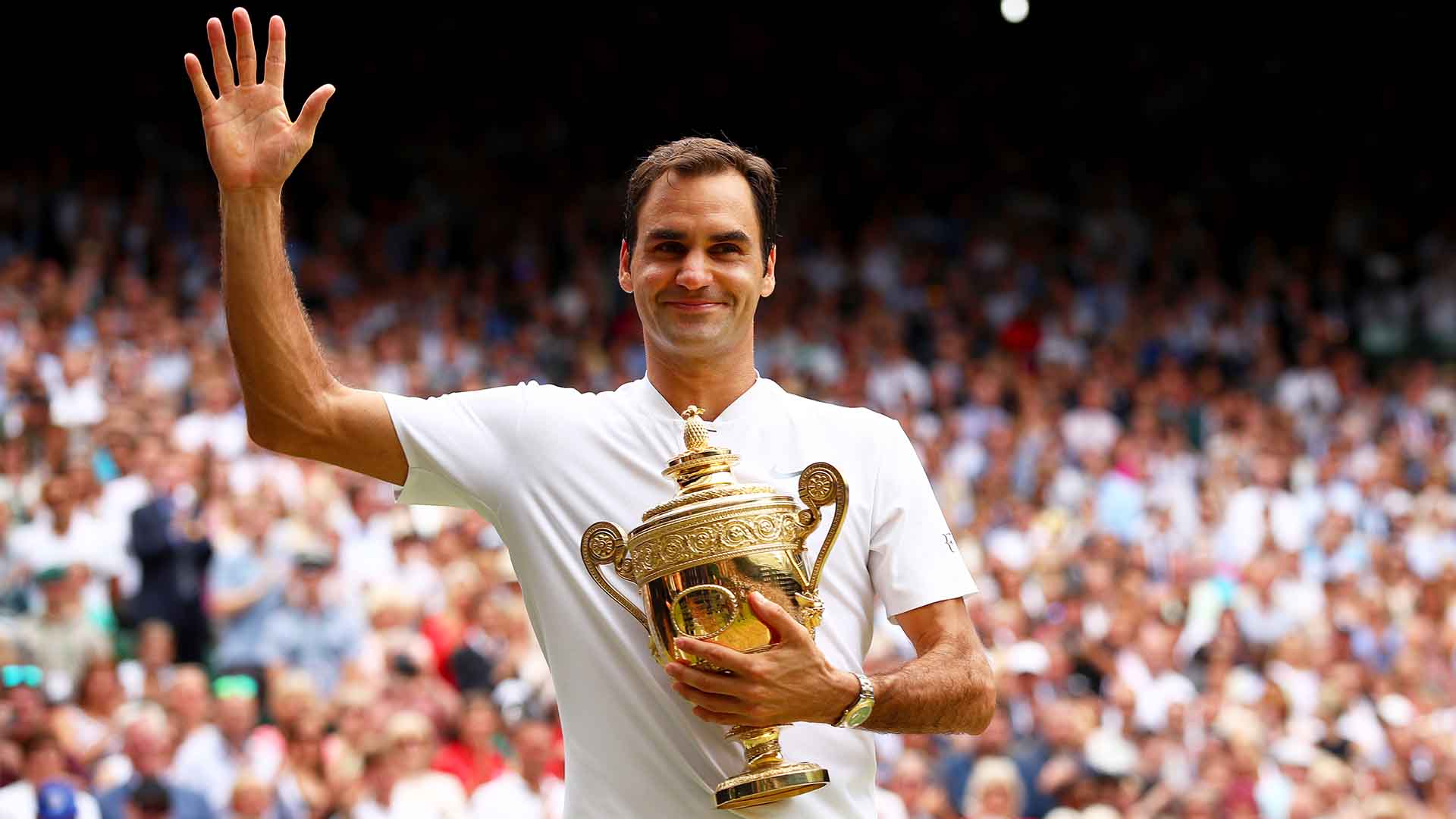 2003: Federer 1, Nadal 0, Djokovic 0

2004: Federer 4, Nadal 0, Djokovic 0

2005: Federer 6, Nadal 1, Djokovic 0

2006: Federer 9, Nadal 2, Djokovic 0

2007: Federer 12, Nadal 3, Djokovic 0

2008: Federer 13, Nadal 5, Djokovic 1

2009: Federer 15, Nadal 6, Djokovic 1

2010: Federer 16, Nadal 9, Djokovic 1

2011: Federer 16, Nadal 10, Djokovic 4

2012: Federer 17, Nadal 11, Djokovic 5

2013: Federer 17, Nadal 13, Djokovic 6

2014: Federer 17, Nadal 14, Djokovic 7

2015: Federer 17, Nadal 14, Djokovic 10

2016: Federer 17, Nadal 14, Djokovic 12

2017: Federer 19, Nadal 16, Djokovic 12

2018: Federer 20, Nadal 17, Djokovic 14

2019: Federer 20, Nadal 19, Djokovic 16

2020: Federer 20, Nadal 20, Djokovic 17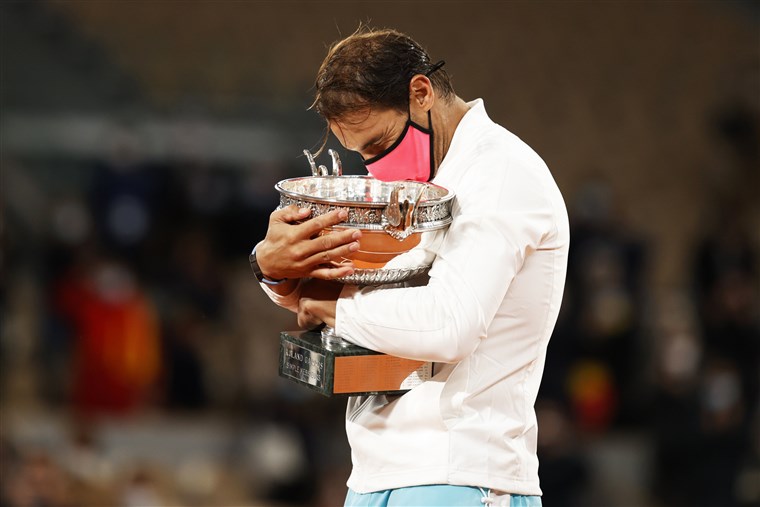 For more details, see the link https://www.marca.com/en/more-sports/2020/10/12/5f8380d322601d88388b456f.html.
You can read the statistics between these three at https://www.thestatszone.com/tennis/federer-nadal-or-djokovic-who-was-the-most-dominant-in-their-peak-860676.
I should also mention the legendary final matches played between these trio. It is unbelievable, but we can say that the longest matches in tennis history were played between these three with scores of 3-2. Here are the images of two tournaments and 3 final matches:

Australian Open 2012 Final (Nadal-Djokovic):
https://www.youtube.com/watch?v=s43wZcHOikc (Djokovic won the final, which lasted 5 hours and 53 minutes. It was named the longest match of all tournaments.)
Wimbledon 2008 Final (Federer-Nadal):
https://www.youtube.com/watch?v=mHsg2M25PzY&feature=emb_logo (The match, which lasted 4 hours and 48 minutes, was the longest running game in Wimbledon history.)
Wimbledon 2019 Final (Djokovic-Federer):
https://www.youtube.com/watch?v=TUikJi0Qhhw (This match broke the record for the longest game of the final played by Nadal and Federer in 2008 with 4 hours and 55 minutes. In the final, Federer lost again.)
Let's take a look at their current location and the tournaments they've won: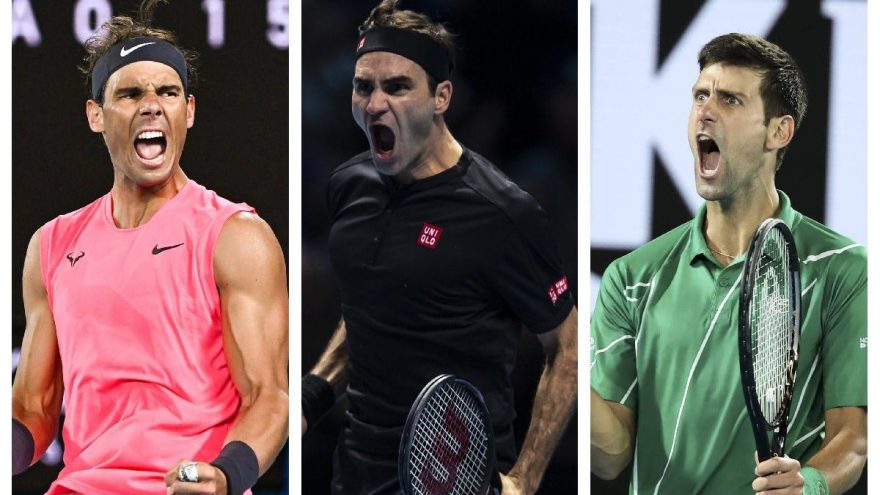 Novak Djokovic
Country: Serbia
Age: 33
Height: 186.7 cm (https://www.celebheights.com/s/Novak-Djokovic-47598.html)
World rankings: 1
Career titles: 81
Grand slam titles: 17
8 x Australian Open: 2008, 2011, 2012, 2013, 2015, 2016, 2019, 2020
1 x French Open: 2016
5 x Wimbledon: 2011, 2014, 2015, 2018, 2019
3 x US Open: 2011, 2015, 2018
Major titles: 58 (17 grand slams; 5 ATP finals; 36 'ATP Masters 1000' titles)

Rafael Nadal
Country: Spain
Age: 34
Height: 183.5 cm (https://www.celebheights.com/s/Rafael-Nadal-47955.html)
World rankings: 2
Career titles: 86
Grand slam titles: 20
1 x Australian Open: 2009
13 x French Open: 2005, 2006, 2007, 2008, 2010, 2011, 2012, 2013, 2014, 2017, 2018, 2019, 2020
2 x Wimbledon: 2008, 2010
4 x US Open: 2010, 2013, 2017, 2019
Major titles: 55 (20 grand slams; 35 'ATP Masters 1000' titles)

Roger Federer
Country: Switzerland
Age: 39
Height: 185.4 cm (https://www.celebheights.com/s/Roger-Federer-4376.html)
World rankings: 4
Career titles: 103
Grand slam titles: 20
6 x Australian Open: 2004, 2006, 2007, 2010, 2017, 2018
1 x French Open: 2009
8 x Wimbledon: 2003, 2004, 2005, 2006, 2007, 2009, 2012, 2017
5 x US Open: 2004, 2005, 2006, 2007, 2008
Major titles: 54 (20 grand slams; 6 ATP finals; 28 'ATP Masters 1000' titles)
How far will the fierce competition go?
Accordingly, Nadal and Federer are ahead with 20 victories in terms of Grands Slams. In terms of the tournaments won, Federer is ahead of his closest rival, Nadal, with 103 cups, 17 tournaments in front. However, if we look in terms of the big tournaments won, Djokovic is in the 1st place with 58 tournaments.
Apart from this trio that has marked the last 12 years of tennis, let's not forget the other tennis players who have shined like stars since the 90's. On this occasion, I would like to share with you the video showing the ranking of the world's top 10 tennis players since the 90's: https://www.youtube.com/watch?v=2BgMrm3yz58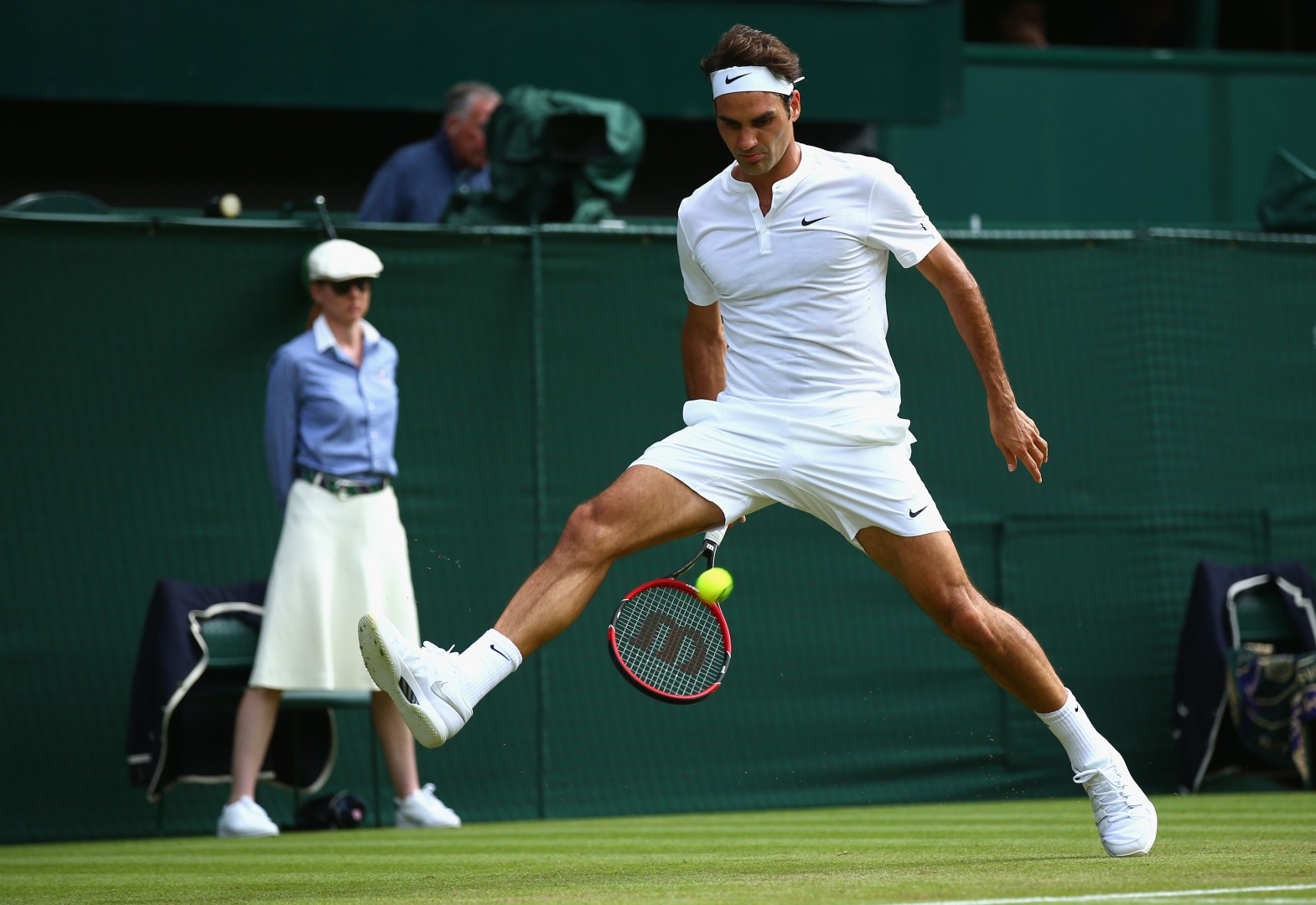 Federer was the player who dominated tennis when he was at his best. Everyone's main goal and top was to defeat Federer. Throughout his career, Nadal has always set himself the goal of defeating Federer, especially in his early years when he was trying to get ahead, and he has often been successful in this. However, the student is about to pass their master. In terms of 4 major tournaments, Rafael Nadal is most likely to be the tennis player with the most Grand Slams ever. Although he is 34 years old, he has equalled the number with the 39-year-old Federer, who won 20 Grand Slams. Djokovic, 1 year younger than Nadal, is behind 3 Grand Slams. In other words, another advantage of Nadal, who still has 5 more years ahead of him, is that he has won the French Open 13 times and after that he is likely to win a few more times until his career is over. We can also talk about the following extra features of Nadal against its competitors:

Nadal's highlights
1) Being the only tennis player to win a tournament on a hard, clay and grass court in the same season.
2) Despite having won 13 times, he will continue to be the biggest favourite of the French Open until the end of his career.
3) Equalling the achievements of Federer by winning 20 Grand Slam tournaments and being 5 years younger than Federer.
4) To have received a gold medal in the Olympics. Federer has the silver medal and Djokovic has the bronze medal.
5) Being the fittest physically among these three.
Having said that, I would like to share some images of Nadal. These are of the 20 best Grand Slam tournaments that Nadal has won: https://www.youtube.com/watch?v=tWjCOy_ugoc
This is Nadal's best 5 points in the 13th French Open championship:
https://www.eurosport.com.tr/tenis/roland-garros/2020/roland-garros-rafael-nadal-in-en-iyi-bes-puani_vid1370134/video.shtml
Federer-Nadal-Djokovic matches
Let's look at another criterion to determine the best tennis player of all time: What kind of statistics come up in their matches against each other?
| | | | | |
| --- | --- | --- | --- | --- |
| | Grand Slam | Total | All Tournaments | Total |
| Federer-Nadal | 4-10 | 14 | 16-24 | 40 |
| Djokovic-Federer | 11-6 | 17 | 27-23 | 50 |
| Nadal-Djokovic | 10-6 | 16 | 27-29 | 56 |
Accordingly, Djokovic and Nadal have shown Federer their superiority in their matches, and that there is equality between them. In other words, we can observe the superiority of Nadal in Grand Slams and Djokovic in all tournaments.
Past performance does not determine the future
Despite all this, sometimes the statistics can turn out to be wrong. In other words, the past may be a reference to what will happen in the future, but the future can also be shaped independently of the past. Maybe soon there will be such young tennis players that none of them will win the Grand Slam again. God forbid one, two or all of this trio may be disabled and will not be able to continue. Perhaps Federer will continue to play and win tournaments until he is 45 years old. Maybe Djokovic will have ambition towards the end of his career, winning the upcoming Grand Slam tournaments and taking the lead in the statistics. Currently, he maintains his position as number 1 in the world. Maybe Nadal will repeat his Grand Slam winning record in all courts in one season. None of us can know exactly what will happen.
One thing I know is that this trio shattered Pete Sampras' unbreakable record of 14 Grand Slams and brought another dimension to the achievements of men's singles. Another thing that I am interested in is that Margaret Court with 24 Grand Slam titles in women, Serena Williams who followed her with 23 championships, and Steffi Graf, who won 22 Grand Slams, surpassed the legends of the men. I wonder if men will be able to break women's records as well; we will see this in the coming years. Of course, here it should be taken into account that 39-year-old Serena is continuing her successful performance just like Federer, and her tournament winning potential is still high. So, there is also the possibility of Williams catching up with Margaret Court and improving the record.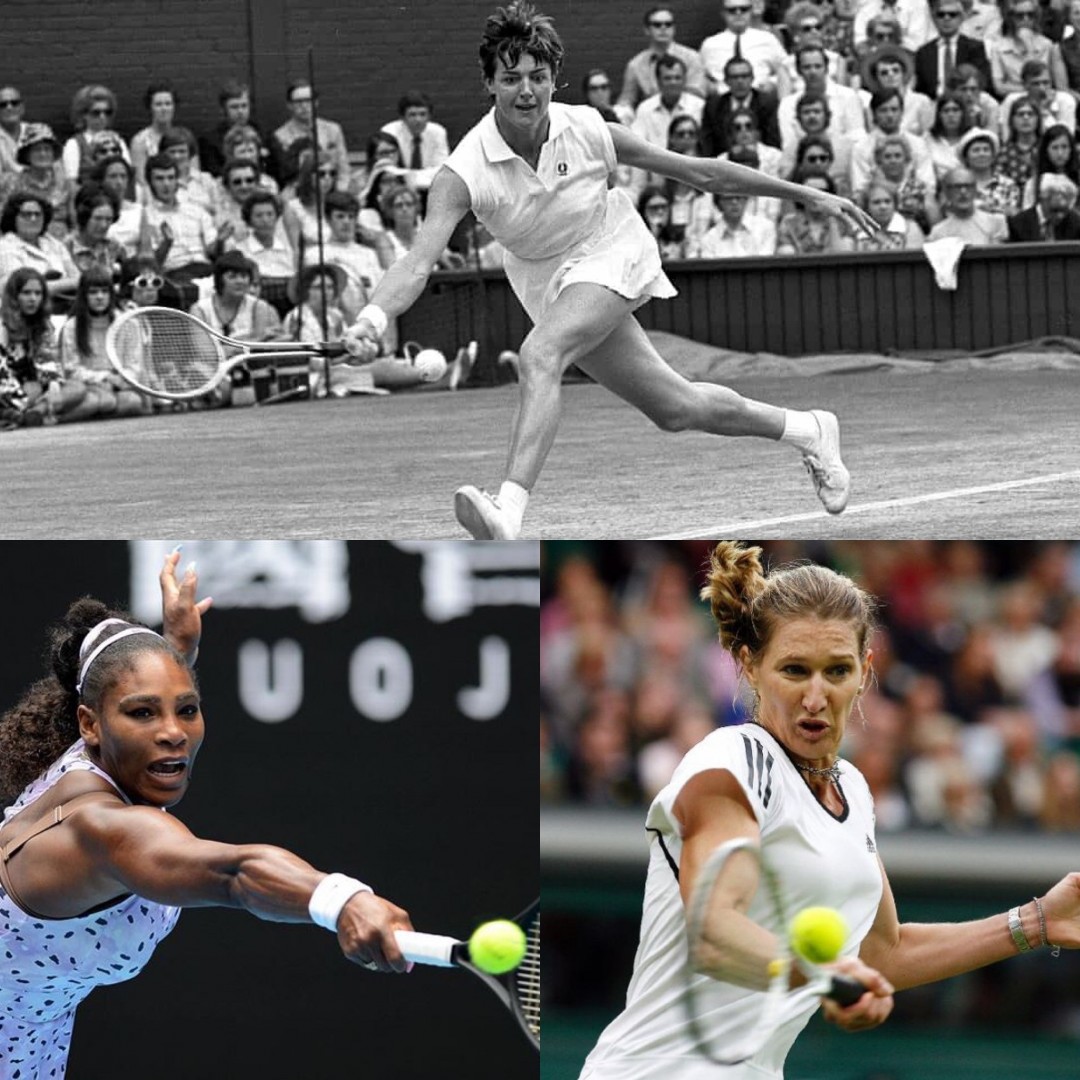 We will surely miss them
We will see what the fate of the tournaments in the Covid-19 period will be. We are entering a period in which there are many unknowns in terms of tennis and sports world. There is only one thing I know. We will especially miss Federer and Nadal after retirement. Hopefully, one of these two will take the title of the greatest tennis player ever seen. If only Federer was 5 years younger, we could watch him more. Not only because they are legendary tennis players, but also with their characters, they are very valuable personalities that all athletes can take as role models. Here is the Federer-Nadal Friendship that reveals this character structure: https://www.youtube.com/watch?v=ybXM4nYEyD0
It's not all about statistics
I also have to mention this. Even if he stays behind in the statistics, Federer has a different place in tennis. I think Mohamed Ali is for boxing, and Federer is to tennis what Michael Jordan is to basketball. He has always been at the top of tennis during his time playing. He's turned 40, and is still in the top five in the rankings. He has always been the best quality and best role model amongst them.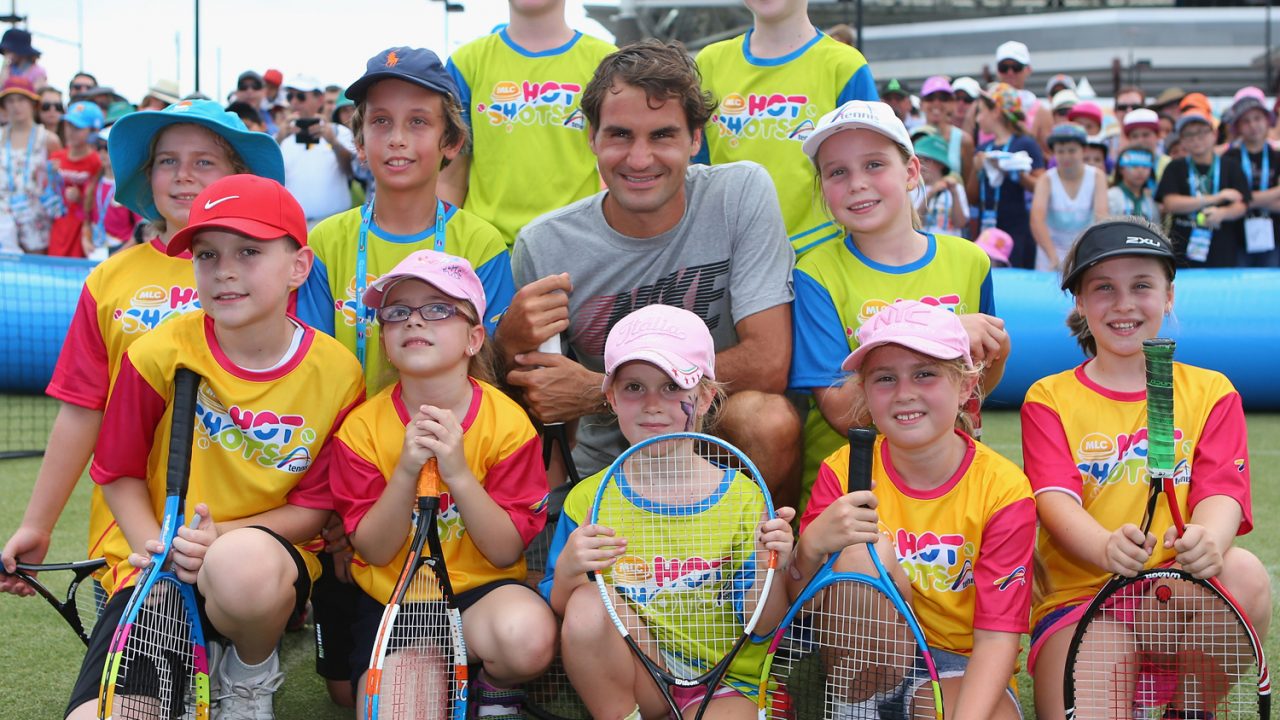 There is the term "GOAT" in English. It's an abbreviation for "Greatest of All Times". In my opinion, statistics is not the only criterion for being a GOAT. The main criterion is how many people they inspire and how many people's hearts they can get into. So, no matter how this race ends, the GOAT of tennis is Federer.
I hope that one day athletes of similar character and success will emerge from Turkia, and they will be inspired to the whole world.
Tag: anı