Singapore: a city-state ideal for business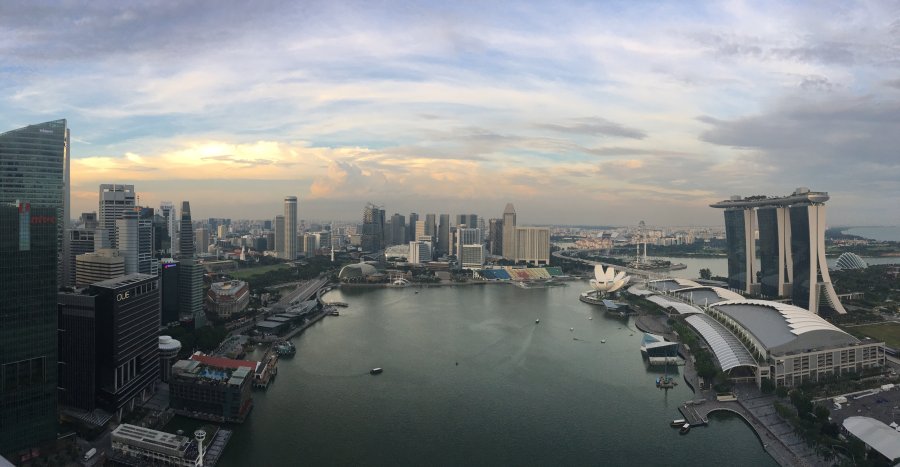 Before traveling to Singapore, I couldn't really picture the kind of place that awaited me. I'd heard a lot of stories about the country, some good, some bad. Heading there on business after a great vacation in Thailand, I had a raft of questions running through my mind. And I was to find a raft of favorable answers, particularly in terms of business environment and culture.
I visited a company there that operates a major solar panel manufacturing facility. Zorlu Yalnız, the general manager of EkoRE Solar Industry Inc., joined me on the visit. Traveling direct from Turkey, Zorlu Bey had checked into the hotel before me. I arrived in Singapore during the afternoon of 5th January.
Sculpture of a Chinese warrior by the hotel entrance.

I raise my hat to anyone who takes pride in their job and does it with a difference, no matter how dull and laborious the work may be. So, three cheers for R.A. Angel from housekeeping who prepared my room and artfully sculpted the towels into a beautiful elephant. I have to say it was an age before I could bear to wreck the sculpture and use the towels.
On my first evening in Singapore we ate at one of the city's famous Chinese restaurants, Tung Lok, where we ordered one of the region's famous dishes, chili crab. The spicy hot crab was truly delicious. The only thing is, you have to break the sauce-drenched shell of the crab to get to the meat. This is far easier said than done and can involve covering yourself in that delicious sauce.

I took a break from work to sample the local delicacy, chili crab.
After a wonderful dinner and a good sleep, I was ready for meetings. The next day, we took a detailed tour of the PV panel factory, which manufactures wafers, cells and modules. It was definitely a useful visit from my point of view. I got to see once again a factory similar to the one we want to set up in Turkey, as well as all the processes involved. The factory incorporates multi-crystalline technology, the first-generation technology for PV panels, and is set on a vast, 1 million sq. meter site. What's interesting is that Singapore has undergone major expansion in terms of geographical area as a result of land reclamation. And this factory, located on the Malaysian border, was built entirely on reclaimed land. If you want to read more about artificial land and islands in Singapore, take a look at the following link:
https://en.wikipedia.org/wiki/List_of_islands_of_Singapore
As you know, the efficiency of PV panels is improving all the time, which in turn reflects changing manufacture technologies, so while multi-crystalline was all the rage at first, this was later replaced by monocrystalline and then PERC monocrystalline technology. The market has tracked this same sequence. Now heterojunction technology is in the spotlight. And hopefully we'll start producing this technology in Turkey. In terms of efficiency, we'll be well ahead of all panels previously manufactured. We remain as resolute as ever in our vision of creating a global brand in Turkey.
Delectable view at the top
Back to the matter at hand... The whole of Friday was taken up with the factory visit and meetings, after which we were invited by company executives to dine at LeVeL 33 in Marina Bay. Marina Bay is one of Singapore's big tourist attractions. The marina area is the city's top events venue. You'll find everything here: restaurants, gardens, a stadium, the Singapore Flyer (a giant Ferris wheel with superb views of the city), hotels and a casino. Important celebrations, regattas and other such events are also held at Marina Bay.
LeVeL 33 is at the top of the MBFC Tower, one of the many buildings clustered around the bay. The view is fabulous and the food superb. To find out more, click on the link: http://www.level33.com.sg. Meanwhile, let me share a few pictures I took from the restaurant.

View of Marina Bay close to sunset.

Nighttime view of Marina Bay.
The next day it was time to return. Our flight wasn't until evening, so Zorlu Bey and I decided to take a tour of Singapore. But before getting into that, we thought we'd go for a run around Marina Bay. Given Singapore's tropical climate, running outside wasn't exactly a walk in the park. It was seriously hot. Anyway, here are some photos and a video taken during the run:

A picture taken in the gardens during a short break. The early morning sun was falling on my face.

A lake in the gardens.

The tree-like design of the lighting system.

The marina.

With Zorlu Bey in front of the Olympic rings after our run.
Singaporeans use the 'window-to-window' solar panel as a welcome shady spot to shield themselves from the heat. The ceiling fan right underneath which operates with the energy produced by the panel.
On Saturday, we took a tour of Chinatown and the neighboring quarter, Little India.

The back entrance to Chinatown.

This year being the year of the rooster, a massive rooster had been installed in the street fronting Chinatown.
Chinatown and Little India are largely made up of different shops and restaurants. But the thing I liked most about them was finding Chinese and Indian temples side by side and, in fact, a mosque right next door. I guess that's the epitome of respect for other faiths and mutual tolerance. It's a sight we really don't see enough of. So, here are the temples and the mosque, neighbors in a Singapore where tolerance is king and everyone is free to practice their own faith:

An Indian temple.

A mosque in Singapore.

A Chinese temple.

Inside the Chinese temple.
Something else that fired my curiosity in Chinatown was the world's cheapest Michelin starred restaurant. We didn't get to go in and sample the fare because of the massive queues outside, so for now I'll have to make do with sharing the scene at the entrance: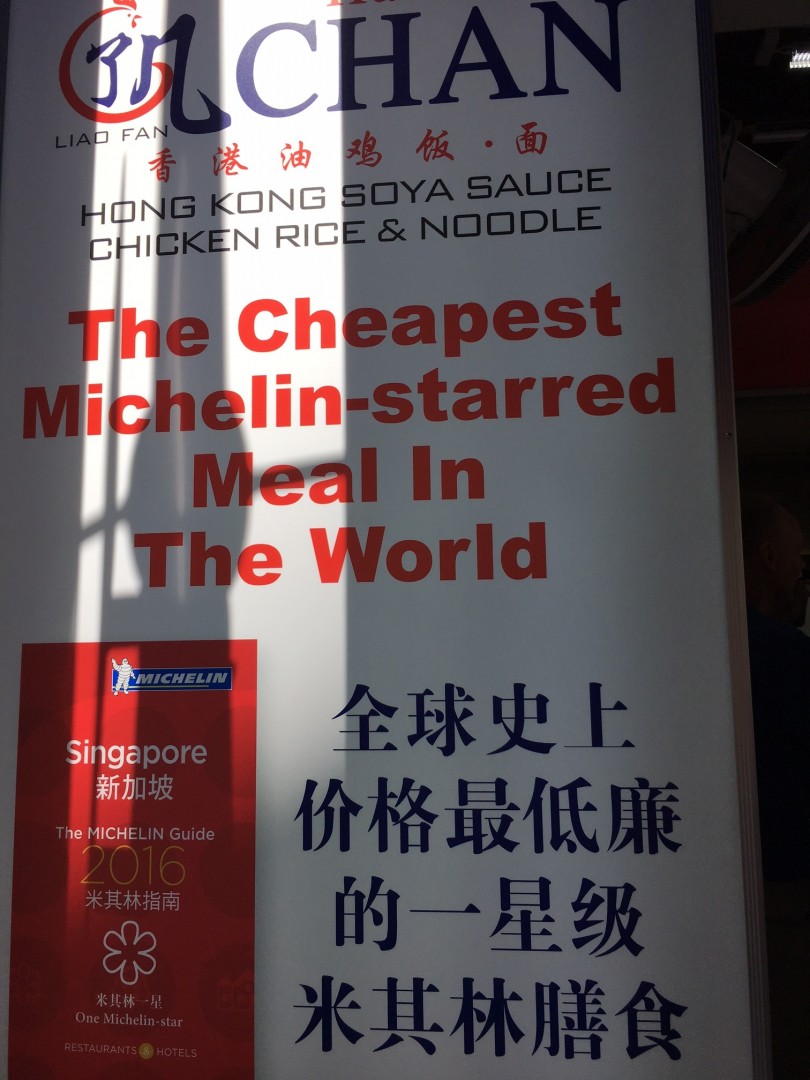 Incidentally, we generally used the subway to get around Singapore. Personally, I loved the orderliness of the subway; everything worked like clockwork. In Turkey, we've yet to learn the system of letting people off the train - or out of the elevator – first before piling in ourselves. So, check out how the Singaporeans do it:
It's that simple. The bottom line is that everyone sticks to the rules and respects each other.
A cancelled flight and two extra days
We then decided to take a trip to Sentosa Island. A former military base, Sentosa has become one of Singapore's most popular tourism destinations. The island is home to a 2-km beach, two golf courses, a large Merlion (a mythical creature with a lion's head and a fish's body which has been designated a national emblem for Singapore) and a Universal Studios theme park.

The Sentosa Merlion.
Sentosa Island is just a cable-car ride away from Singapore.

The island as seen from the cable car.
As we were both intrigued, Zorlu Bey and I decided to visit the aquarium. We were just touring around inside when I had a call from Istanbul: my Turkish Airlines flight had been cancelled due to bad weather. The bizarre thing was that Zorlu Bey's flight with Singapore Airlines was to go ahead. Anyhow, I went ahead and booked another THY flight for two days later.
With extra time on my hands in Singapore, I called some Far Eastern friends and made new plans with them. In the evening, we went to a Cuban bar, Cuba Libre, in Clarke Quay. Clarke Quay is a riverside area popular especially for its restaurants and clubs.
On our way into Cuba Libre, I said, 'Hi, how are you?' in Spanish to the girl on the door. She didn't answer, so I asked in English if she spoke Spanish. When she said no, I suggested it might be a good idea to learn Spanish seeing as she worked in a Cuban bar. Her answer was: 'But we're in Singapore; I don't have to.' This time, I suggested that since she worked on the door for a Latin club, it would be a good idea to at least welcome people in Spanish. Then I went on in and surrendered myself to the beat of the Salsa. I guess I'd missed Latin music. It was a fabulous night.
While we're still at the club, I want to share a story about the notorious Singapore ban on chewing gum. The Far Eastern friend who was with me that night, got out a pack of chewing gum and offered me a piece. My reaction was: 'But we're in Singapore. Isn't there a ban on chewing gum here?' He told me, no, you just land a hefty fine if you're caught throwing gum on the streets. So, I took up the offer and helped myself. When we were done chewing, we wrapped the gum in napkins and tossed it in the garbage. Some risks can be too tempting to resist.

Inside Cuba Libre.

I discovered another interesting piece of equipment. Singapore has a high budget because of the very hot climate and installs ventilation systems in some outside locations. Here, then, is the exterior air conditioning setup in Clarke Quay.
During the following two days, I spent a lot of time working (I had business related things to do). On breaks from work, I met up with friends and we breakfasted at the PS Café, shopped at the Aeon Mall, snacked at the Four Seasons Hotel and went for dinner at a rooftop restaurant in Marina Bay Sands, home to the famous casino. If you go to Singapore, I seriously recommend that you eat at Cé La Vi. Any French speakers out there may be itching to correct my spelling to 'C'est La Vie', but I assure you, that's how the place writes its name. I'm all for it. Who needs unnecessary complications? There should be a reform to do away with all the extraneous letters in French spelling. But that's a whole other issue.
At the end of the day, the food was amazing and the view fabulous. To find out more, click on this link: http://sg.celavi.com/. Meanwhile, here's a picture I took from the restaurant showing the Marina Bay area of Singapore.
If you happen to be passing through Singapore, I'd also advise you to check out this website before going: http://www.yoursingapore.com/en.html/.
In conclusion, everything in Singapore is incredibly rule-based and the system works like a well-oiled machine. This explains why the city-state has successfully attracted capital from all over the world to its shores. Singapore offers an ideal business environment. I think I'll be able to do business there in future. That said, I wouldn't go out of my way to visit the place on vacation. Like Dubai, everything is a later addition and looks artificial. Then again, there are great alternatives in terms of wining and dining, and standards are high.
Of course, no matter how great the experience, there is no substitute for my heavenly homeland. As I set off back to Istanbul, I felt a pang of missing inside.
Tag: ekoloji