Remembering humanity once again with Runatolia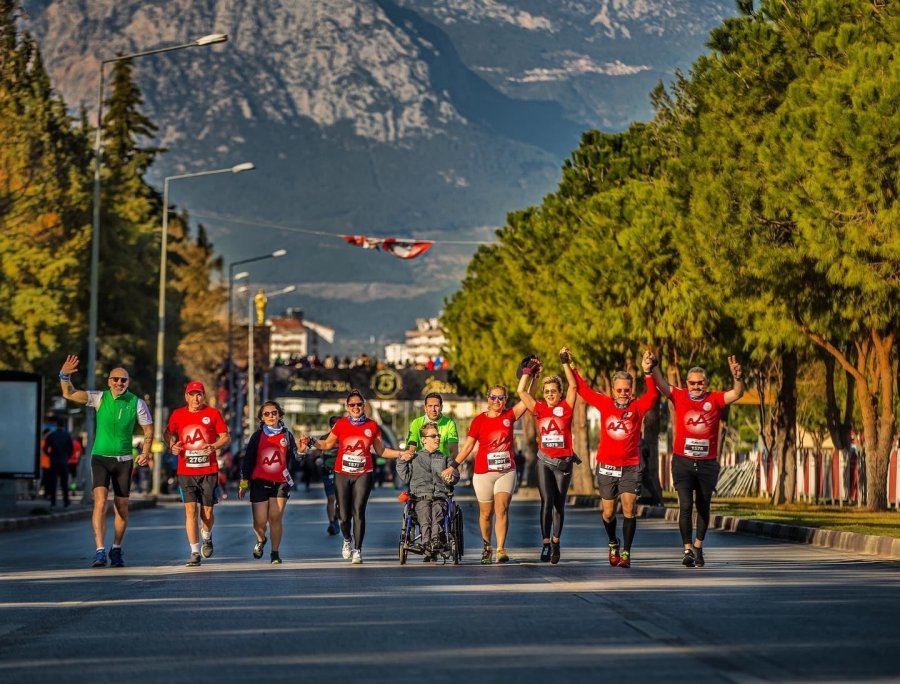 Organized for the 15th time this year, Runatolia was an exemplary organization that once again reminded us all of humanitarian values ​​and the power of solidarity, despite being accompanied by the Idlib disaster on the one hand, the migrant crisis at the border on the one hand, and the coronavirus threat on the other.
Before starting this article, I looked at how many Runatolia articles I wrote in total. Since 2016, I have written 6 articles on different themes about Runatolia. You can find the links of these articles below from the oldest to the newest.

https://www.serhansuzer.com/tr/sporcunun-zeki-cevik-ve-ahlaklisi
https://www.serhansuzer.com/tr/sizlerle-yuz-binlere-destek-vermeye-dunyaya-ornek-olmaya-kosuyoruz
https://www.serhansuzer.com/tr/festival-tadinda-bir-kosu-runatolia-2017
https://www.serhansuzer.com/tr/300-spartali-degil-22-tiderli
https://www.serhansuzer.com/tr/antalya-kosusu-runatolia-yine-yeniden
https://www.serhansuzer.com/tr/runatoliada-insani-degerlerin-hepsi-bir-arada
So, I thought to myself, 'do I need to rewrite another one?'…
At a time that were experiencing different things, especially at this important event of the year, I am living through different circumstances, that's why I said that I have to share what I have experienced at Runatolia this year, and I started to write.
Since February had an extra day this year, being the 29th, I was able to complete my all-day meetings in Istanbul and go to Antalya on Friday evening on the last day of February. This time I stayed in Akra V Hotel which is across the road to the Akra Hotel. Fortunately, Im glad we did so. The boutique hotel version of Akra Hotel was more comfortable in every respect.
After having dinner with TIDER's general manager Nil Tibukoglu and manager Ozgul Tetik and talking about the association's issues, we retreated to our rooms. After I finished the work I had to do in the room, I rested.
Morning training with old friends
The next day, I participated in the Adim Adim run at 7am. In this first enjoyable event of the day, I had the chance to see many of our old friends in the Adim Adim network.
The Dutch trainer Kees, who trained many trainers in the Adim Adim system, Itır, the founder of Adim Adim, and Emre, one of their senior trainers, who ran for TIDER last year, also attended this training. Also, after a long time, I saw our beloved volunteers such as Ozge, İsmail and Eda. We all laughed, had fun and did our training. Here are some fun moments from the 7am workout, which is an Adim Adim classic: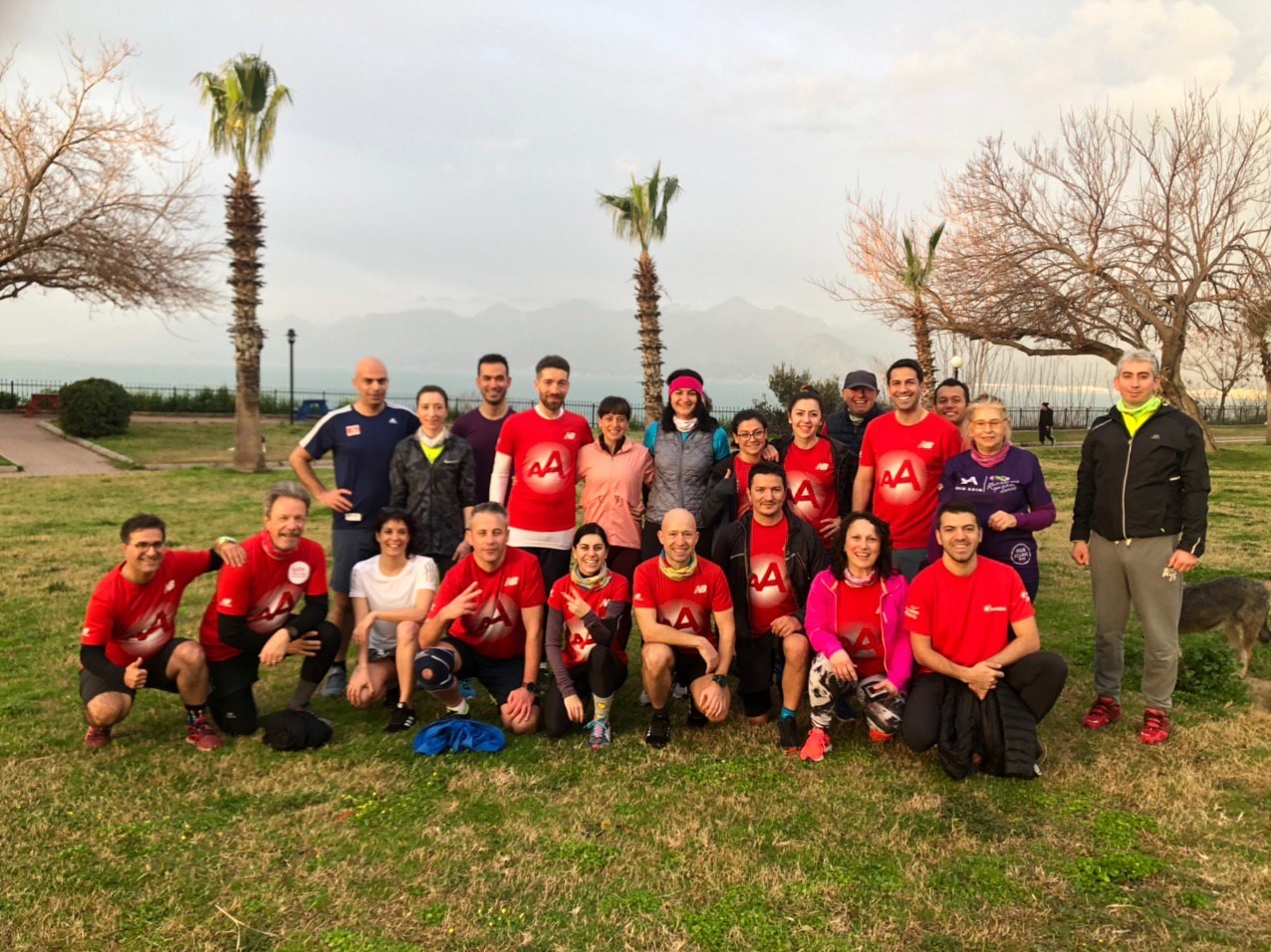 A photo we took during training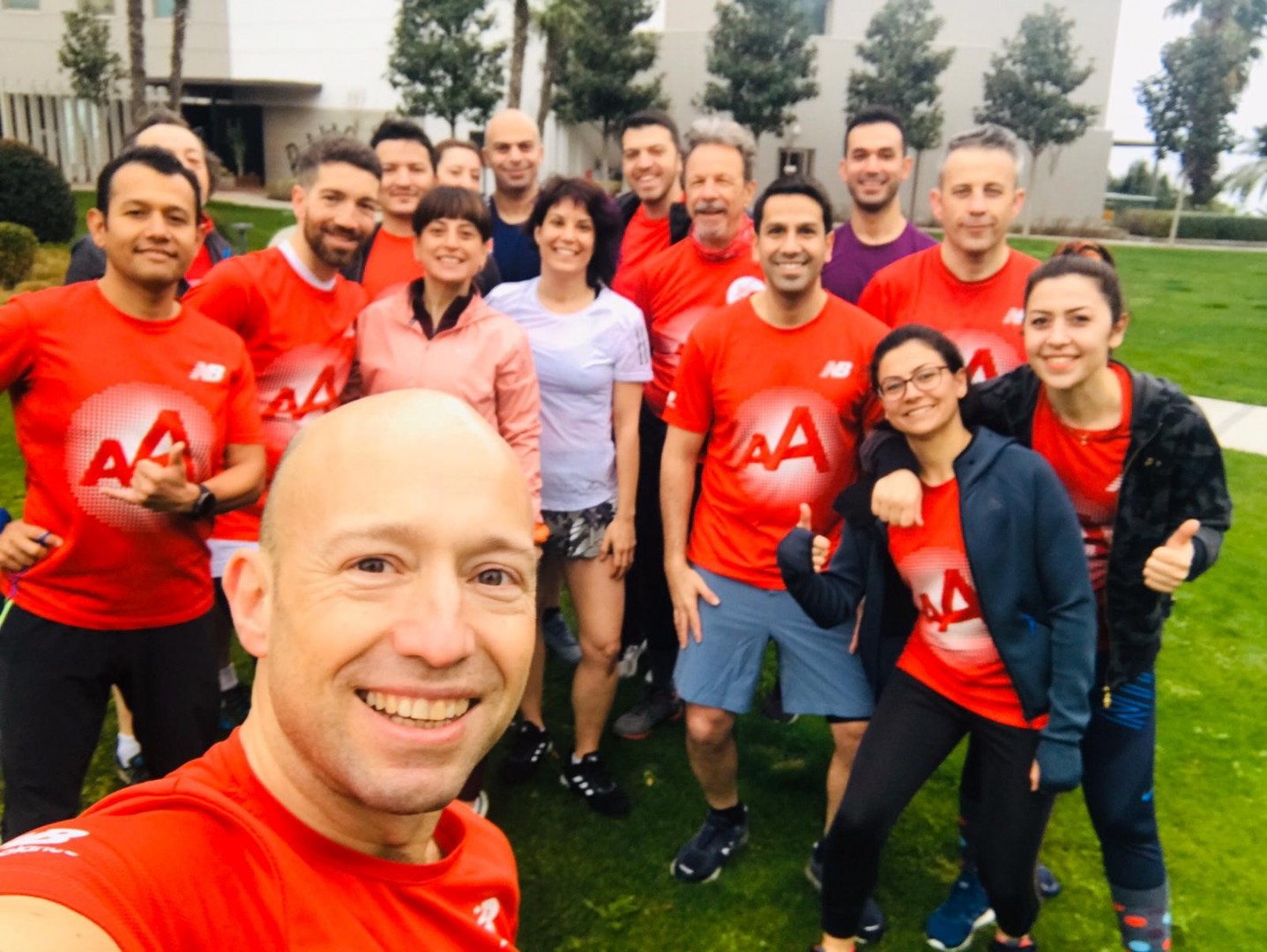 The shot we took while cooling down after the workout
Afterwards, we went down to the breakfast room and had a wonderful breakfast at the Akra Hotel. Although I do not like open buffet, the breakfast here is magnificent in terms of variety. For example, there are also palm avocado desserts and ginger lemon mixes for amazing detox drinks.
After breakfast, I took my shower and went to the Terra City Shopping Mall, where we would collect our jogging kits. As I mentioned in my previous articles, this shopping mall has a different place in my heart. I opened the KFC in this shopping mall when I was the general manager there. When we made this opening with the former football player of Beşiktaş, Pascal Nouma, there was a stampede in the shopping mall.
Physiotherapy and yoga
In order to collect the running kits, I immediately went to the rooftop as I know where the location is, and on this rainy day, I registered and collected my running kit. Just as I was about to leave, the physiotherapy stand caught my eye.
The next day I was supposed to be in good health as I was pushing a wheelchair for 21 km. However, after the 7am run in the morning, I felt the pain of the heel spur when we started to stretch, and my heel continued to ache in the morning of that day.
I immediately explained the situation to one of the young physiotherapists there. He showed me one of the therapy beds there and said, "Lie on your chest, please." Then, he determined where the pain originated and applied two bands covering that area. He did this for both, as there was a problem with both feet. Then I put on my socks and shoes on again and continued on my way. Frankly, these tapes made me feel very comfortable during the next day's run. Then I said to myself I'm glad I went to see them. I was even thinking of going to their place in Istanbul to get physiotherapy for my heel spur.
I quickly went back to the hotel. As promised at the hotel, I attended Gözde's yoga session, albeit with delay. It was good to do yoga 1 day before the run. Of course, unlike last time, doing yoga in a larger and more scenic room relaxed me. Last time we did yoga in a narrow room. This time the environment was great.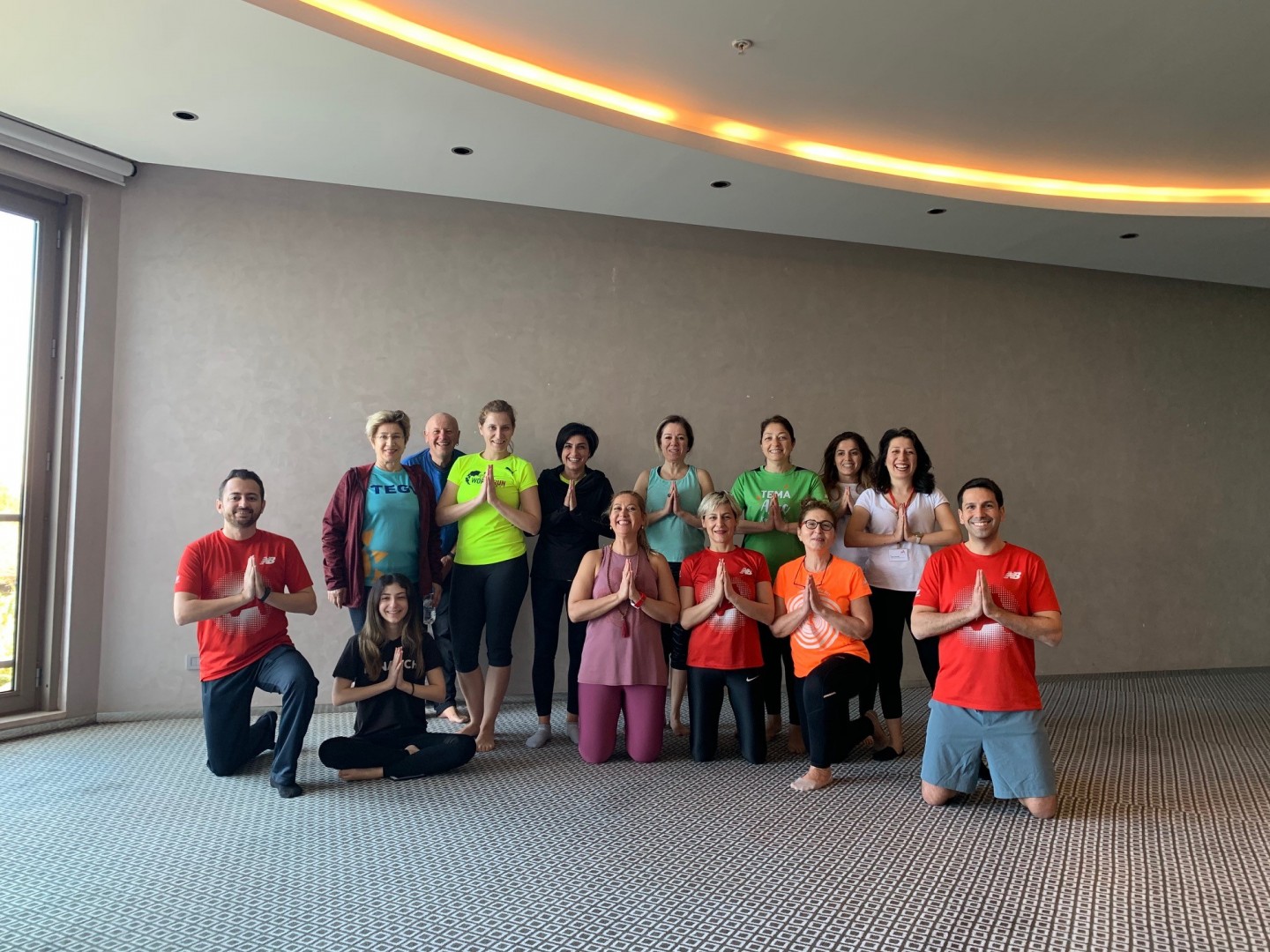 A group photo we took after yoga
Amazing views from the room where we do yoga
After getting ready post yoga session, we met with a friend from Kosovo in the lobby of the hotel and went to the opening ceremony of the Design and Skill Workshop in TEGV's Suna-İnan Kıraç Education Park in Antalya Kepez. When Miss İpek whom I worked together with a Suzer Holding and now works for TEGV and Itır, the founder of Adim Adim, told me about this, it was my duty to go.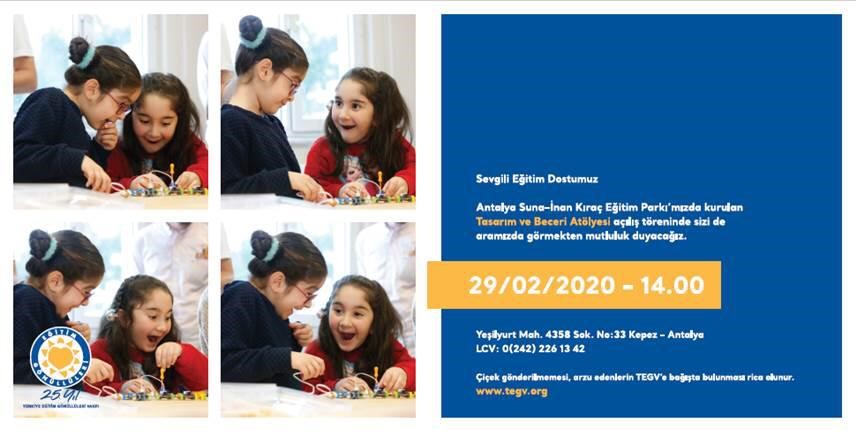 The invitation for this event
Let me tell you a little about TEGV for those who do not know. I quoted their mission and vision from their website. For more information, you can go to their website: https://tegv.org/
TEGV's Mission:
It is to support and raise children of primary age as well as educating well-equipped and qualified individuals who have modern and universal values ​​and the basic principles of the republic.
(In order to achieve this mission, they have their own training building/centres in different provinces of Turkia providing science and art).
TEGV's Vision:
To be an NGO accessible to every child in our country with its effective and distinctive education programs and sustainable structure.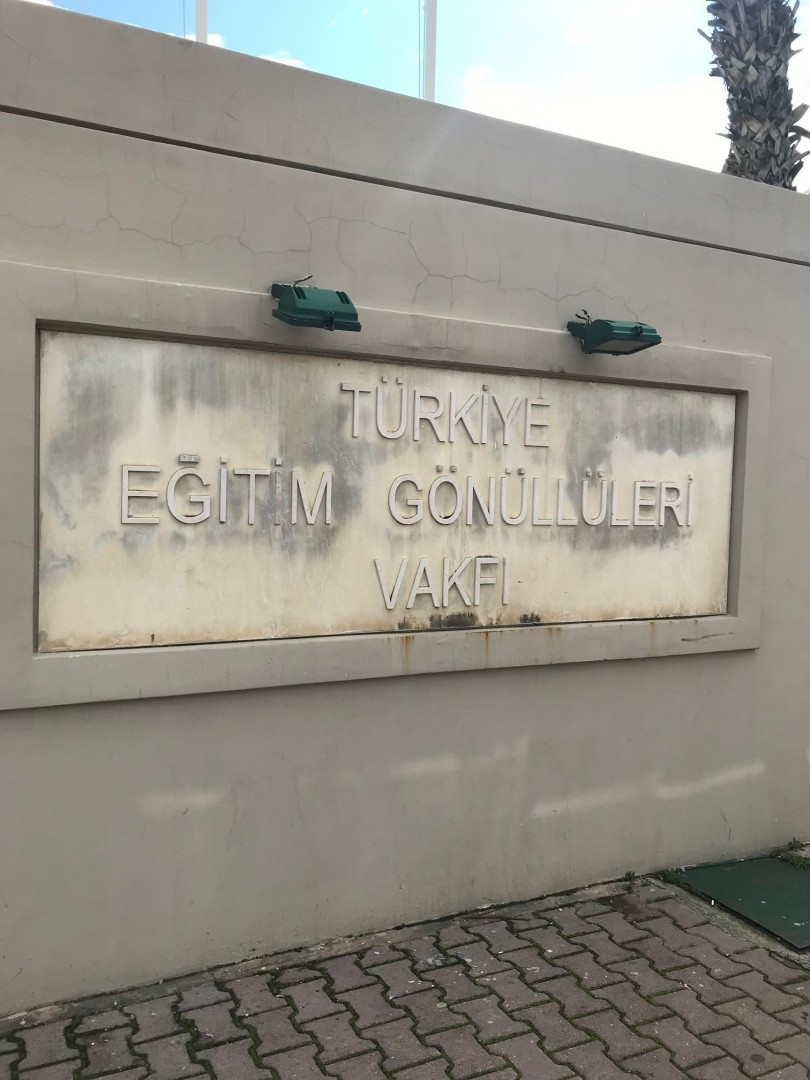 After the official speeches at the ceremony, we went upstairs and attended the official opening of the Design and Skill Workshop. After the ribbon was cut, we went inside and witnessed how the children developed their skills. Here are some photos from the workshop: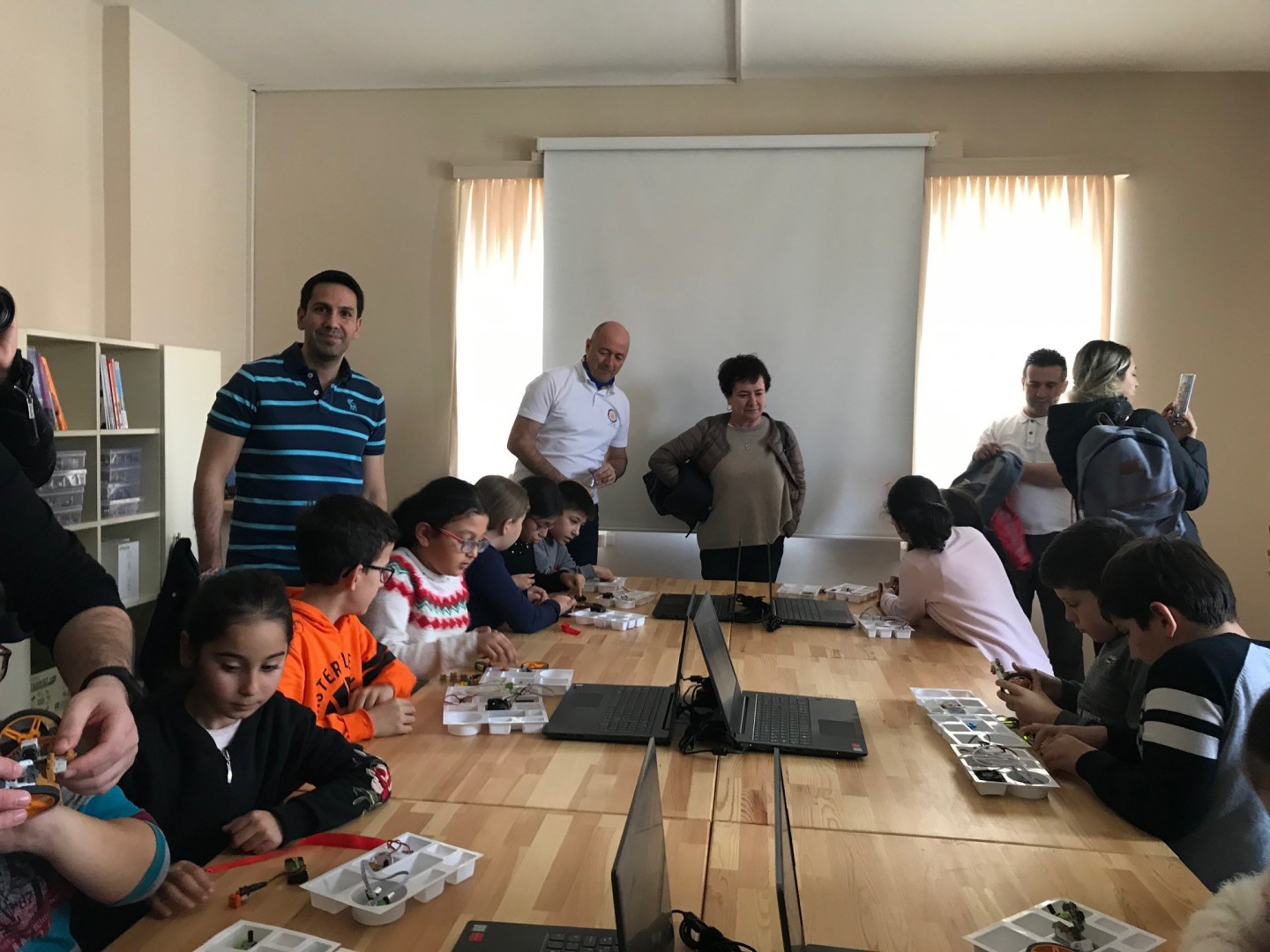 A shot we took at the Design and Skill Workshop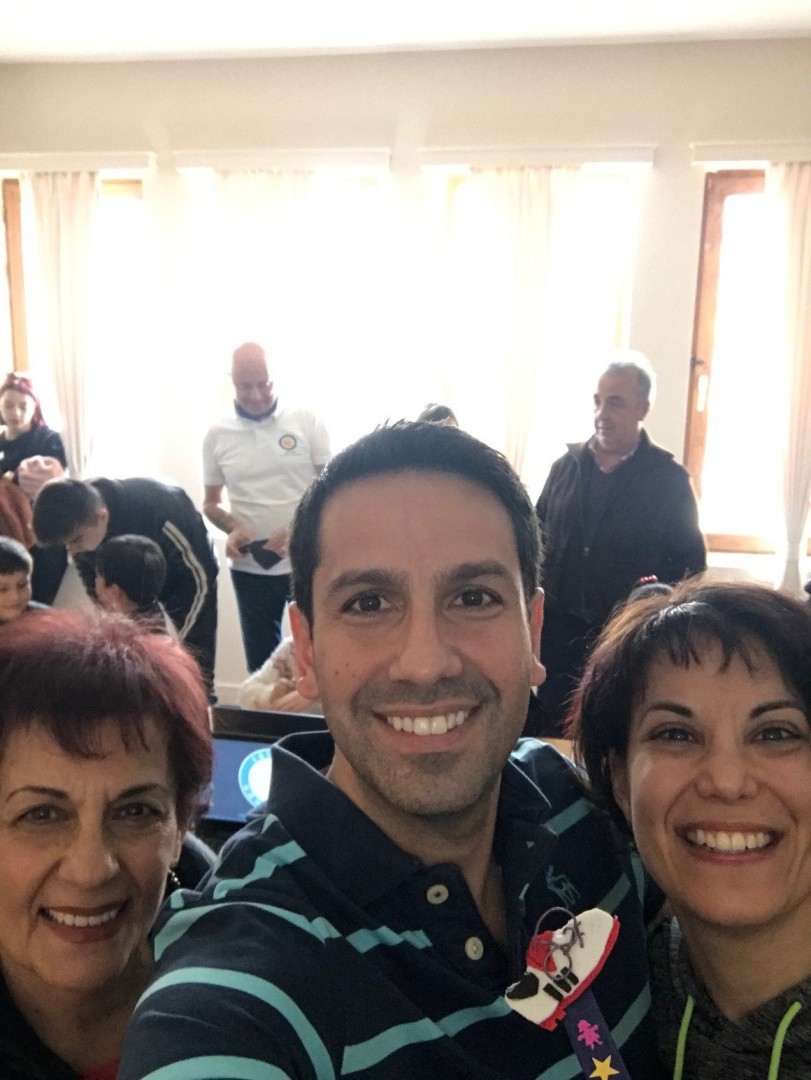 The selfie we took with the founder of Adım Adım, Itır and her mother, Mrs. Kaysu
I congratulate everyone who contributed to the education of children at TEGV and thank them on behalf of my country. After the opening of the Design and Skill Workshop, we went back to the ground floor and witnessed the wonderful Circassian dance prepared by the children. I especially like these dances because my late grandmother was of Circassian origin. Of course, I personally like the energetic dance of Circassians. Here are pictures and videos from this show:
We returned to the hotel after the opening. I went to the booth area, visited TIDER's booth and then attended the Adim Adim 5pm high tea event in the foyer. After a pleasant conversation with all the friends I saw there, we attended the Adim Adim Runatolia opening event. In this event, Tayyar, with the nickname Minik, and Kıvanç, the president of Adim Adim, made a nice opening by adjusting the dosage very well in their presentations. I'm talking about adjusting the dosage well because everyone inside was still feeling the effects of the disaster in Idlib. That's why they created an enjoyable event without entering a full entertainment format but kept people in a positive atmosphere.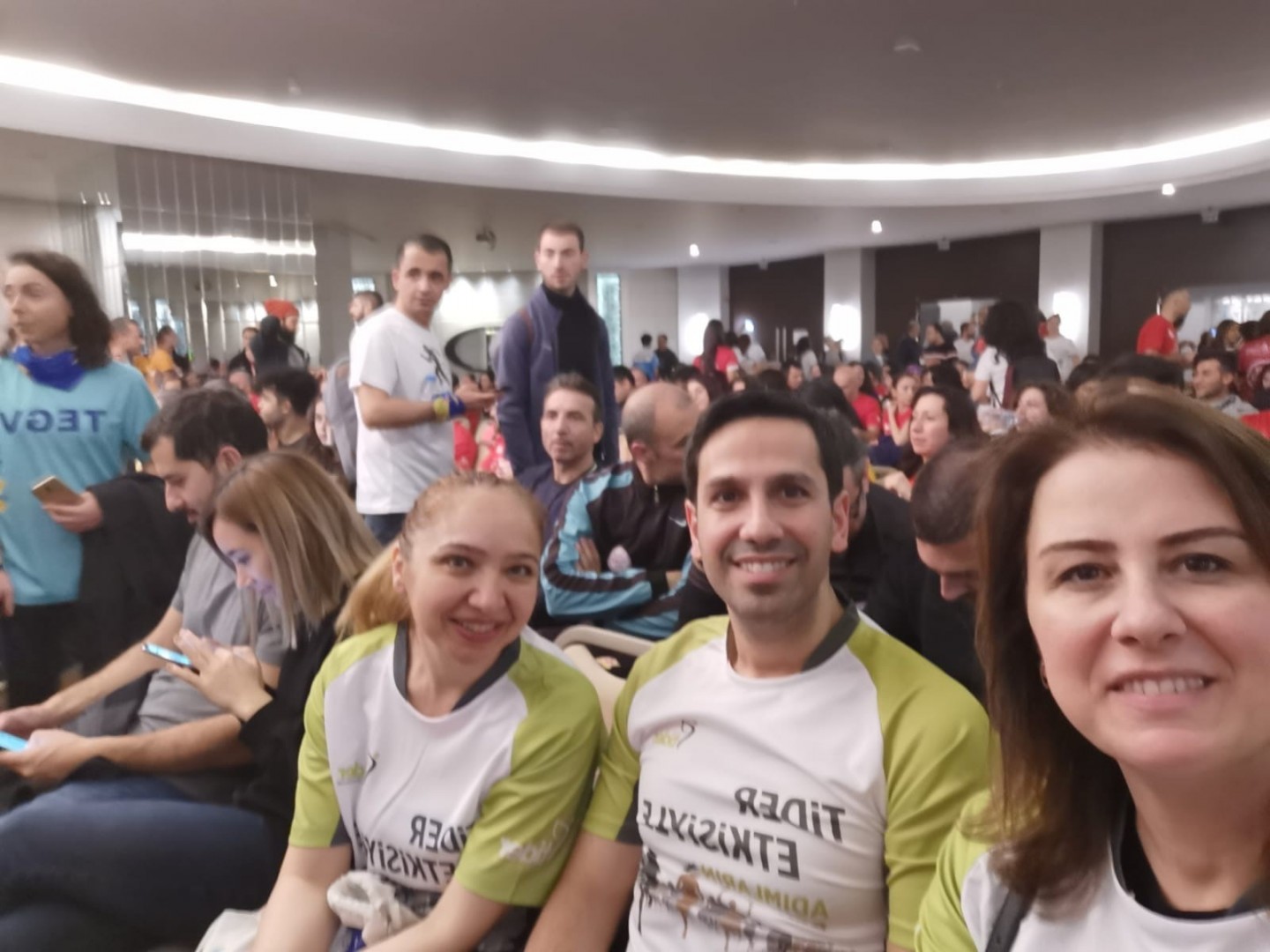 A photo we took with TIDER's general manager Miss Nil and her manager Miss Ozgul at this event



The 21km start
Afterwards, we went down to dinner together and had dinner with our Adim Adim friends.
The next day, we got up early in the morning and went down to breakfast at around 7am. After a good breakfast, we gathered in the lobby as a group pushing Deniz's wheelchair and we all went to the running area in a minibus. The wheelchair team of Deniz, where these wonderful people are located, consists of Murat Deniz Ersen, Celal Sumer, Savas Arson, Gamze Erdemir, Tanyar Ablak, Ebru Tuzuner Agva, Altar Agva and Gozde Uysal. Here I will express my feelings with the legendary line of Celal Sumer: How nice it is to accompany dear Deniz with such wonderful people!
Due to the disaster in Idlib, there was no music or entertainment at Runatolia this time. Still, people created an environment where they could do sports collectively and continue their campaigns for their NGOs. After chatting and taking pictures with many of our friends, we were ready for the run.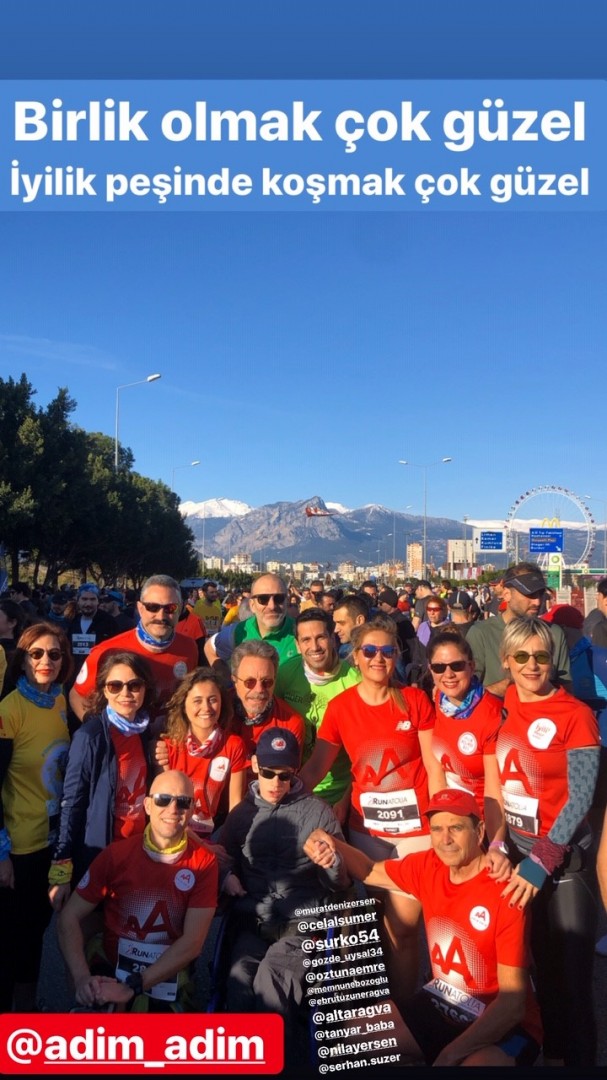 A photo we took as Deniz's team before the run
The photo we took as TIDER volunteers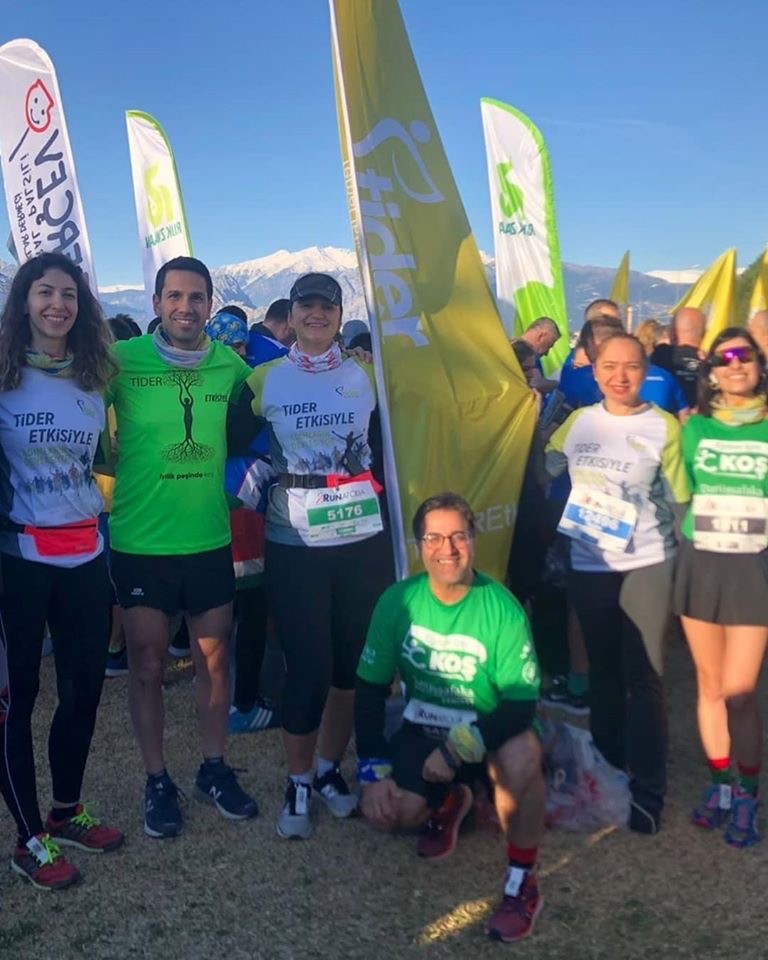 TIDER's old and new volunteers together

As Deniz's wheelchair team, we took our place at the start line and after the 21km runners started, we made our start with an enthusiastic applause.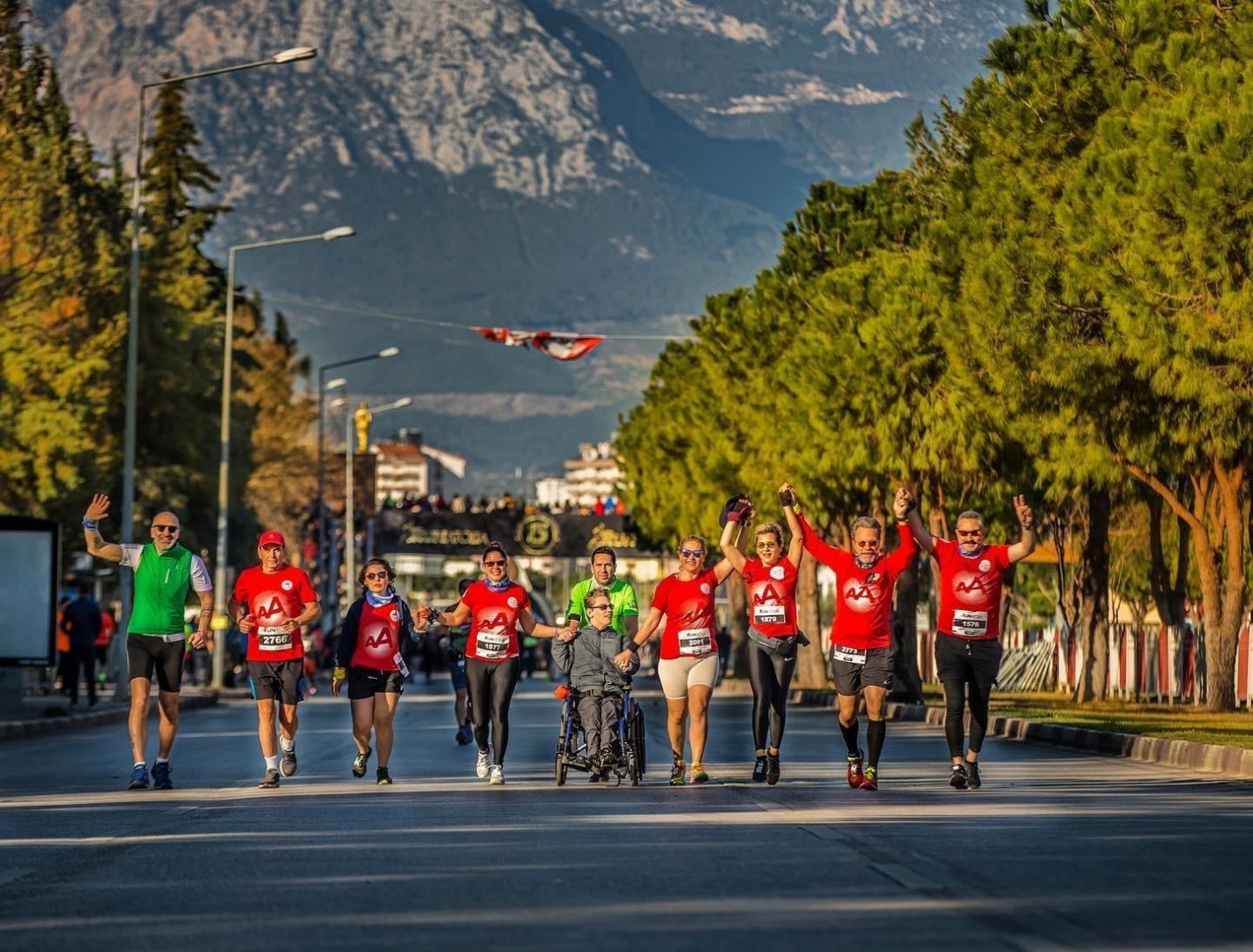 A photo taken when we started. This wonderful photo was taken by our Adim Adim friend Mehmet Vanli.
This is our video from the starting line

We completed the 21km without any hitches or injuries. We finished this run in about 3 hours by having nice conversations, stopping and taking photos. Here are some shots we took during the run: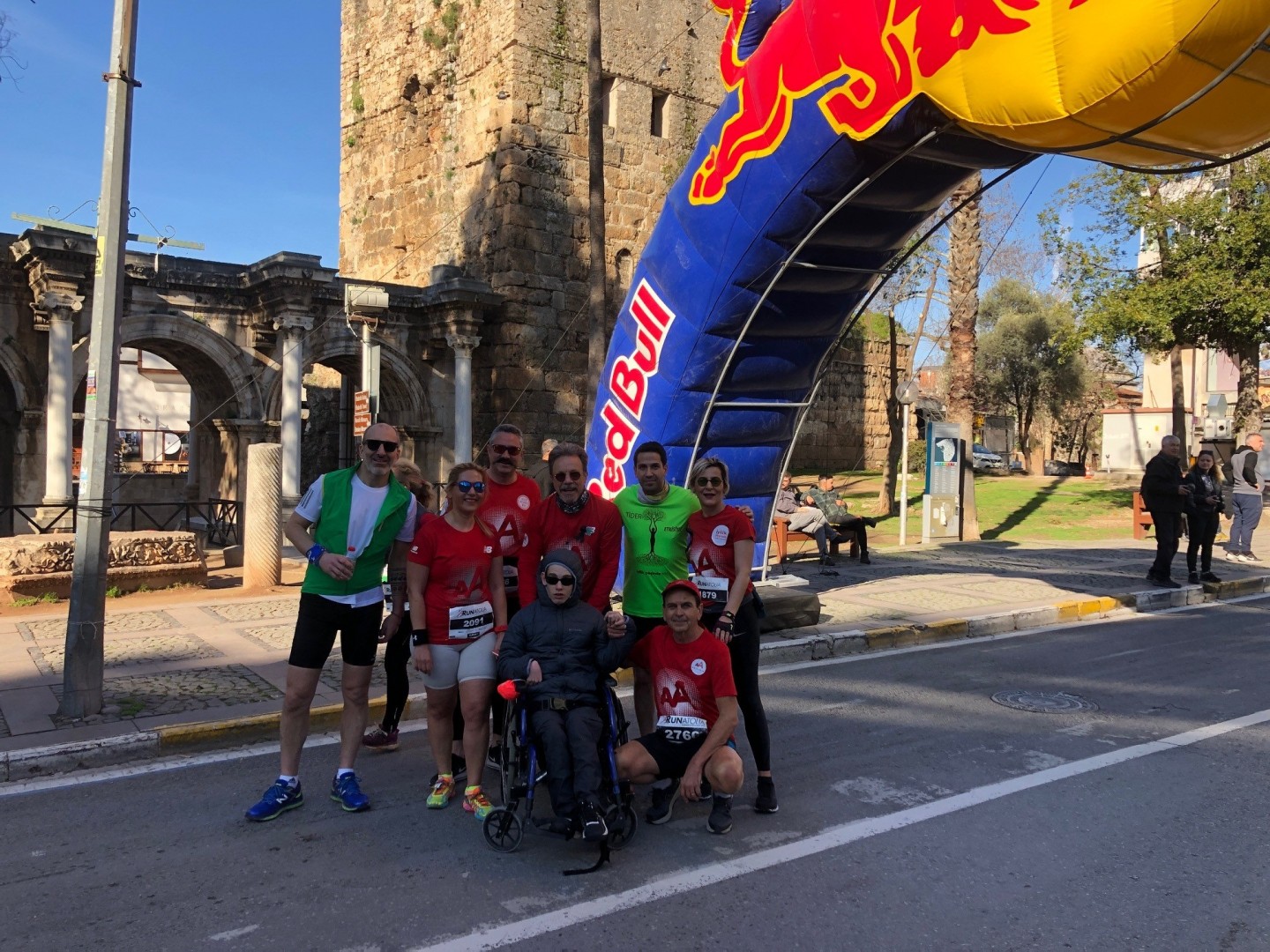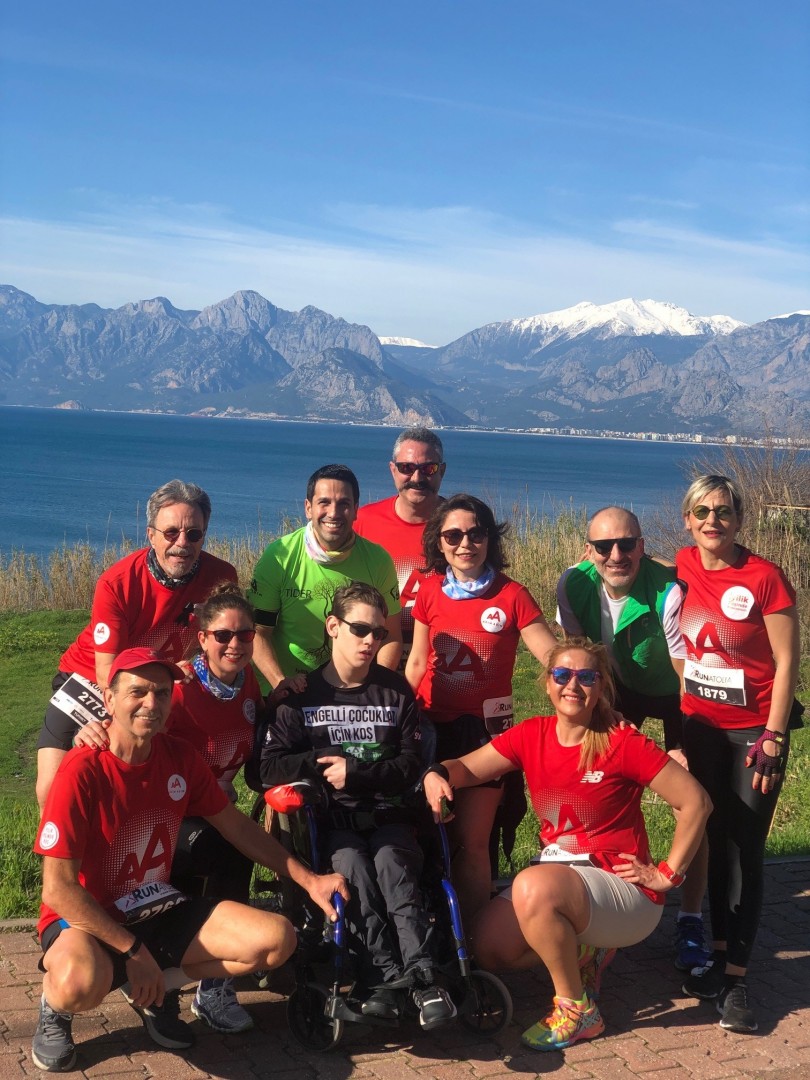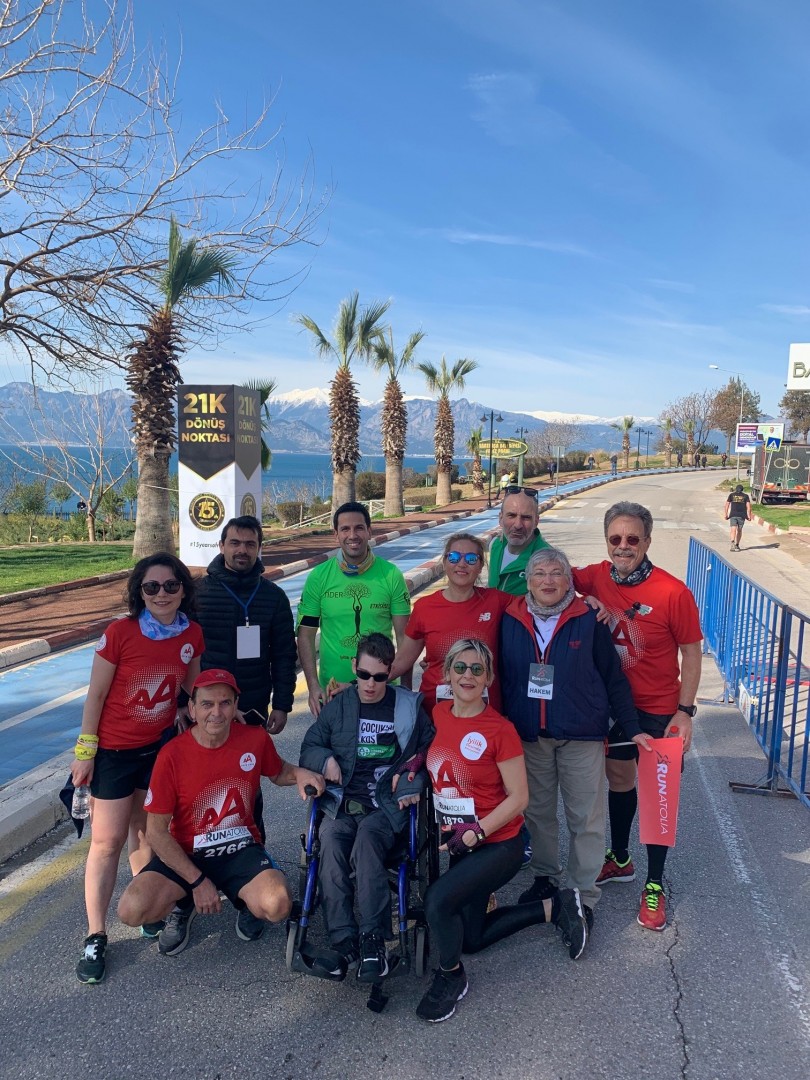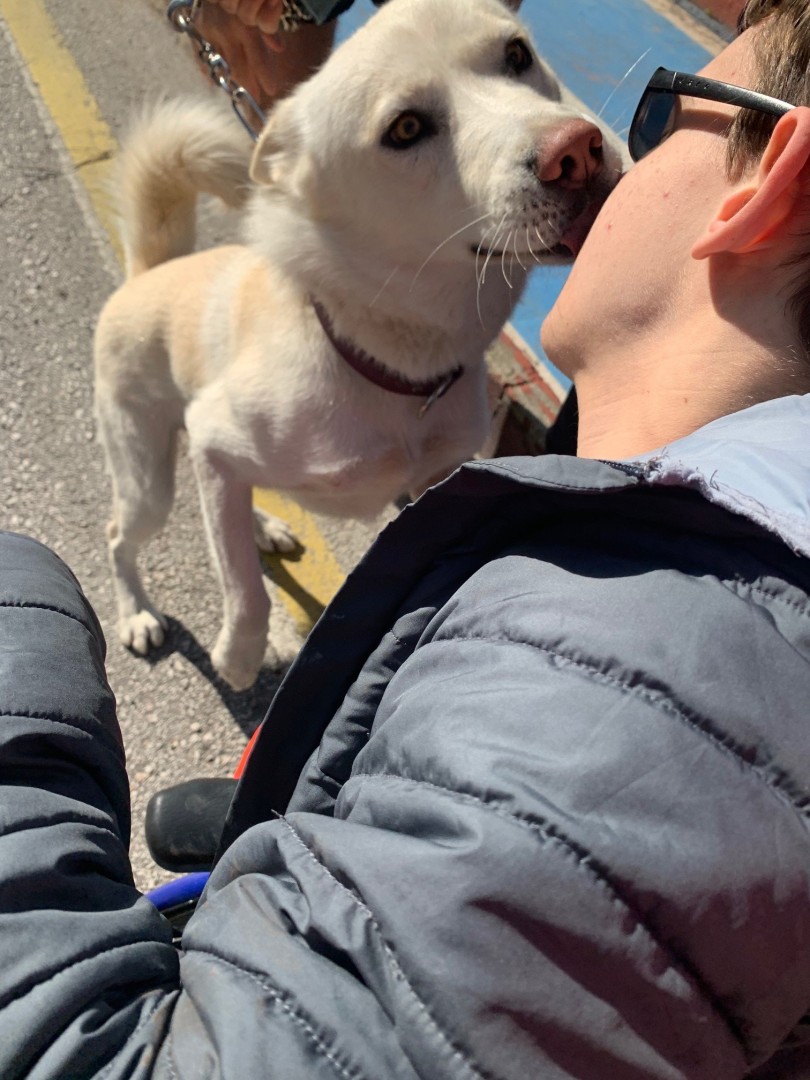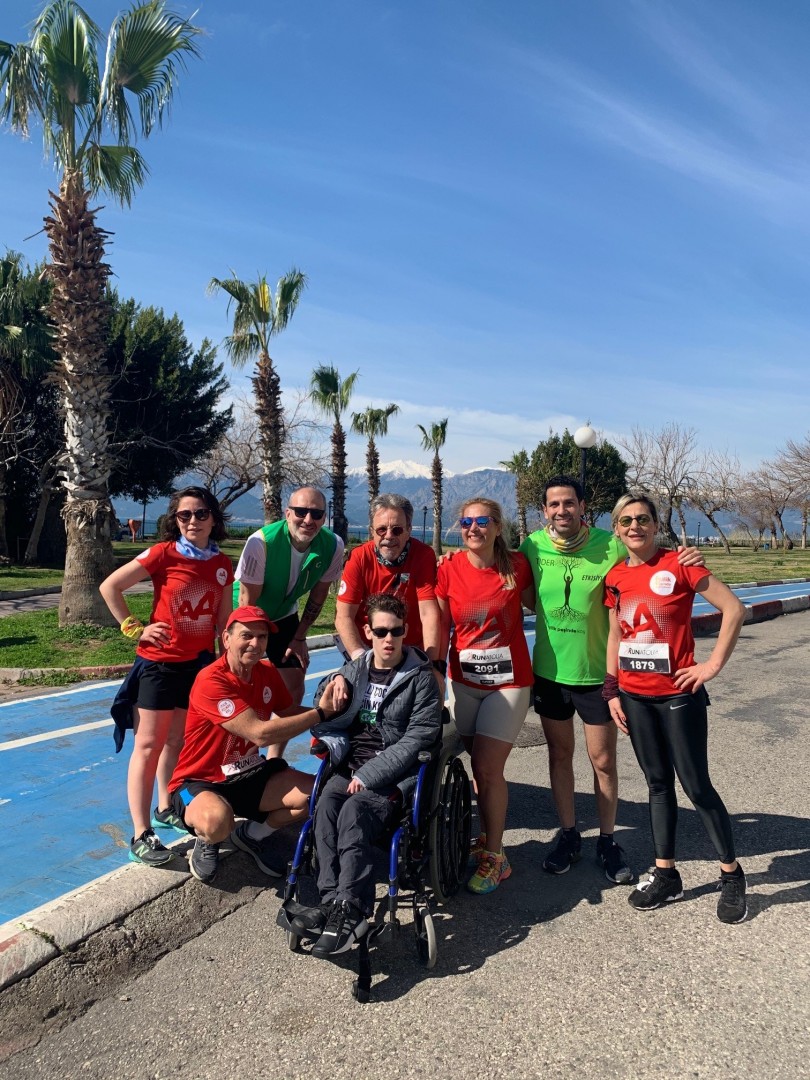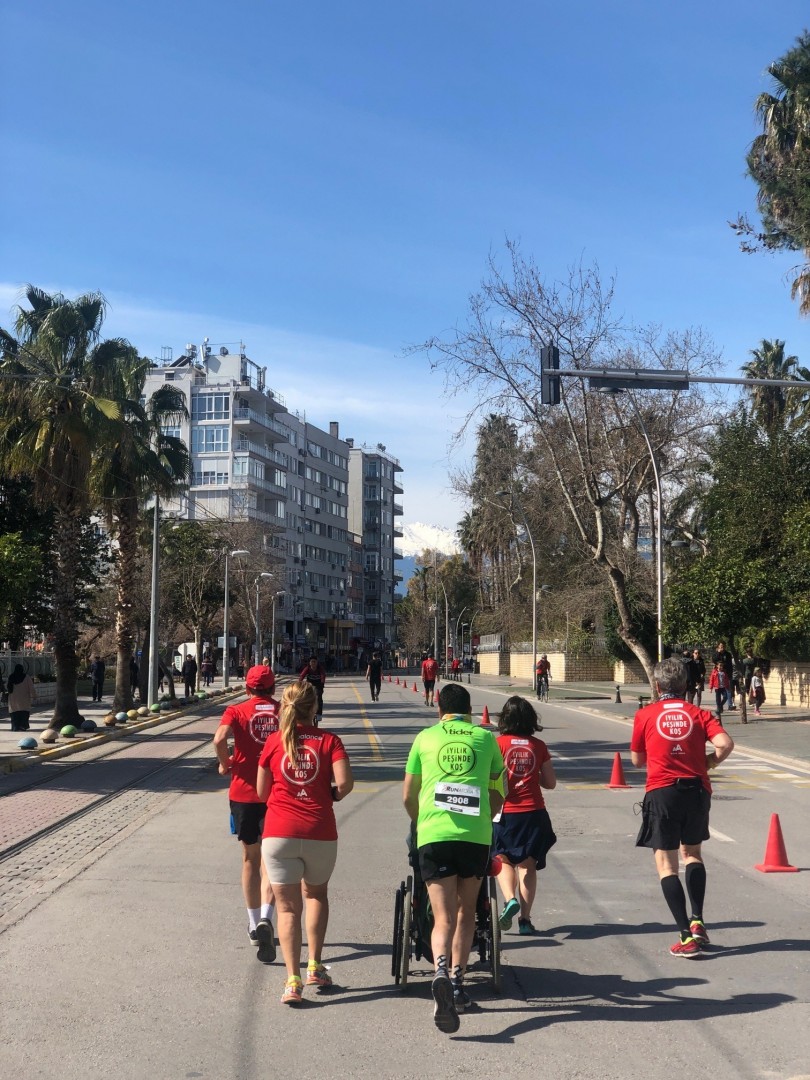 The finish line of this run, which we completed faster than the previous year, was just as magnificent as the beginning.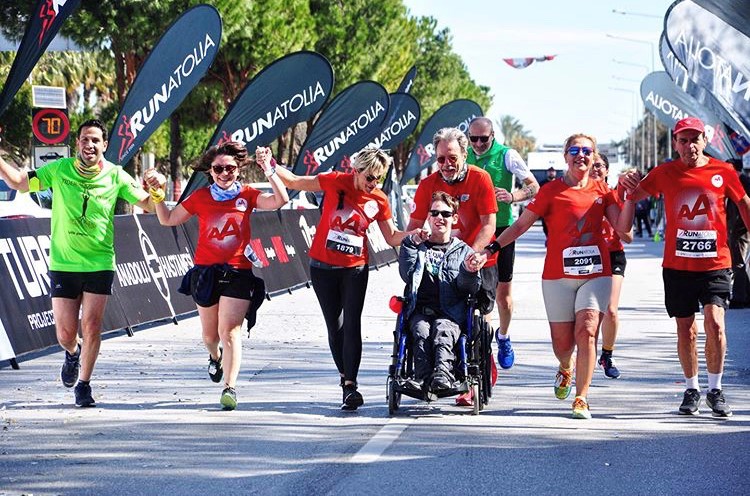 After the run, we went back to our hotel and took this last shot: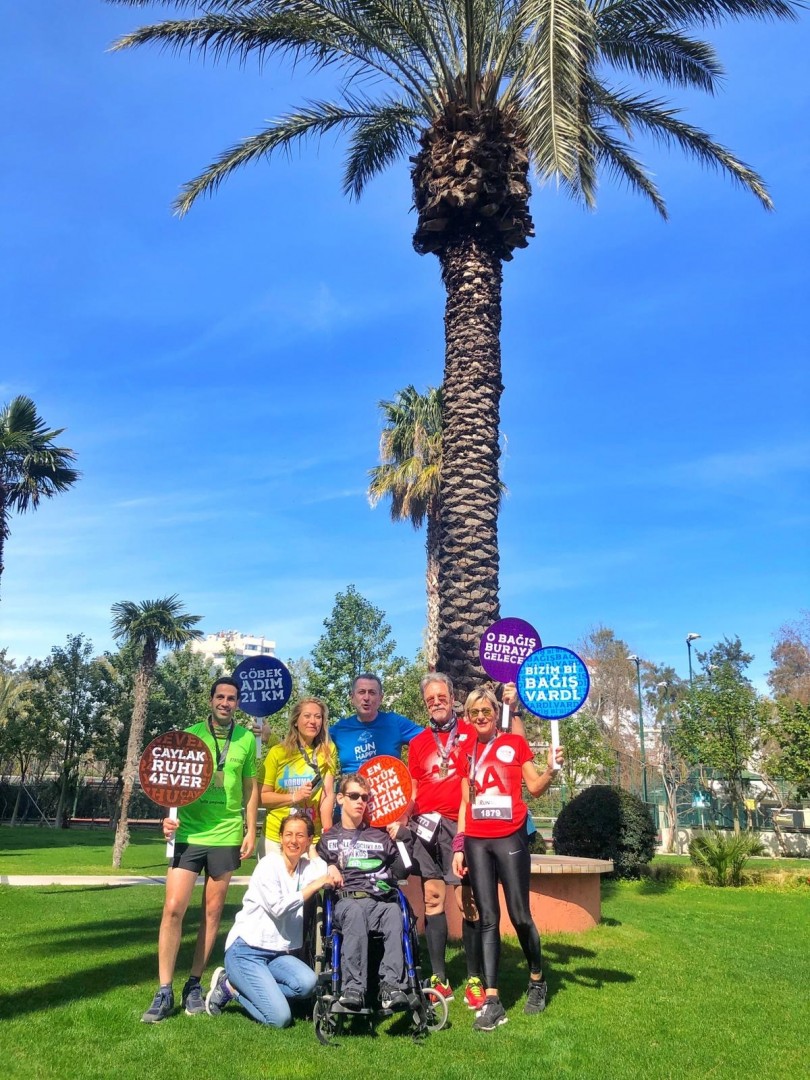 Then, without wasting time, we went to the place where meatball and bread were distributed. After filling our stomach with meatball bread, we said goodbye as a group. Right after, I went to my room, finished my preparations and departed, and as an Antalya classic, my military friend Ozan picked me up with his sweet daughter and we went to have a snack at Big Chefs in Lara. Afterwards, we walked along the Konyaaltı beach, had a nice chat and then enjoyed a wonderful kadayif in the Adana originated restaurant, Özkaymaklı. Then we stopped by their home and they dropped me off at the airport. I thank them dearly.
Holding onto life despite everything going on
Ozan, whom I have known since my military service in 2000-2001, has two wonderful children. He is raising his children alone, as his wife passed away from cancer a few years ago. He is one of my friends that I really appreciate. On one hand, there are men who break up their families, and on the other hand, there are self-sacrificing fathers like Ozan raising their children alone ... good on them.
I observed that the airport was relatively empty compared to previous years. In fact, I attribute the presence of so many people both in Runatolia and in different parts of Antalya, even after all the disasters, to the desire of people to stay away from life no matter what.
When we say it can't get worse, we are always going through the worst of it all. As if the economic crisis environment we are experiencing was not enough, the events that resulted in the death of dozens of our soldiers in Idlib, the increasing continuity of the migrant crisis at the borders and the coronavirus crisis, which I can call the disaster of disasters, are at the door. Oh my.
That's why we care about events like Runatolia, where we can breathe and remind us of the value of our humanity. Life continues despite all the disasters. We will continue to strive…
Tag: sosyal sorumluluk