Racism is nothing but fooling oneself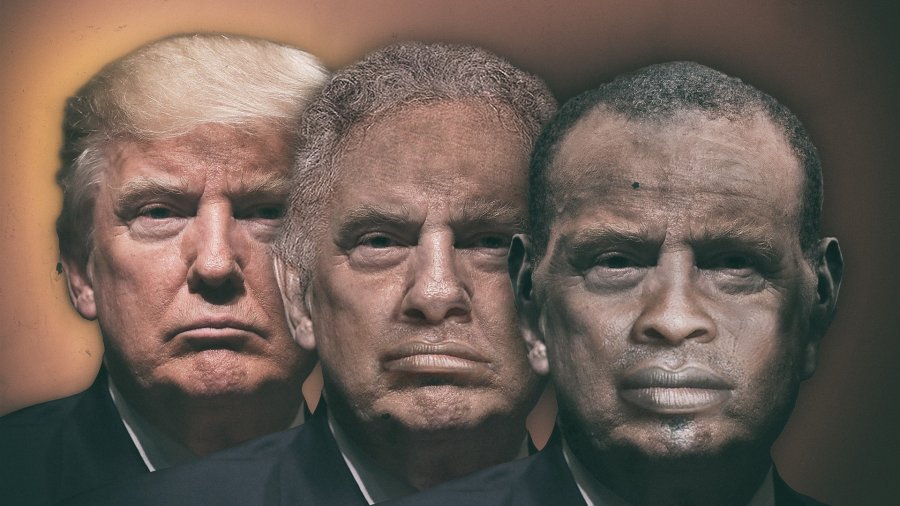 In a world where racism and polarisation is unfortunately hugely increasing, whether it be of ethics or scientific facts, these types of expressions are showing signals of quite the opposite. I had touched on this topic lightly in last week's world cup article and on the back of this, in this week's article I will touch on and direct your attention to what kind of genetic forms people have depending on the effects of their geographical conditions.
In the last article I wrote about the world cup, I mentioned that the ugliest side of it was racism.
Unfortunately, this time racism in the World Cup happened to bounce off the back of our Turkish footballers who play abroad. Germany's Mesut Ozil and Sweden's Jimmy Durmaz got their fair share this time.
Firstly, lets take a look at the unfair accusations Mesut Ozil received. We all know that Mesut has been playing for Germany for many years, infact he has been one of the most important players sweating his way through with the most strategic number being 10. In the past there has been much struggle between the German and Turkish football federations regarding Mesut. Both countries have wanted Mesut to play for their national teams. Germany declared that he is a born and bred German, brought up in Germany, and Turkey on the other hand is declared that he is of Turkish roots and that a majority of his relatives still live in Turkey and have been showing much effort to win him over to the Turkish team. In the end, as the general trend, the Turkish rooted footballer chose to play for Germany. In August of 2009, in the 2010 World Cup elimination games, they faced Azerbaijan in an away game and with the goals from Schweinsteiger and Klose, they won their opponents 2-0, which meant Germany won and won over Mesut Ozil.
Choosing Germany for the national team
Now let's look at the statement Mesut made after the game:
20-year-old Mesut Ozil wore a jersey in an official match, and said he was very happy to fulfil the final formality. "Ive been wanting to play for Germany from the very beginning. Wearing a jersey for the Turkish National team was never on the radar. I am very proud to be able to play for Germany" he said.
Due to the German Citizenship Act "obligation of choice", Mesut Ozil came out of Turkish Citizenship in 2007. The Citizenship Act portrays "single citizenship" and beyond some exceptions, does not allow for dual citizenship. Those born in Germany with foreign nationalities, must make a choice of which country they want citizenship when they are between the ages of 18-21.
After this, Mesut never took off his Germany jersey. He was always at the frontline being the most technical and star of players in the German team. Infact he was the worlds most professional assist player and of course one of the players kicking some of the best goals, with his adventures continuing into teams like Read Madrid and Arsenal. Capturing a fantastic generation in Germany, Mesut and his team mates experienced one of the best times in history. In all the tournaments he participated in, he managed to always come up in front as the favourite and crowned this by bringing Germany success by winning the 2014 FIFA World Cup.
Prejudiced and abrupt accusations
The apple of Germany's eye, Mesut was unfortunately the first target in this tournament. In the game that they lost 1-0 against Mexico, Mesut was the one player attacked although in general the team had displayed bad performance all round. In actual fact, the team generally showed bad performance.
The country's anti-immigration party AFD, aimed at Ozil and the following news was made:
In the recent times of increased racism in Germany, Turkish rooted footballer Mesut Ozil was affected. AFD had racially slandered Jerome Boateng who had previously played in the German National team, have now turned their sights on Mesut Ozil as their target.
Alexander Gauland, co-leader of the far-right Alternative for Germany party made comments like "no one wants to have a Boateng as their neighbour" which was then followed by the party's co-leader Frauke Petry racist comments about Mesut Ozil.
In an interview with Die Welt am Sonntag newspaper, Frauke Petry stressed that Mesut Ozil does not sing the national anthem. She also said the below about the star player who recently visited the pilgrimage:
"I guess Mesut Özil is not living according to Shari'a rules. We see that women who went public together did not wear a headscarf. It is a pity that Mesut Özil, a sample personality for young people and children, can not read the national anthem with his teammates. He showed his Umre visit all over the world. You have to ask Özil; will he make a political statement about the visit to Umrah"

Let me give you the answer: of course, he will not. Mesut's belief and lifestyle are only his business. Besides, in the recent times the reason why Germany was able to get to where it has been because of its integration of migrants into the football system and being able to present world class players from the German team. I'd like to remind the AFD party members of this. They are infact in debt for their recent international success to their players who have as a family migrated to Germany. The best example of this is France. Have a look at the French national team. You can find a migrant of every colour and descent. With a similar format to the one in 1998, France was able to win the championships at the World Cup in 2018 in the same way.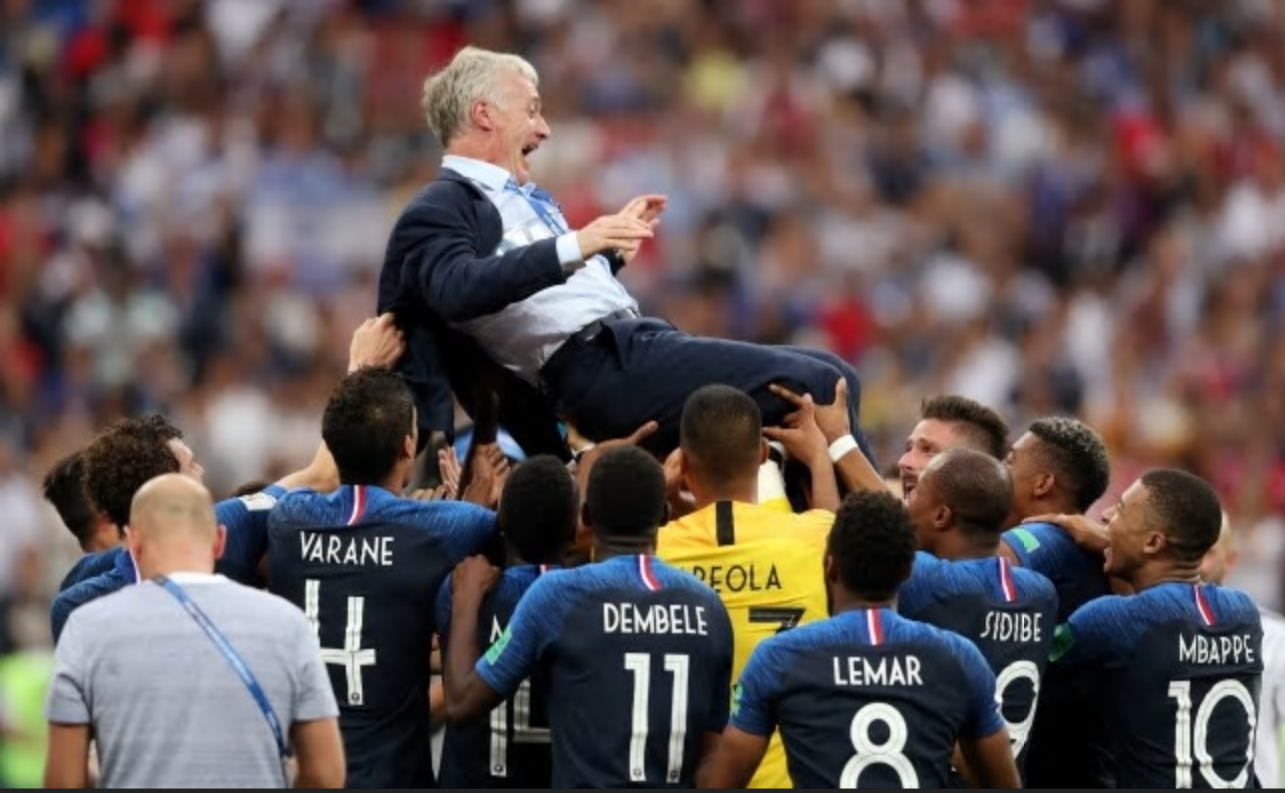 The French team with players from different colours and descents, celebrating the win with their technical director Deschamps.
Mesut's social media announcement
The worst part of the criticism made was when Mesut took a photo with the President of the Turkish Republic, Mr Recep Tayyip Erdogan which fuelled anger with the Germans. Whether you like it or not, the President received over 50% of the votes in Turkey and for Mesut to be slammed off his back, is something I don't understand.
On one side he is slandered for being Turkish, and on the other side he is being slaughtered for having a political photo taken. They are committing one mistake to another. After all these critical comments, the team's technical director, Joachim Low put Mesut in the next game against Sweden on the bench. This was a first for Mesut. In the end, Germany couldn't make it out of the group games, but this is not Mesut, this was the fault of the whole teams' bad performance for Germany. After all the chaos and ugliness, Mesut today for the first time responded to these racial comments and on his Facebook, wrote an English message as per below: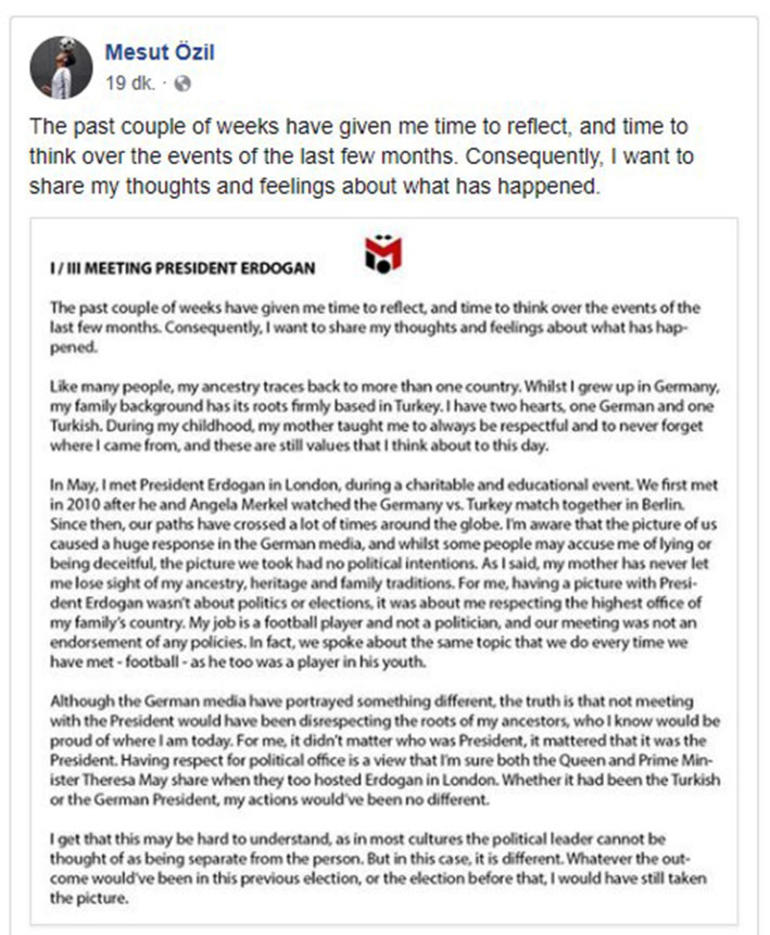 Mesut's social media message
In summary: "The past couple of weeks have given me time to reflect, and time to think over the events of the last few months. Consequently, I want to share my thoughts and feelings about what has happened. Whilst I grew up in Germany, my family background has its roots firmly based in Turkey. I have two hearts, one German and one Turkish. During my childhood, my mother taught me to always be respectful and to never forget where I came from, and these are still the values that I think about to this day.
In May, I met President Erdogan in London, during a charitable and educational event. We first met in 2010 and after he and Angela Merkel watched the Germany vs. Turkey match together in Berlin. Since then, our paths have crossed a lot of times around the globe. I'm aware that the picture of us caused a huge response in the German media, and whilst some people may accuse me of lying or being deceitful, the picture we took had no political intentions. As I said, my mother has never let me lose sight of my ancestry, heritage and family traditions".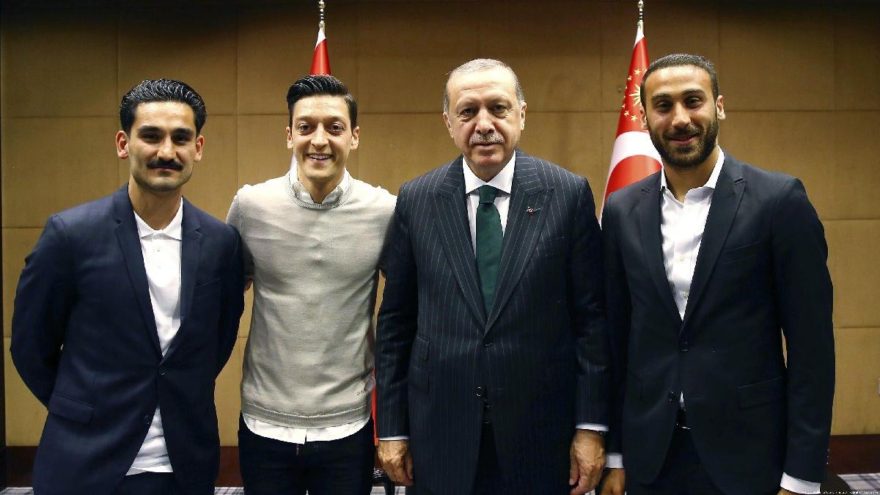 The other Turkish football players who play along Mesut in England and the President. From left to right: Ilkay Gundogan (Manchester City), Mesut Ozil (Arsenal), President Recep Tayyip Erdogan and Cenk Tosun (Everton).
I wish for this to pass over for Mesut and want to say this to him: "You are decent man and hold a very important place for the relationship of Germany and Turkey. Do not ever change your stance. Both countries require a role model like you. This is important for the perspective of Germany to be able to show the integration of the 3.5million Turkish population they have and for Turkey to see how footballers raised in their own country can be successful and where they can go. You are of course an important name and symbol of the two country's relationship.
When I was writing these, Mesut made another announcement and unfortunately notified everyone that he had quit the German national team. The Guardian wrote the news as: "For me, having a picture with President Erdoğan wasn't about politics or elections, it was about me respecting the highest office of my family's country. My job is a football player and not a politician, and our meeting was not an endorsement of any policies".
"The treatment I have received from the German Football Federation and many others makes me no longer want to wear the German national team shirt. I feel unwanted"
He also added: "'I am German when we win, an immigrant when we lose"
Such a shame. Mesut's departure was a loss to both Germany and Turkey. They were really unjust towards you Mesut. I wish you all the best in your career going forward.
Jimmy Durmaz and support of significance
Lets now come to the issue at Sweden. During the Sweden and Germany game, the Swedish midfielder Jimmy Durmaz, who joined the game later on, fouled the German forward Toni Kroos in the final minutes, who then scored the game winning goal on a free kick, which was a demoralising moment for the Swedish player. Jimmy Durmaz was sprayed with much abusive and racist comments by the Swedes. He even received death threats.
Luckily, the Swede's stood firmly in support towards Jimmy Durmaz. Raised from an Assyrian background but born and bred in Sweden, Jimmy Durmaz received alot of support from Sweden and outside of Sweden. There were even phone calls made to him from Swedish Government Officials. There was a widespread walk of support in Sweden. The Turkish Ambassador Emre Yunt was also there. Many people attended this event. I'd like to share the video and photos of this event with you:
http://www.hurriyet.com.tr/sporarena/galeri-jimmy-durmaza-buyuk-halk-destegi-40881886#page-6
The Swedish police was also of much support. Sweden's Sport Minister (Annika Strandhall) went out onto the streets with Jimmy's jersey. She made a speech while wearing his jersey in the Swedish Parliament. And the most important was the support Jimmy received from his team mates. Jimmy made the video below and the whole team chanted "F..k Racism.
https://www.youtube.com/watch?v=f55dcJZDhAc

I particularly got stuck on the message that was sent to Jimmy which was "Bloody Darkie"
Jimmy Durmaz of the Swedish National Team
The superiority of race and its scientific insignificance
I have a few words for the Swedish racist who posted this message or someone that thinks like him and thinks that the white race is much superior (like the Ku Klux Klan - KKK)…
Putting everything aside, lets look at the situation with a scientific view: humans are the most dominant and strongest live species in the world and the reason for this is because they can adapt quickly to their environment and are flexible. Otherwise racism could of been extinct just like those stronger than the dinosaurs. However, when you look at the history of humans, no matter the conditions, we see that throughout the fight for life with every passing generation, humans have become a lot more clever and with this where the human race began and with time where it has migrated to are different and with the change of season, we see how their types have also changed. For example, in the north, as people are less exposed to the sun, their skin has lightened, their eye colours have changed and have become taller and large. Where the sun has the biggest effect in the African continent and various other places, the human race has yet again changed, and their skin has darkened, their nostrils have widened and besides the humidity or dryness of where they are found, their body shapes have also changed. The situation is explained as easy as this. Therefore, no one on this planet is smarter than anyone else, they shouldn't be saying ridiculous things like that there is a superior race, or a sacred tribe as chosen by God. Enough is enough! We are living in the 21st century, this is an era where the human race, for the first time in history, is much smarter and open to change. We are sick of still hearing of these ridiculous things. Everyone needs to pull their heads in. For those that cannot comprehend the scientific facts that I have just spoken of, either their IQ level are average of below average which are the ones that still defend the fact that the white race is superior as per the photo below of Trump: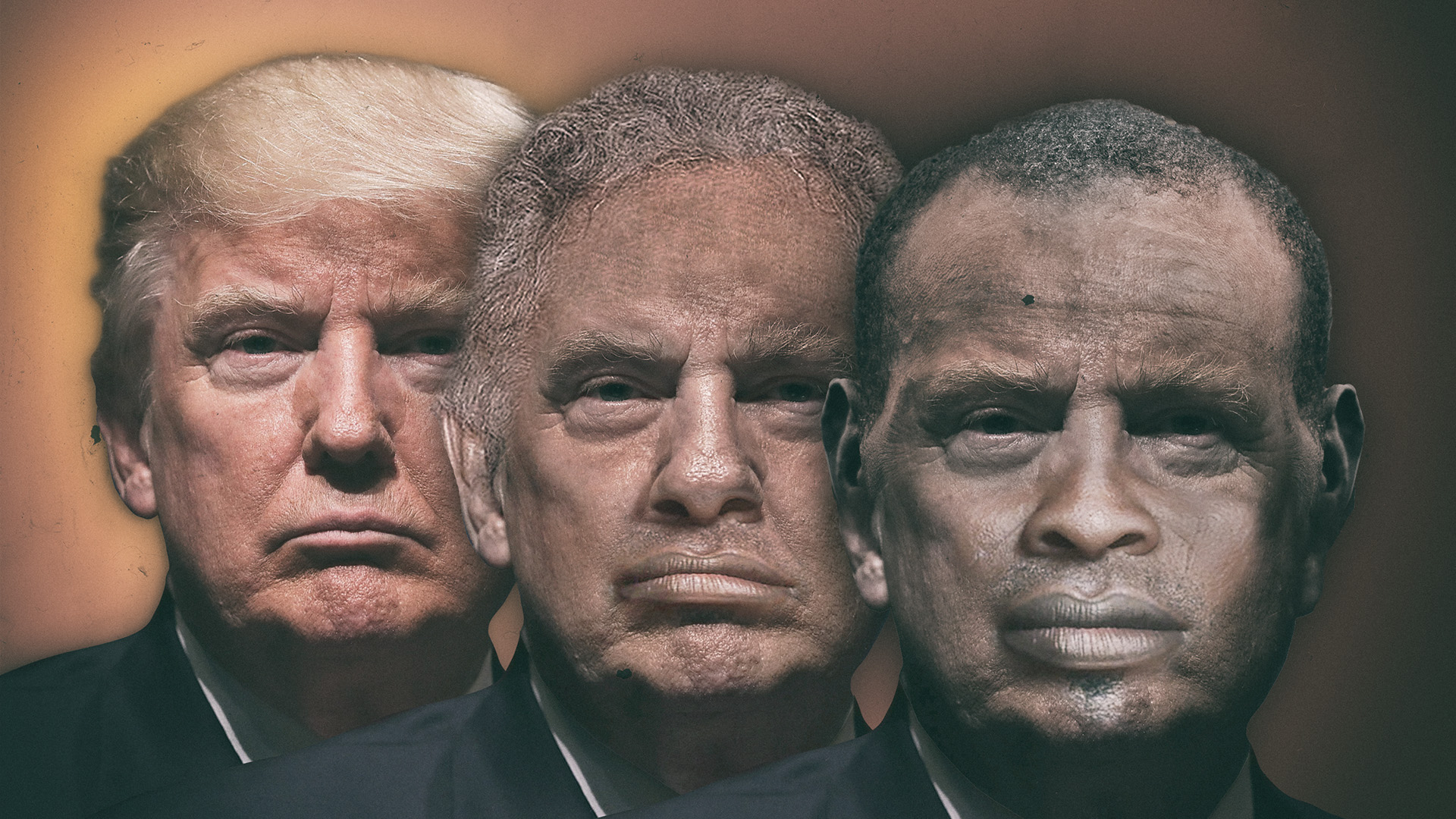 In the photo above, you can see 3 versions of Trump. From left, this is Trump himself, in the centre is Trump if he were to live in Latin America and how his roots would have changed with the passing of generations and the far right is if Trump were to live in Africa and how his features would have evolved. Of course, I don't know how many generations need to pass for this to genetically modify, Ill leave this up to the experts, however if there were those who descended from Trumps background and lived somewhere else, even if they were to marry people from their own race, their features would still start to change.
On the contrary, if an African was to live in the Scandinavian countries, they would change in the same way after some generations and their skin colour could lighten and become white. Of course, I'd also like to point out that there are many people from different races that are mixing. When you look at countries like Brazil, you can see clearly what a crossbreed race can look like. By the way, being crossbreed is not a bad thing. Quite the opposite, if a child has taken on their mother and fathers' strongest sides, then you can end up with a good result.
While I have mentioned Trump, I'd like to say that he needs to reconsider his strict migration rules. You can't just build a wall and seperate poor children from their families. Anti-immigrants will only fool themselves with these temporary solutions against human rights. You'll only be making room for one fiasco to another fiasco.
If the politicians who run the country or other government ministers want to stop migration to their own country, they need to work to increase the education and welfare of those geographies that they choose to take migration from. When do people not feel the need to migrate? When they are happy where they are. Its as simple as that.

The other side of the racism medallion
There are many citizens in Turkey from different roots. My fathers' side is from Gaziantep, in other words from the south, and my mothers' side is from Trabzon, which is the north. I am then considered crossbreed in my own country. And I have always been very proud of this. I'd like to thank my mother and father for the strong sides to my genetic formation.
There is also another side to the racism medallion. There are many sick personalities who think its ok to attack those that are different to them or even darker, and some who are embarrassed by their colour or features and try to change these.
Michael Jackson is the best example I can provide regarding this. Everyone knows for years the tablets Michael Jackson used to change the colour of his skin. I will also provide another example from my own experience.
In the first year I was studying at McGill University in Canada, I was staying in a student dorm. I had two room mates in the dorm. One was Brad from the Saskatchewan state, and the other was Amit who was an Indian from Switzerland. Both of them were great guys. Especially Brad who was smart and clever. He was able to score a 4 out of 4 in Engineering. He was in the rowing team. We had many good moments together.
On the other hand, Amit was a nice guy and his studies were not bad. I got along well with him in general. There was only one thing that would make me uncomfortable with Amit and that was the fact that he'd have a shower at least once or twice a day and each time spend over 1 hour in there. Don't get me wrong, being clean is important. However, each time Amit was in the shower, he was trying to whiten his skin with his special soap. I spoke to him about this many many times. He continued to do what he believed was right. I don't know why he was so obsessed about it.


An example of variety: India
I had previously said that those who are exposed to the sun or due to the season conditions, that the human race features along with their skin colour can change to either a darker or lighter colour. The roots in India that Amit was found was a striking example. Those who know India would know. In the southern states the colours get darker, infact there are some Indians who have darker skin than some Africans. In the same way, as you go north, skin colour lightens and in the highest of northern regions, there are white skinned Indians. The fact that in the one country there can be much difference is a good summary of what I've said.
To also be or not to be exposed to the sun is a matter of preference. These preferences can be periodic and can change based on where you are. For example, in the past there was an option to remain white in Europe, whereas now Westerners prefer to spend their whole day at the beach and tan. Then in Asia, they prefer not to be exposed to the sun. Infact there are far easterners who use an umbrella to prevent exposure to the sun.
The final thing I'd like to say is, whether it be light or dark skin, it doesn't matter, human will be human. The important thing is not the physical features. The important thing is for the person to have a good heart, to be good willed, hardworking and to be productive. Nothing else matters.


The difference is not in the blood, its the goodness in the heart
It is silly to categorise people based on their countries, beliefs or language. I believe there are two types of people: a good person and a bad person. And of course, we can't say that everyone is 100% good or 100% bad. But there are those who weigh heavier on the good side, ones that know the bad but insist on being good. No matter where you go in the world, no matter which race you deal with, there will be good people and bad people there. In their own country or in their own race there are those who try to inflate the situation on the whole which is nothing but fooling themselves and those around them.
I myself along with people around me are trying to fulfil our duties as good people. What we do at TIDER is one of the most striking examples. We have today succeeded with many good things at TIDER and will continue to do so. My next article will be about TIDER.
Heres to good and productive people!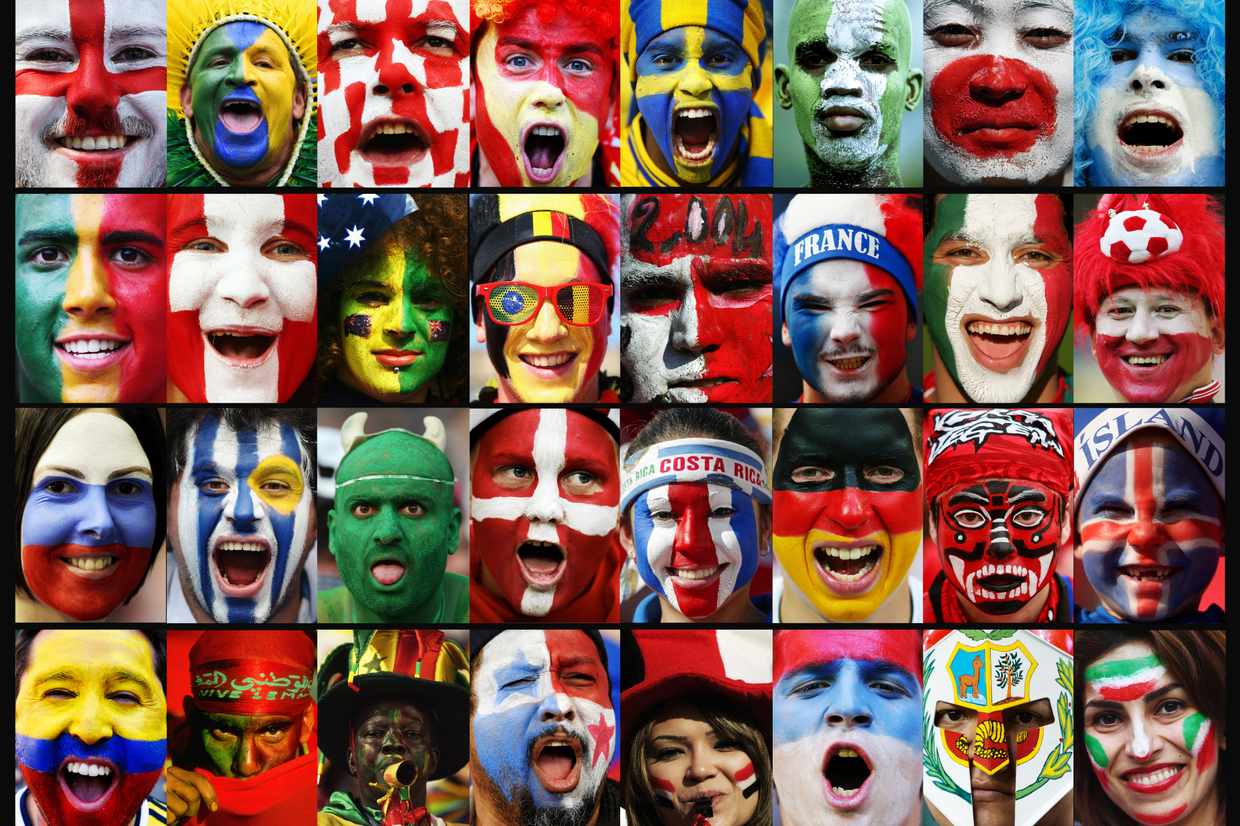 These are the many faces of the World Cup. A table formed of the many different people from the many different countries of the world which is well demonstrated in this photo. Let's not forget, wealth is about being different. Let's take care of all our differences.
Tag: anı