Kars: A city that brings you back for more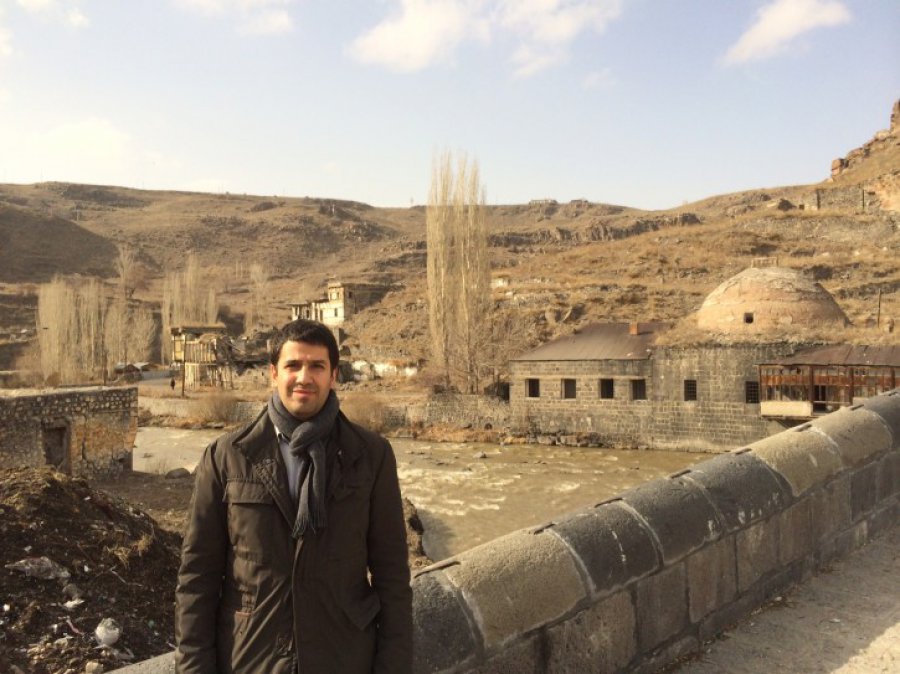 Kars, a city I've had the pleasure of visiting three timesrecently, fascinates with its diverse culture, architecture, remarkable dining opportunities, Sarıkamış ski resort, amazing ruins of Ani, Castle of Kars and historical Cheltikov Hotel.​
I was trying to think of an unusual place in Turkey to unwind and have some down time during the New Year holiday. While 2013 had been a challenging year, it had also been a special year for me. I'd made some radical changes and had begun steering my life in a new direction, the details of which I'll write about later. As I was considering where in Turkey I could go for some sport and relaxation in a peaceful setting, Kars Sarıkamış came to mind. So, I set my plan in motion and arranged my flight and hotel reservations. On December 28, 2013 I made my first visit to Kars.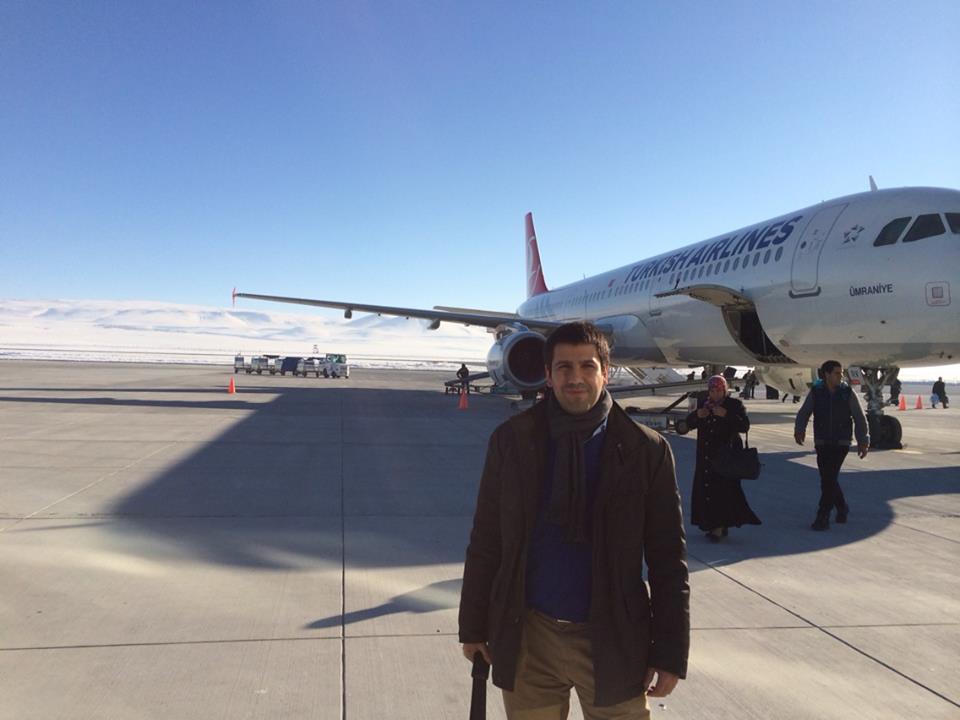 Moments after landing in Kars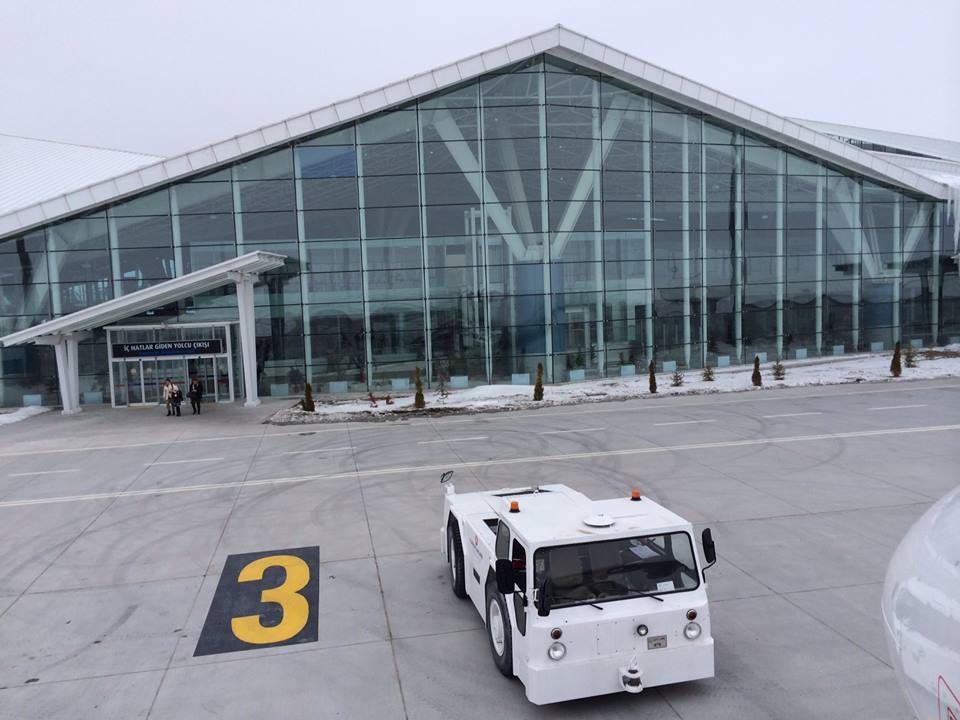 Kars Airport
With a little help from Wikipedia, I can briefly describe Kars as follows: Kars, which is located in northeast Turkey, has the highest elevation of all the country's provincial capitals. A city whose population exceeds 100,000, including its villages, Kars administers 23 neighborhoods and 70 villages. Home to peoples of various ethnicities, the provincial capital is a cosmopolitan place enriched by cultural diversity. Kars is a border city that once served as the capital of the Provisional National Government of the Southwestern Caucasus, making it one of the few cities in Turkey that has ever served as a national capital. Turkey's gateway to the Caucasus, the city began developing rapidly with the opening of Kafkas University and eventually became a college city. Additionally, the city is a regional transport hub thanks to the airport located just six kilometers from the city center. After landing at the newly completed, modern, beautifully designed airport I asked the driver from our hotel in Sarıkamış, who'd come to pick us up, if he could take us to a nice local Kars restaurant. I'm so glad I did. He took us to "Goose House/Kaz Evi," telling it was on the way, and that it was the best restaurant for goose, a fowl widely consumed in Kars. After we'd ordered, the spread brought to the table can be seen in the photo below.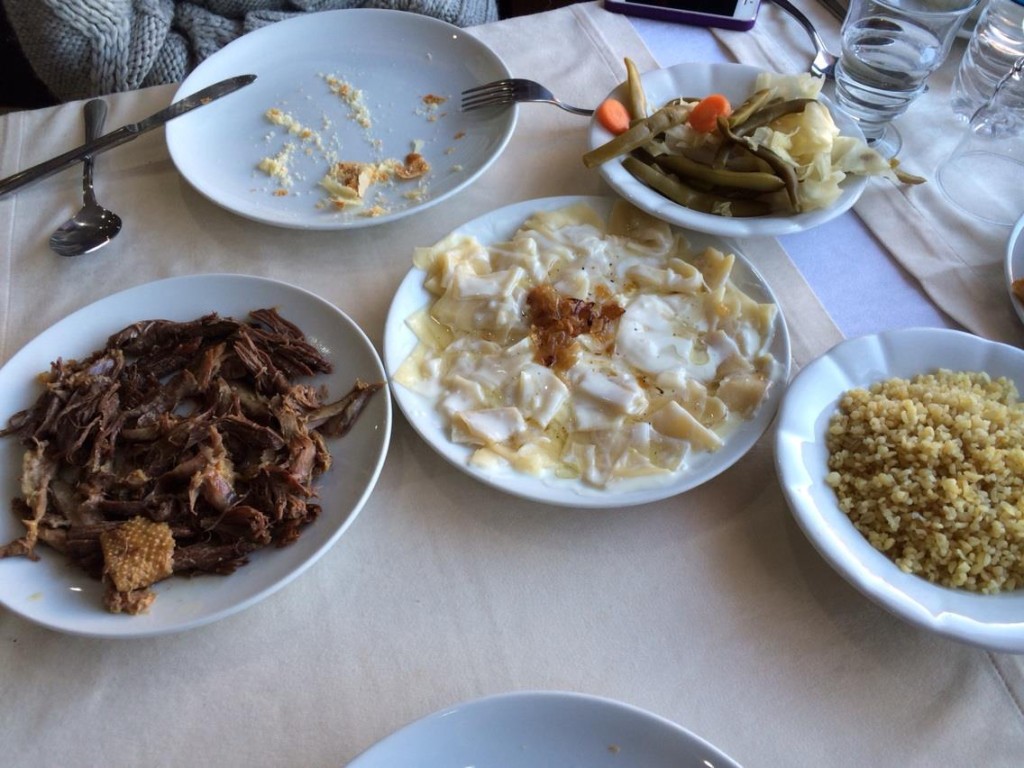 A table laden with goose, vegetarian mantı (stuffed pasta), rice and pickles.
As we were enjoying our meal I was astonished to see phone orders placed from various provinces across Turkey. At one point the owner of the restaurant, Nuran, walked up to our table and started chatting with us, then took a seat when our conversation went on longer and longer. And what a conversation it was! The more Nuran spoke the more she amazed me and the deeper the subjects covered became. We moved on to the history of Kars, the importance of goose meat in Kars culture and even the concept of sustainability in the restaurant business. She's got boundless energy and a sharp mind. While many Turkish women may have set out on a similar path, her intelligence and determination have completely altered what had seemed to be her destiny, and despite the difficulties of being a single mother she has defiantly overcome the challenges of life in Kars.
Married and a mother at a young age, Nuran remained unwavering through her domestic difficulties and with the spirit of a true entrepreneur decided to found her own business. She tried a number of different ways to make a living. For example, her success in hand knit sweaters grew until she was sending her sweaters to a number of places in Anatolia. When developments in technology and the textile sector reduced demand for her product she began exploring other job opportunities. After much research and thought she decided upon one of the things she did best: Nuran's mastery in the kitchen was the talk of all her neighbors. Finally, she opened her own restaurant.
When her restaurant did a bustling business she opened a second one, run by her daughter. For detailed information about Nuran's restaurant, visit the following website: http://www.karskazevi.com/Default.aspx In Kars, a city with one of the most rigid patriarchal structures in Turkey, where it is considered normal for women to be denied an education, it is exemplary in every way that a woman such as Nuran has stepped forward and shone, and that she continues to constantly develop herself. If you ask me, Nuran has obliterated all the stereotypes of the dominant culture where she lives and become a model for women in similar situations across Turkey. By demonstrating how much the opening of a restaurant can contribute to the culture and tourism sector of Kars, she has blazed a trail. I congratulate her, and wish her much continued success.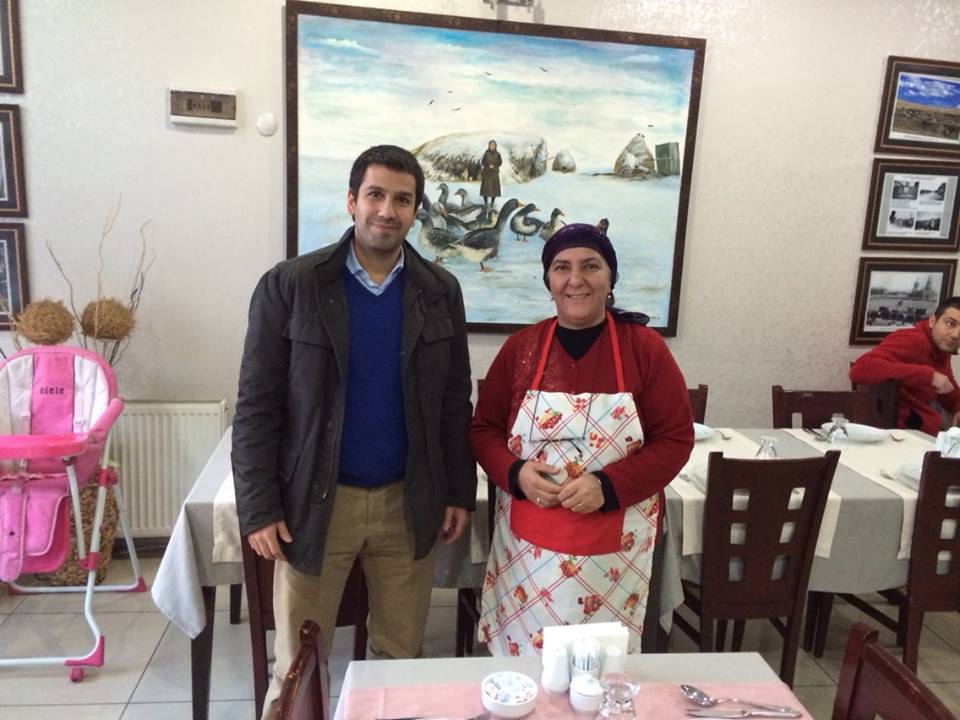 Posing for a photo with Nuran
As I was talking with Nuran I was reminded once again of how small the world is. Into the restaurant stepped Macit and Barış, whom I've known since childhood from the summer house in İskenderun Arsuz and from Fethiye Latonia Holiday Village. I'd arrived in Kars on a ski trip but it turned out Macit, a heart surgeon from Hatay, had arrived in Kars to take up a position at Kafkas University, the result of the mandatory service in rural areas required by some professions in Turkey. Barış had come to visit Macit for New Year's. I have to say it was wonderful to run into two close friends so far from Istanbul, in Kars. After a quick chat we decided on an itinerary we could all share. And that's how I began enjoying myself with the bunch of friends who'd arrived from Hatay to visit Macit. Along with skiing, dining and conversation we thought it would be nice if we could all spend New Year's Eve together, and made reservations for eight on December 31st at Cheltikov Hotel in Kars. An incredible stone building built back in the day by the Russians,it was later converted into a hotel. (For more information, visit the website at http://hotelcheltikov.com/.) As temperatures outside plummeted to -20 Celsius, we had our New Year's Eve dinner at this boutique hotel.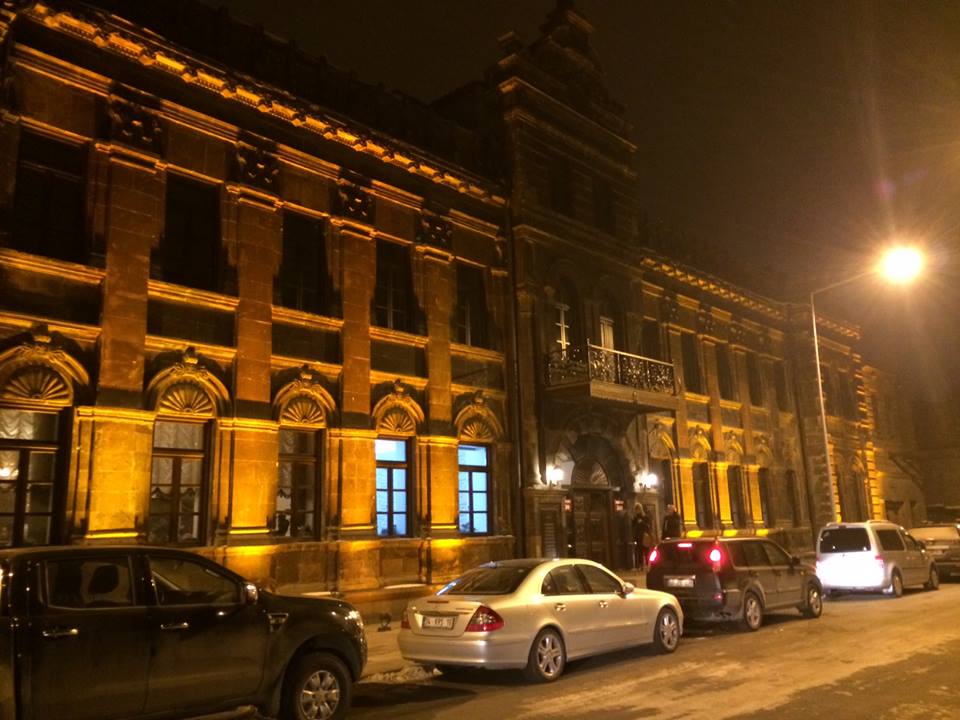 A photo I snapped of the outside of Cheltikov Hotel on New Year's Eve​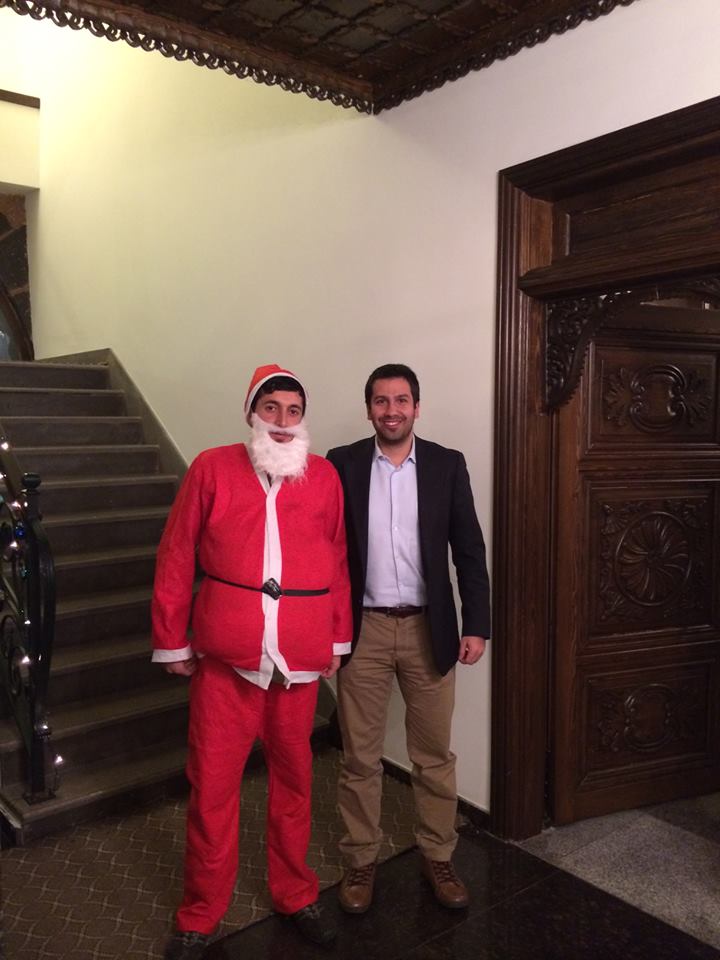 Me and Santa Claus
I visited Kars for the second time in the third week of January. The plane was scheduled to arrive late on a Friday evening so I spent the first night at Cheltikov Hotel instead of going directly to the ski resort in Sarıkamış. I'd wondered what it would be like to stay at the hotel. How were the rooms? They turned out to be comfortable beyond my expectations, with high ceilings. The first evening I went to Kaygısız Ocakbaşı, the famous grill restaurant with an open fire pit on Atatürk Caddesi. (www.kaygisizocakbasi.com.)Along with the tasty kebabs, I enjoyed the special marinated döner.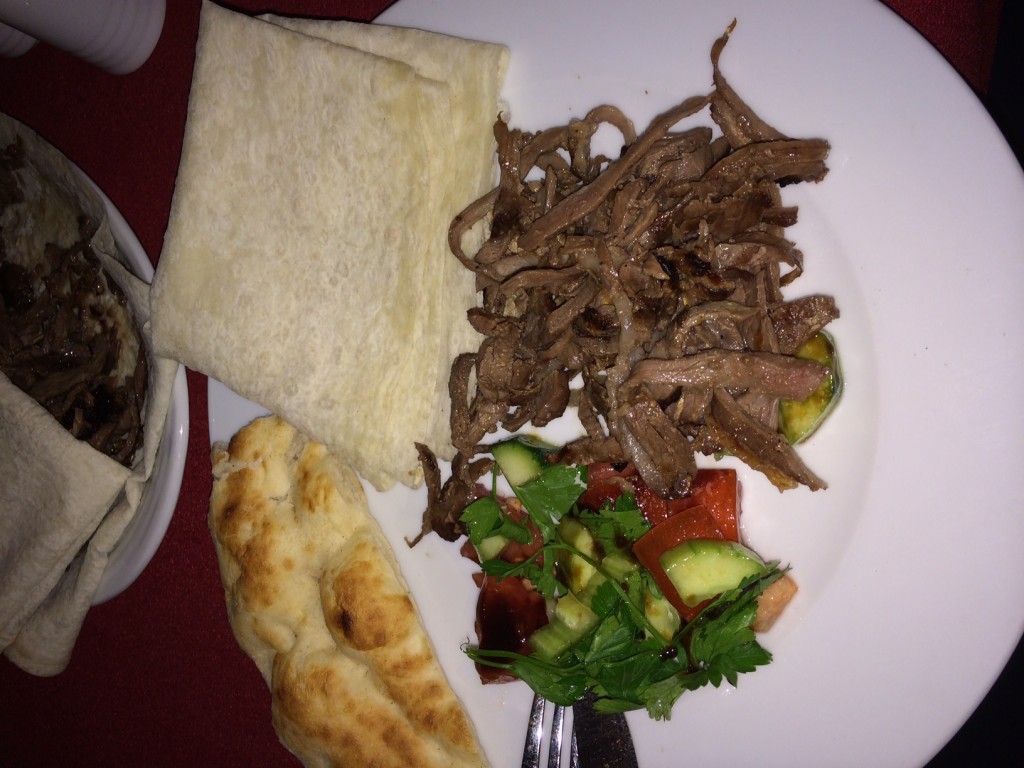 Döner at Kaygısız Ocakbaşı
The next day we were in Sarıkamış for skiing. On my third visit to Kars, the first weekend in March, we headed for the Ruins of Ari as soon as we disembarked from the plane. I'll write more about this stunning historical spot in a later post. The other event I remember from this visit is not being able to visit Kars Citadel on Sunday. It was cold outside, the roads icy. A vehicle with Adana plates had blocked the road up to Kars Citadel, unable to make the steep climb. Finally, following our warnings, the driver of the vehicle decided to turn round. We also turned round so we wouldn't be late to the airport. Although we were unable to reach the top of Kars Citadel we still had spectacular views of the castle from the point we managed to reach.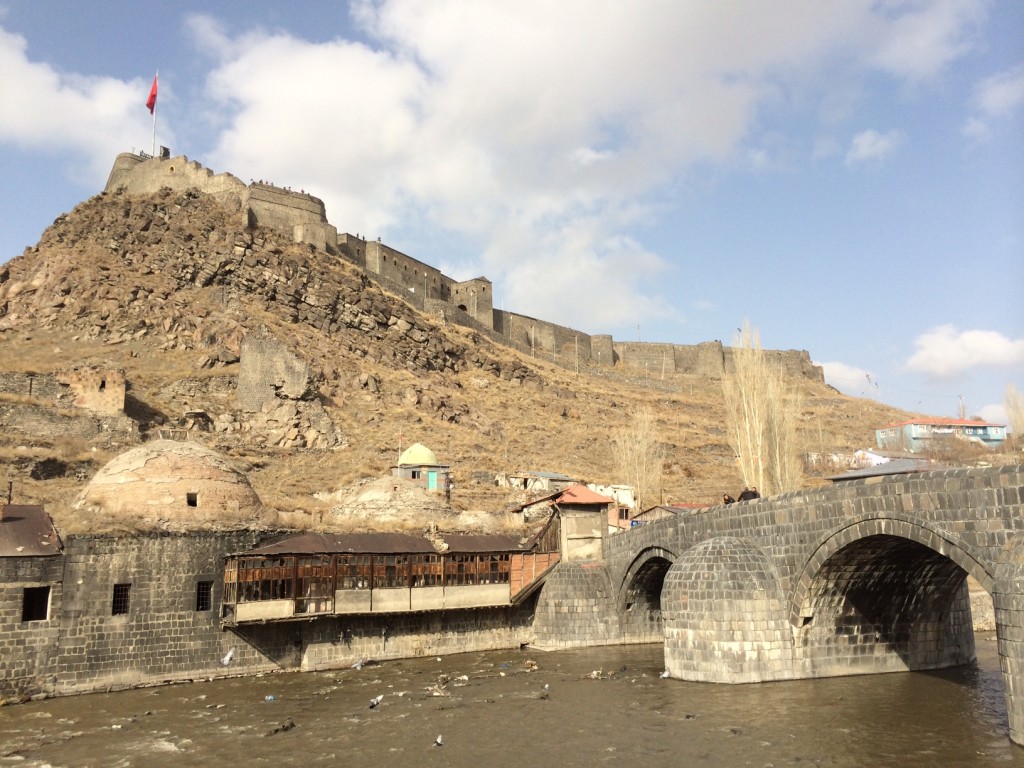 A view of Kars Citadel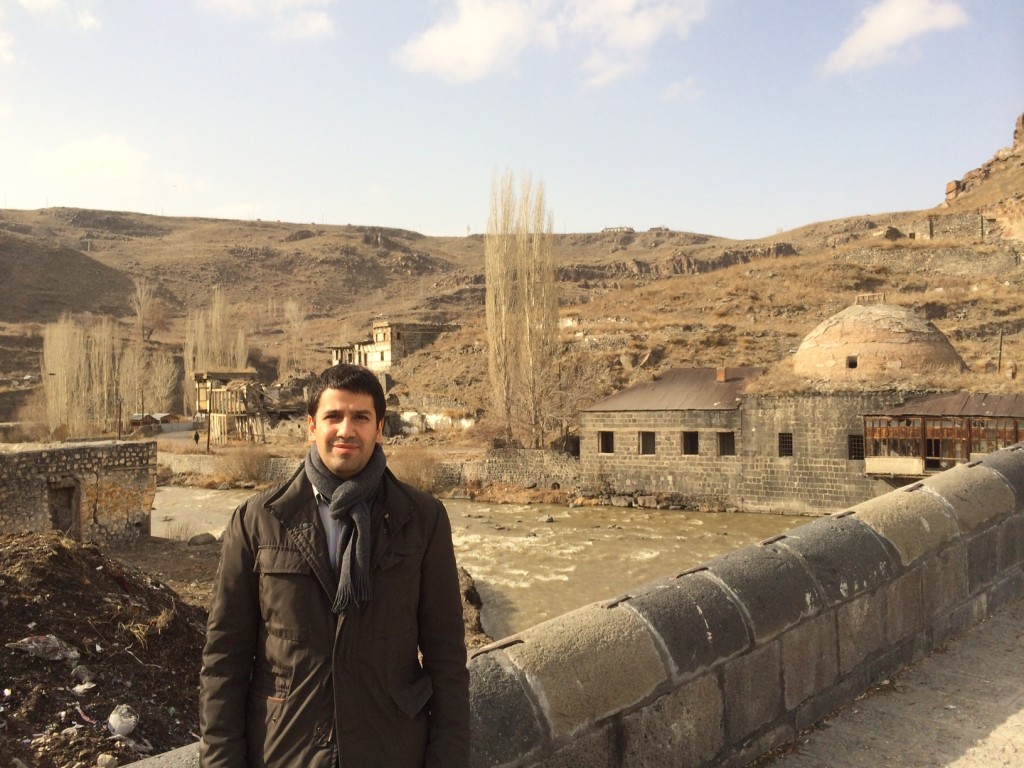 A photo I snapped below the Citadel​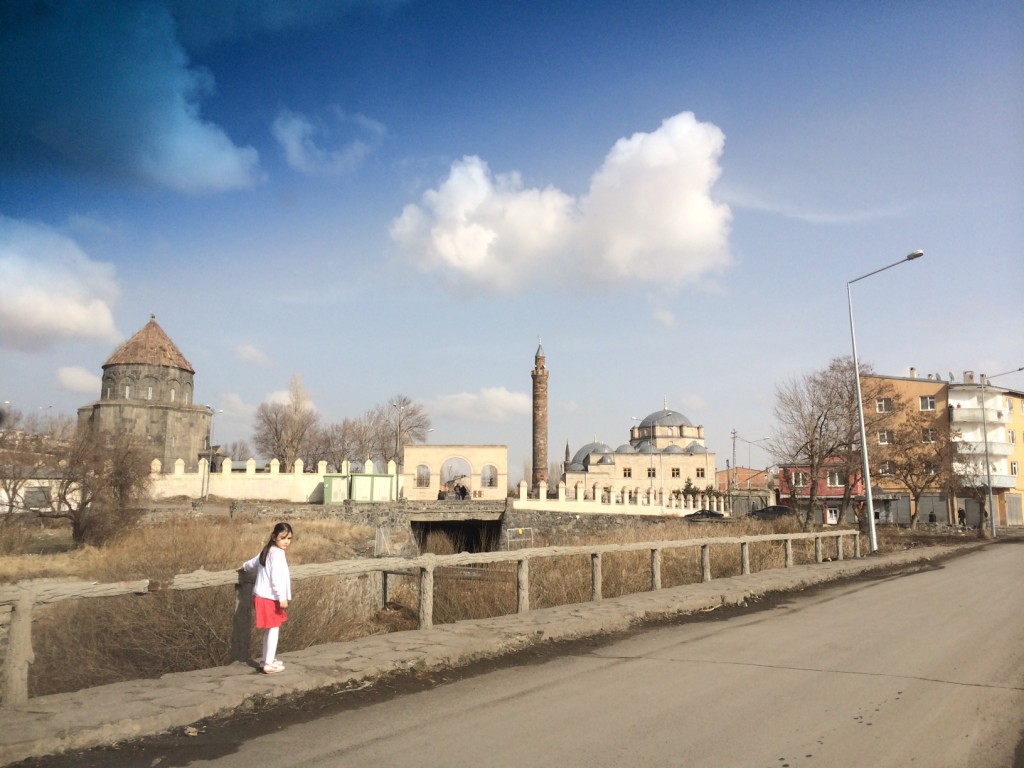 A view from the road of the 12 Apostles Church and Kümbet Mosque, on the foothills below the Citadel​
According to Wikipedia, Kars Citadel is also known as Kars Tower, the Castle of Kars and the Citadel. Upon the orders of Melik İzzedin, the emir of the Seltukids, a Seljuk beylik, the grand vizier of the time, Firuz Akay, oversaw the construction of the citadel in 1153. The construction of the outer fortresses of the citadel began in the 12th century. After Timurlane demolished the citadel in 1386, it was rebuilt in 1579 by Lale Mustafa Pasha on the orders of Ottoman Sultan Murat III. As we passed through the city center on the way to the airport I looked out at the mess of election banners, pennants and posters temporarily defacing the city and thought to myself how they would all be thrown away after the election anyway, and what an utter waste of resources it was. In Gaziantep this year, all of the mayoral candidates agreed not to hang up any election materials. Not only did this make for a cleaner, more attractive city, it also prevented the candidates from wasting money. I'd like to congratulate the people of my hometown for this wonderful initiative, and hope Kars and Turkey's other provinces follow Gaziantep's lead.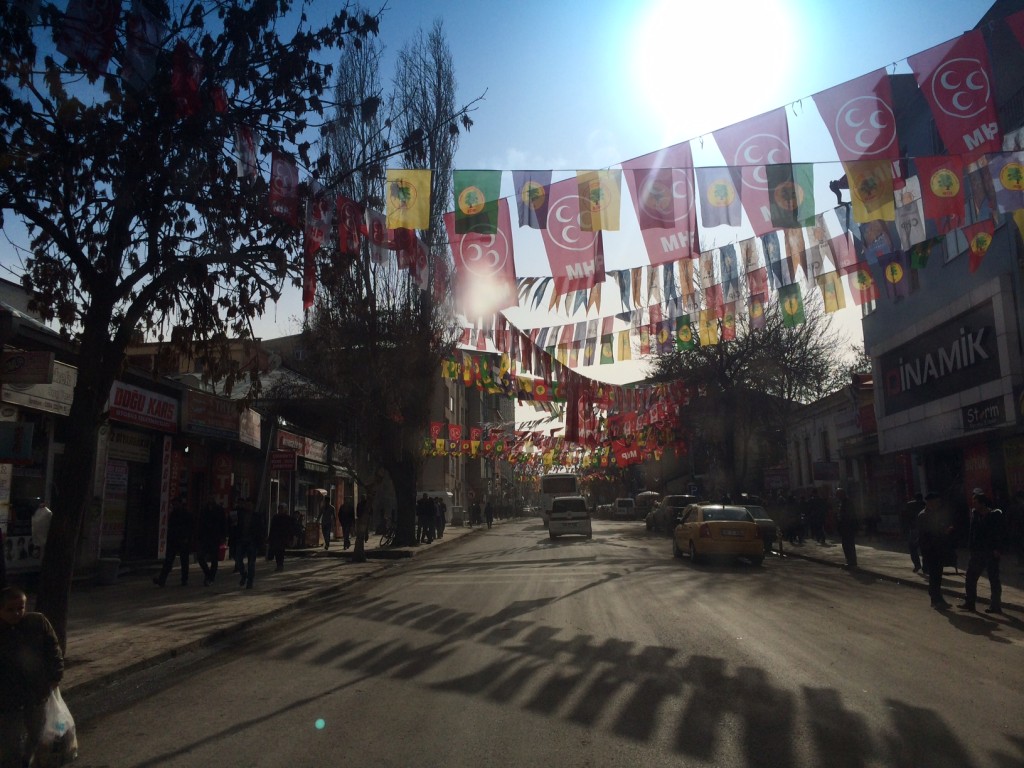 View of a street in Kars.​
On the way to the airport Macit and I speculated about when the ski season would begin the following year and talked about ice fishing on Çıldır Lake. I arrived at the airport relaxed and clearheaded. Thinking how much I'd miss Kars, I heaved a sigh as I boarded the plane for Istanbul. Kars.
Tag: kültür