An outcry by women #challengeaccepted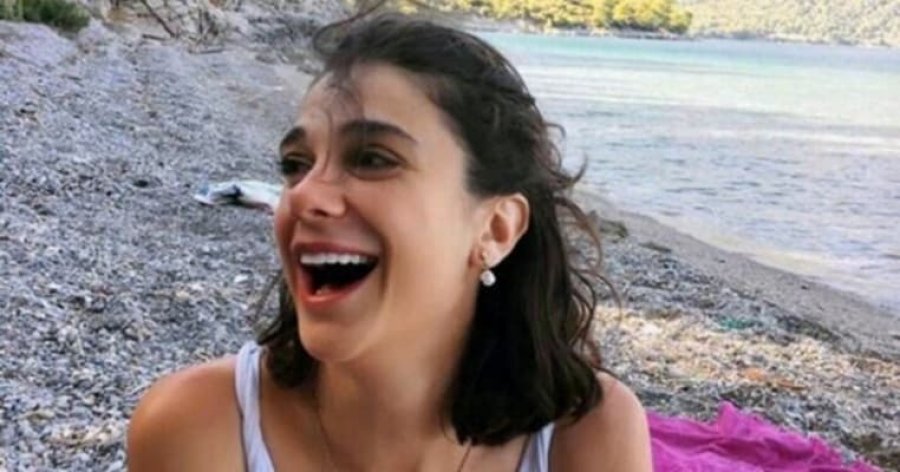 In the past few weeks, the news of violence against women and femicides have been in the headlines. The brutal murder of Pinar Gultekin initiated a trend. Black and white images of women were shared with the #challengeaccepted campaign, not only in Turkia but also encouraged the support and participation of women all over the world. So, did this resounding campaign get a real result ?
We live in such days that a week does not pass when we do not witness violence against women or any other living creatures. Unfortunately, the tendency to violence continues to increase. Over the past month, an actor in Turkia, Ozan Guven, who worked in a media organisation, was said to be violent against a worker, Deniz Bulutsuz, and the matter was even taken to the Ministry of Family and Social Affairs to participate as a civil case (https://www.ntv.com.tr/ gallery / life / ozan-guven-and-sea-cloudless-case-family-and-social-politics-ministry-interlocutor-was, R7e24jdYckemG3SX0Aj8Eg), followed by Ozer Arkun, the soloist of the band Rubato, and the developments around him; we're constantly receiving news about violence against women. In the past, these violent incidents, which have been brought to the agenda by Ahmet Kural's violence against Sila, were unfortunately always happening, and there is even a list of celebrities who beat their lover or ex-wife: https://listelist.com/siddet-uygulayan-unlu-men/


The murder of Pinar Gultekin
Of course, these events are not just between celebrities. In Turkia, sad to say, many women are subjected to violence every day. The dosage of violence is increasing. The brutal murder of Pinar Gultekin amid all this gloomy news, caused women to rebel and even launch a campaign. Everyone who saw Pinar Gultekin's picture below, radiating positive energy, felt an ache and empathetic women took action.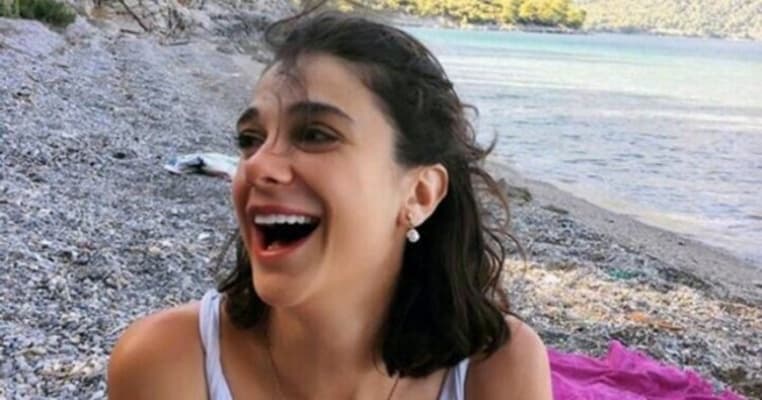 They shared their black and white photos, underlined their freedom and protested these events, and called on women who became world stars under the hashtag #challengeaccepted to support them. They have responded with support to women in Turkia. Here are the world stars supporting the #challengeaccepted campaign: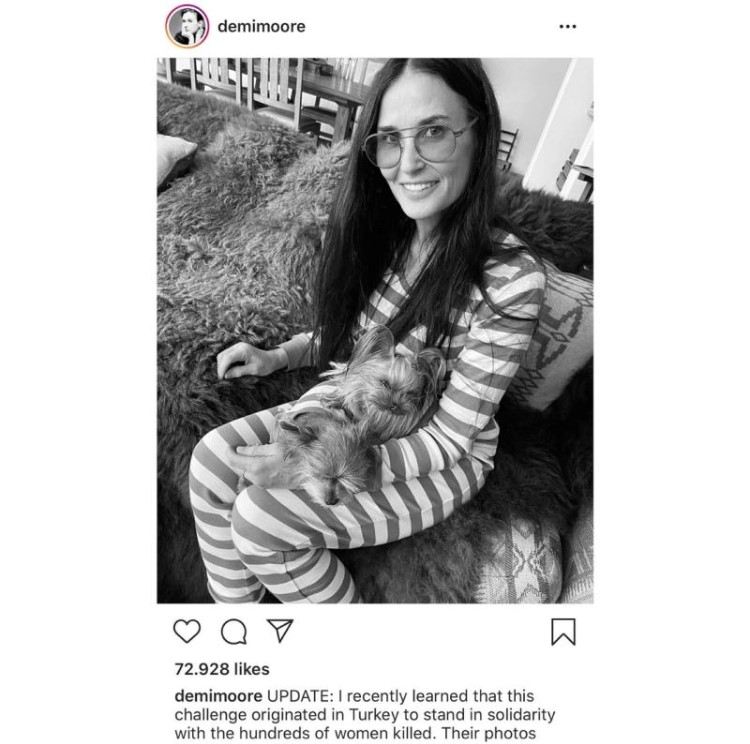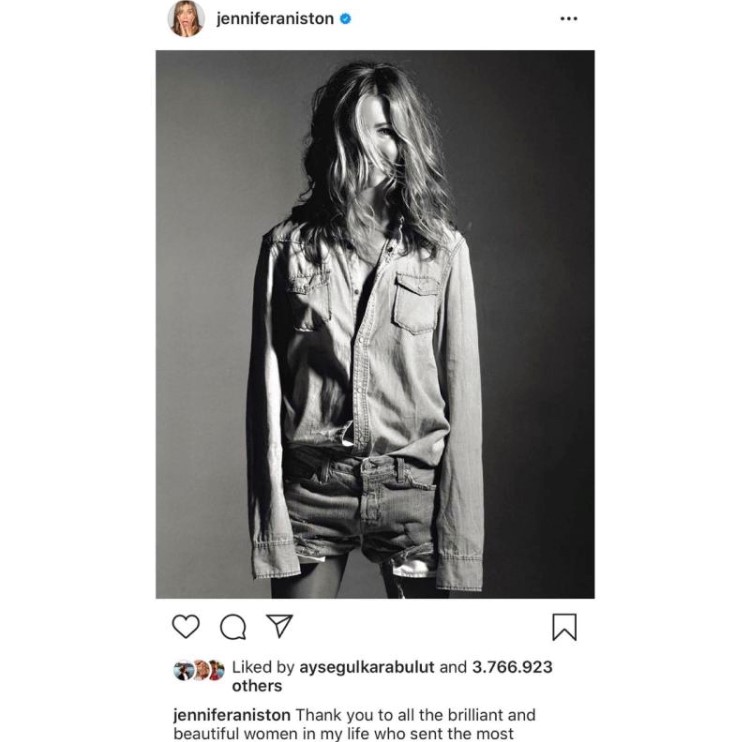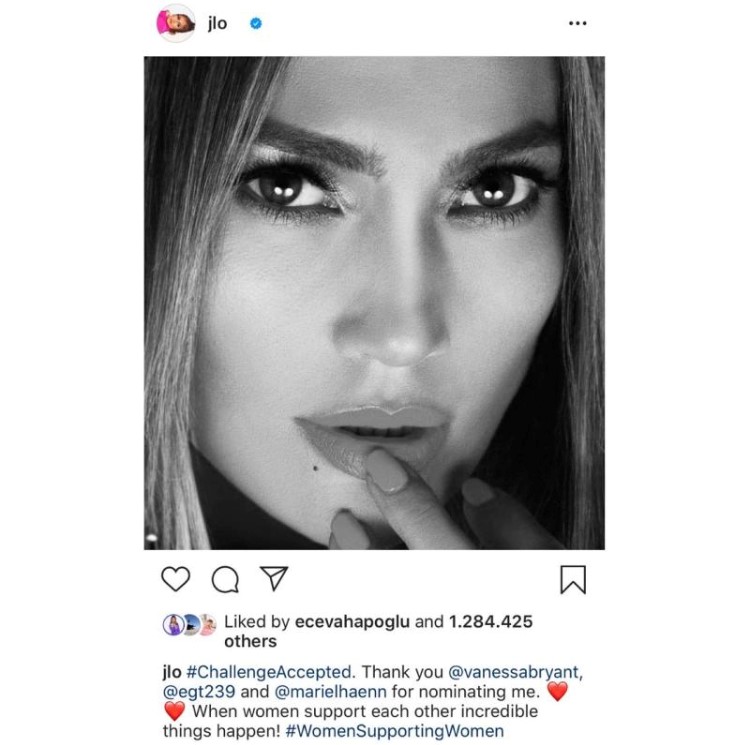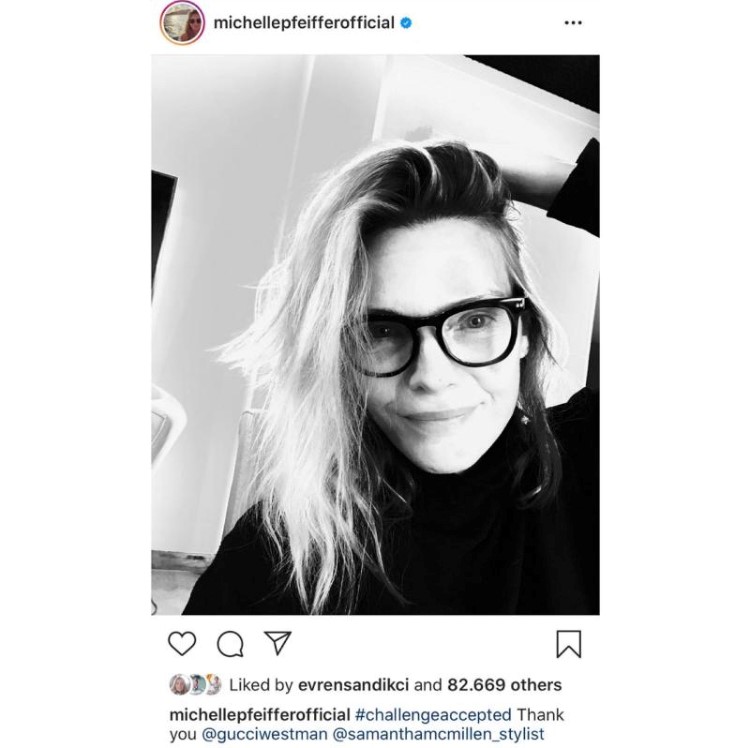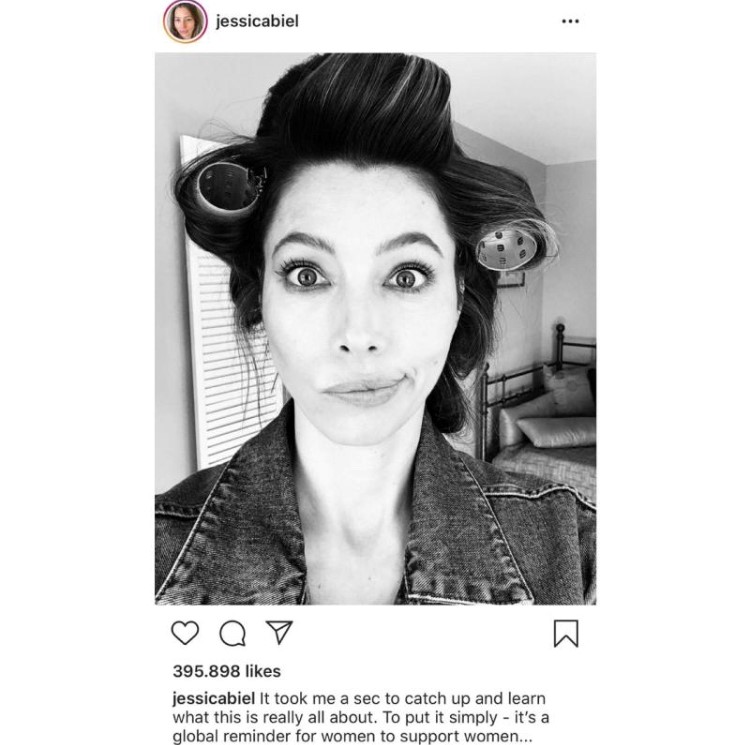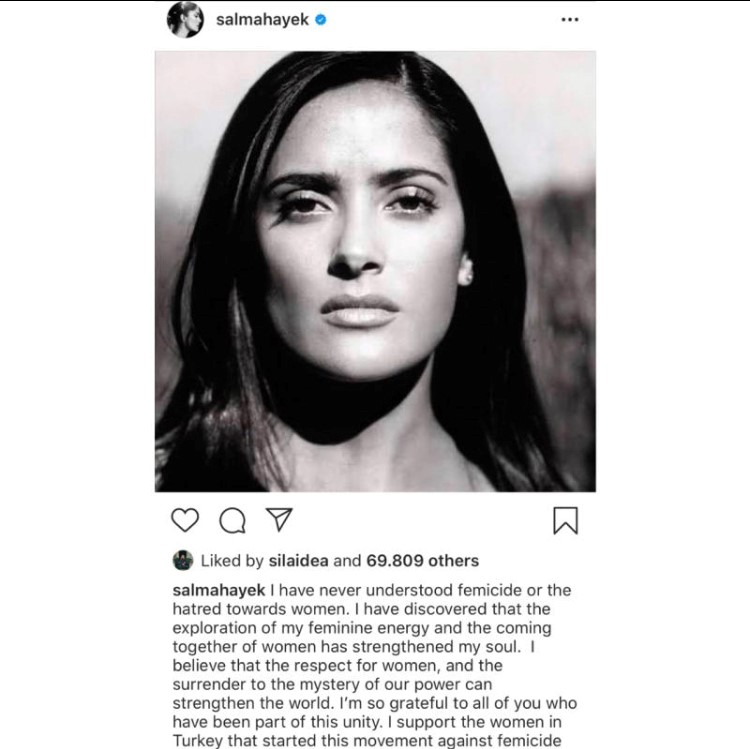 We also witnessed articles giving detailed information about this campaign and explaining the situation:
https://www.oprahmag.com/entertainment/a33433304/women-supporting-women-challenge-instagram/?utm_campaign=likeshopme&utm_medium=instagram&utm_source=dash%20hudson&utm_content=www.instagram/cigKig
In all posts made on social media, women referred to the Istanbul Convention. Let's briefly remember what the Istanbul Convention is:
The Council of Europe Convention on Preventing and Combating Violence Against Women and Domestic Violence (in short, the Istanbul Convention), which was opened for signature in Istanbul on May 11, 2011, entered into force on August 1, 2014.
In particular, violence against women and girls and bearing the characteristic of being the first European agreement aimed at domestic violence, was approved by 20 members of the European Council including Turkia.


The first legally binding document
Turkia, signed the Convention which was opened to signature on 11 May 2011, and enacted on March 14, 2012. The most important feature of the Istanbul Convention is: preventing and combating domestic violence (for example, violence perpetrated by former or current spouses, extramarital partners, co-resident family members, relatives or others residing) and all forms of violence against women, regardless of biological or legal, familial ties and is the first document that sets standards and legally binds European countries. For details, you can read the news on the link https://www.sozcu.com.tr/2020/gundem/istanbul-sozlesmesi-amaci-nedir-istanbul-sozlesmesi-nedir-5953742/. You can find it at coe.int/1680462545.
We cannot say that the Istanbul Convention is accepted in every country. Some European countries signed this and then changed their minds, and some never signed it at all. But overall, women in Turkia were actively reminding requests in the implementation of this agreement.
These are all good developments, but if I have to give my opinion, frankly, the Istanbul Convention evokes a token agreement signed between countries but never implemented, and accepted just for the sake of form.
To get to the point, many women besides Pinar Gultekin were brutally murdered. Ozgecan Aslan, Sule Cet, Emine Bulut and unfortunately many more. In the past, I have written as much as I could about equality, violence and violence against women. I would like to share the link of three of these articles:

https://www.serhansuzer.com/en/thoughts-on-proposed-abuse-legislation
https://www.serhansuzer.com/en/gender-equality-in-word-and-in-deed
https://www.serhansuzer.com/en/from-a-united-tolerable-society-to-a-violent-one
Here I am talking about the same problems and solutions over and over again. Unfortunately, we have not progressed by the size of a grain in the past years.
I can say that this #challengeaccepted campaign will achieve its purpose only if it can create an element of pressure and get politicians to start doing what is required. Otherwise, the women would simply cry out their rebellion and the incidents will remain. I would also like to remind you here again what the politicians should do (there are excerpts from my previous article). Of course, some things should not be expected only from the government. There are some jobs that non-governmental organizations can do on some issues, and even serious tasks fall on the private sector and individuals.
1) Education is a must!
I say this everywhere, all the time. I've written about this over and over again. You can read my article titled "Education, Education, Education, it matters most" at https://www.serhansuzer.com/en/education-education-education-it-matters-most link. I'm not just talking about education at school, I'm actually referring to 3 types of education we have to touch on:
First, education for ages 2 to 10; During this period, the child's perceptions are very clear and he takes everything given to him. For example, in developed societies, I say parents should take their children everywhere including to charity work to instil social responsibility from the age of 2. When those children grow up with a sense of benevolence, they grow up with a benevolent identity and are able to maintain that sense of responsibility in their lives. This is really important.
The second most important education is the education of parents. Parents need to be more conscious of what emotions they should instil in their children and how to treat them. There are NGOs such as AÇEV that do successful work on parent education, but if we assume that these trainings should be given in all households, these benevolent and beneficial initiatives are definitely not enough. Parental education should be compulsory and must be implemented quickly throughout Turkia. In this way, you can prevent the feeling of violence that is conveyed to the child by the mother or father, willingly or unintentionally.
Finally, another type of training that needs to be focused on is education of the trainers. There are many things missing from the teachers or instructors in Turkia, according to my observations. It is necessary to make up for these deficiencies. Teachers or trainers who will prepare children for life must first of all learn what to talk about and how to convey them, and they are ready for life. I believe there are millions of teachers who are missing such things in Turkia. After their basic deficiencies are eliminated and children are prepared to prepare them for life in the most correct way, the instructors should be constantly trained and equipped with information and transferring up-to-date information to their students.

2) Punishment
It is necessary to give the heaviest punishment without compromise to those who commit violence. I'm not talking about fines. You will pay heavily and apply it without compromise. It should be engraved on the head of a violent person who has sanctions for what he does, so that he avoids violence and is a real deterrent. I'm talking about really deterrent penalties here. Uncompromisingly, a rapist needs to be castrated and imprisoned, and a murderer needs to be sentenced to life imprisonment.
3) Technology
This issue doesn't come to mind as much. However, technology is a serious tool to prevent violence. You can use technology to detect and monitor violent incidents in advance. Again, in order to prevent violence, you can develop systems that will allow the relevant authorities to respond immediately. In addition to the effective use of advanced cameras; You can prevent violence with methods based on WiFi or Bluetooth facilities and different defence systems. I recommend looking at analytics technologies here. In the future (we probably won't see this in our generation) they'll put chips on people. Then the problem will be largely resolved. But now it's too early to talk about it. After determining the problem and the cause of the problem, of course, deterrent penalties should come into play.
4) Media
The mainstream media should also stop fuelling violence. On the contrary, they must focus on anti-violence publications. In order to increase the ratings, strong sanctions must be applied to organizations that do the opposite. You will not have pity for those who incite violence. Especially the tabloid press and sport press are repeat offenders in Turkia. Sanctions should also be imposed on anyone who encourages violence, directly or indirectly, on social media. This includes fan groups swearing at each other on social media. At least you can close down their account. They need to help avoid openings of 'fake' accounts. Social media users who commit verbal violence or pave the way for physical violence really need to be punished severely, as I mentioned above.

5) Economic development
We can see that fanaticism is declining in countries with high economic development. When economically well-placed people start their own lives and have families, their tendency to violence decreases. Because they have a lot to lose. The most dangerous and most violent people are those who have nothing to lose.
6) The participation of our people in production
I would like to talk about the importance of participating in production with economic development. In general, people who work, produce and have dreams do not inflict hurt. Every person has a talent or skill and grows with dreams. If we want to achieve prosperity in a country, we need to ensure that people achieve their dreams and contribute to society by doing the jobs they enjoy. Otherwise, violence is constantly fed and grown with the proliferation of people who do not produce and do not pursue their dreams and passion.
7) Inoculation of a positive culture
It is necessary to instil a positive culture in the media, social media, educational programs, and every possible medium. It is imperative that we quickly cease to be a community of negative and aggressive people. Because this negativity ultimately results in violence.
8) Proactive approach
I am talking about detecting those who have a tendency to violence in advance and following them closely. Technology can be used here, and psychologists too, who in particular, can play an active role in this process. In this way, we can prevent many acts of violence.
9) Bad "boy" curiosity
There is definitely an explanation for this in psychology. In short, too many women like and find bad "kids" attractive. I do not use the word child here as in the child you know. I'm using this word about men the way women use it in Turkia. I use its full English meaning "Bad Boy" as it is used in Turkish. In other words, I use it as a tough man who is a free-lance, cheater, constantly flirting with other women, who is not afraid of fighting, uncontrollable, you cannot predict what he will do.
If you notice, the violent tendency of the men with the above-mentioned characteristics are much higher than the more straightforward, trustworthy men who you can guess what they will do. Many women are prone to bad boys because "something is missing", even when they have a wonderful relationship that cherishes them. After that, they find themselves in violent incidents. Do you think there is nothing wrong here?
It is necessary to ensure that women find straight and man-like men more attractive so that many violent incidents can be prevented. Frankly, I cannot make a suggestion on this issue, as I do not claim to have solved the equations with women.
Again, women know the solution to this. In fact, female psychologists can combine their training and instincts to find a way to correct this reverse psychology. This is an important issue that should definitely be considered.

10) Women starting to train men in the right direction
It is women that raise men, as in, their mothers. Women who raise their sons by saying "you are like a lion my son, you can do anything, you are a king" should be warned. After all, it is a great mistake for men who consider themselves a king or a prince to think that they will undertake such events and get away with them. Women should raise their sons respectfully and equitably. In fact, a list with the top 11 of egalitarian masculinity was published recently on social media: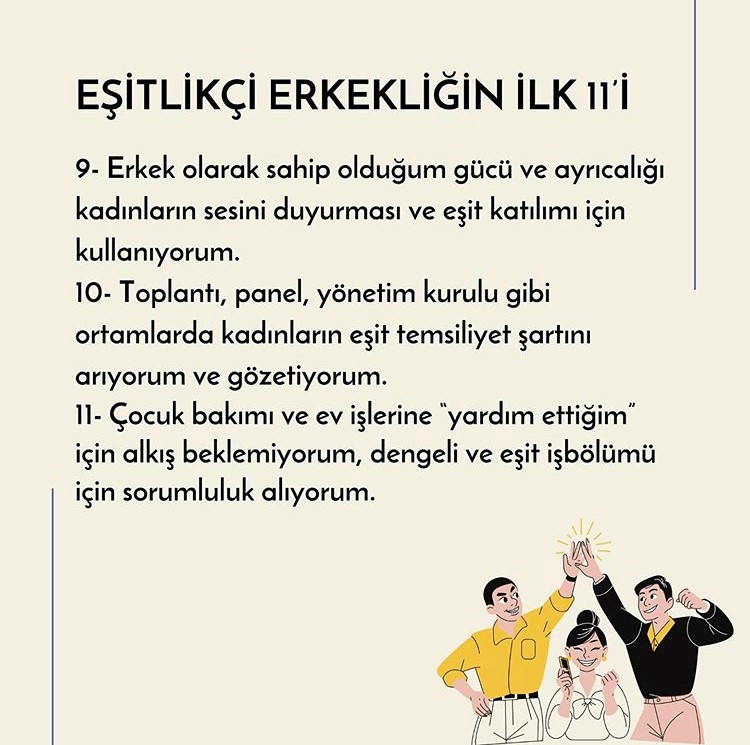 I also agree with what is written on this list. Do you think many women in Turkia are raising their sons according to these opinions? I would like to draw attention to this issue.
Also, many women can get the biggest attacks from their own kind. In professional life, I know many women who say, "I never want my supervisor to be a woman." Here's another example. One of Turkia's most popular style of comedy series played by actress Gupse Ozay who recently married Baris Arduc, suffered many blows by being labelled "ugly". I share the related news: https://www.hurriyet.com.tr/galeri-en-mutlu-gununde-gupse-ozaya-yapilan-cirkinlik-41577034/1
The majority of those who carried out these attacks are women. In other words, women can be very cruel to their own kind. Don't you think that in this kind of environment, violence will always be fuelled?
In summary, we have a long way to go to minimize all forms of violence, especially violence against women. We can start change from ourselves and our immediate environment. #challengeaccepted
Note: As I do every year, this year I will take a break from my articles in August. In September, I will be resuming my new articles with full content. Take care.
Bonus:
Due to such bleak news in Turkia, I believe I need to shine the light on some wonderful women role models in Turkia and share the news about them signing on to some world firsts in their profession. For this information, I like to thank Dr. Emir Onguner.
This is an interview conducted in 1937 with some very successful women about what professions young women should choose:
-The first Turkish female gynaecologist Dr. Pakize İzzet said, "The country needs female doctors. Since being a doctor does not prevent motherhood, the opportunity to serve the country in two directions is not missed''.
-The first Turkish woman lawyer Sureyya Agaoglu said, "Being a lawyer is difficult, it is tiring. Enduring force is not only a male trait''.
-Assoc. Dr. Fahire Akif from Istanbul University Zoology Institute said, "I recommend our daughters find the strength of renunciation and permanent work in themselves to look into scientific research".
-A Doctor of Philosophy from the Istanbul University Pedagogy Institute, Dr. Refia Ugurel said ''I think being a teacher is at the top of the profession that suits women".
-Isbank Galata Branch Transactions Chief, Mukerrem Cermen said, "I would like to have authoritarian bankers of females in this field''.
-Sabiha Rustu, the first Turkish woman illustrator and painter said, "It seems to me that the keys of the piano sound better with the woman's fingers''.
Source:
Tan Gazette, 20.10.1937, Taha Toros Arşivi, Belge No: 001511206006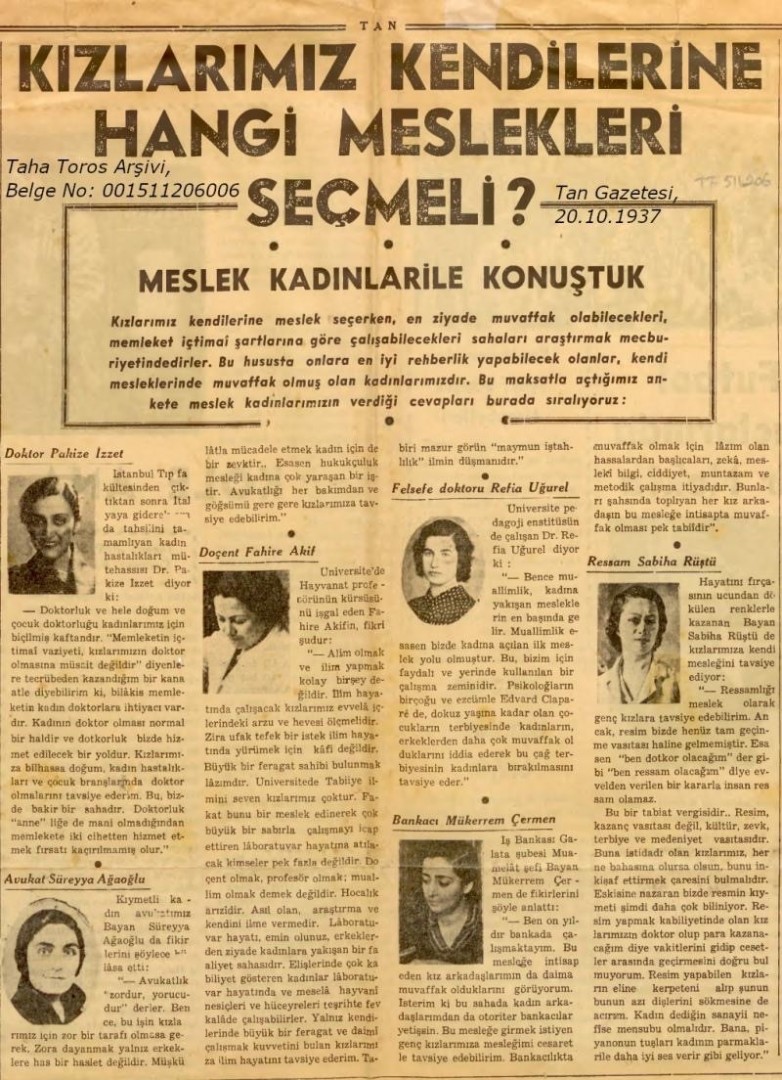 Tag: eğitim