How did Festtogether begin, and how did the first one go?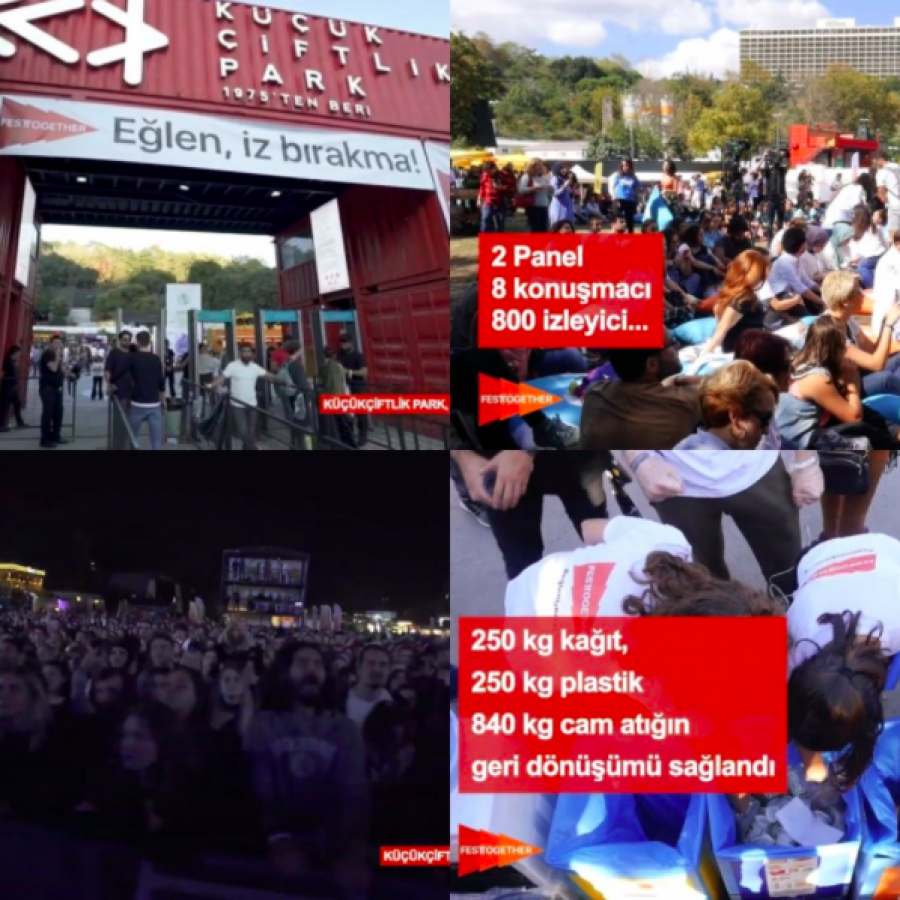 At the beginning of 2019, I was very happy when my friends Ali Ercan and Mert Fırat, co-founders of İhtiyaç Haritası (Needs Map), contacted me and said, "We are planning to organize a festival, we want to implement your vision of preventing waste in this festival." In this week's article, I write about how Festtogether came about, how it was organized with the motto, "Eğlen İz Bırakma" (have fun, leave no trace) was found and what happened in this first festival.
In my last blog post, I stated that I will reserve my next post for the first Festtogether held last year. For me, everything started when Ali Ercan and Mert Fırat called me and said, "We want to organize a festival where we will apply your vision of preventing waste." I also stated that it was a great idea to implement the vision of avoiding waste that we achieved in the Bozcaada Race and Cunda Triathlon in a music festival and said "We will provide the support we can". Later, TIDER's chairman of the board, Hande, and general manager Nil, and all relevant TIDER executives and professionals became a part of the organization.
I am sharing the Bozcaada Run and Cunda Triathlon videos to remind you of these events:
A WhatsApp group was formed and besides the main organizers such as İhtiyaç Haritası, Idema and DasDas, managers of different NGOs such as Adim Adim, Faik from UNDP, and opinion leaders of the non-governmental world joined us too. Other NGOs contributing to the festival were the TEMA Foundation, Çaba Derneği, TOG, Tohum Autism and Sosyal Ben. We started to talk about all the details of the organization on WhatsApp.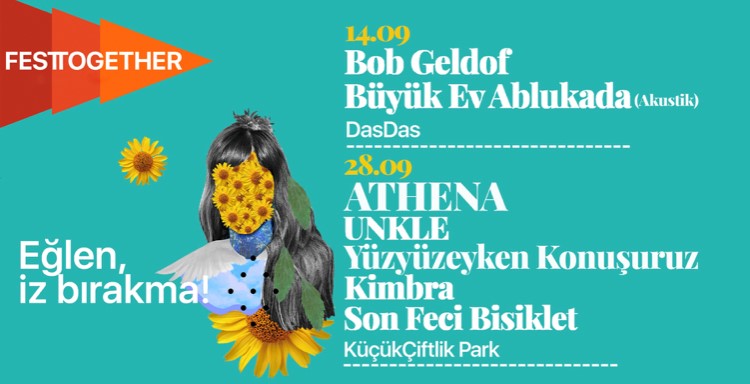 World star Bob Geldof on stage
News about the event started to appear on different channels. I would like to share the interview with Itır, Hande and Mert published in Klass Magazine as an example: http://www.klassmagazin.com/eglenenken-iz-birakmem-mottosluluk-festtogether
The first organization date was July 14, but later this date was changed to the start of September 14 and the main event was on September 28. In the first leg of the organization on September 14, Bob Geldof performed at DasDas. Over a thousand participants took part in this very enjoyable event. I would like to share the images from the Bob Geldof concert with you:
Then, on Saturday, September 28, the main event was held in KüçükÇiftlik Park. You can view the schedule of this event and all related details on the official website of Festtogether 2019: http://www.festtogether.com/2019/index.html
The Festtogether team and all NGOs participating in the festival cleaned the Maçka Park with the volunteers (Basic Needs Association) the day before the festival. The festival, which started with the run of Adım Adım in Maçka Park, continued with yoga. TIDER managed the waste process in the festival area. İhtiyaç Haritası collected the books and musical instruments brought by the guests to commence music classes and libraries for village schools. The panels started after the workshops of Buğday Ekolojik Yaşamı Destekleme Derneği, Toyi and Puduhepa and Kız Kardeşleri. The concert then started from 4pm onwards.
Participants in the festival had a great time with concerts by Bob Geldof, Mor ve Ötesi, UNKLE, Kimbra, Sophie Hunger, Son Feci Bisiklet and Athena.
I would like to share with you the video summarizing this amazing event:
I requested detailed information about the event from Itır. Here is the information Itır shared about Festtogether:
How did we have fun together?

● 8,500 visitors, 9,850 spectators with the event in DasDas

● 16 NGO participation

● 75 waste sorting volunteers

● 2 panels, 8 speakers - 800 spectators

● 11 sponsoring companies

● Vegan Dining Area for the first time in the festival area in Turkia

● 3 local and 2 foreign music groups

● 13 hours of continuous operation

● 300 people employed

How Did We Leave No Trace?

● 250kg of paper, 250kg of plastic and 840kg of glass waste were recycled.

● The amount of recycled waste per capita was recorded as 260 grams.

What Did We Avoid?

● With the environmental benefits of the activities within the scope of the event, 2,760 kW / hour of electricity, equivalent to the annual consumption of a family of 4, 66.67 cubic meters of water equivalent to the annual consumption of an individual, and 45 litres of fuel saving to fill the tank of an average vehicle were achieved.
● The cutting down of 50 adult trees on an average acre of forest land was prevented.
As you can see on the official website http://www.festtogether.com/2019/index.html "Have Fun, Leave No Trace!" event organized with the motto, is defined as follows:
By focusing on the concept of "sustainability", which means "the long-term reproduction of a system to maintain itself", the festival, which promises entertainment and good music, calls on everyone to protect the world.
All major festivals in the world generate a total of 20 thousand tons of waste each year. The per capita figure is 2.8kg. Festtogether's main goal was to use the unifying power of music to raise ecological awareness.
Was it successful? Yes, I think the goals have been achieved. Festtogether has made important contributions, especially in terms of raising awareness about the concept of sustainability amongst young people.
With last year's Festtogether and this year's Festtogether at Home festivals, all participants have been able to have a good time, increase their social awareness and take action to benefit society.
I congratulate everyone who contributed. Hope to see you at more events such as Festtogether and Festtogether at Home that highlight the social benefit and enable us to enjoy the "moment".
Tag: ekoloji