Famous McGill alumni and notes on "the underground"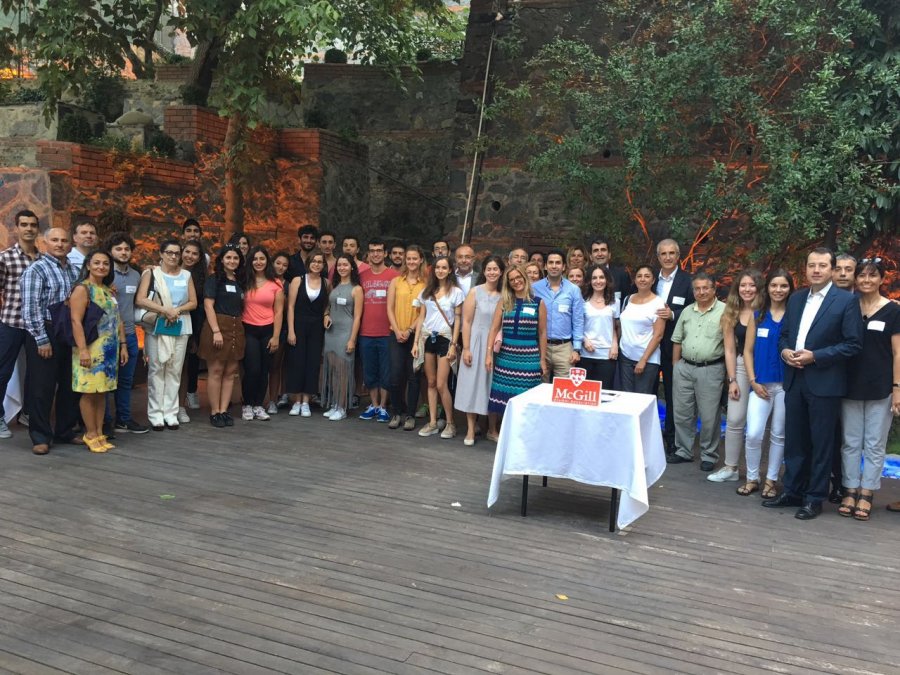 I wrote last week about how I was accepted at McGill University and the major impact my experiences there have had on the rest of my life (http://serhansuzer.com/en/broadening-my-horizons-at-mcgill- ) This week I'd like to share a more detailed account of Montreal and its social life – much of which takes place underground – as well as a brief list of alumni from my university who have made their mark in the world.
First, let me provide a brief summary cribbed from Wikipedia: Founded in 1821, McGill University is a public university located in Montreal, Canada. The oldest university in Canada, it has become one of the most prestigious institutions of higher learning in the world. The university bears the name of James McGill, whose bequest in 1813 formed the university's precursor, McGill College. There are two campuses spread over nearly 80 acres, with the main one, set at the foot of Mount Royal in Downtown Montreal, also the site of the Redpath Museum. The second campus, "MacDonald Campus," is located 18 miles west of the main campus. All of the academic units are organized into 11 main Faculties and Schools, and the university serves up to 34,000 students. Instruction is provided in English and French.
A cosmopolitan university with students from a wide range of countries, McGill, which is described as the Harvard of Canada, is particularly likely to accept Turkish students who have studied at French or American high schools in their home country. Outside of France, it continues to be a top choice for French high school graduates. The reason for this – other than that McGill is a prestigious institution – is that it is located in Montreal, a city that is part of Quebec province, where French is used daily. Another thing that sets McGill University apart is its being a research university. Students and faculty members there have been credited with numerous discoveries and inventions.
In my piece on McGill last week I mentioned an event held in Istanbul at the end of July. Attended by about 50 people in Kuruçeşme, Istanbul, this pleasurable event was called "Welcome to McGill."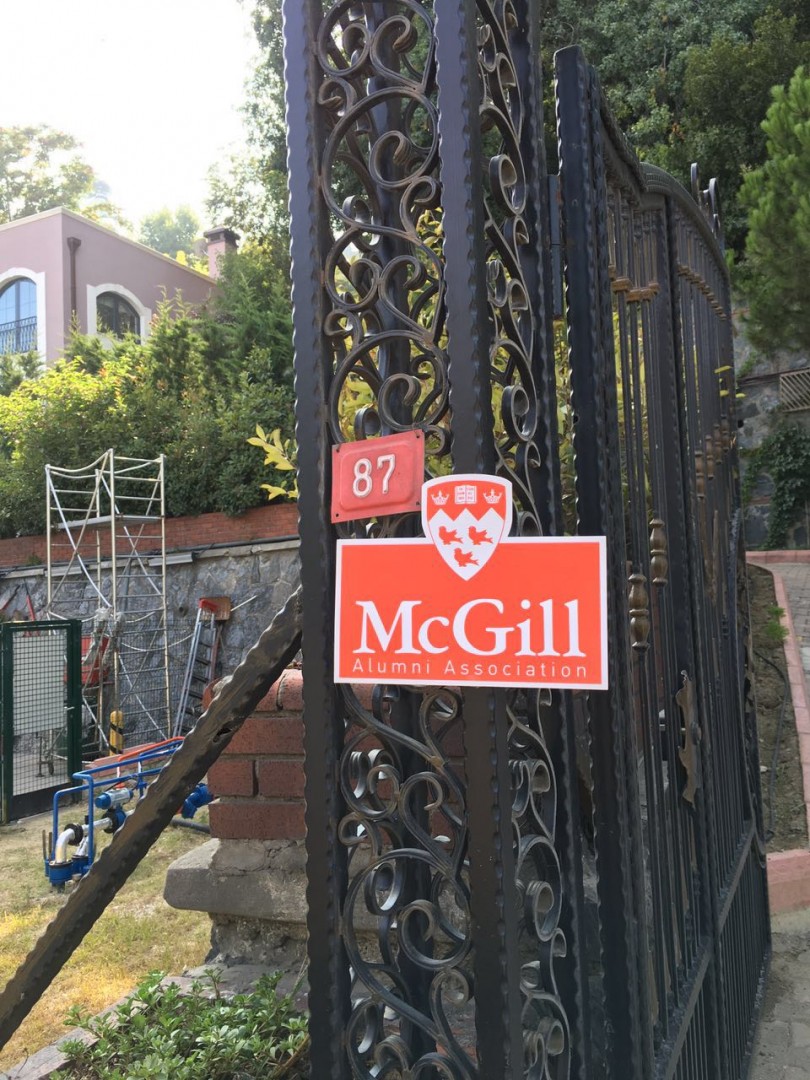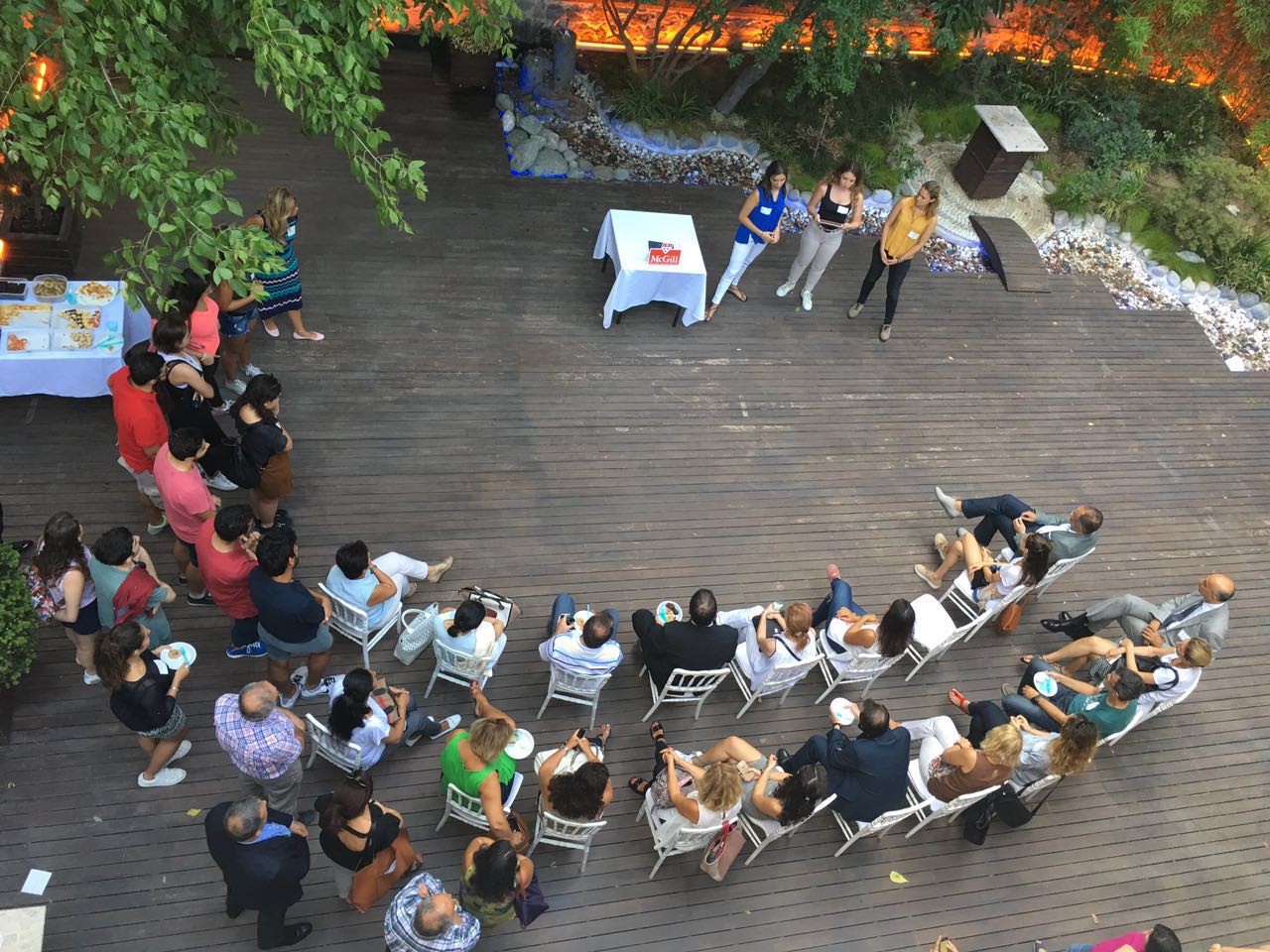 The Alumni Online Community of the McGill Alumni Association - MAA, contacted via e-mail those of us, students and alumni alike, who are registered in this area.

The event was hosted by the sisters Uğurgül and Melike Tunç. Murat Polat, who is about to begin classes at McGill, helped contact new students. Current students Elif Ezgi Aksulu, Yasemin Biçer and Turkish Students' Society of McGill University (TSSMU) Chairperson İlayda Abacıoğlu volunteered their support and made a presentation at the event. A fellow alumnus and valued friend, Zeynep Meydanoğlu, printed out the name tags, and Zeynep Çiçeker made brownies and cookies.
Zeynep Çiçeker is the founding chairperson of TSSMU. We joked a lot about TSSMU that evening. I took over as TSSMU chairman after Zeynep Çiçeker, and it was a delight to chat with her and the current chairperson, İlayda Abacıoğlu – three chairpersons, side by side.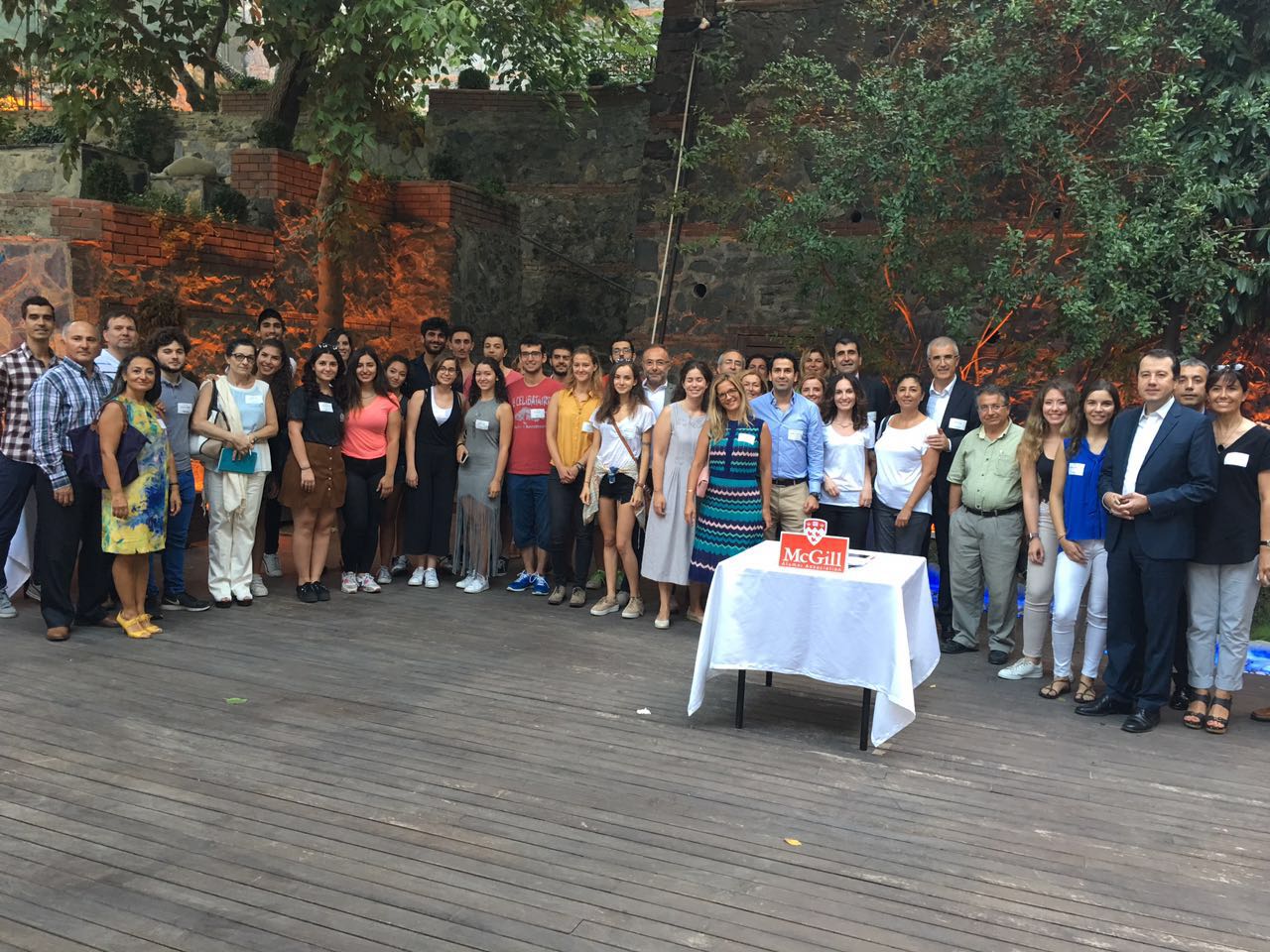 A group photo at the end of the event
Cancellation followed by a great get-together

Actually, the event was originally going to be held at the Istanbul Technical University's School of Architecture, but was cancelled after the coup attempt. Uğurgül contacted me at that time and asked what I thought. I told her that it would be wrong to cancel, that life goes on and that the international media had exaggerated events in Turkey and damaged our image. In short, I thought there was no reason for anyone overseas to heed the cautions of others, because those of us living here on the ground could see that life was swiftly returning to normal, making it unnecessary to cancel the event. Uğurgül was characteristically quick to take action and reorganized the event. What's more, it was now being held in what I think is an even nicer and more intimate venue in the garden of a private home on the coast of Kuruçeşme. In the end, everyone had a good time and the positive feedback ensured that we will be holding similar events in the years to come.
The event gave me the opportunity to chat with recent graduates from McGill, students soon to begin the academic year and the parents of both groups. They asked me a number of detailed questions. This is classic Turkish-style: the parents ask more questions and are more involved even their children. You'd think it was the former who were about to attend McGill. It's for this reason that I think it's good for children that have led sheltered lives at home to go overseas, handle everything on their own, learn what real life is and stand on their own two feet.
During one of the chats I described above a mother asked me which year I was in. Smiling, I told her I'd graduated 17 years ago. The look of astonishment on her face was priceless.
The Canadian Embassy asked for a quote on my personal experience to be used in promoting universities in Canada. It appeared in the promotional material as seen below: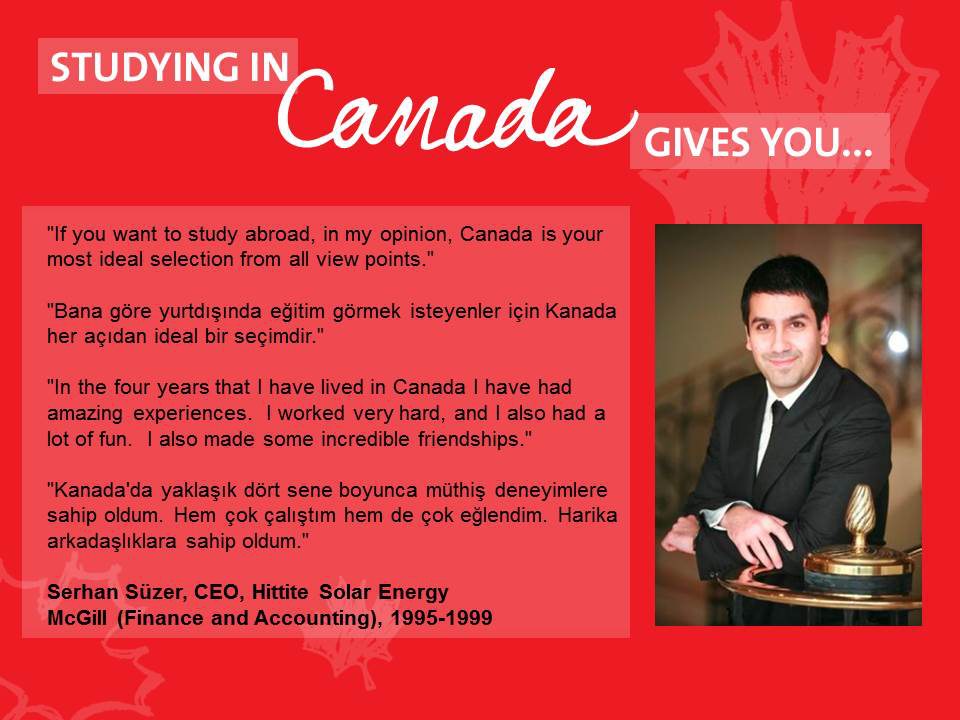 All of the alumni assured the parents at the event that their children were going to the right place and would be on a great career path once they graduated. They also shared information about Montreal and McGill University. What they said was true. McGill graduates have excelled in their careers.
World-renowned alumni

Some McGill graduates have not only been successful, they've made history. Among these are eight Nobel Laureates, three astronauts and two Canadian prime ministers. In the most recent Canadian elections in 2015, Justin Trudeau was elected prime minister. There are a group of "special people" who continue to do their alma mater proud. I've listed some of them below, with the help of Wikipedia: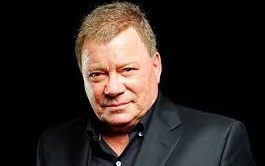 William Shatner (Actor, Producer)
William Shatner was born on March 22, 1931 in Montreal, Quebec. He graduated from McGill University with a degree in economics in 1952.
After working for a time as a business manager, Shatner joined the Canadian national theater in Ottawa. He took a number of small roles there before performing for the first time on Broadway in 1956. While Shatner's cinema career officially began in 1951, his career really took off with the 1958 film "The Brothers Karamazov," starring Yul Brynner. He went on to star in a series of films, starting with an appearance on American TV in Hitchcock's "The Glass Eye." Shatner's big break came when he was cast as Captain Kirk of the Starship Enterprise on "Star Trek," a TV series that began airing in Turkey on October 17, 1972. Shatner is unique among Canadian actors for being the first to star on all three major networks: NBC, CBS and ABC. In 2005, he won both an Emmy and a Golden Globe for his portrayal of Danny Crane on "Boston Legal."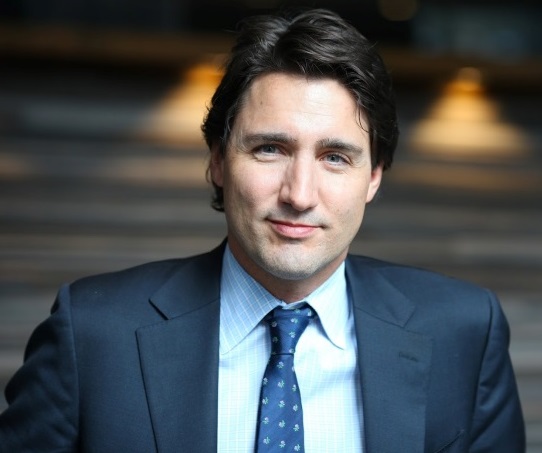 Justin Trudeau (Politician, Canadian Prime Minister)

Born on December 25, 1971, the 23rd prime minister of Canada and the leader of the Liberal Party. The second youngest prime minister in Canadian history, after Joe Clark. The oldest son of the legendary former prime minister, Pierre Trudeau, after whom Trudeau Airport in Montreal is named.
Justin graduated from McGill University in 1994. After his father died, he began taking a more active part in politics and succeeded in 2008 in being elected to represent the riding of Papineau in the House of Commons. After serving his party in a number of positions he won the leadership of the Liberal Party on April 14, 2013.
On October 19, 2015, Trudeau led his party to victory in federal elections and was sworn in as the 23rd prime minister of Canada on November 4, 2015.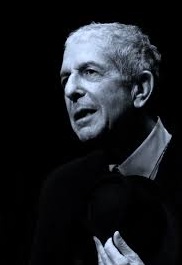 Leonard Cohen (Poet, Musician)
Born in Montreal, Quebec on September 21, 1934, Leonard Cohen is a Canadian singer, songwriter, poet and novelist. In 1951, Cohen enrolled at McGill University, where he became president of the McGill Debating Union. After graduation he attended McGill Law School for a year. His first book of poetry, Let Us Compare Mythologies, was published in 1956 while Cohen was still a student. Spice-Box of Earth, published in 1961, helped Cohen gain recognition, especially in the poetry scene in Canada.

In the '70s, Cohen's musical style included pop, cabaret and world music, while in the '80s he was known for his bass-baritone vocals, female back-up singers and layers of instrumentation. His work has explored religion, politics, isolation, sexuality, and personal relationships, and over a thousand other artists have covered and recorded his songs. Cohen has been inducted into both the Canadian Music Hall of Fame and the Canadian Songwriters Hall of Fame, as well as the American Rock and Roll Hall of Fame. He is also a Companion of the Order of Canada, the nation's highest civilian honor.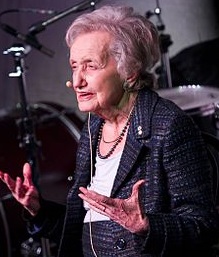 Brenda Milner (Neuropsychologist)
Born July 15, 1918, Milner is a Canadian neuropsychologist who has contributed extensively to the research literature on various topics in the field of clinical neuropsychology, sometimes referred to as "the founder of neuropsychology." Milner is a professor in the Department of Neurology and Neurosurgery at McGill University. She currently holds more than 20 honorary degrees and continues to work in her nineties. Her current work explores the interaction between the brain's left and right hemispheres. Milner has received numerous awards for her contributions to neuroscience and psychology including memberships in the Royal Society of London, the Royal Society of Canada and the National Academy of Sciences.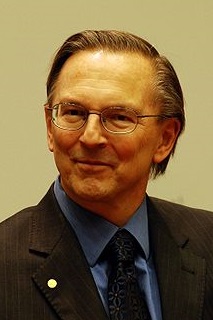 Jack Szostak (Biologist)
Born on November 9, 1952, Szostak is a Canadian American biologist, Professor of Genetics at Harvard Medical School, and investigator at Massachusetts General Hospital, Boston. Jack Szostak graduated from McGill University Medical School in 1970 at the age of just 19. He was awarded the 2009 Nobel Prize for Physiology or Medicine, along with Elizabeth Blackburn and Carol W. Greider, for the discovery of how chromosomes are protected by telomeres.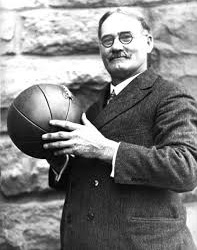 James Naismith (Physical Educator)
A Canadian sports coach and innovator, Dr. James Naismith (1861-1939) invented basketball and the helmets used in American football. He earned a degree in Physical Education at McGill University. After moving to America, where he worked as a physical educator for many years, Naismith perfected the sport of basketball he had been imagining for years. This game, which involved a soccer ball and wooden peach baskets hanging at opposite ends of the court, was at first designed as winter training for athletes and baseball players. In short, basketball, the most popular sport in the world after soccer, was invented by a graduate of my alma mater.

Inside info on Montreal

While we're on the subject of graduates from my university, all of us have had common experiences we can share, the sort of information that only students at McGill or people from Montreal could tell you:

- Life underground: Due to the harsh winter conditions, another world exists below Montreal. Instead of going outside in the winter, Montrealers tend to spend time in underground shopping centers, shops and restaurants. At our university, too, some buildings are connected underground. If you wish to avoid the worst winter days, it is possible to spend the entire time indoors.

- Life aboveground: I generally prefer to be outdoors, even if it's cold. In Montreal, even when it's freezing the days are usually sunny. In fact, when I first arrived in that city I was misled: when I glanced outside it looked like a summer day, even though it was -20°C! The roads were icy as a result. Even though salting solved the problem most of the time, you are bound to encounter icy patches. You learn to deal with the ice, even while walking down the sidewalk. You'll see a lot of people slip and fall. Still, I think it's a lot more fun outdoors than indoors.

- Transport: The metro enables easy access to all parts of the city. Not only is the system extensive, the cars themselves are comfortable.

- Our bilingual school: The city where McGill is located, like the university itself, has the distinction of having two official languages: English and French. The lessons are typically in English but upon request can be received in French. Communications at our school, in the province of Quebec and in the capital city of Ottawa, as well as in most areas of Canada, are in two languages. That means, for example, that a conversation at a meal or at a conference might begin in English, switch to French, go back to English and then conclude in French. I have to admit I was a bit taken back at first, but then I grew to like it.

- Dressing in layers: In many areas of Canada dressing in layers is standard. I did it for years in order to adapt to sudden changes in temperature. For example, on a typical day you might wear a T-shirt, sweatshirt, sweater and coat. Depending on changes in temperature, you can put things on and take them off as needed.

- The language of signs: Quebec is a province settled by French speakers, so all of the signs in the city are in French.

- French Canadians and the French: There are a lot of fascinating characters in Quebec. French Canadians are true originals. For example, they speak French with a strong accent many of my French friends claim not to understand. French Canadians can find the French snobbish. Interestingly, French Canadians have no trouble understanding the French even if the reverse is not true.

- French Canadian women: French Canadians are attractive people, male and female. They're free-spirited and have a unique culture. I even remember walking down the street one day and having a French Canadian woman comment on my looks. As someone from a country where it is always the men who do this to women, I was flabbergasted. It is also quite common for French Canadian women (and by extension, men) to have children out of wedlock.

- City hotspots: Montreal is a lively city. There are all types of events taking place, restaurants, cafes and entertainment venues spread across the city. The busiest streets are St. Laurent, St. Denis, Crescent and St. Catherine, which runs parallel to the others. The Old Port district is also an increasingly popular and hip spot.

- Food: I never had any issues with the food. You can find dishes from all different cultures and regions in Montreal. The best cuisine from Latin America, the Far East, North America, France and Italy is available. When I was a student, the only Turkish restaurant was "Au vieuil Istanbul," run by a married couple. The mezes were excellent. You can also find flavors that appeal to Turkish palates at Lebanese and Greek restaurants and markets.

- The province's motto: The states and provinces in America and Canada all have mottos, which are emblazoned in many cases on the license plates. Florida, for example, is "the Sunshine State." In Quebec, the motto is "Je me souviens," the French for "I remember." This struck me as strange and I asked friends what they were remembering. They told me it was an historical reference to the struggle for sovereignty against the English. I wasn't thrilled to learn this. You've got a wonderful country of which you are a major part, and you still turn past wars into a slogan you put on your license plates. This was the only thing about Quebec and Montreal that didn't impress me.

- Referendum: I was in my first year at McGill and still wondering about the "Je me souviens" motto, when the latent separatist tendencies took on a concrete form. A referendum on the state of Quebec was held. That is, Quebec, the province in which Montreal was located, was voting on whether or not to leave Canada. Can you imagine? I had arrived in what I thought was a placid and uneventful city and then I found myself in a place and where the pro- and anti- camps held marches and events in the Montreal's streets every day. Furthermore, 25 prominent members of the McGill faculty released a joint declaration in which they threatened to leave the university if the referendum won. "I came here to study at the wonderful place and now look what's happening," I said to myself. I did what I could to change the minds of friends who were pro-independence, telling them that they should spend some time in the chaos of the Middle East in order to more fully appreciate how good they have it in Canada. "You live in a great country. Why are you trying to spoil it?" I asked. In the end, the referendum ended in a squeaker, with those voting to remain getting something like 51% of the vote. We all heaved a sigh of relief.


Reverse the brain drain

Speaking of the referendum, there's something I want to emphasize here. I think Canada, which stepped back from the brink of disaster that day, continues to be one of the most prosperous and livable countries in the world.
Here in Turkey, we are going through tough times and we stepped back from the brink of a different kind of disaster just last month. We need to work harder than ever and in a spirit of national unity if we want our country to see ever brighter days.

As a McGill alumnus, let me say to my fellow alumni and to Turks everywhere who have graduated from top schools, have much to contribute to their country, are pursuing successful careers and have important experiences to share: Our country needs your brains now more than ever. We need to reverse the brain drain and ask what we can do for our country.


Tag: eğitim