At the heart of need: Our New Support Market in Bagcilar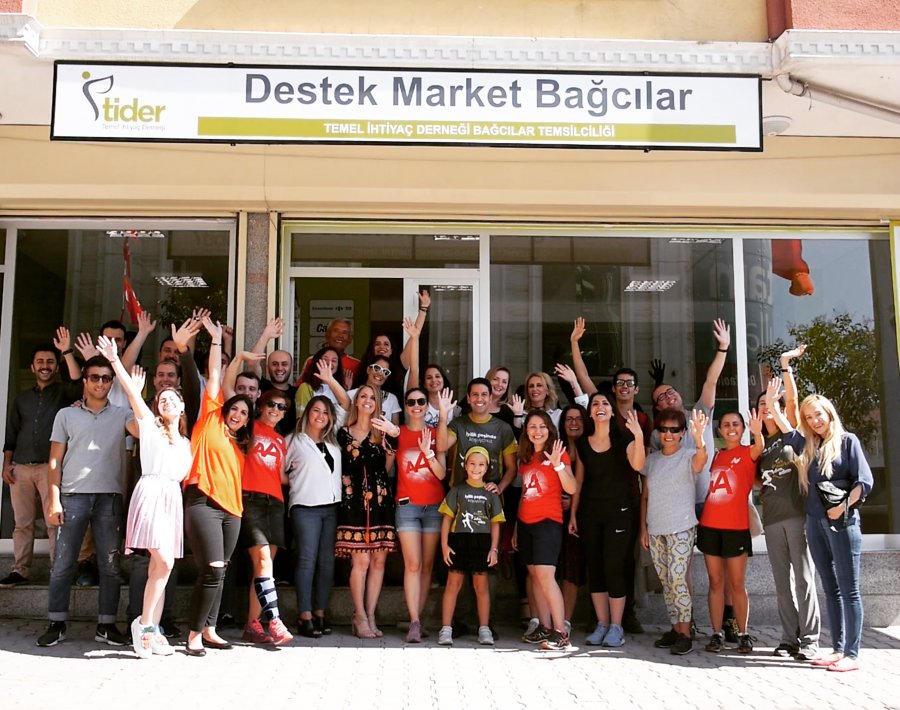 As the Basic Needs Association, we opened our second Support Market in one of Istanbul's most needy areas. In line with our 'umbrella organisation' mission, by updating our definition of food banking, we have put a model forward which we can economically and socially sustain.
When we established our society in May 2010, our mission was set from the beginning 'to be the umbrella organisation of food banks'.
Amongst our establishments, in 2004, on behalf of Aziz Akgul, the 5035 rule of law came into force stating that on a tax basis, there will be reductions to goods relief donated items. You can read about our society establishment story at this link.
http://serhansuzer.com/en/the-ideal-model-to-deal-with-poverty-the-support-project-
You can also read in the 3 links below about how TIDER's model which reduces waste, meets the needs of those people in need and helps assist them to stand on their own feet by providing employment and other benefits:
http://serhansuzer.com/en/a-single-salve-for-three-wounds-support-project-1
http://serhansuzer.com/en/a-single-salve-for-three-wounds-support-project-2
http://serhansuzer.com/en/a-single-salve-for-three-wounds-support-project-3
It all started in 2014 with our general board, when we opened our first support market in Maltepe, which was reconstructed in February of 2015. Since that day, in all conversations, I had said 'this is our pilot project. Next we will open one on the European side of Istanbul, and then we will spread this social support model across Turkey'. In the current year, we started bringing this focus to more attention and started speaking more and more about it with my colleagues and those who professionally helped support us. In the end, as a turning point for us, we opened our second support market in Bagcilar last week.
Here I'd like to mention our General Manager Ezgi Ozkok, our Support Market Director Ersin Ceker and our Support Market Operations Director Burak Kaya and all our workers who have made huge efforts towards this.
Notes from the harder times of the preparation process
I need to say that opening the Bagcilar branch was not easy. We started this process in the first half of 2016 and managed to open it in September 2017. During this process, there were 2 things that took up much time: firstly, to find a suitable area, secondly, the co-operation of the district governor. Our Operations Director, Mr Burak visited many different places in order to find an appropriate place. With the help of real estate agents and networks, they tried a lot to find a place. In the end with the help of a real estate agent, we decided on a 2 storey 600m location in Bagcilar Gunesli near the city centre. It was also important to work together with the district governor. Within 1.5 years we met with 5 district governors or authorised district governors. Of them, 4 were district governors of Bagcilar and vice district governors, and one from the Esenler governor district. Each time we met a new governor, we'd have to start our story from the start and explain everything again. Although we managed to get support from each and every one, due to constant area changes, we couldn't come to an agreement. The most interesting meeting we did have however was with the third one. So you can picture what we went through, I will summarise that day to you.
"Of what benefit is this to you?"
In just the first two minutes of our meeting, without even listening to us, the district governor said 'I don't understand the nature of this business, and I won't allow for something in my district that I don't understand' and wiped out all chance. We tried to explain ourselves one by one. Within five minutes, the expected second outburst came 'who are you guys connected to?' in which I replied that we weren't connected to anyone and that we were the independent children of the Turkish Republic. After we explained our model further, he asked 'of what benefit is this to you?' and we said 'no benefit, we are here to simply help those in need'. In a very surprised way he again asked 'what, so you're not after a tender or anything?'; we responded that we have no interest in tenders and certainly no financial interest or gain in this and the only thing we were after was for the district governor to help us determine a place to help the needy. Afterwards, he invited us to the weekly board meeting. After that first meeting, we made a presentation in the same room to the related authorities and district stakeholders; one of the board members were saying 'we can also do this', to this I explained that food banking required the improved technology that we developed and stressed actually how technical it was and how well organised this needed to be handled.
This long and difficult process didn't deter us from believing in our work and our model. The week we opened the support market in Bagcilar, the tenured district governor commenced his role and we held many positive meetings together. He mentioned that the Social Assistance and Solidarity Foundation would also advise of the people in need who require support, but of course before this, we tried to determine the families in need first. As a result, we were trying out something new in Bagcilar. We formed our own application, evaluation and family seIection process. The person who was to run the whole process was the newly appointed Social Servant profession friend of ours, who was to be of support to the governor, council and families. The data that they gave us about Bagcilar showed us that there were about 100.000 people in need in the district and 40-45% of these were Syrians. Based on the fact that there were 5.000 families in Maltepe, with 10% being Syrian, we needed to account for 20% more in Bagcilar. No one should doubt that we will be able to fulfil this.
And the opening day had come
We had planned for a 10am grand opening. But due to serious traffic jams, some were late so we started at 10.30am. In order, after my speech, the Bagcilar Council Vice Chairman, Mr Mehmet Sirin, the Istanbul Deputy Governor, Mr Bahattin Atci and Istanbul Member of Parliament and Grand National Assembly Commission (TBMM) member, Mrs Mihrimah Belma Satir made their speeches.
Of the speakers, Mrs Belma Satir and Mr Bahattin Atci's comments about my family and I were honourable. I thank them for their wonderful wishes. You can find a copy of my speech below:
Dear Member of Parliament,
Dear Vice Chairman,
Dear Presidents,
Our valued Board Members,
Our valued supporters, the valued members of the press and all guests,
Welcome to the opening of our second Support Market opened in Bagcilar by our Basic Needs Association foundation.
To extend food banking in Turkey and to be a role model on this path, we opened our first Support Market in Maltepe in 2015. We are living the joy of bringing this success to Bagcilar as we did previously in Maltepe. As everyone knows, Bagcilar is a region that has the highest level of poverty parallel to its population. And so we are going to be a part of this fight against poverty in this region with the contribution by government bodies and other civil people movement groups. As we did in Maltepe, we are going to do our best to reach families in Bagcilar that are in need in the easiest way possible, and by also giving them job opportunities within our Support HR platform, to help enable them to stand on their own feet.
Of all the food produced in the world, 1 of 3 goes to waste, while 1 out of 5 families in Turkey live below the poverty line; with the Support Market, we solve both of these problems. After our opening, we are going to walk through the market and you will see many items on the shelves. These goods are those that were going to be destructed. Actually, we have saved them from going to waste. We have managed to stop both waste and the damage which can be caused to the environment during destruction.
We are working to extend this model to the whole of Turkey and then be an example to the rest of the world. And the support market in Bagcilar is a big step towards this. From now on, we will open Support Markets in Anatolia, and with the accreditation and education system we have formed, we will transfer our knowledge and experience to other food bankers and continue to support them with our model and its application. With this aim, we have formed a program to unite support platform and Support Markets with the accredited food banks who are donating the goods, all the producers and retailers. With the help of the HR support platform, we will continue to connect and unite all the users of the food banks with the firms providing employment for these people in need.
To all the people who continuously supported us during our operations, and to those who haven't left us alone today, I'd like to thank the person who has run the food banking developments in Turkey and allowed for its extension, the honourable Grand National Assembly Commission Member, Mrs Belma Satir and to all the commission members, to the Bagcilar District Governor for all their support during our planning and opening process, and also to the Bagcilar Council for being by our side during this planning phase, to CarrefourSA for all their product donations and other support contributions, to Cargill, CHEP, Barilla, Green Chemicals, Nestle, Jacobs, JDE, Evyap, Mondelez, Komsu Firin, Peyman, Unilever and to all our supporters, people who donated, volunteered and our workers, thank you so much. Finally, I'd like to remember and honour my late grandmother who passed away last year. I'd also like to thank her sister who is here with us today, Mrs Aysel Gemicioglu.
Welcome once again.
From a well organised ceremony, we took the below photo of cutting the ribbon: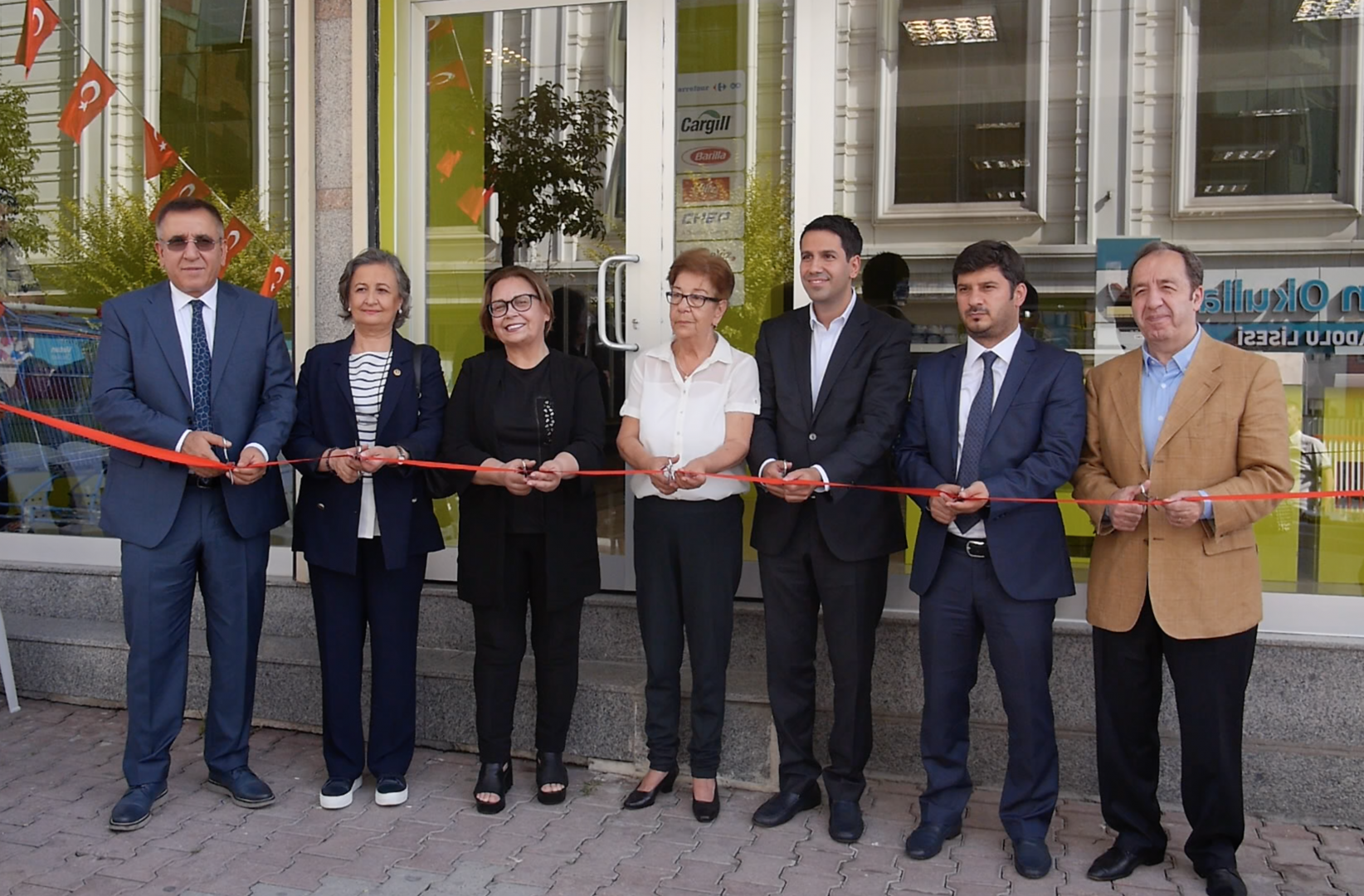 From left to right: Istanbul Deputy Governor, Bahattin Atci, Member of Parliament, Mihrimah Belma Satir, my mother Nazan Ozturk, my mother's aunt, Aysel Gemicioglu, myself, Bagcilar Council Vice Chairman, Mr Mehmet Sirin, our TIDER board member, who was also an ex Member of Parliament, Mr Aziz Akgul.
You can see both my mother and mother's aunt in this photo with me. There is a reason for this. As I mentioned in my speech, we lost my grandmother last year. I wrote an article about her titled 'In the wake of my grandmother: Anatomy of a painful loss'
http://serhansuzer.com/en/in-the-wake-of-my-grandmother-anatomy-of-a-painful-loss
The valuable inheritance from my grandmother
There was an inheritance left from my grandmother to my mother. My mother said she wanted to give this to me. And instead of taking this, I advised I wanted to donate this to the Bagcilar support market. That's why I invited my grandmother's sister to the opening of the market. We are living her memory through the Bagcilar support market.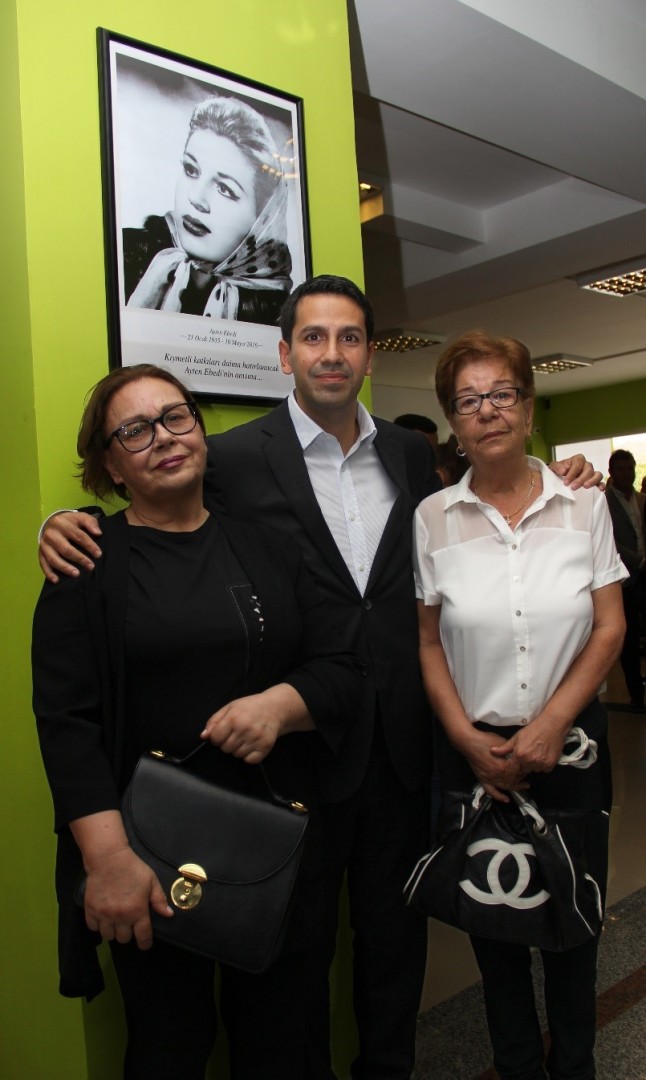 My mother, myself, and my mother's aunt in front of my grandmother's monument.
At this point, I'd also like to thank from the bottom of my heart Adim Adim for setting up campaigns for donations and volunteers to support and allow for our Bagcilar support market to go into operation. We were able to open the Bagcilar support market with their contributions. In order to honour them, we made a note of each and every one of their names on our market wall. And here are 3 photos of that: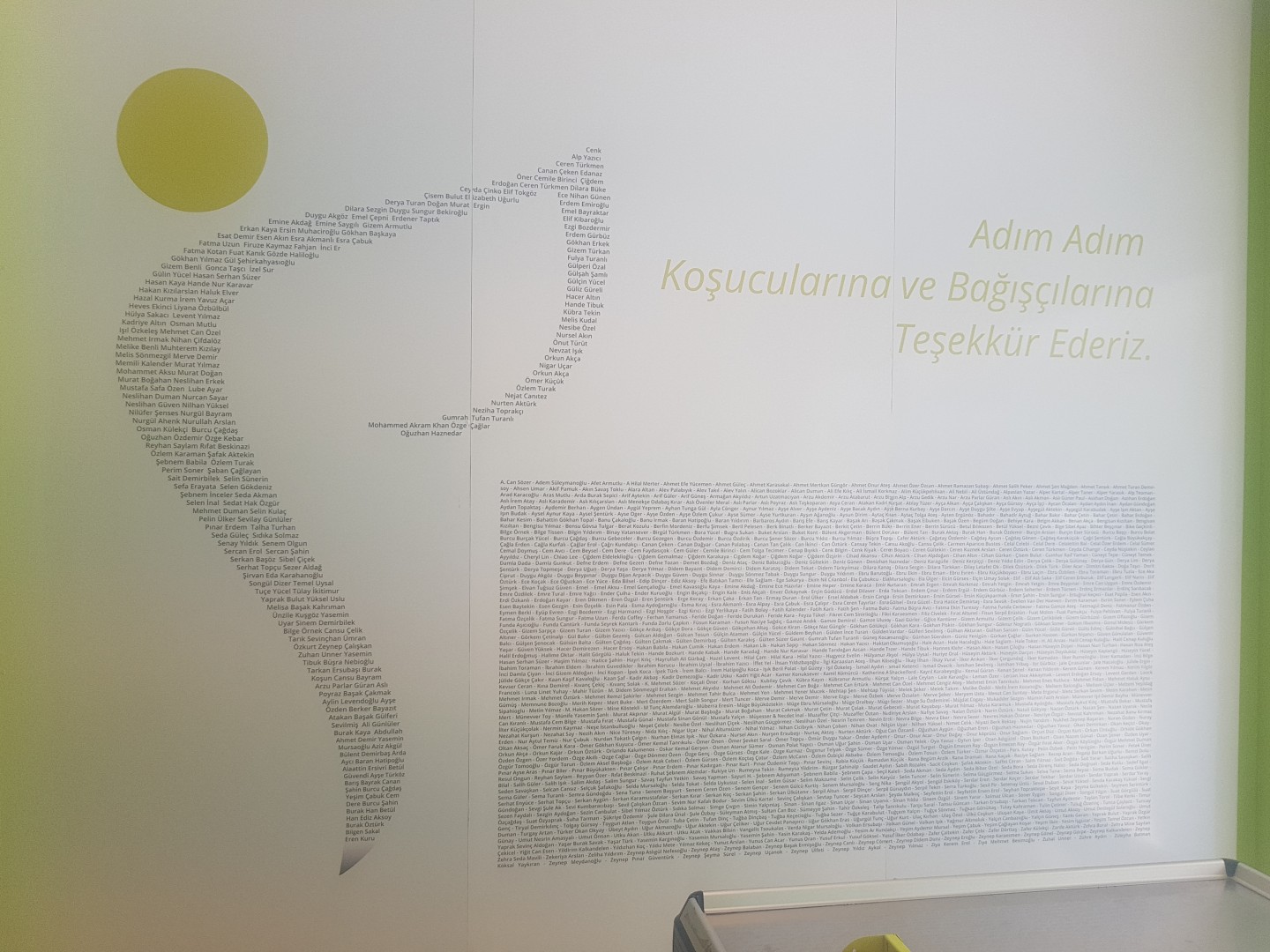 The wall of names of the people who donated on behalf of Adim Adim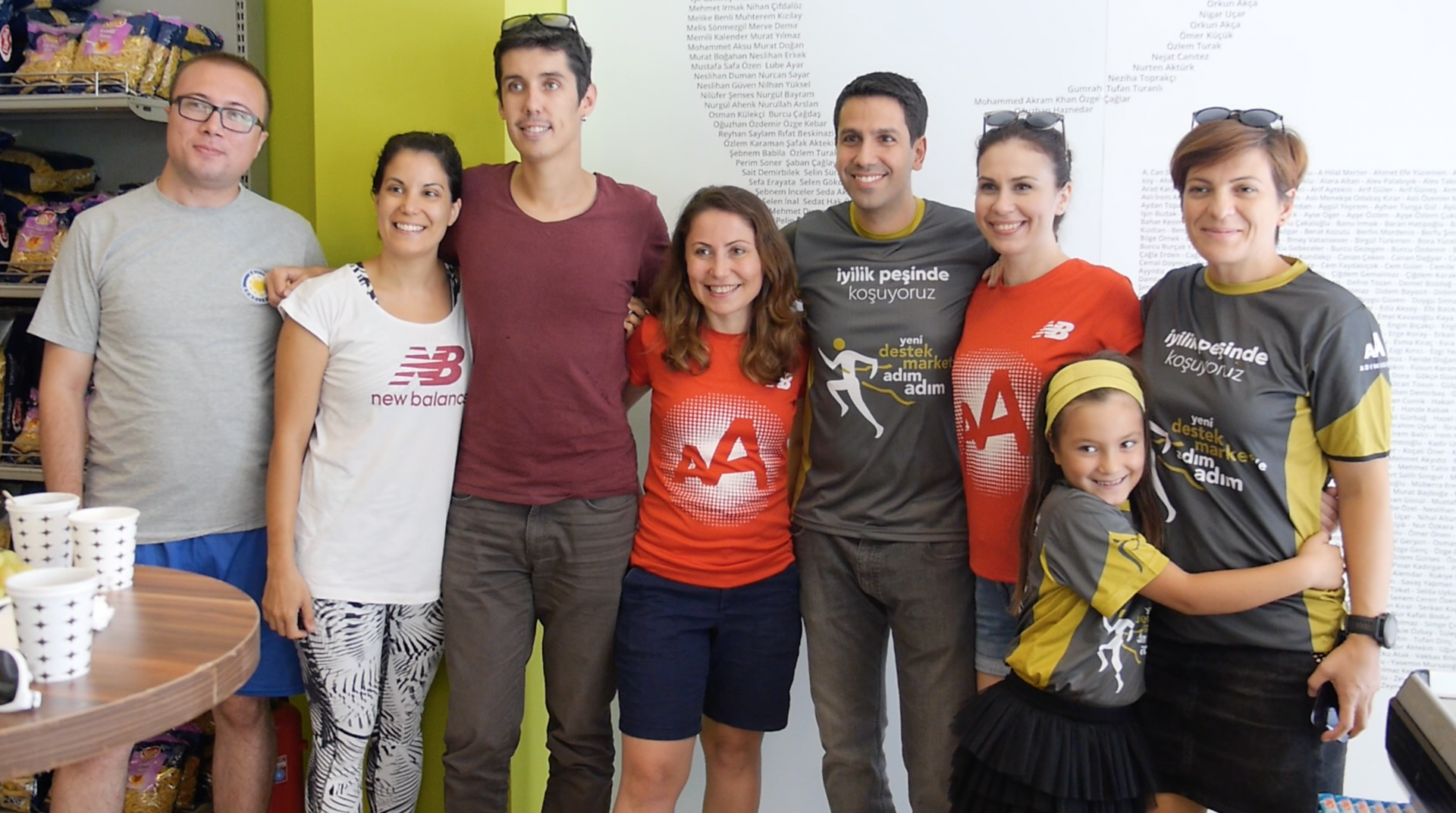 We are in front of the wall with the Adim Adim volunteers who started the campaign and donated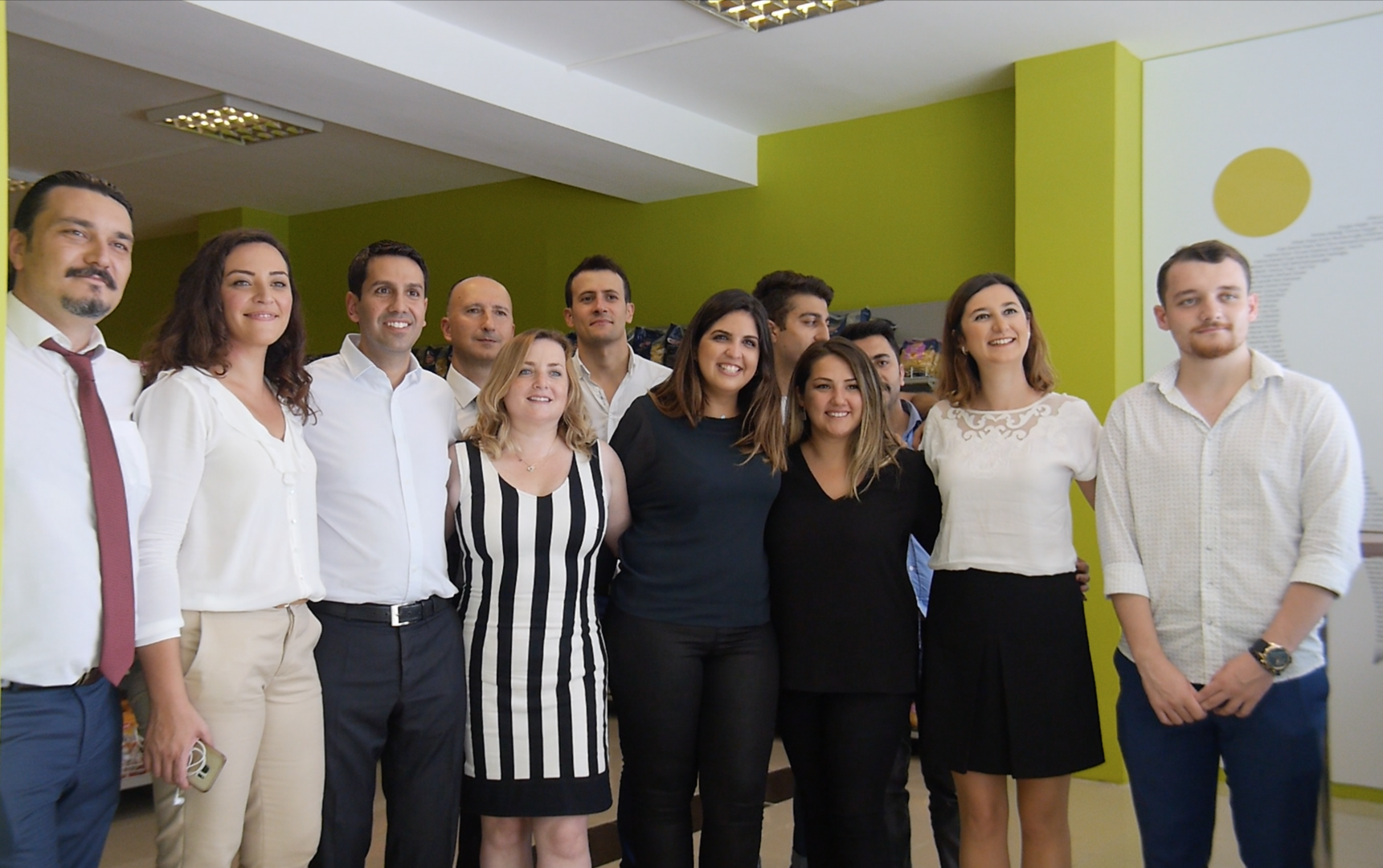 A photo taken with the TIDER team in front of the wall with the names of those who started the Bagcilar Support Market campaigns and made donations
After the opening, we had some interviews with the journalists from Anadolu Ajans, Hurriyet Fox and CNN Turk. These are two photos taken during the interviews: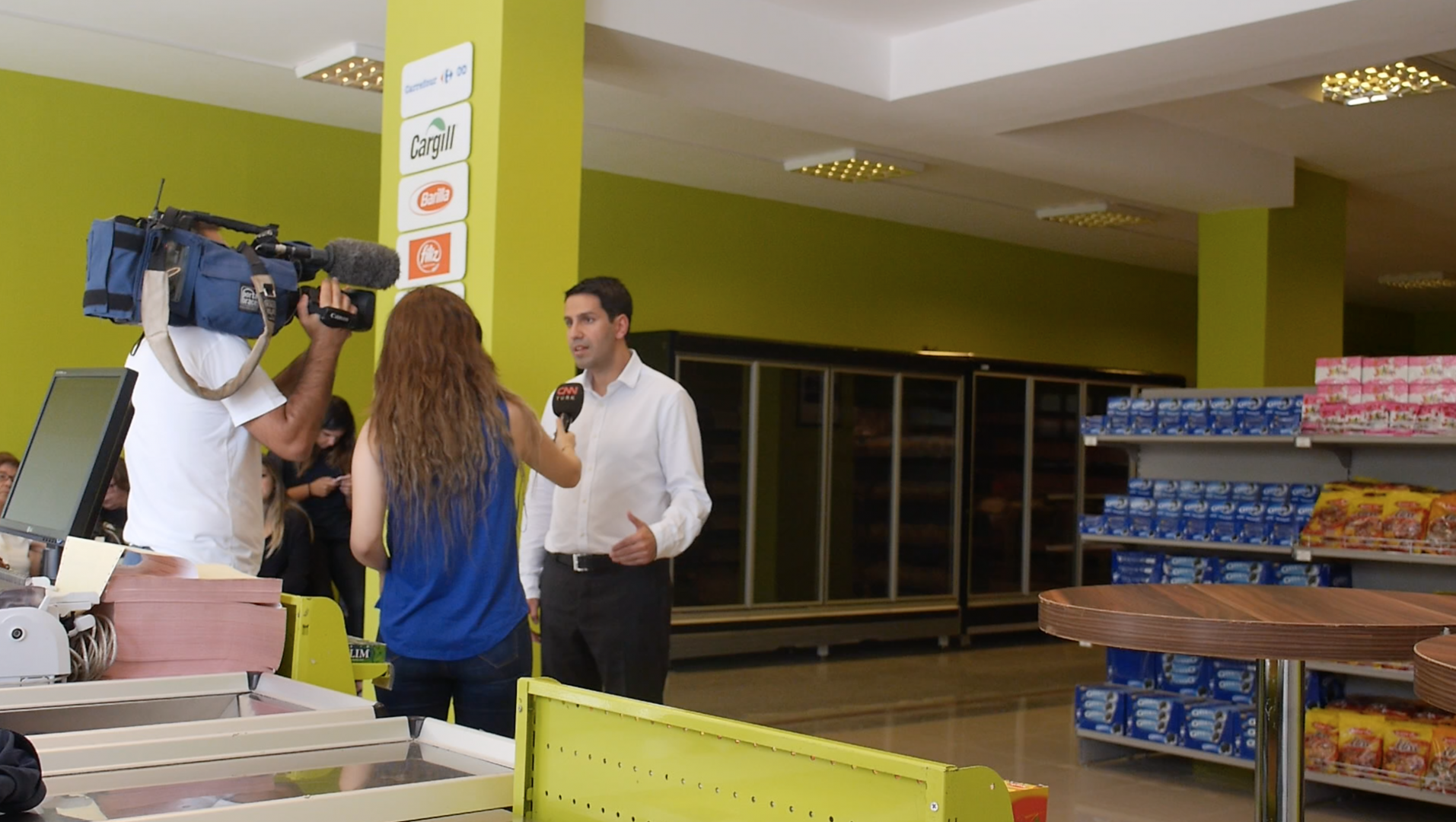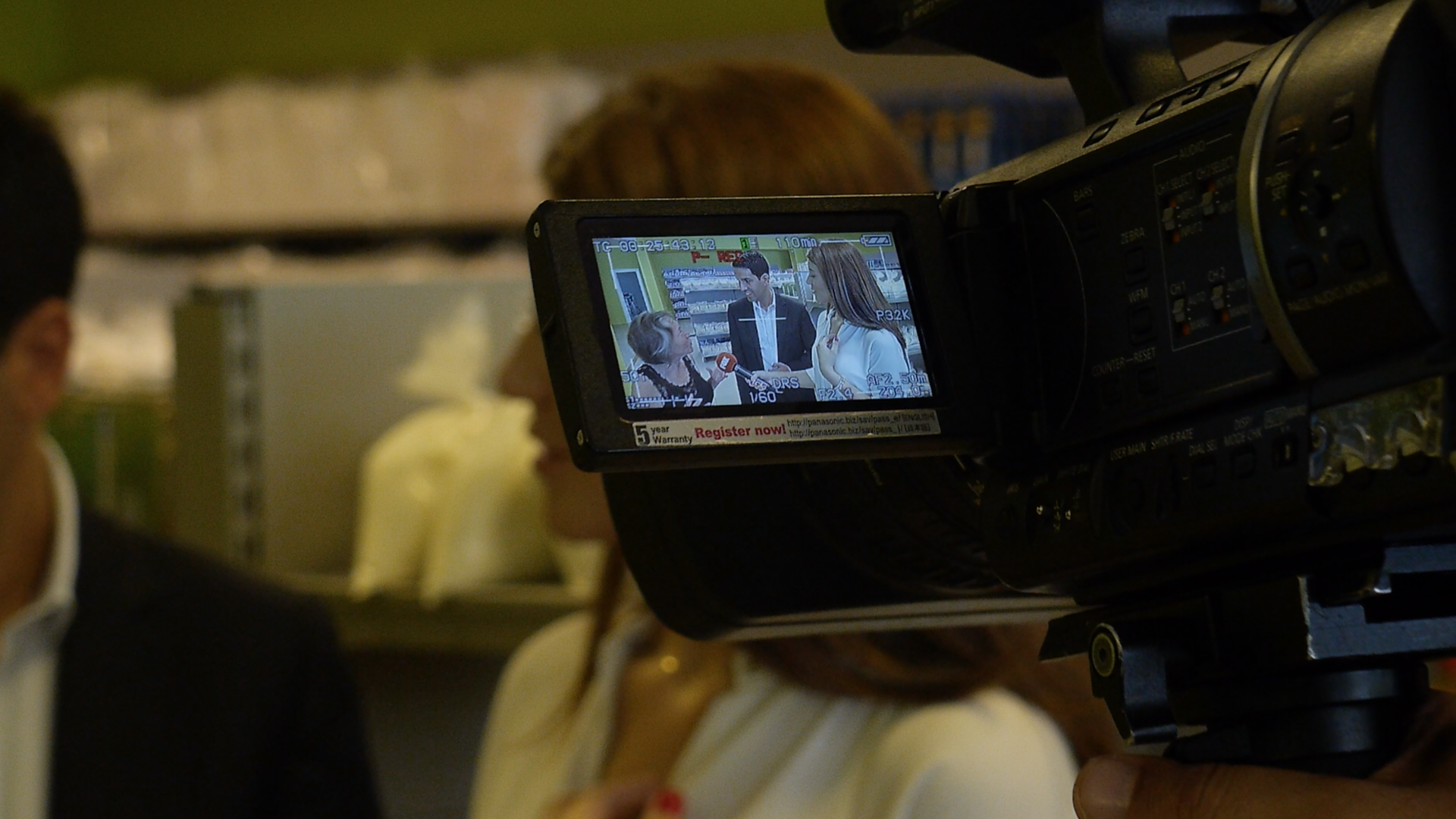 Below you can find links of news that was written about us:
http://www.hurriyet.com.tr/bu-markette-para-gecmiyor-40585470
https://www.cnnturk.com/video/turkiye/destek-market-bagcilarda-acildi
http://www.sonhaberler.com/genel/bagcilarda-destek-market-acildi-h428564.html
http://www.star.com.tr/yerel-haberler/bagcilarda-destek-market-acildi-137395/
https://www.trhaberler.com/ekonomi/bu-markette-para-gecmiyor-h292956.html
http://www.medyapusula.com/bu-markette-para-gecmiyor/
http://yorumsizde.com/destek-market-bagcilarda-acildi.html
http://www.posta.com.tr/bu-markette-para-gecmiyor-haberi-1334646
https://www.haber50.com/genel/bagcilarda-destek-market-acildi-h213492.html
https://www.haberler.com/bagcilar-da-destek-market-acildi-10047462-haberi/
http://www.memleket.com.tr/bagcilarda-destek-market-acildi-1215613h.htm
http://www.foodtimedergi.com/gida-gundemi/gundem/100-bin-ailenin-gida-ihtiyacini-karsilayacak-h14975.html
http://www.sozcu.com.tr/hayatim/yasam-haberleri/10-bin-ailenin-gida-ihtiyacini-karsilayacak/
First Turkey, then the world
If you ask me what's next, I can say that from this turning point, I have goals to extend this to all regions of Turkey. And we are going to do this either via our support markets or via our accreditation system and other food bankers. By saving tons of waste and at the same time meeting the needs of those whose require the basics, we are going to help them stand on their own feet by providing them with employment. By introducing food banking to the world as the best example, we are also going to aim to solve the social and psychological problems of poverty. Our model which has sustainability with each and every detail thought of carefully, we are going to be the first to allow this model to be applied in many other countries.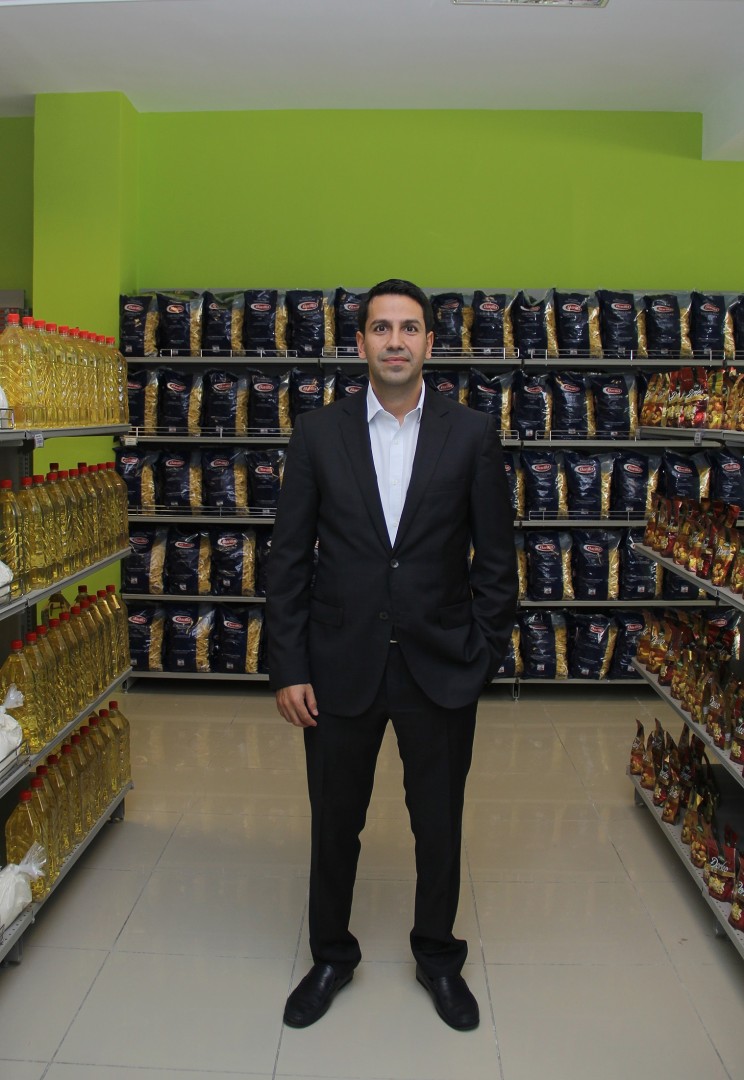 A photo proudly taken at the Bagcilar Support Market. We will carry our model everywhere in Turkey, wherever it is required.
Tag: kültür