A Tale of the Far East: Thailand - Phuket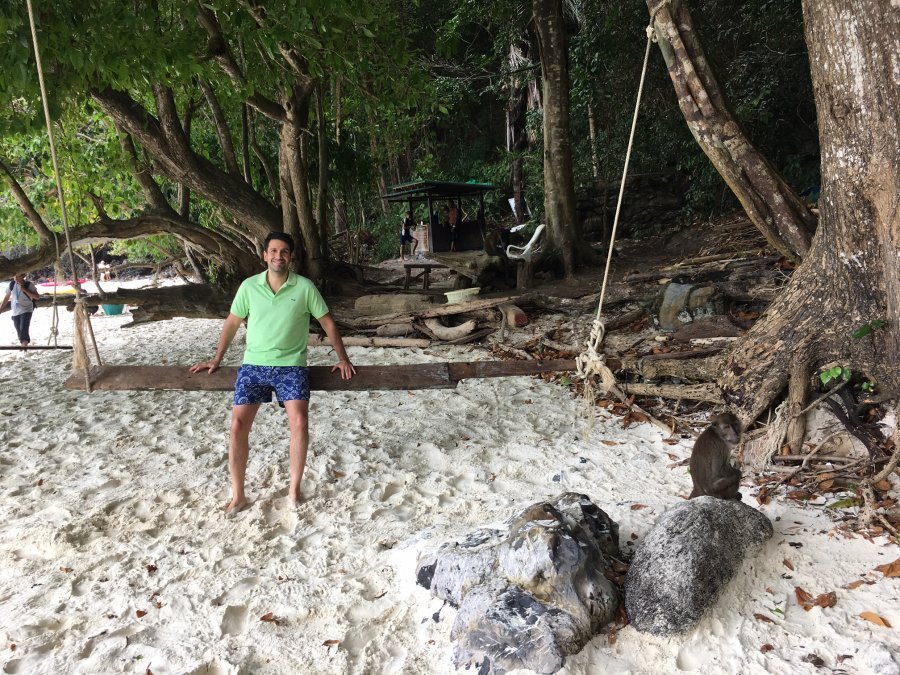 I was finally able to tour the Far East on a New Year's holiday after years of regretting having travelled only as far east as India. I had an unforgettable time on the island of Phuket and in Thailand's capital city, Bangkok, returning home with memories of the sea, 'mysterious' sand creatures, amazing cuisine and breathtaking scenery. In this post, I'll write about my experiences in Phuket.
This year, too, I stuck to my tradition of deciding in December where I would ring in the new year. I'm normally not a "last-minute" person, but for some reason, for the past 7-8 years I've made up my mind only at the end of November or the beginning of December. That's just the way things have panned out.
The decisions I'd made previously have always turned out for the best. I greatly enjoyed my last-minute trips to Colombia, Argentina and Brazil. Despite my fondness for Latin America, I felt like doing something different this year.
I was drawn to the Far East. I'd been to India on 4 different business trips to market Hitit Solar technology, not that it was easy to sell CSP (Concentrating Solar Power) Parabolic Trough technology in a price-oriented market like India's. It was a good experience, nonetheless. I'll write more about Hitit Solar at another time.
While India has an extensive and vibrant culture, the Far East has an appeal all its own. I was most curious about Thailand, Singapore, Bali, Hong Kong, Indonesia, Cambodia and Vietnam. I was leaning toward 3 countries when I changed my mind and decided on Thailand and Singapore, the latter of which I visited for business reasons. A major photovoltaic producer has a plant in Singapore and I arranged a meeting with them.
The actual holiday I organized in Thailand, a country I favored for a few reasons. Friends had heaped praise on Thailand whenever that country was mentioned. The second reason was that Thai food is one of my 3 favorite cuisines (along with Peruvian and Italian). Finally, its islands were the setting even for Hollywood films. After watching "The Beach," I was especially keen to see Phi Phi island.
I narrowed down my choices to the two cities I'd heard the most about: Phuket and the capital city, Bangkok.
A holiday spawned by business

I was randomly reviewing accommodation options when I chanced upon a local chain in Phuket: Dusit Thani. It looked interesting. I made a reservation. My first impression of the hotel endured: nice, but not remarkable. Other than its lobby, pool and beach, it had little to recommend it. But it did the job and I had a nice time there.
A Thai musician in the lobby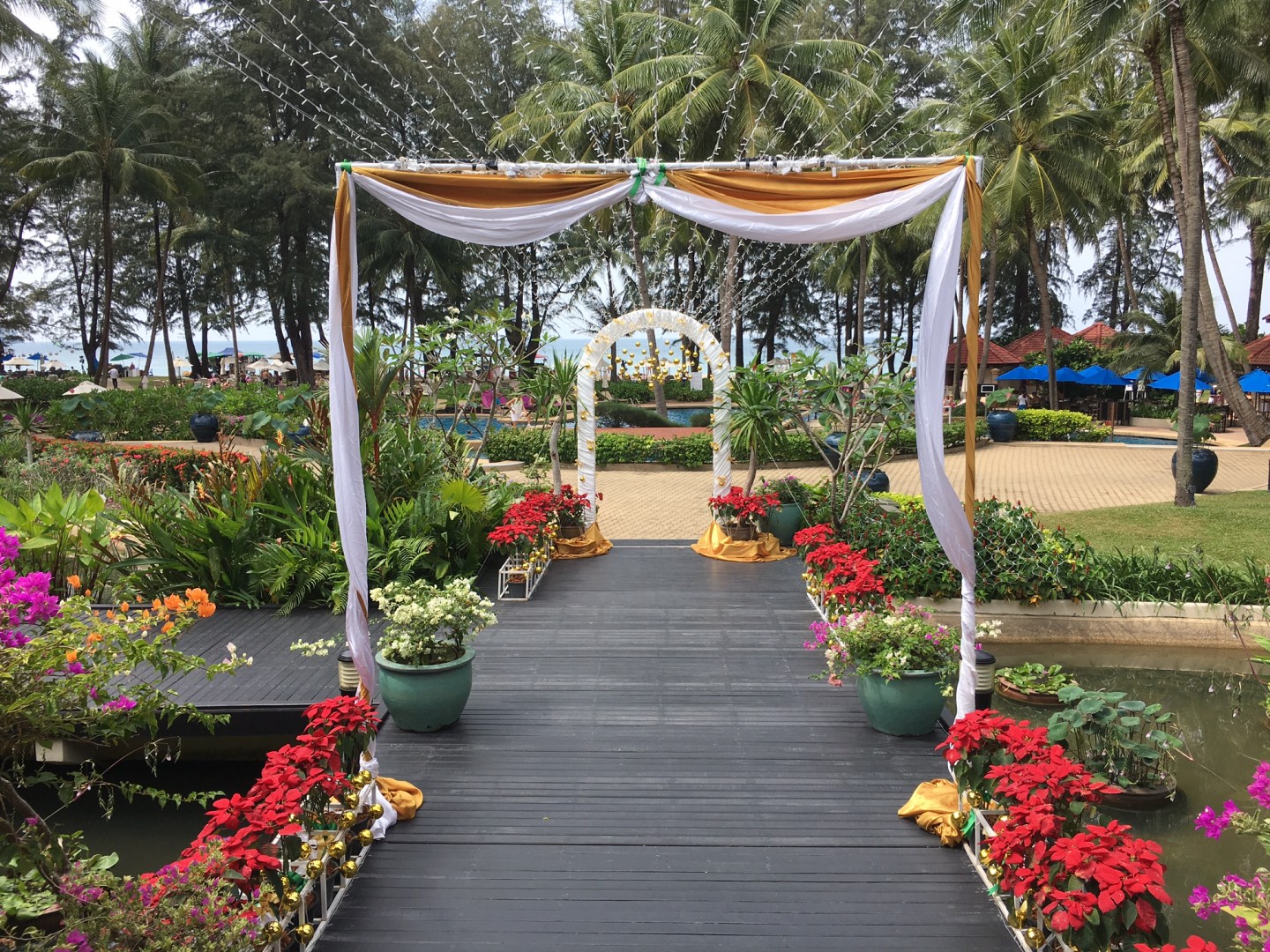 Out of the hotel and into the garden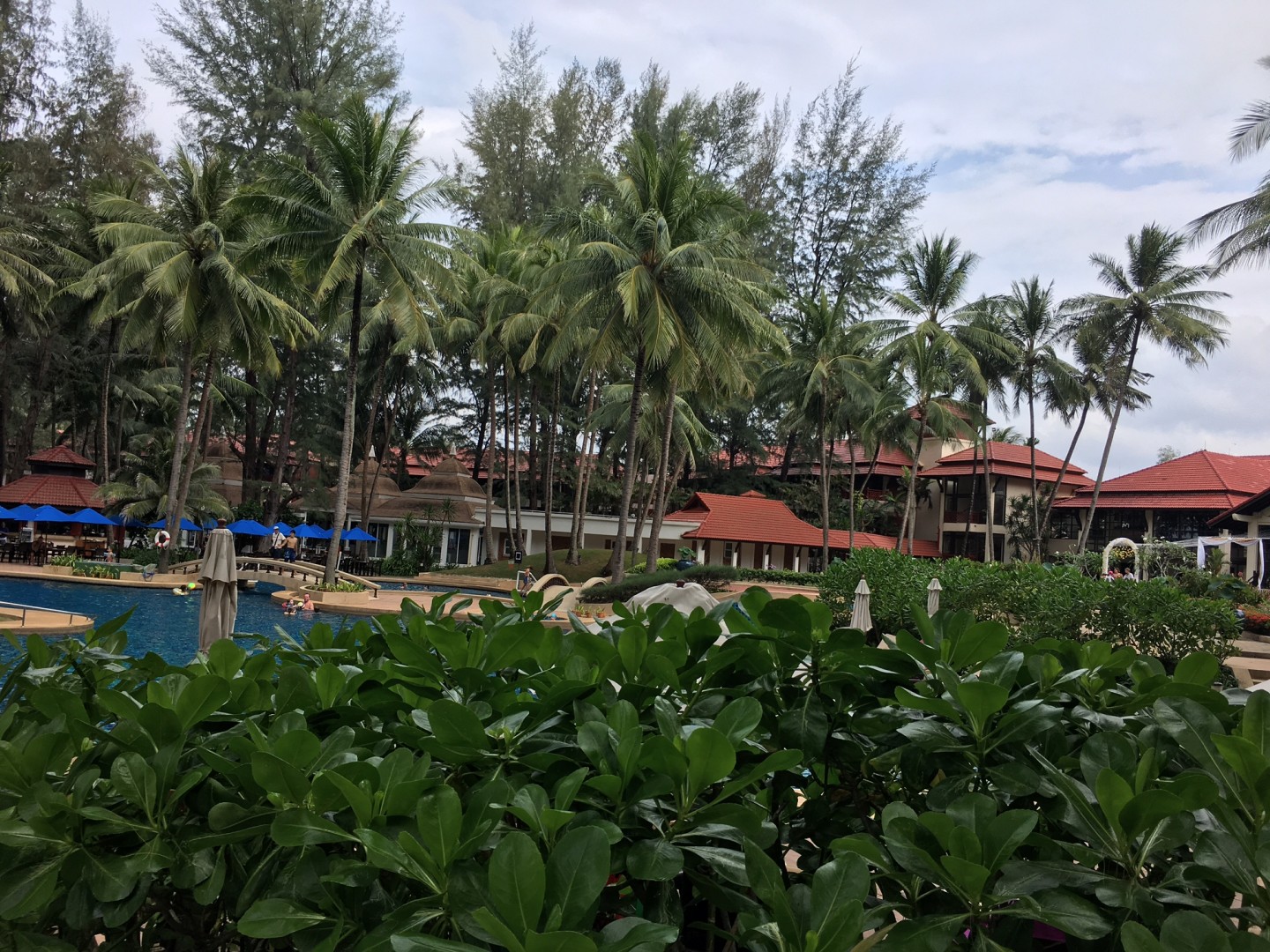 An view of the back of the hotel
In Bangkok, I transferred for the flight to Phuket International Airport. Large groups of tourists from around the world filled the airport when I landed. My first impression of Thailand's famous island was not that favorable. Despite being "international," the airport was small and crowded. After the long flight, I had to wait in the middle of the night for the driver for 40 minutes in that heat and that crowd.
The following day, I worked until three in the morning. I had a lot to do. Physically, I was in Phuket; mentally, I was still in Istanbul. In addition to some routine tasks, there were a couple of important things I needed to finish before year's end. One was an injection of capital for a wind power company and the other was the merger between EkoCC and Vodasoft. Naturally, I was able to answer calls and take care of business in the hotel without so much as venturing to the beach. I had also caught a bug somewhere just before my holiday and realized I was sick during the flight. When I landed in Thailand, I had a serious case of the flu. I tried to complete some and rest.
Stinging sea, irritating sand
Work successfully completed, the first thing I did was head for the sea. The beach looked amazing. White sand, clear water… I spread on some lotion, walked on the beach for a bit and let myself sink into the warm sea. Less than 15 seconds later my body started burning. Suspecting it was an allergy, I asked my friends if they were okay. They said they felt it too, so we thought the seawater might be contaminated. Just then, a local told us the culprit was sea lice. For details, check out: https://en.wikipedia.org/wiki/Sea_louse). Other sources claim that these nearly invisible creatures are in fact the microscopic larvae of jellyfish and other ocean stingers, and that sea lice only afflict fish. Whatever they are, it's terrible to be splashing around in the surf and suddenly feel as though your skin is on fire.
My friends said these creatures posed no real harm, which, although comforting to know, wasn't enough to keep us in the sea. We started walking along the beach and this time our feet started itching. They said this was caused by a type of fly or flea in the sand. Now I understood why this "picture perfect" beach was so empty. Fortunately, a shower was enough to get rid of all the sea lice and sand flies.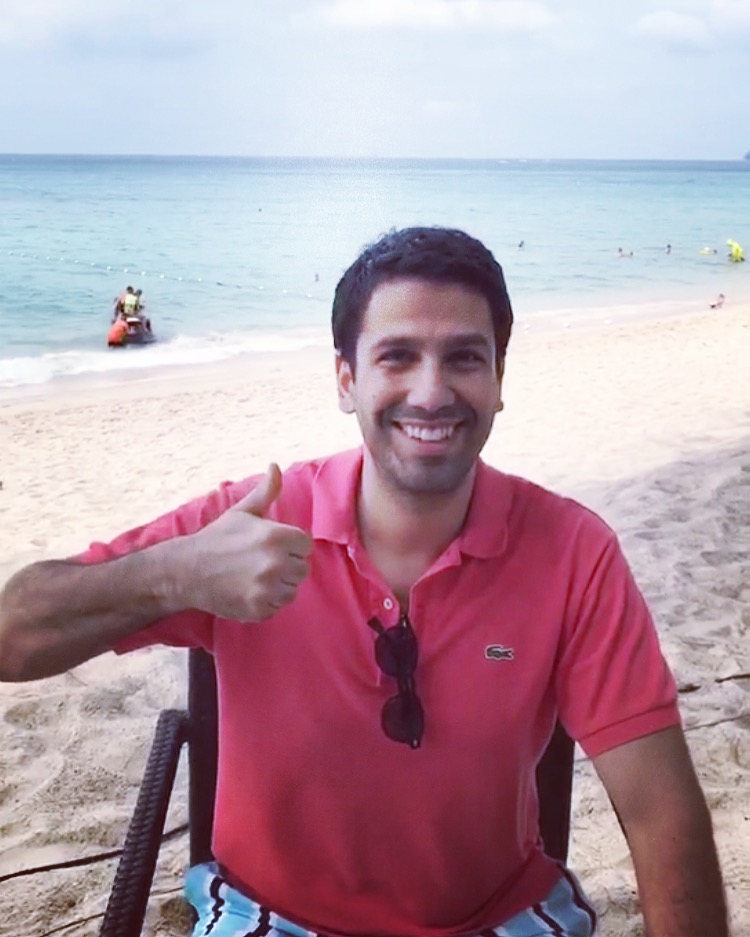 Smiling despite the stings and bites
To my friends I said, "Why don't we join the Germans and Russians poolside." We all headed there for a drink.
A seIection of amazing flavors
Everyone was having a massage outside. The air was like lemonade. My body was rested, but my mind was still busy with thoughts of work. At the end of a peaceful, relaxing day we went to Tawai, a typical Thai restaurant, for dinner.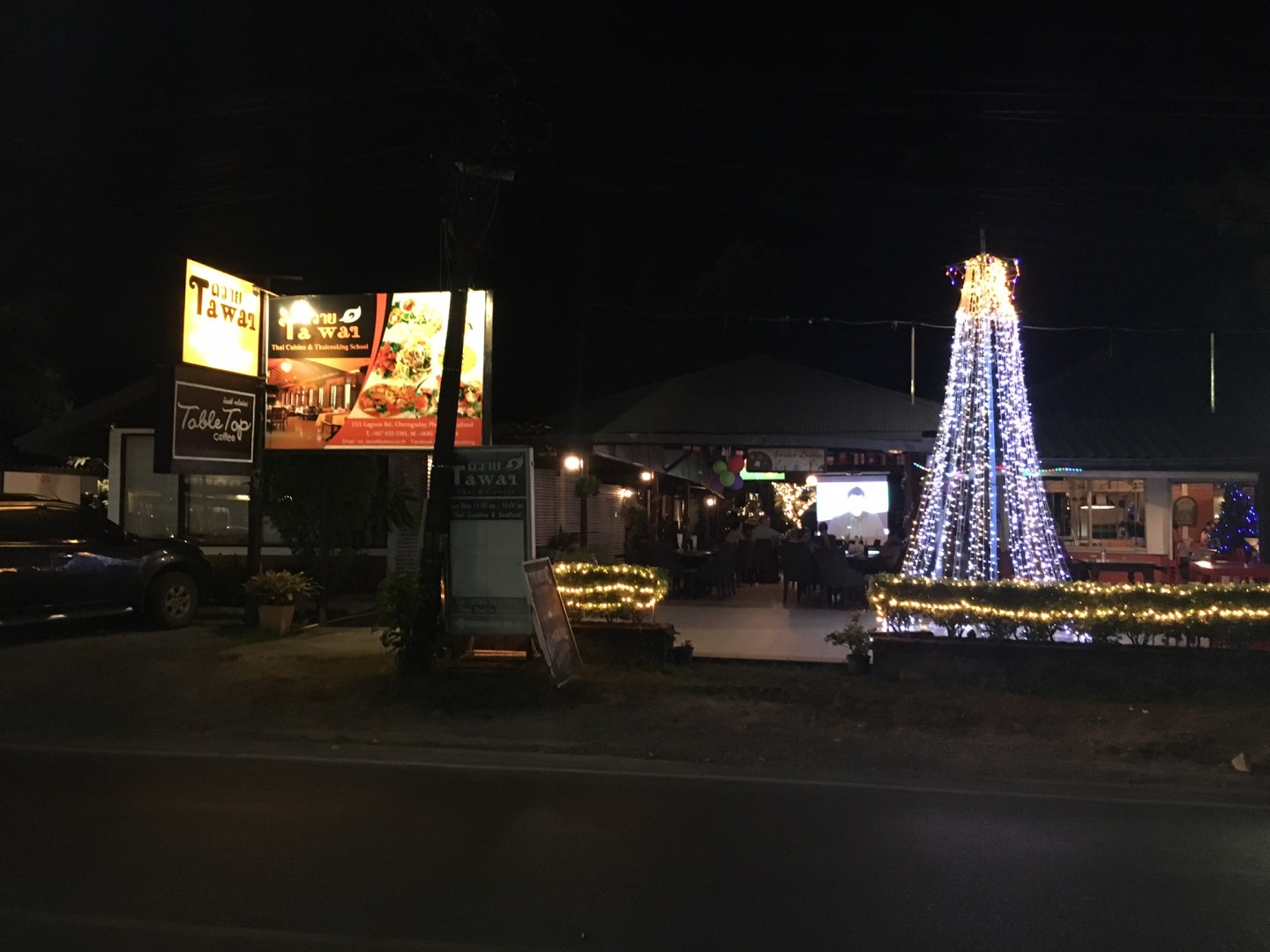 The entrance to Tawai
The waiter asked right away if we liked spicy food and I, trusting in my father's roots in Gaziantep, a city famous for its spicy cuisine, said, "Consider me to be a Thai who likes hot and spicy food and bring me dishes accordingly." I wished I hadn't said that, not for my sake, but for my friends'. The food was delicious. However, as we ate, tears were streaming from everyone's eyes and their sinuses were draining. As for me, I thought it was great. Even though we had some Asian friends at the table, everyone joked that I must have been a Thai in a previous life. It was a true feast.
Let me share some of the dishes we had.
My favorites:
– Tom Yum (spicy prawn soup)
– Phat Thai (Thai noodle)
– Larb Moo (Thai meat or chicken salad)
Delicious:
– Tom Kha Gai (chicken soup with coconut milk)
– Kaeng Khiao Wan Kai (green curry chicken)
– Kai Phat Met Mamuang Himmaphan (chicken fried with cashews)
– Kaeng Phanaeng (Coconut milk and meat curry)
For dessert, I recommend the khao niao (sticky rice).
The following day, which was the last one of the year, I spent most of my time on the beach, swimming despite everything, and sitting in the restaurant on the beach's edge. Imagine a man who loves swimming so much he throws caution to the wind, runs across the infested sand and into the infested waters, thrashes around for all of a minute, and races to the shower. Meanwhile, I discovered that if you don't use suntan lotion the stinging sensation isn't as bad. There must be something in the lotion that attracts the sea lice. For the rest of my swims, I didn't use any lotion.
And New Year's Eve finally came. We attended the "White Party" at Phuket's Dream Beach Club. Just before the clock struck midnight, three of us at my table lit wish lanterns and watched them float up into the sky. It was a great party. The pre-party seafood and the music were top-notch. We danced until the early hours…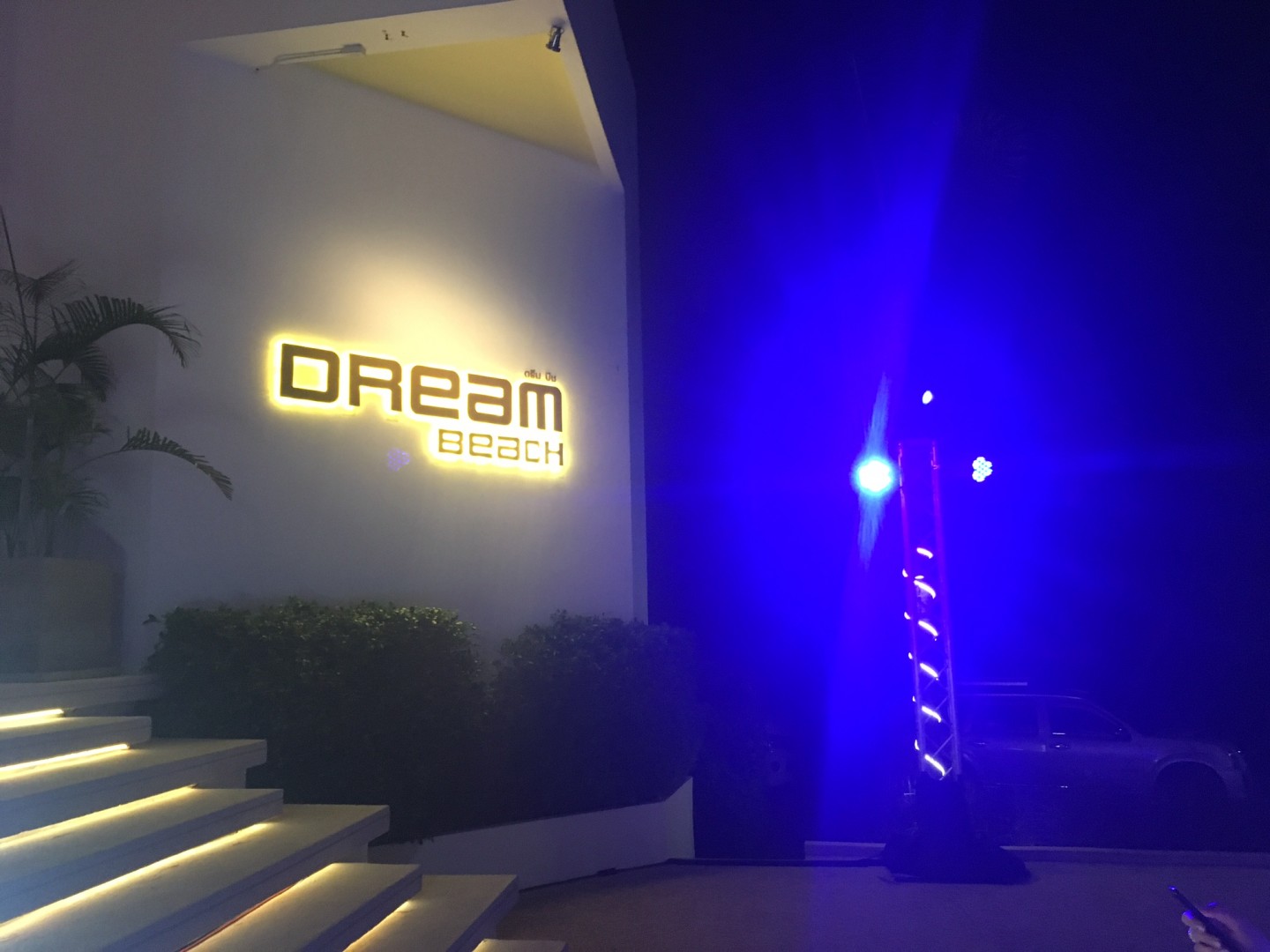 Entrance to Dream Beach Club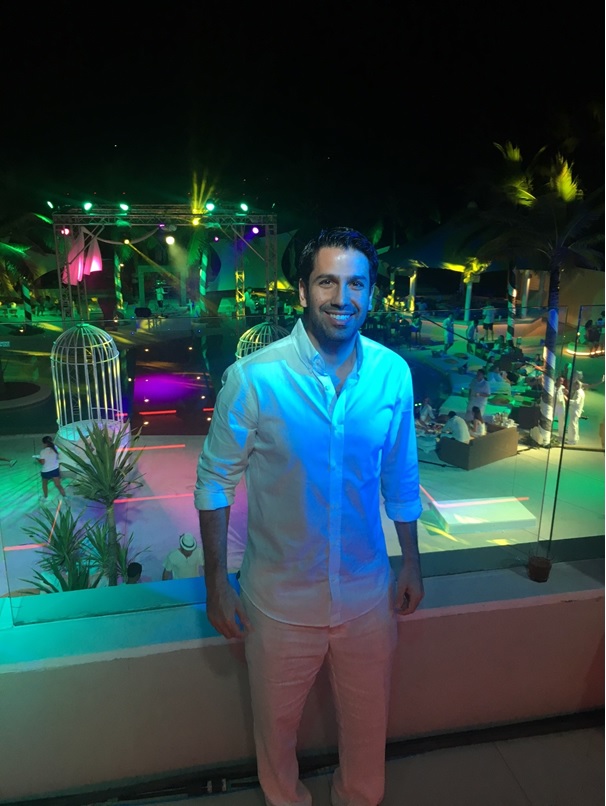 Pre-party dinner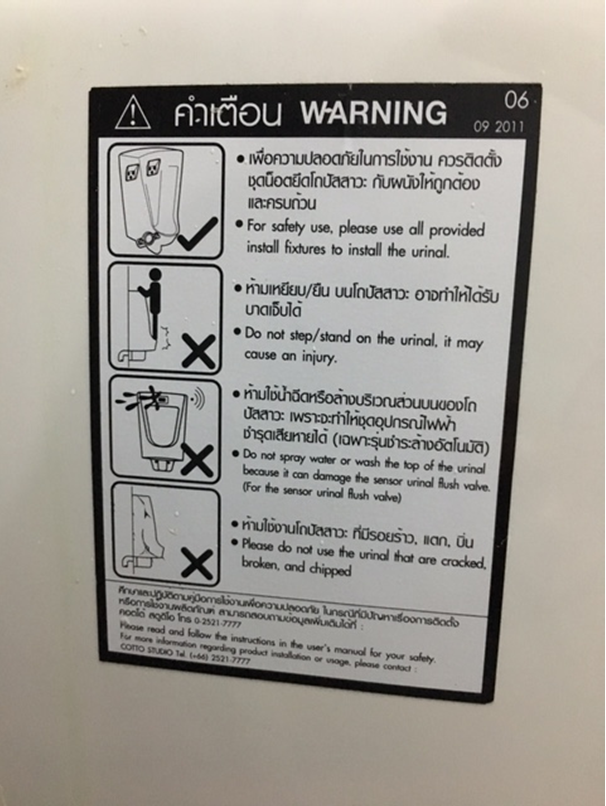 I had to laugh at the urinal instructions in this swanky club.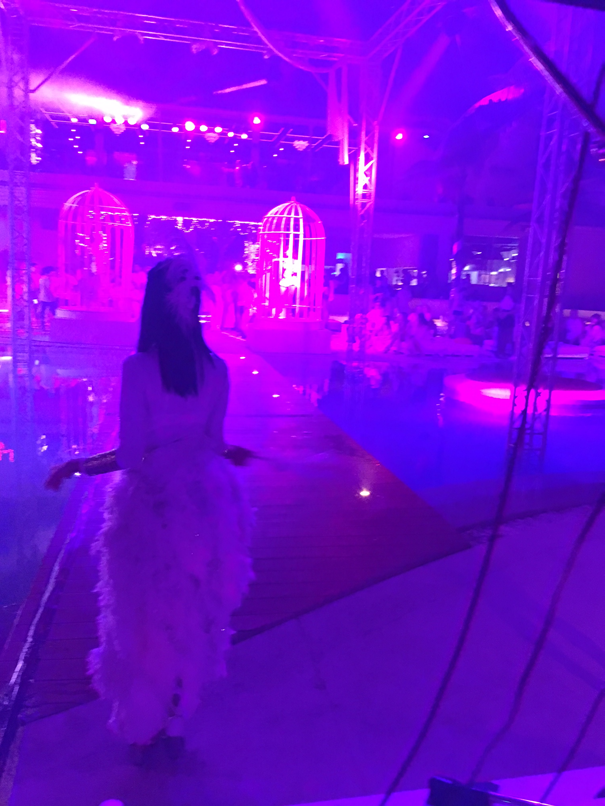 A view from inside
I've already written about what happened next: (http://serhansuzer.com/tr/hayata-dair). I'm reprinting that section here for those who haven't read it.
An upsetting, early morning call …
I arrived back at the hotel in a great mood in the middle of the night.
After about two hours of sleep I got up at 6:30am prepared to visit Phi Phi islands. I was brushing my teeth when the phone rang. I hope nothing's wrong, I thought to myself. Who could be calling at this hour? I looked at the screen and saw it was my father. There's a four-hour time difference between Thailand and Turkey, which meant he was calling at the unheard time of 2.30am.
This was our conversation:
− Son, where are you?
− I'm in Thailand.
− Oh, thank God.
− What happened?
− Reina was raided and dozens are dead.
− What!?
− They got inside and killed dozens of people.
− I don't believe it! Anyone we know?
− I don't know. It just happened. So far, I haven't heard the names of anyone we know.
− It's horrifying. I know most of the employees there. I hope it wasn't as bad as it sounds.
I hung up and immediately started reading the on-line news. I spent the next 15 minutes trying to get ready while I followed what had happened.
Some turn their noses up at Reina, but there's one thing that makes the venue stand out: my foreign guests always ask to be taken there. Reina's fame has clearly achieved international fame. It's become one of the must-see sites and experiences for visitors all over the world. For that reason, I have been taking my foreign guests there for the past 10 years. Which means the massacre at Reina was also a knife in the back for Turkish tourism. The messages I later received from around the world confirmed that. I can't comprehend the slaughter of people who are simply out to have a good time and greet the new year. May whoever planned, executed and supported this atrocity get the end they deserve.
Before leaving for the islands tour, I considered calling Reina's owner or general manager. I decided that it was too soon and that since I was overseas I would be more of a burden than a help. I also remember muttering to myself that that the "white party" I'd just attended in the Far East would now be associated in my mind with death, just as the color white is in Far Eastern cultures.
I spent the next day in the natural surroundings of Phi Phi island, a beautiful place. But my mind was still on Reina. I sent a text message to Ali, the venue's general manager. I felt terrible.
Let me send my condolences to the survivors and to the friends and families of the victims of the Reina terrorist attack and of all the other terrorist attacks. May those who lost their lives rest in peace.
Making a monkey of tourists
To get to Phi Phi Island, we drove to a yacht marina on the west coast about an hour from our hotel. From there, it took about 1.5 hours on a large motorboat to get to Phi Phi Island. The crew on the boat was charming. Especially our tour guide, Kiki, who knew the answer to every question and ran the entire operation on her own. Generally speaking, the people of Thailand struck me as hard-working and respectful.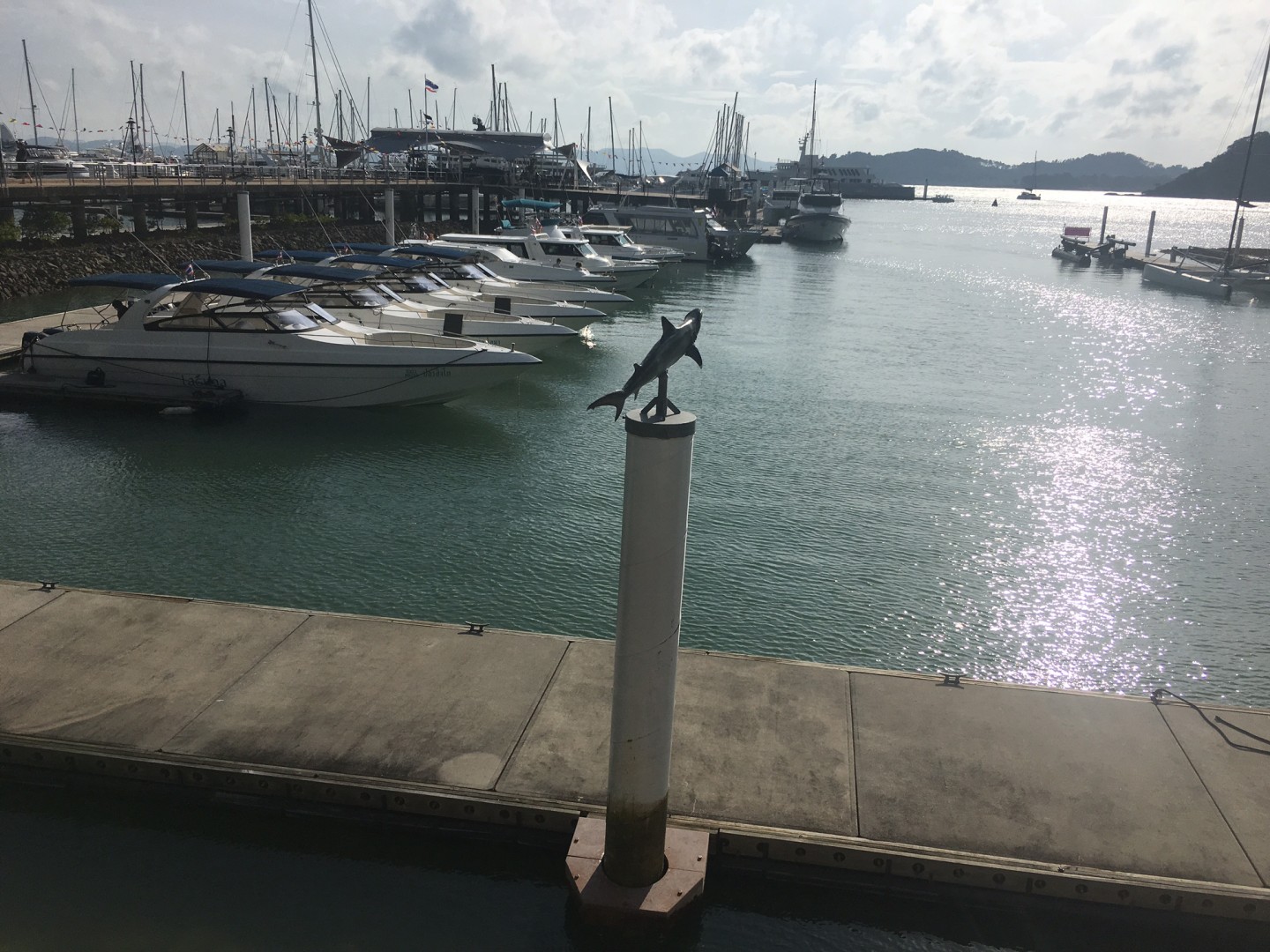 The yacht marina in Phuket from which we embarked for Phi Phi Island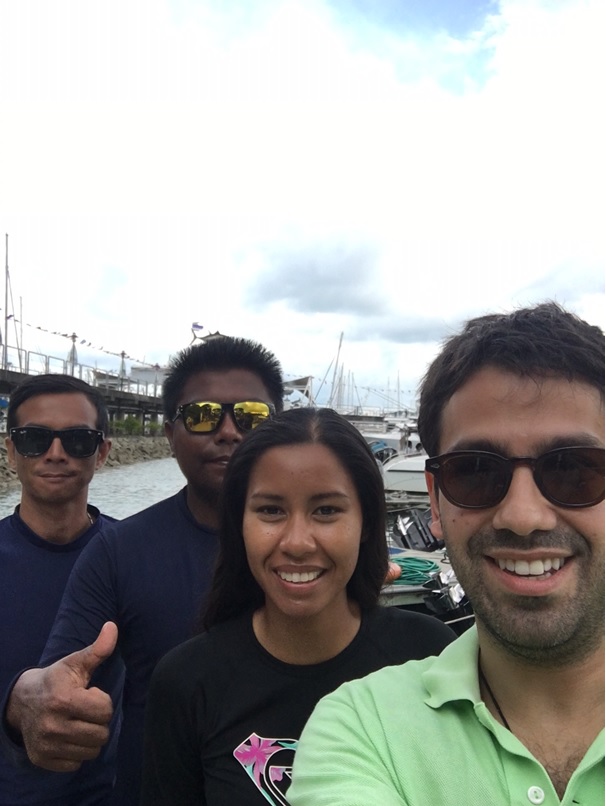 A selfie with the crew post-tour. Kiki is directly behind me. Behind her is the captain and deck-man.
Australians and Germans were part of the tour group. Naturally, we talked about Gallipoli with the Australians. They were a fun bunch, and I invited them to Turkey.
After the ride across the choppy sea, we were all enchanted by Phi Phi Island. First, we headed for Monkey Beach, which takes its name from the packs of wild moneys swarming the beach. Tourists, especially those from the West, feed the monkeys and pose with them on their shoulders. Our guide warned us not to do that, saying the monkeys were not domesticated and could bite. We asked her if the locals went up to the monkeys, and when she said they didn't and that it was best to leave the monkeys alone in their natural environment, I decided to follow her advice.
Years ago, my aunt's family had a monkey named Boncuk from India. We had a lot of fun with it. Still, Boncuk would bite people it didn't know or like. It was a comical creature. A female, it was jealous of my father and me. It wouldn't let any women or girls come near me. Seriously, it would bite.
Bustling Phuket City
After Monkey Beach, we had lunch on a calm beach. A one-hour nap after lunch did wonders for me. At our next stop, I dove into the sea without hesitation. My back felt a little itchy and was burning, but the water was perfect. Fish of every color swam below us. The other spots we visited were Viking Cave, Pi Lei Cove, Hin Klang Reef and Maya Cove. Each was more beautiful than the other. I'd like to share some videos and photos from that tour:
Me and the monkey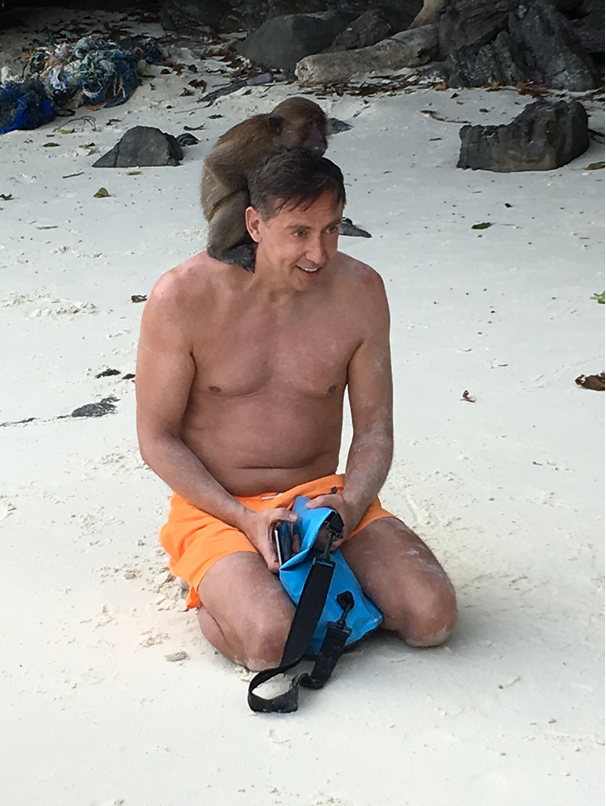 A monkey climbs onto an English tourist's back.
Monkeys getting out of the sea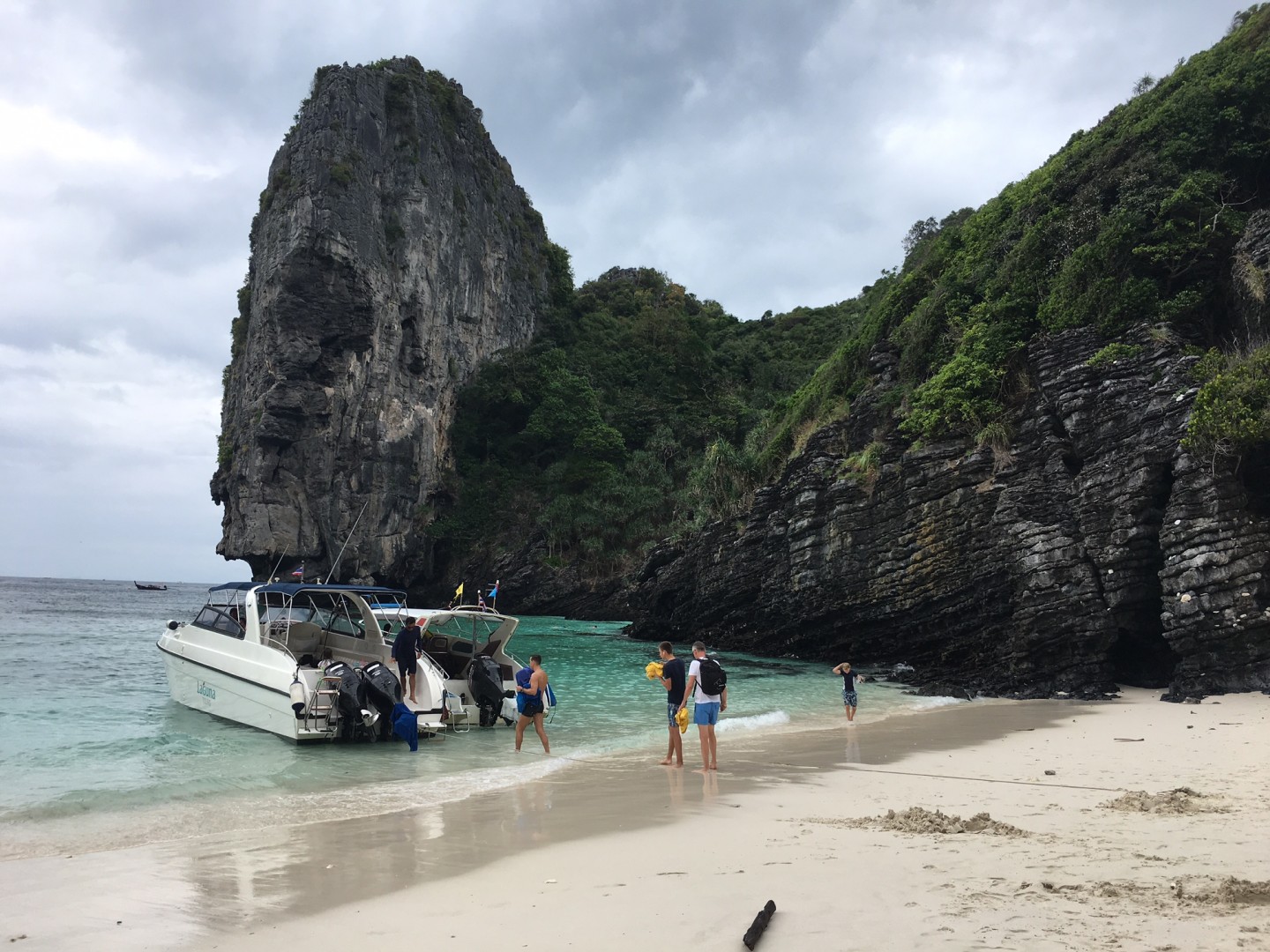 The calm beach where we had lunch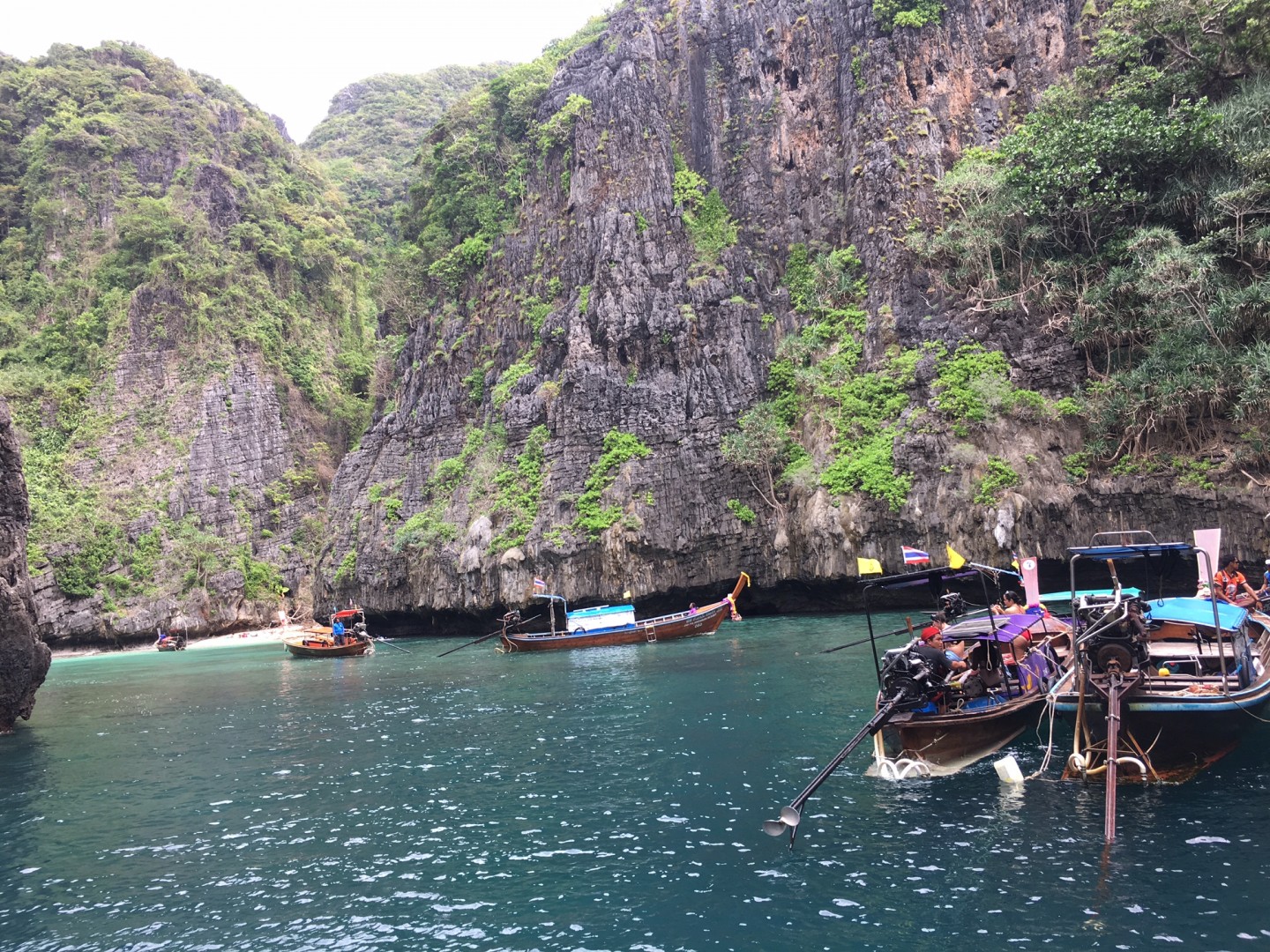 Pi Lei Cove
At the end of a nice day and at the recommendation of a Canadian friend, we had dinner at the Siam Supper Club. The French manager who greeted us at the door was a bit annoying, as only the French can be, but by the end of the night we had become the best of friends. Both the ambiance and the food were excellent.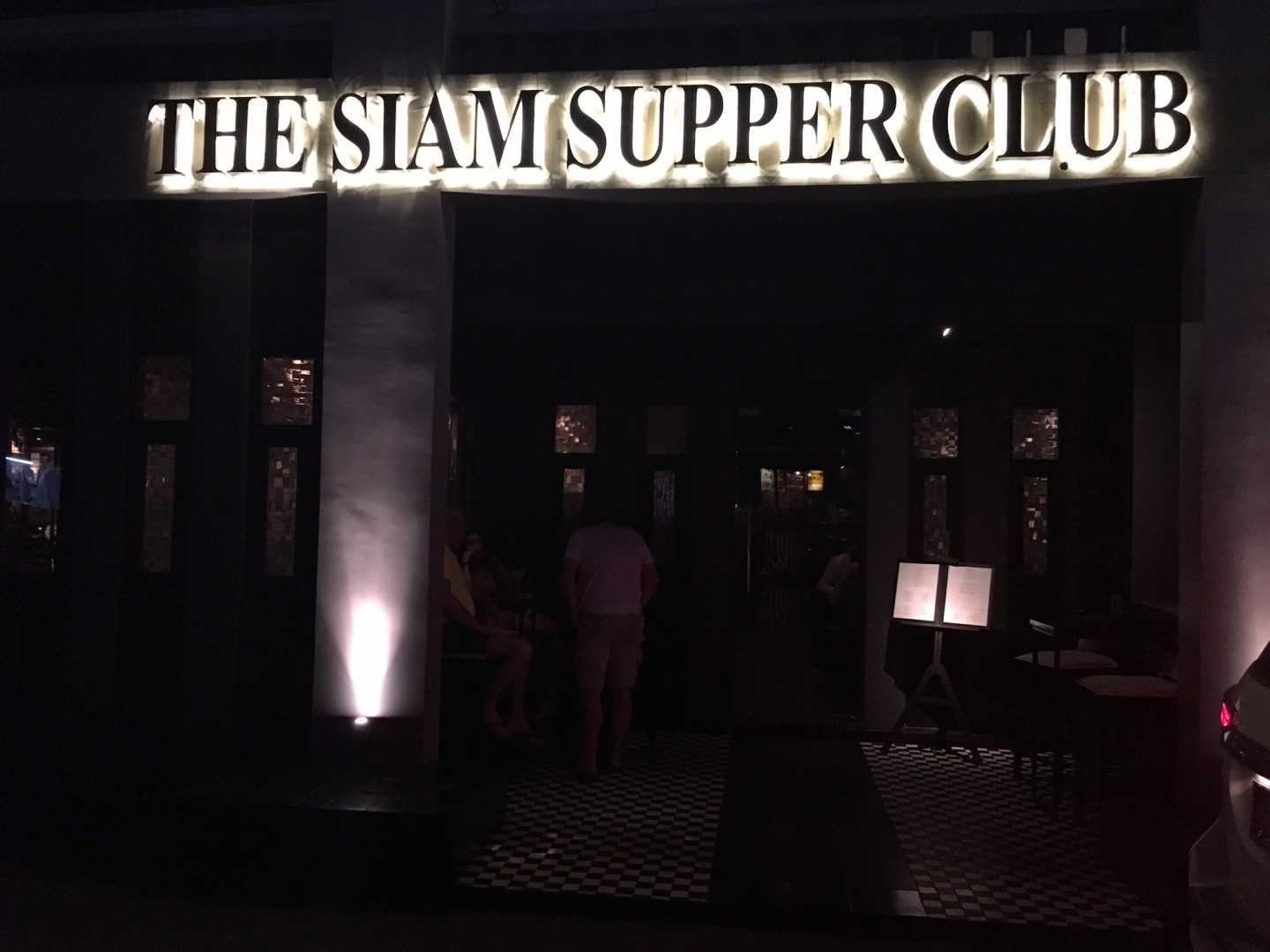 Entrance to the Siam Supper Club
Afterwards, we went to downtown Phuket City. I couldn't believe it! The crowds, the commotion, the swarms of tourists. It was a real meat market.
There were some unpleasant things I won't go into here. Just let me say that I saw the ugly side of humanity in general and of Western tourists, in particular.
I'd imagined Phuket as a magical place. Instead, I saw mass tourism at its worst. There were even some low-quality döner (gyros) shops from back home. I've never understood why Turks abroad gravitate toward the poorest quality places to open a shop and represent their country. It's reached the point that if you see a döner shop you can bank on the area as being undesirable.
We still had fun, though. The next day it was time to head to Bangkok. I can say I saw all I needed to see in Phuket. If I go to Thailand again I'd like to visit Krabi, a place friends have praised. There are a lot of great destinations and islands to discover there.
We were seen off by the hotel in the usual courteous and friendly way and had a relatively smooth journey to Bangkok.
In my next post, I'll be writing about the most crowded place in Thailand and share some more detailed information about that capital city.
See you next week. Stay well!
Tag: yaşam, gezi