A Tale of the Far East: Thailand - Bangkok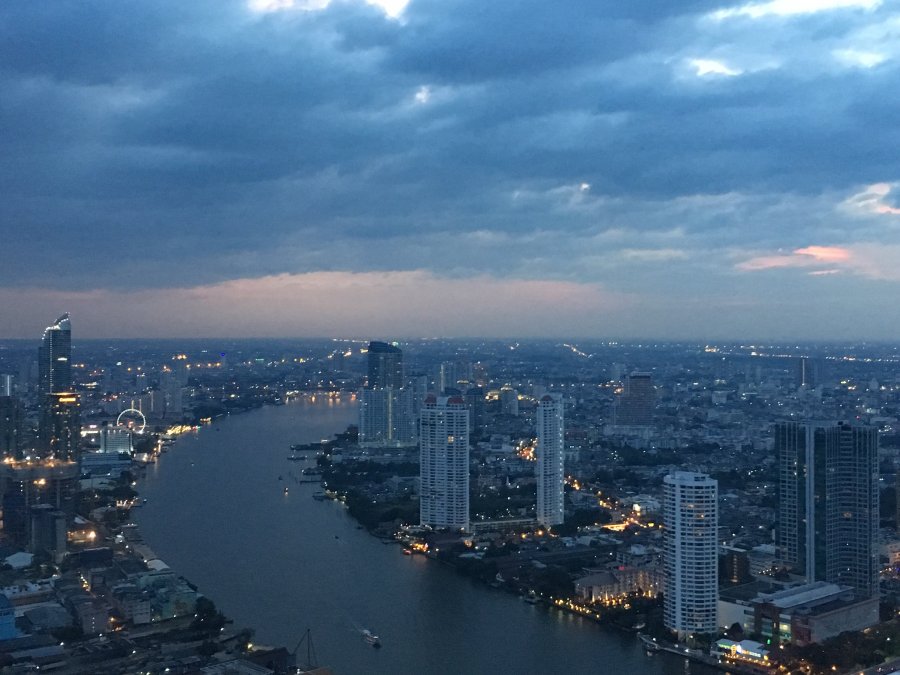 As you know, I spent some time over the New Year in the Far East, visiting Phuket, Bangkok and Singapore. And in my first blog about the trip last week, I shared my impressions of Phuket. This week I plan to write about the Thai capital, Bangkok, the second leg of my travels.
After a relatively relaxed journey back from Phuket, I arrived in Bangkok on January 2nd with a long list of places to visit and things to do. There was no way of getting through that list in three days so I ranked all the things I wanted to do there in order of priority.
I'd say that Bangkok, the most crowded city in South-East Asia, exceeded my expectations. Beyond the dark side that everyone talks about, I was greeted by a city boasting high standards of service in its hotels and wonderful restaurants; a city of people permanently on the go, yet generally respectful; a city as crowded because of its size as it was cosmopolitan.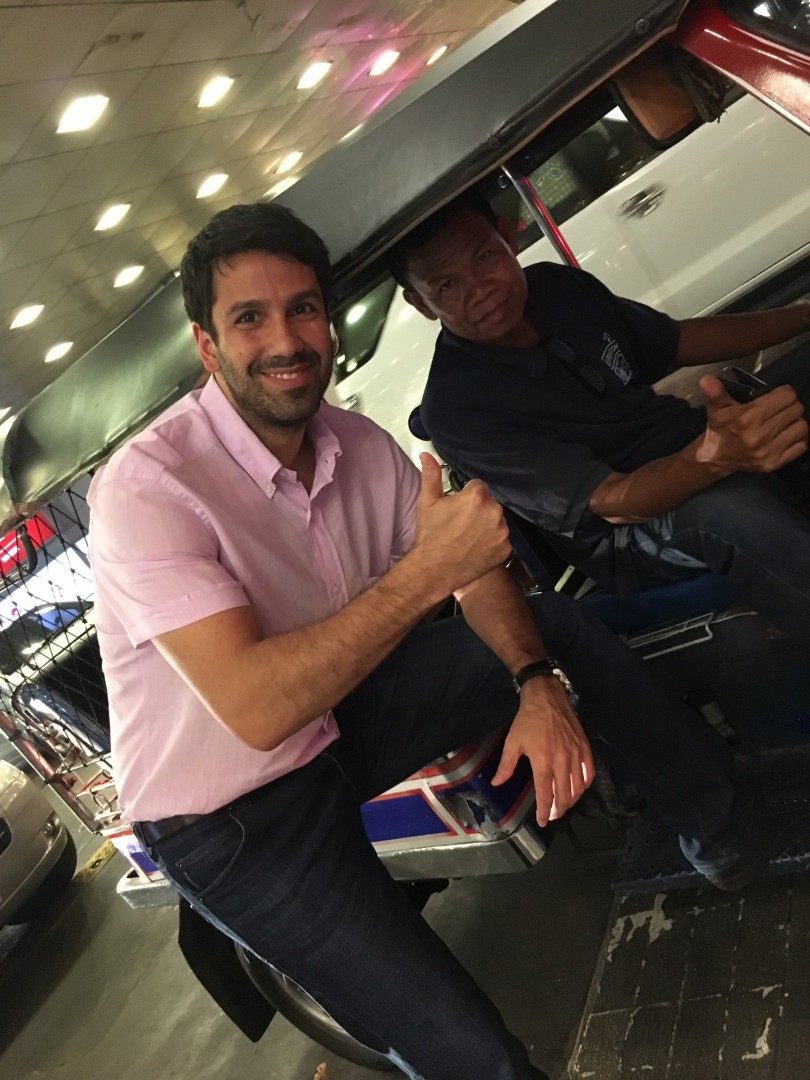 Riding a 'tuk-tuk', the three-wheeled, open-sided taxi unique to Thailand, is an experience all of its own. Here's a picture I took with one of my tuk-tuk drivers.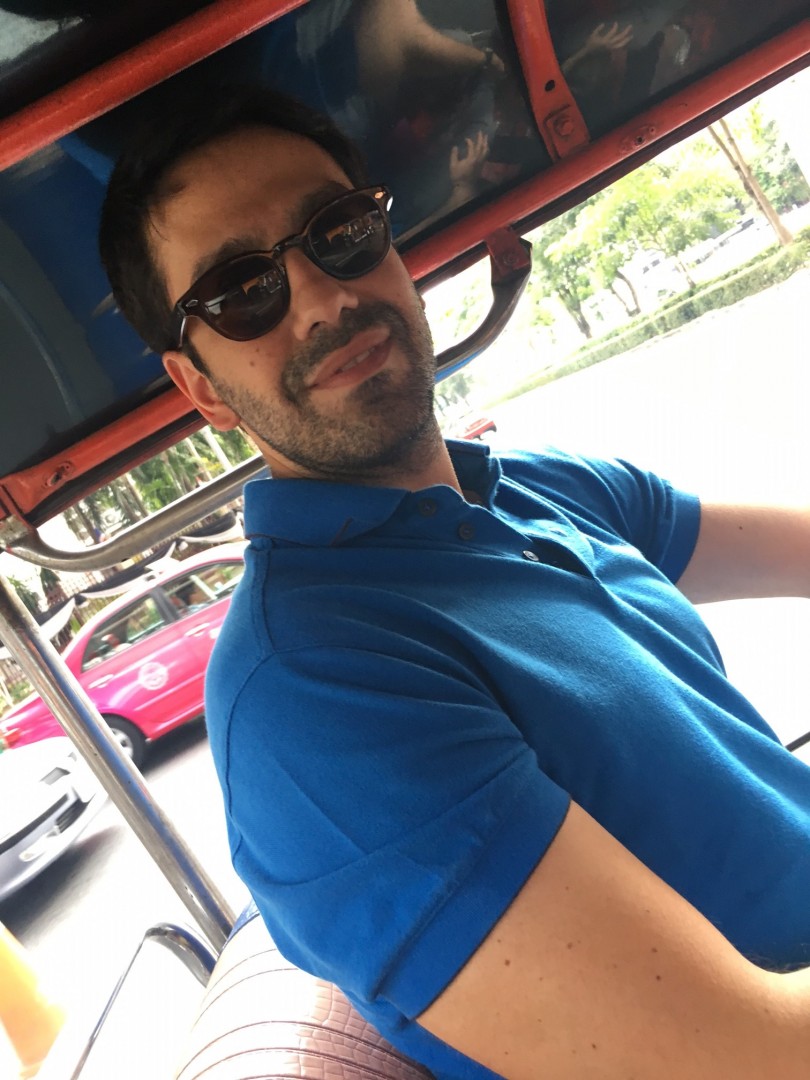 In this photo, the 'tuk-tuk' is actually in transit.
When I got to Bangkok, I was still suffering with a cold. But by a happy accident, the American Hospital, said to be the best in Bangkok, was right across from the JW Marriott hotel where I was staying. So, I went to get myself checked out.
To be honest, I'd say the service in Bangkok was faster, and the staff (including doctors) were friendlier compared with our American Hospital in Turkey. Although it was lunchtime, it took less than one hour for me to register, be seen and leave the hospital with a bag of medication.
There, you don't have the hassle of our 'duty pharmacies', which always seem so ridiculous to me. The hospital staff taking care of general admin were pleasant and polite. And the doctor who examined me was a specialist who knew what he was doing and spoke good English.
I didn't let being sick hold me back at all and carried on sightseeing just the same. For my first stop, I was keen to visit one of the temples everyone talks about; and so I set my sights on the Reclining Buddha of Wat Pho, Bangkok's largest and most sumptuous temple. But some Thai friends warned me that I'd have to wait in line for at least one hour because of the King's death a few months earlier.
As someone who hates waiting, I decided on a more niche temple and ended up at Wat Traimit in a noisy and congested neighborhood in the middle of Chinatown. When I entered the temple with its three-meter golden Buddha, people were on their knees praying with eyes closed.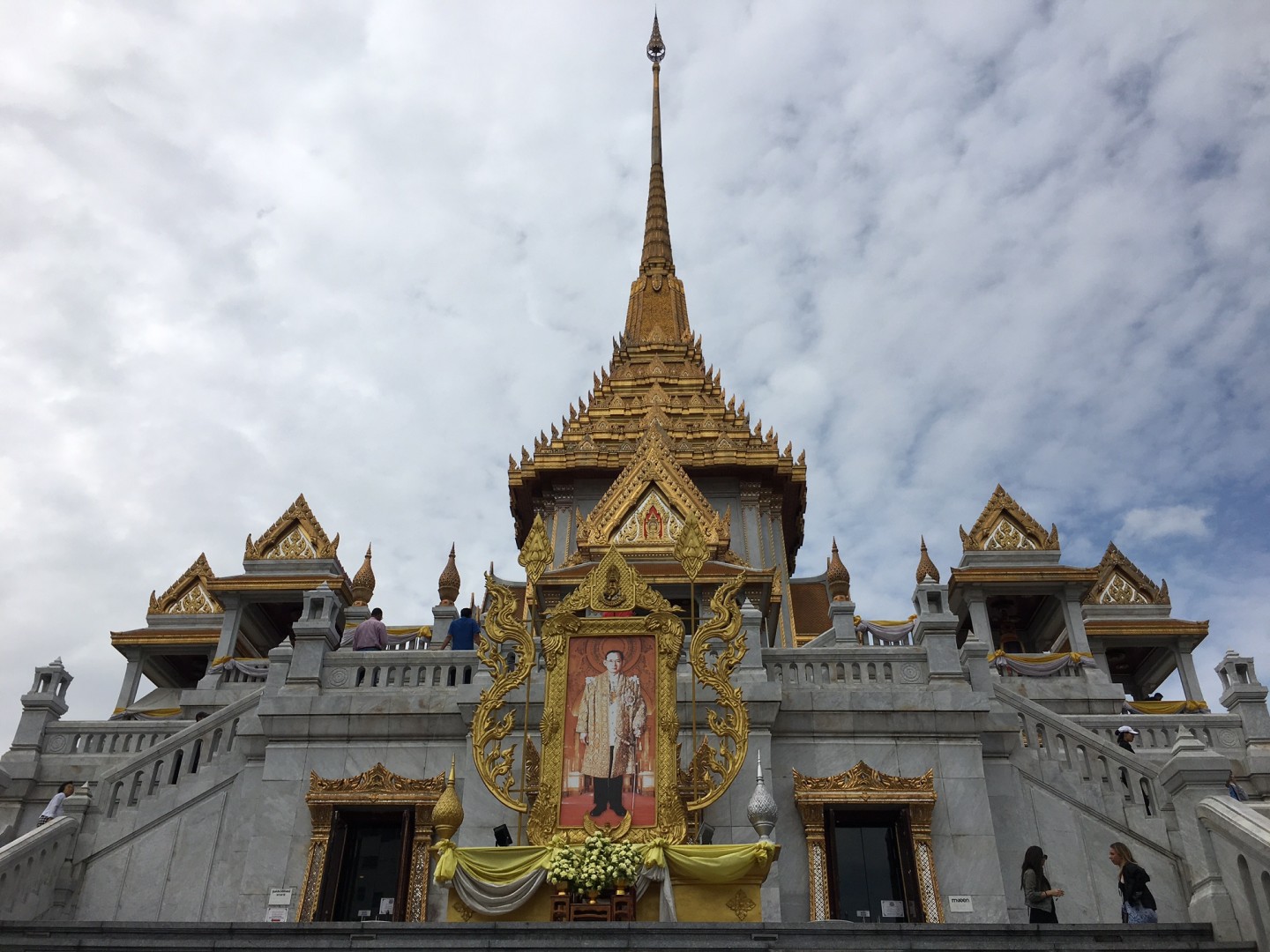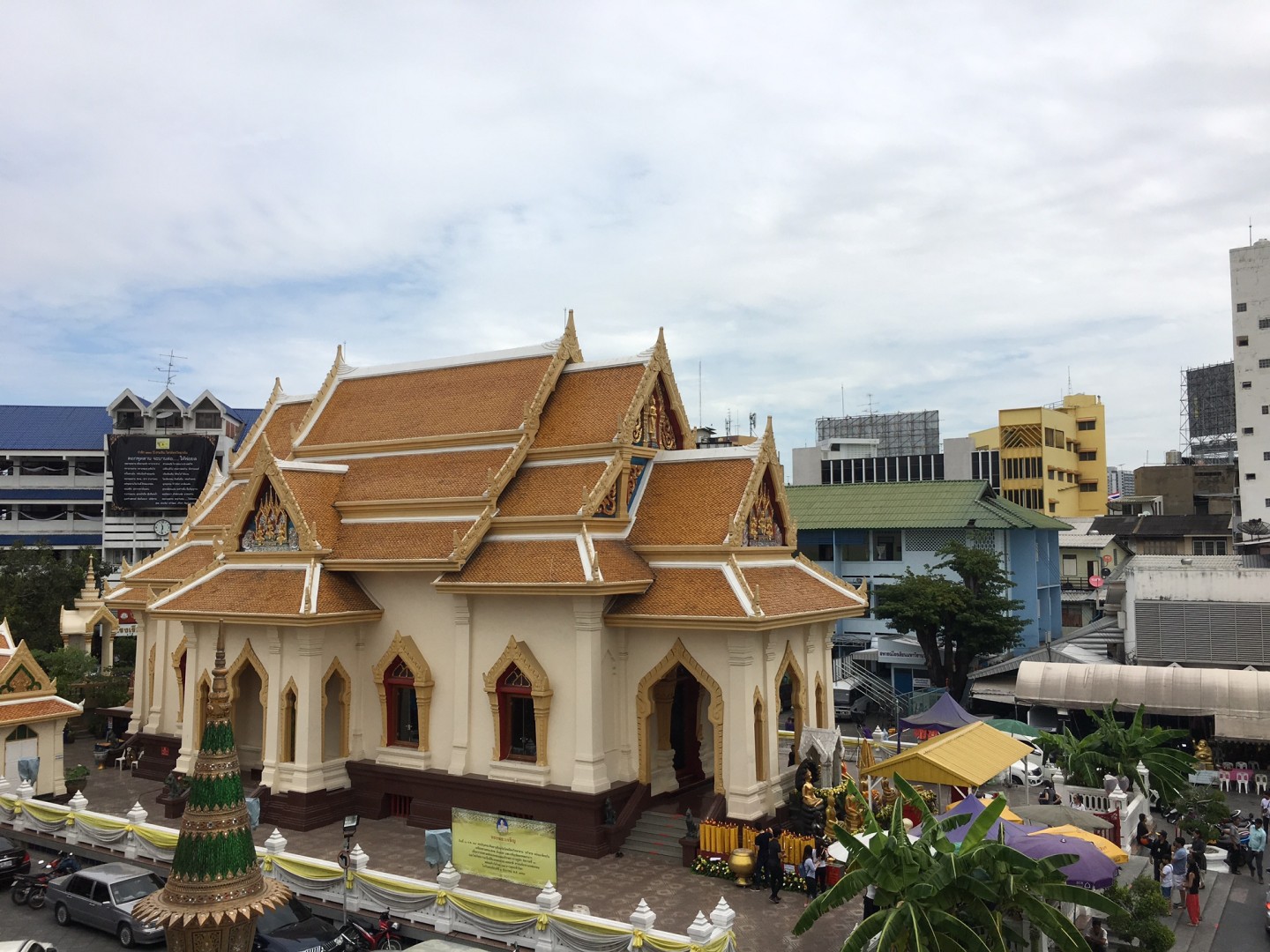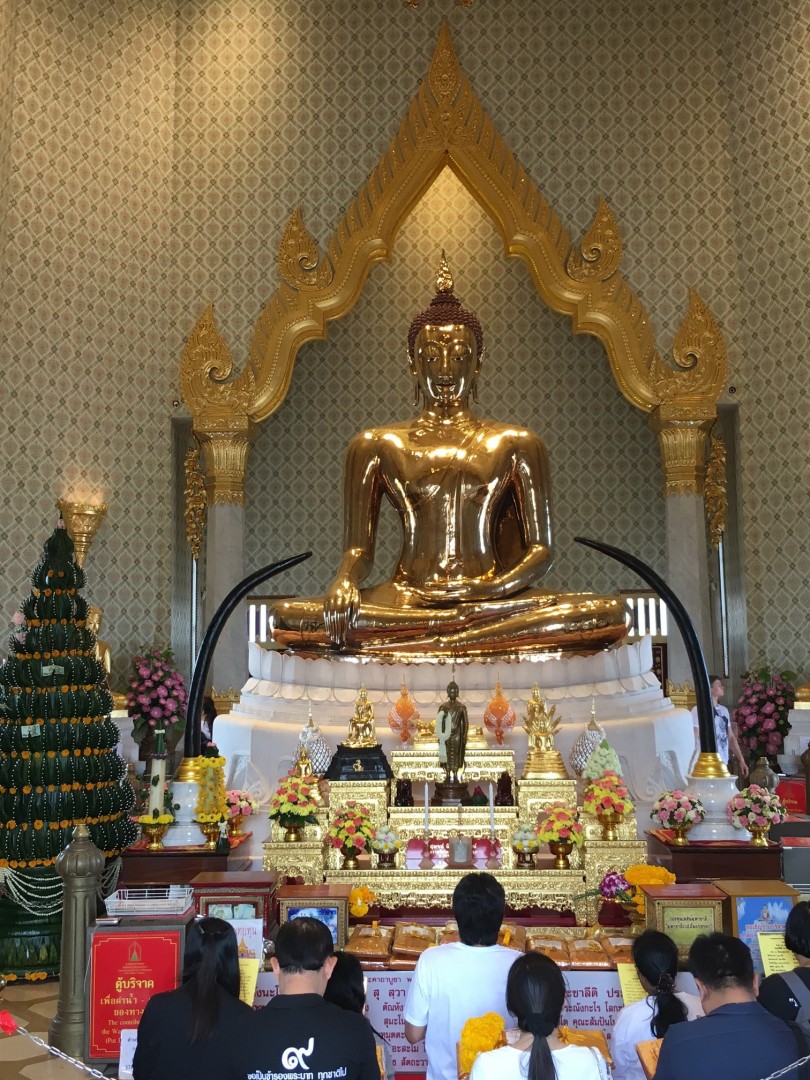 From what I could find out, the custom is to pray for evil to be kept at bay and for the mutual forgiveness of people you have hurt and been hurt by. If you ask me, a person should be able to pray at any time of day or night, whether in a sacred space, at home or anywhere outside. Instead of joining my hands like the people of the Far East, I held my hands out, palms facing upwards, and prayed as we do back home. It felt good.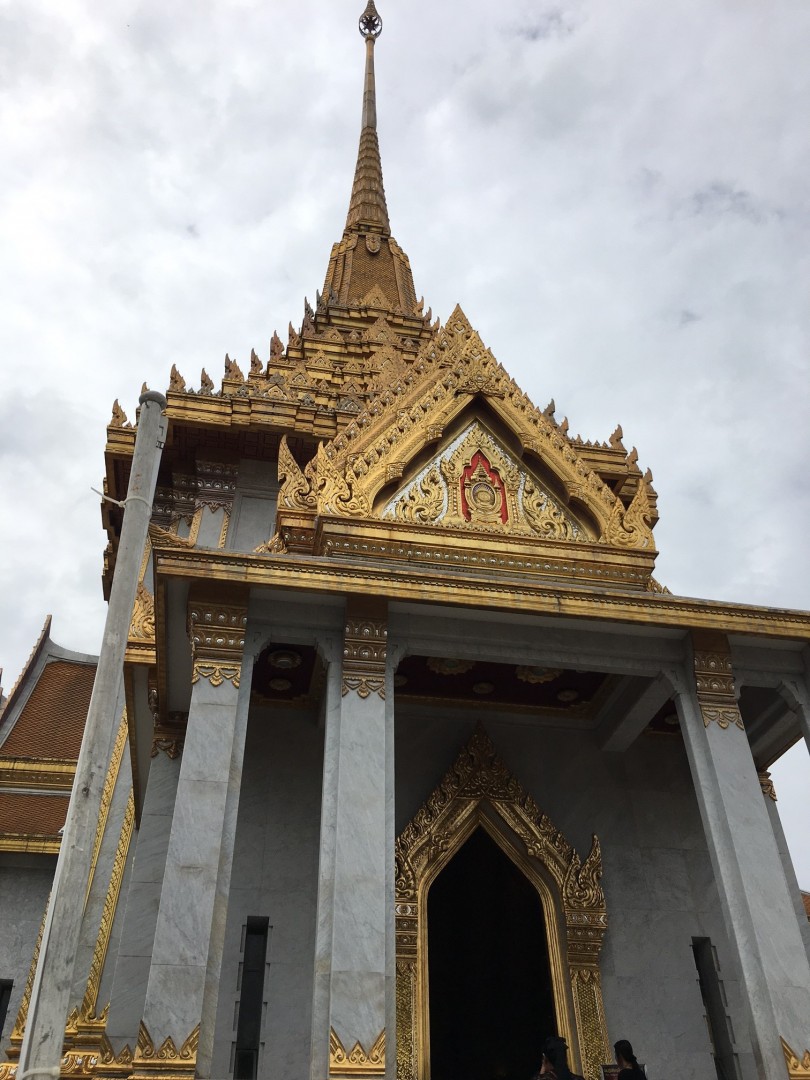 After leaving the temple, I stopped at the Samphantawong Museum right next door. Here, a guide was telling stories of the Chinese (or 'Teochews' as they are known in the region) settling in Thailand and becoming a part of the community. When I discover something new, I can be as happy as a child with a new toy. It was just fascinating for me to find out what life was like in China and Thailand centuries ago, and how business and trade were carried out at the time.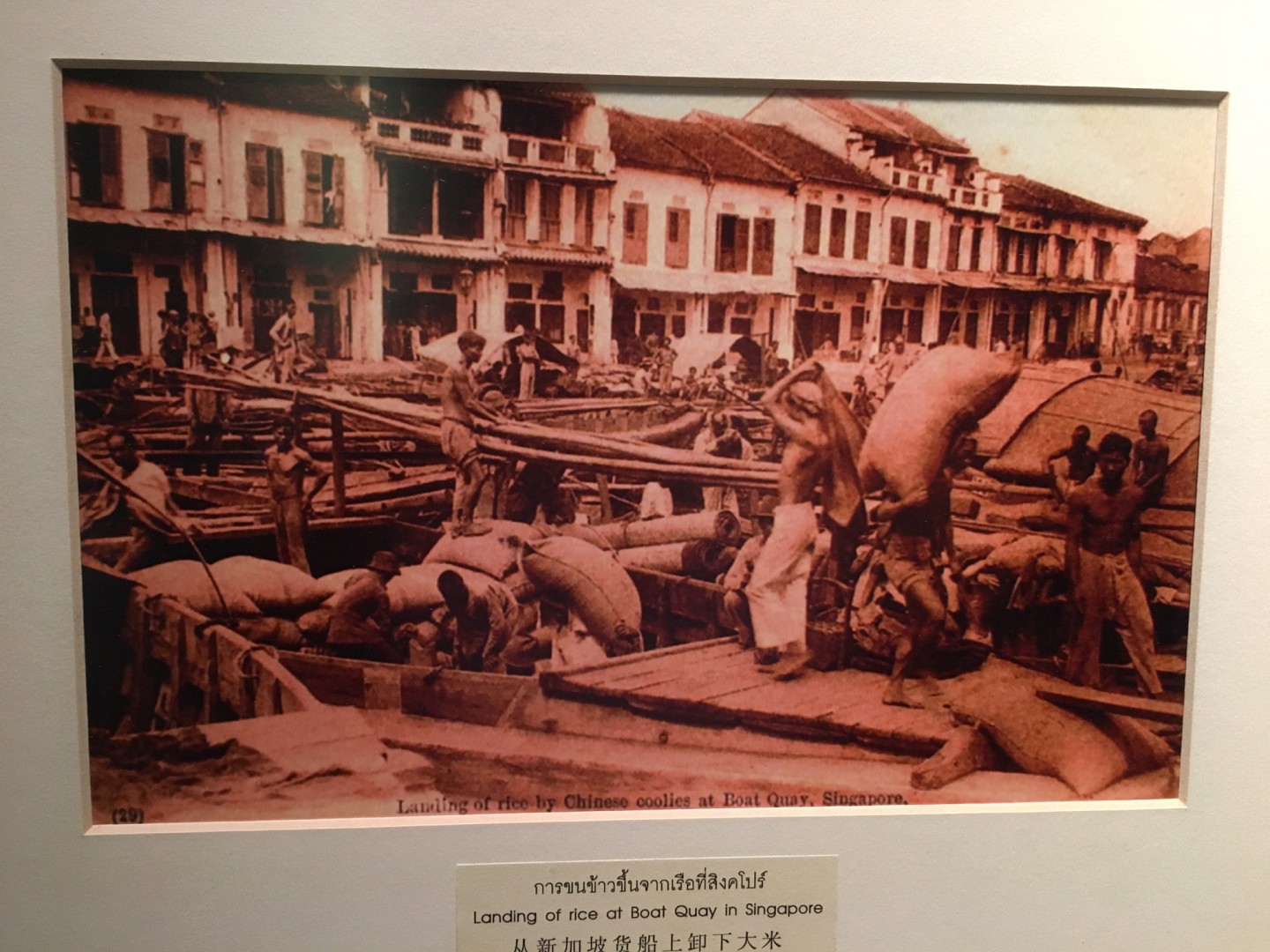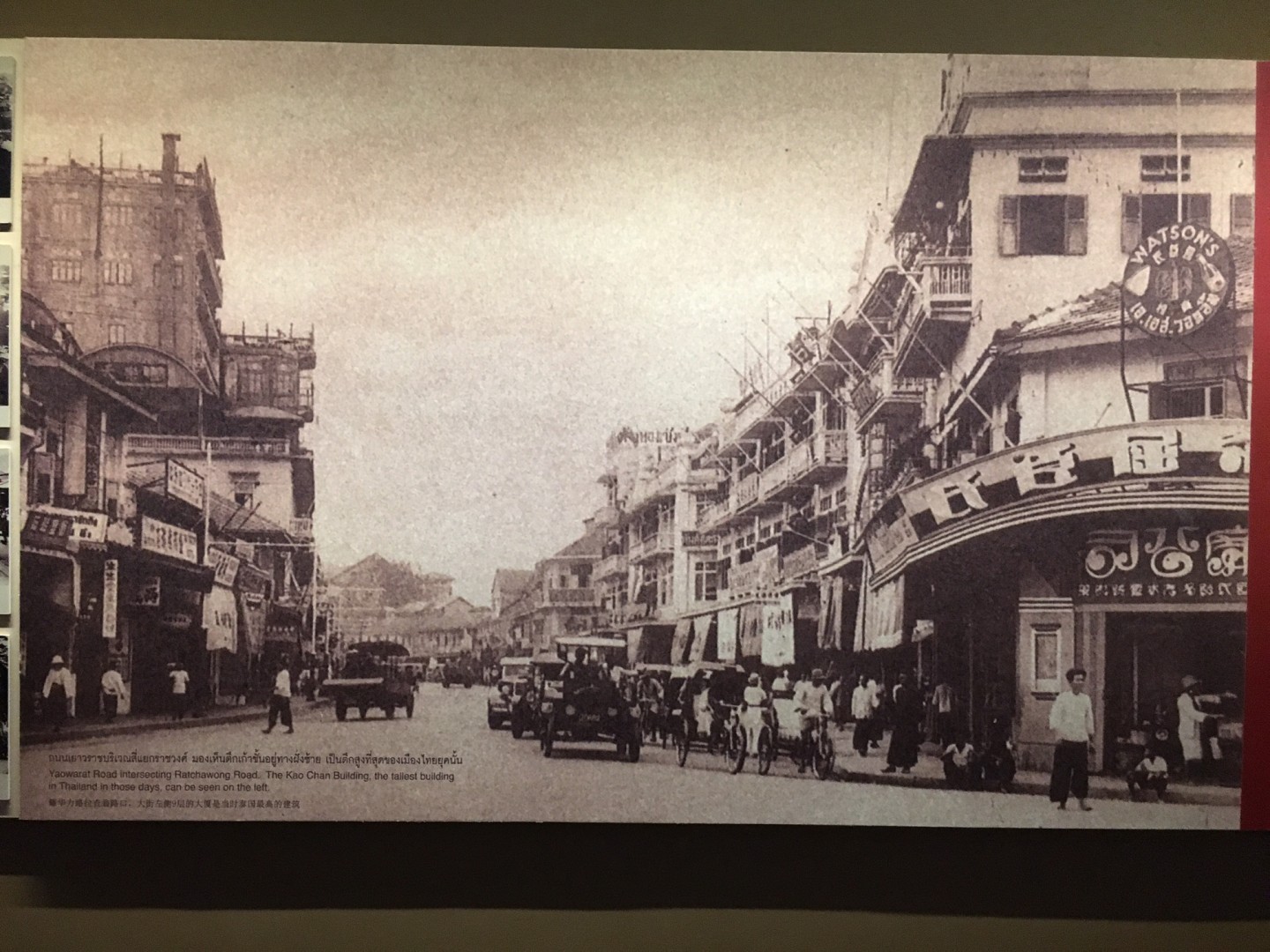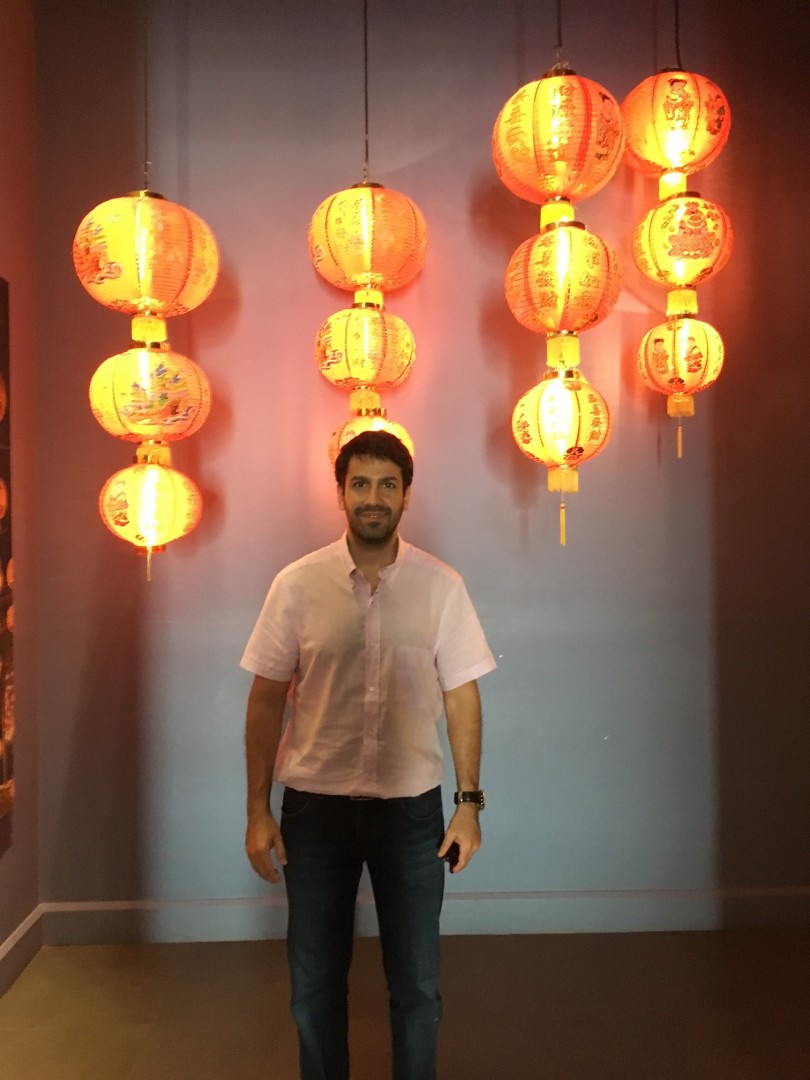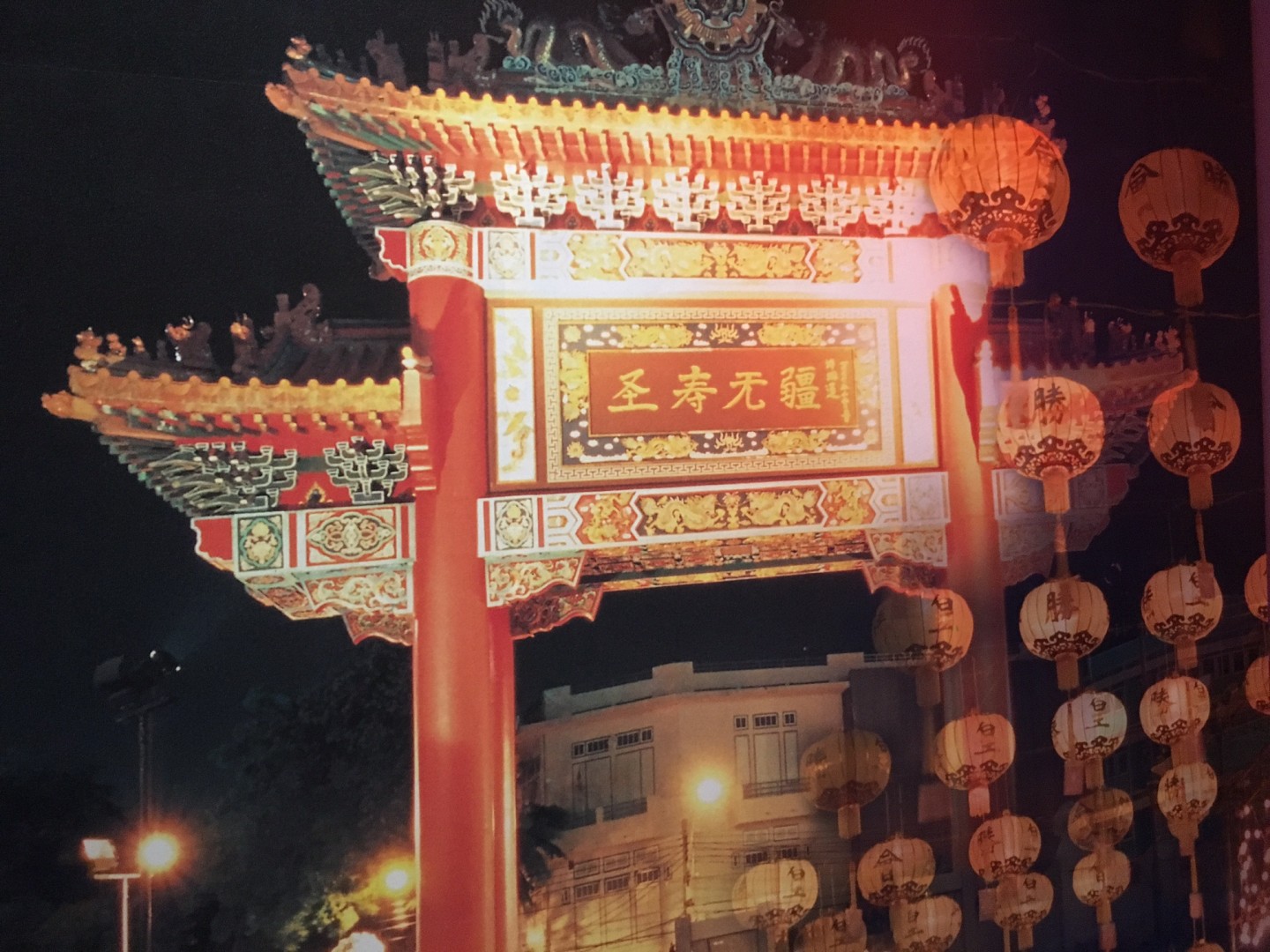 You can make wishes at a lot of places where there's a statue of Buddha. In the Erawan Shrine, for example, you'll find a four-faced statue of Buddha just by the Four Seasons hotel. People come here to light a candle, make a wish and say a prayer.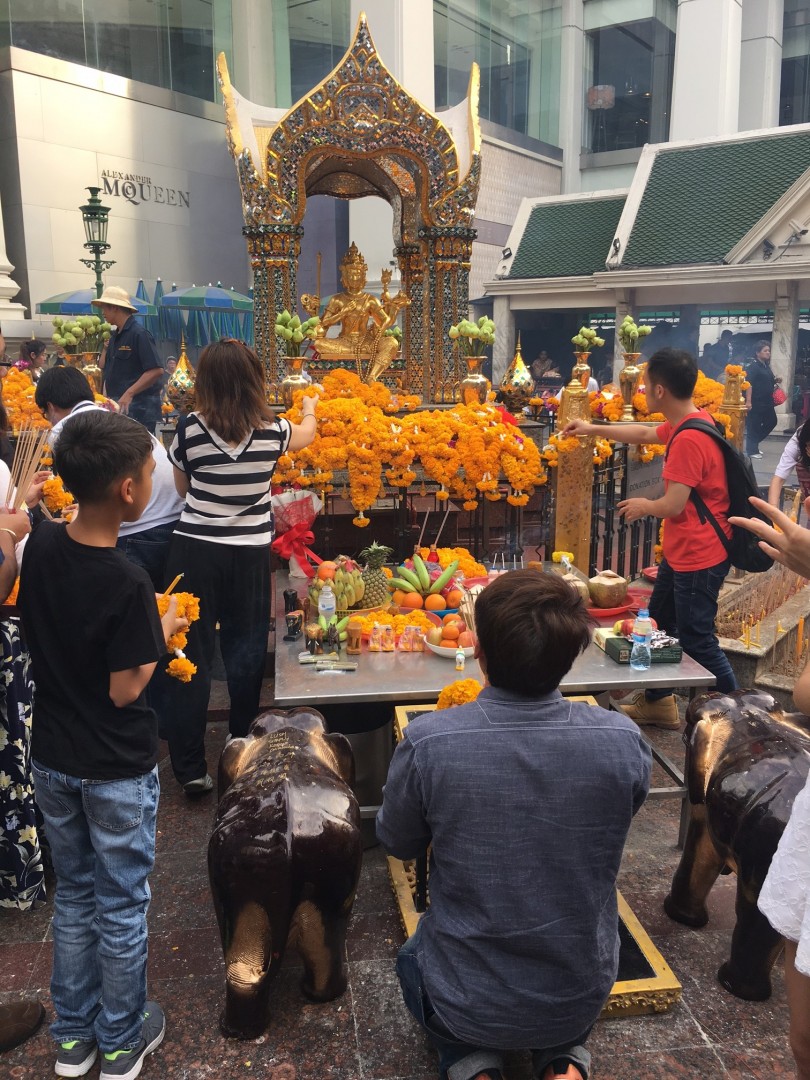 The Buddha statue on the corner and visitors praying.
The dining experiences I had during my three days in Bangkok – particularly lunches and dinners – were nothing short of a feast.
Bangkok's Taksim and ladyboys
I discovered Soi 24, which I guess could be described as Bangkok's answer to Taksim. With its multitude of bars and restaurants, the place is a magnet for foreign visitors and expats.
On one of my evenings in Bangkok, I went to the State Tower in Silom. On the 63rd floor of the building is an observation deck with stunning views of the city. Up here, you really get a sense of how the vast Mekong River has shaped Bangkok as a city. There also happens to be a fabulous restaurant in the same spot. I'd recommend it.
So here are some of the views of Bangkok from the 63rd floor of the State Tower: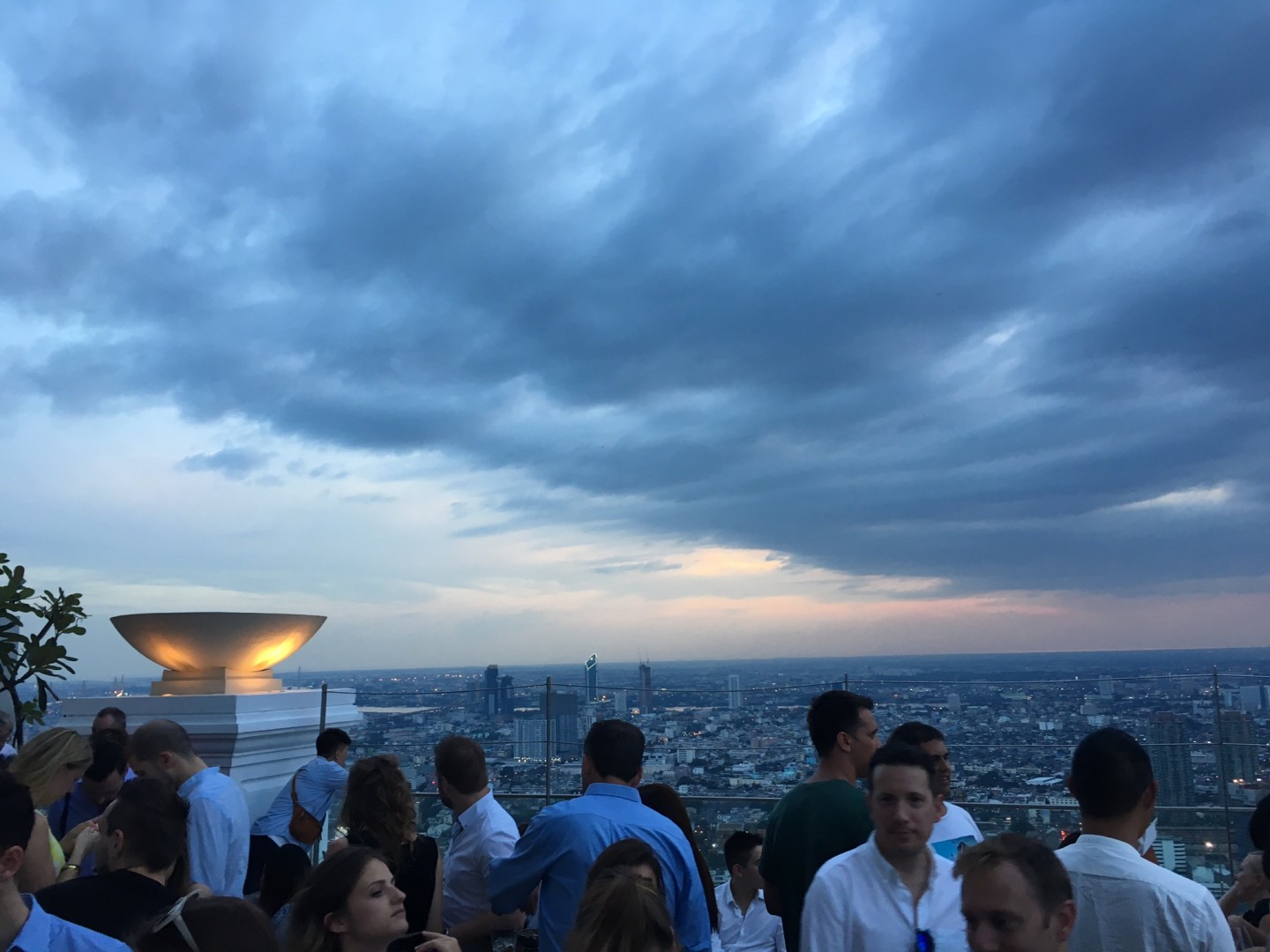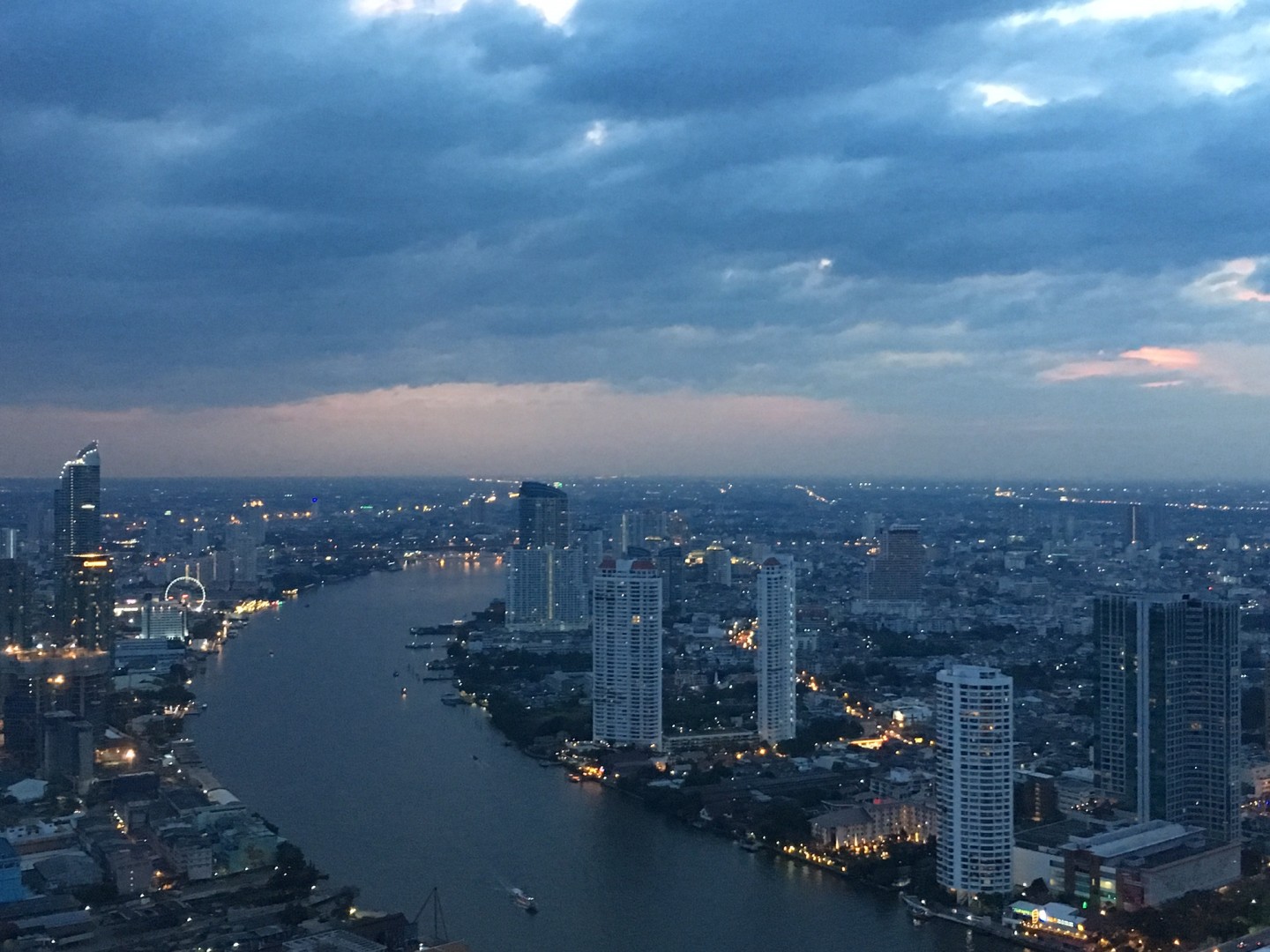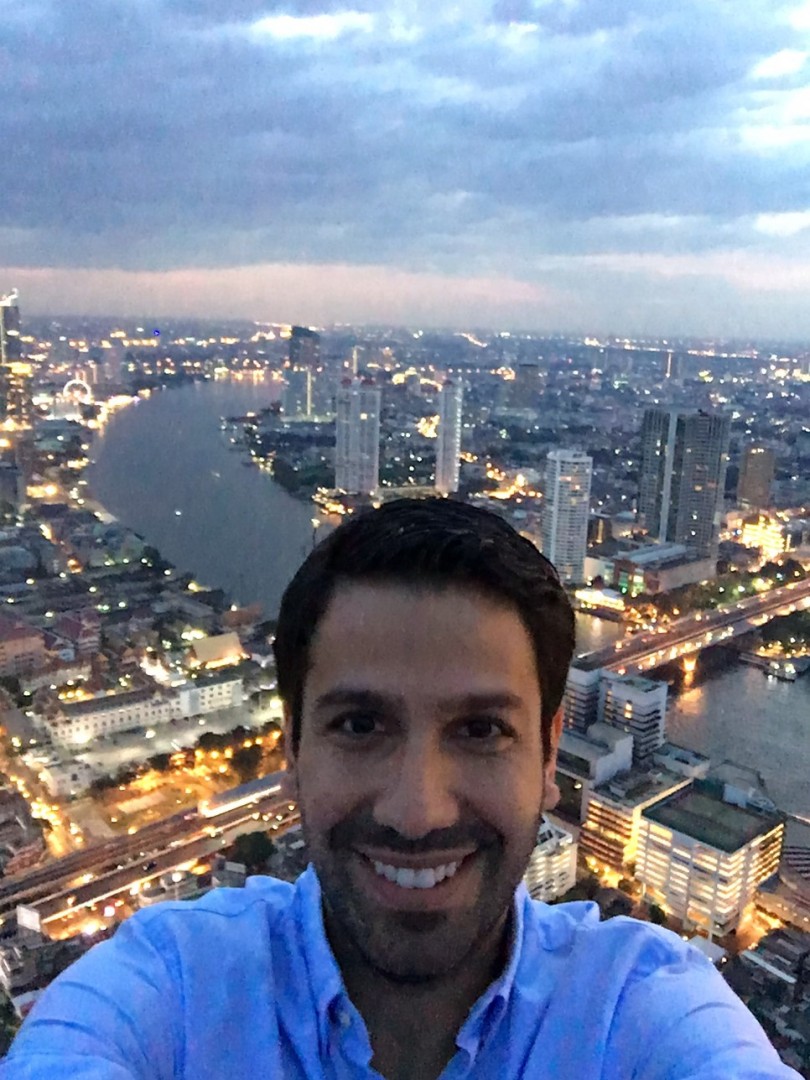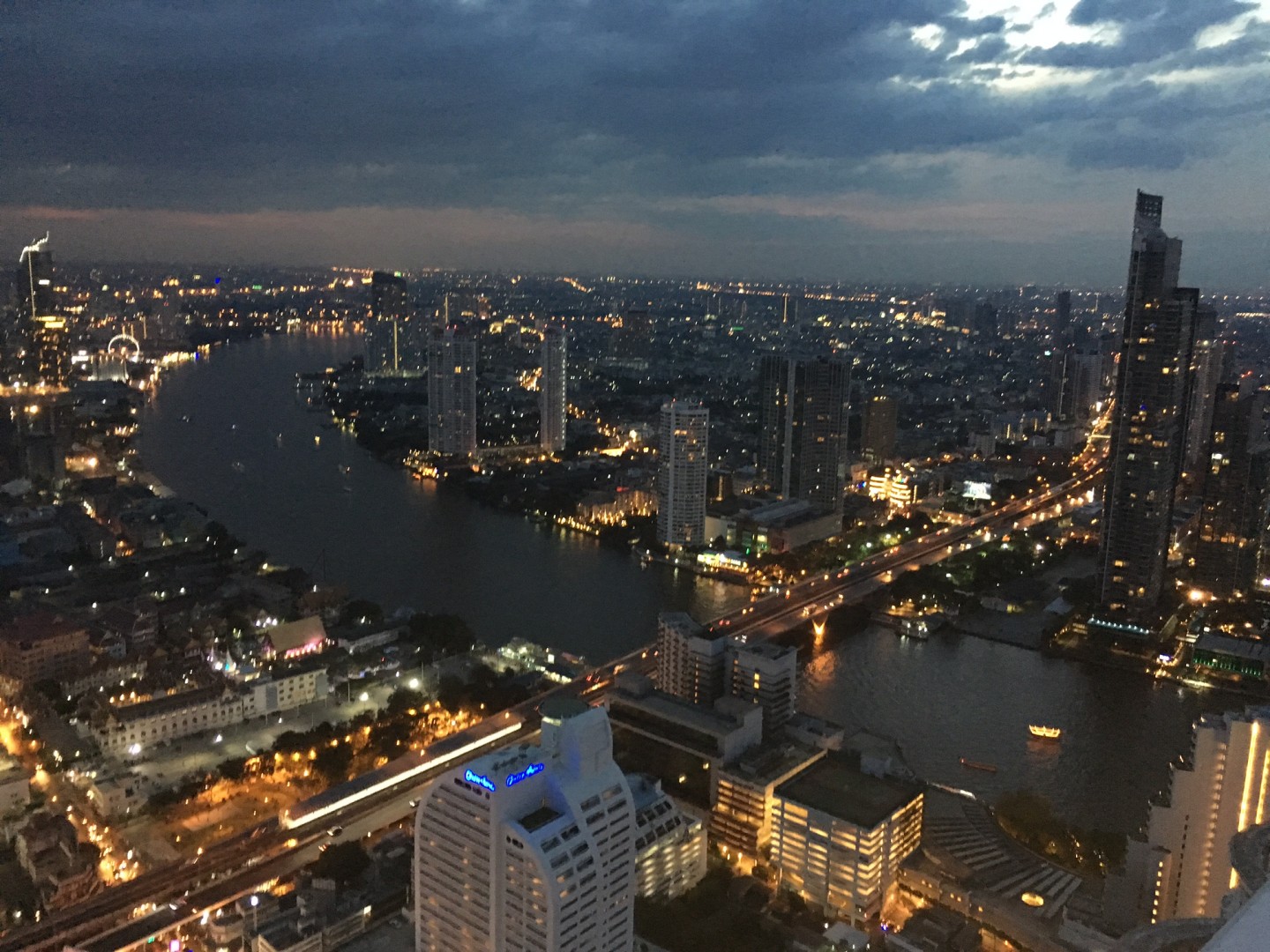 Another thing that's interesting about the building is that part of the American movie, The Hangover II, was shot here. Despite being a dumb film, it did make me laugh a lot. I also got to find out about the questionable culture that the term "ladyboy" stands for.
When you're there, you obviously hear a lot of stories on the subject. "Ladyboy" (or "kathoey", the local equivalent) is the name given to a certain kind of transsexual in Thailand. Boys are picked out at a young age and raised as girls. Later, after receiving female hormone therapy and undergoing a series of operations, these "ladyboys" become truly feminized. They then begin to work for the prostitution industry. Up to a point, I can understand both men who feel like women and women who feel like men from birth. But an exploitative culture based on forcibly feminizing men is a whole different thing. I didn't want anything to do with it and so made a point of keeping away from ladyboy areas and red-light districts.
The amazing thing is that you really can't tell the difference between ladyboys and real women. I remember some of the friends who I was with seeing a female on the street and betting with one another over whether she was a woman or ladyboy.
Anyway, back to the matter at hand... I spent time in the outstanding Lebua restaurants in the evening (Lebua is a hotel within the State Tower). For some reason, hotel restaurants aren't particularly popular in Turkish culture. I guess people here find something distasteful about walking through a lobby to get to the restaurant. Turks want to be able to access their restaurants directly from outside. You'd basically be lucky to find a good restaurant in any of our shopping malls (with the exception of İstinye Park and Kanyon). In Thailand, on the other hand, almost all the upmarket restaurants are either in hotels or shopping malls.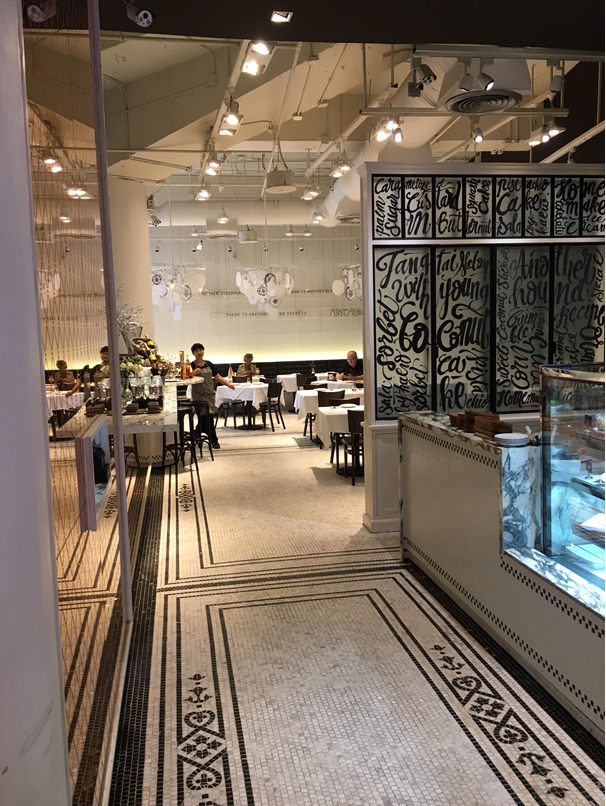 My name 'Serhan' written in Thai. Thanks to Starbucks for teaching me how it's done...
At the St Regis, for example, I ate at the best Zuma in the region. And it was a veritable feast. Another time I spent a delightful few hours at the Vogue Lounge with its sexy Art Deco design.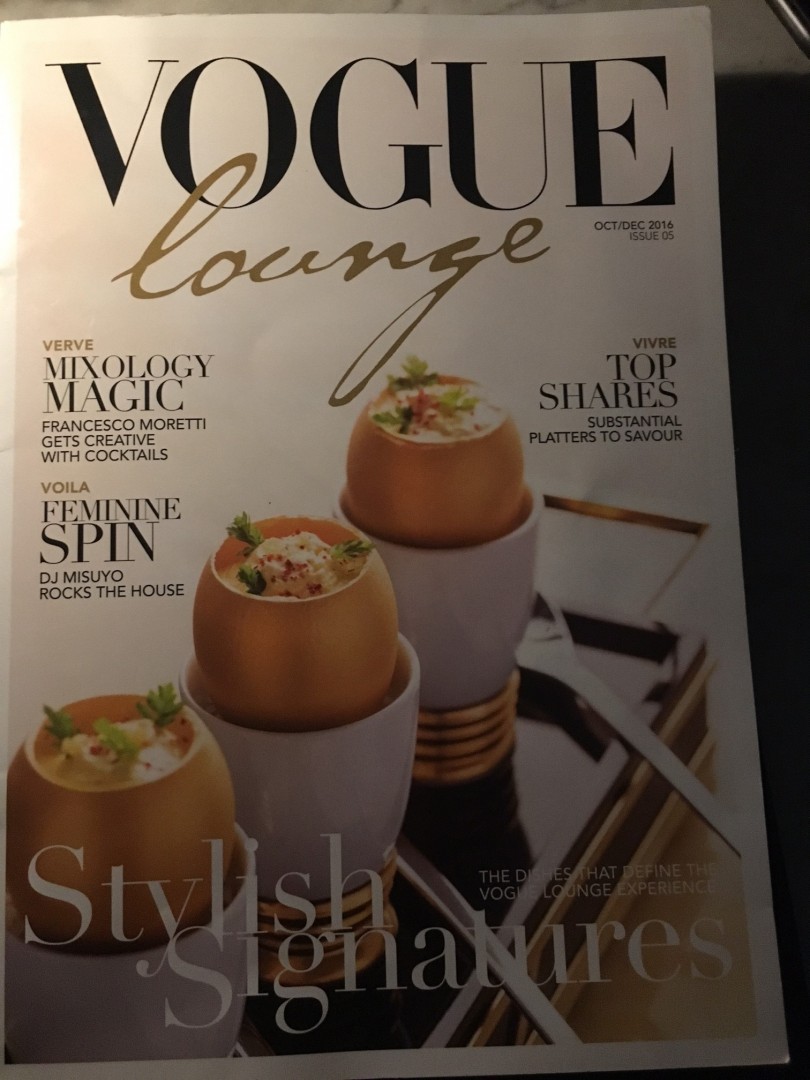 With direct flights operating between Bangkok and Istanbul, it's relatively easy to get to and from this beautiful country. The flight is quite long, of course, at over 10 hours. But on aircraft with high standards of comfort, I have to say long flights don't bother me. On the contrary, I welcome having some time to myself with no interruptions from my phone.
Beware touching heads!
If you want to go to Thailand, you should read up about the local culture. So, let me offer a few words of caution right away. As a general rule, Thai people are calm, friendly and accommodating, but there are certain actions that can make them crazy. One of them is pointing at monks. To do so is basically to humiliate the monk, which in turn is regarded as disrespecting sacred values. The second big thing is not to touch a Thai person's head without their consent, even if it's meant as a joke. This is considered a serious insult.
At this point, I'd like to share a story with you about a Thai barman who put a dear friend of mine in a coma. My friend was trying to get a drink in a crowded bar, but just wasn't getting served. In true Turkish style, he tapped the barman on the back of his head and said, 'Hey, there. How about serving us?' The barman span around furiously, muttering something along the lines of, 'You want a drink? Well, you've got it coming.' He then proceeded to mix a drink, gave it to my friend, who incidentally is a doctor. Wondering what was in the drink, he took a sip and that was it: the poor guy spent three weeks in a coma in Thailand. He barely made it through the critical stage, but his brother was with him, thank goodness. His entire family then traveled out to Thailand to be with him. Can you imagine? A guy can become so incensed by someone inadvertently touching his head that he poisons them. OK, the barman turned out to be a complete psychopath, but that's a whole different story. Anyway, be careful and be warned! It was an act of God that saved my friend. And today that same friend continues to save lives through heart surgery.
The King is king
Warning number three: don't breathe a negative word about the King of Thailand. The king is highly revered in Thai culture, and people adored the late king, who died in October, not only for his character, but also for everything he did for the country during his 70-year reign. They won't have a bad word said about him.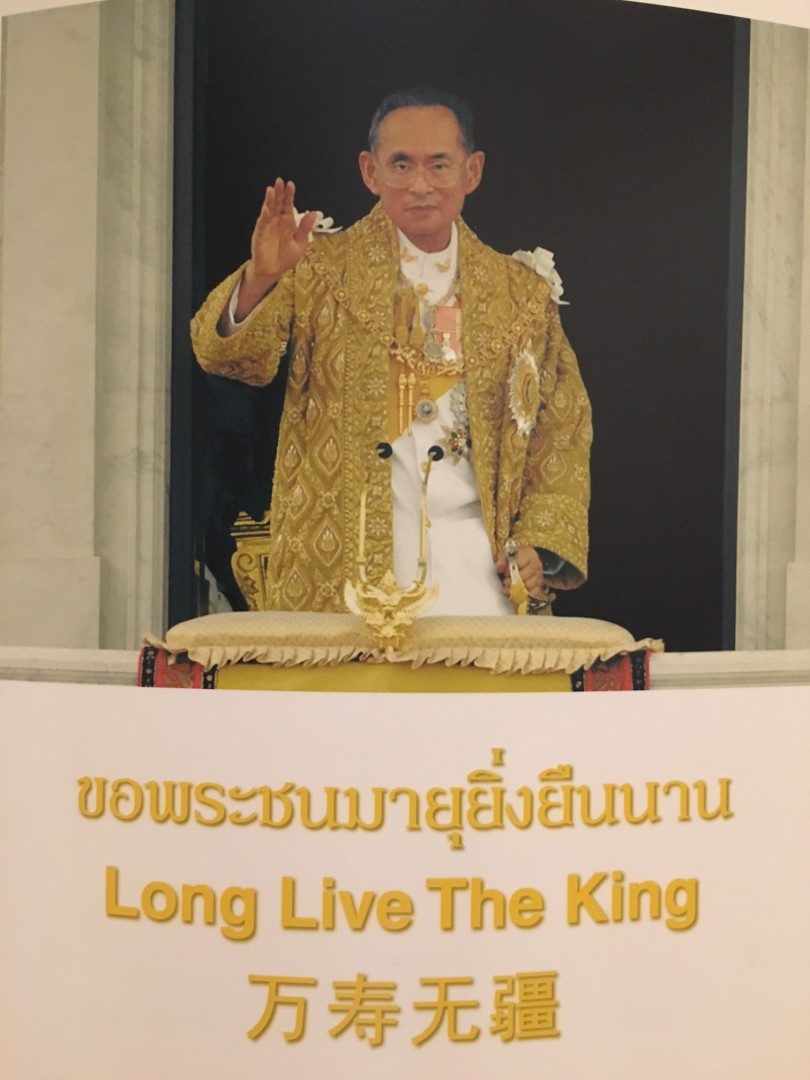 I found a really interesting profile of King Bhumibol Adulyadej on the BBC, and have borrowed from this in order to share with you a short summary of his life:
Bhumibol Adulyadej, the King of Thailand since 1946, died on October 13th 2016 at the age of 88.
Bhumibol Adulyadej was born in the US state of Massachusetts in 1927.
His father, Prince Mahidol Adulyadej, was studying at Harvard University at the time.
The family later returned to Thailand and Bhumibol Adulyadej lost his father when he was just two years old.
Love of culture and the arts
Following his father's death, Adulyadej's mother moved to Switzerland. It was here that Adulyadej, who was then crown prince, was educated.
As a young man, he developed a love for music and photography. He played the saxophone and wrote his own compositions, but also enjoyed painting and literature.
With the abolition of absolute rule and transition to democracy in 1932, the role of the Thai monarchy became largely symbolic. When Adulyadej's uncle, King Prajadhipok, abdicated in 1935, this dealt yet another blow to the status of the royal family.
The throne then passed to Bhumibol's brother, Ananda, who was only nine years old.
Come 1946, King Ananda died in what remains to this day an unexplained incident. The official explanation read that he was killed in a shooting accident.
After his brother's death 70 years ago, Bhumibol became King of Thailand at the age of 18.
In the early years of his reign, Bhumibol left the throne in the hands of a regent while he carried on with his studies in Switzerland.
During a visit to Paris, he met his future wife, Sirikit, daughter of the then Thai ambassador to France.
Bhumibol was officially crowned king in Bangkok in 1950, just a week after he married Sirikit.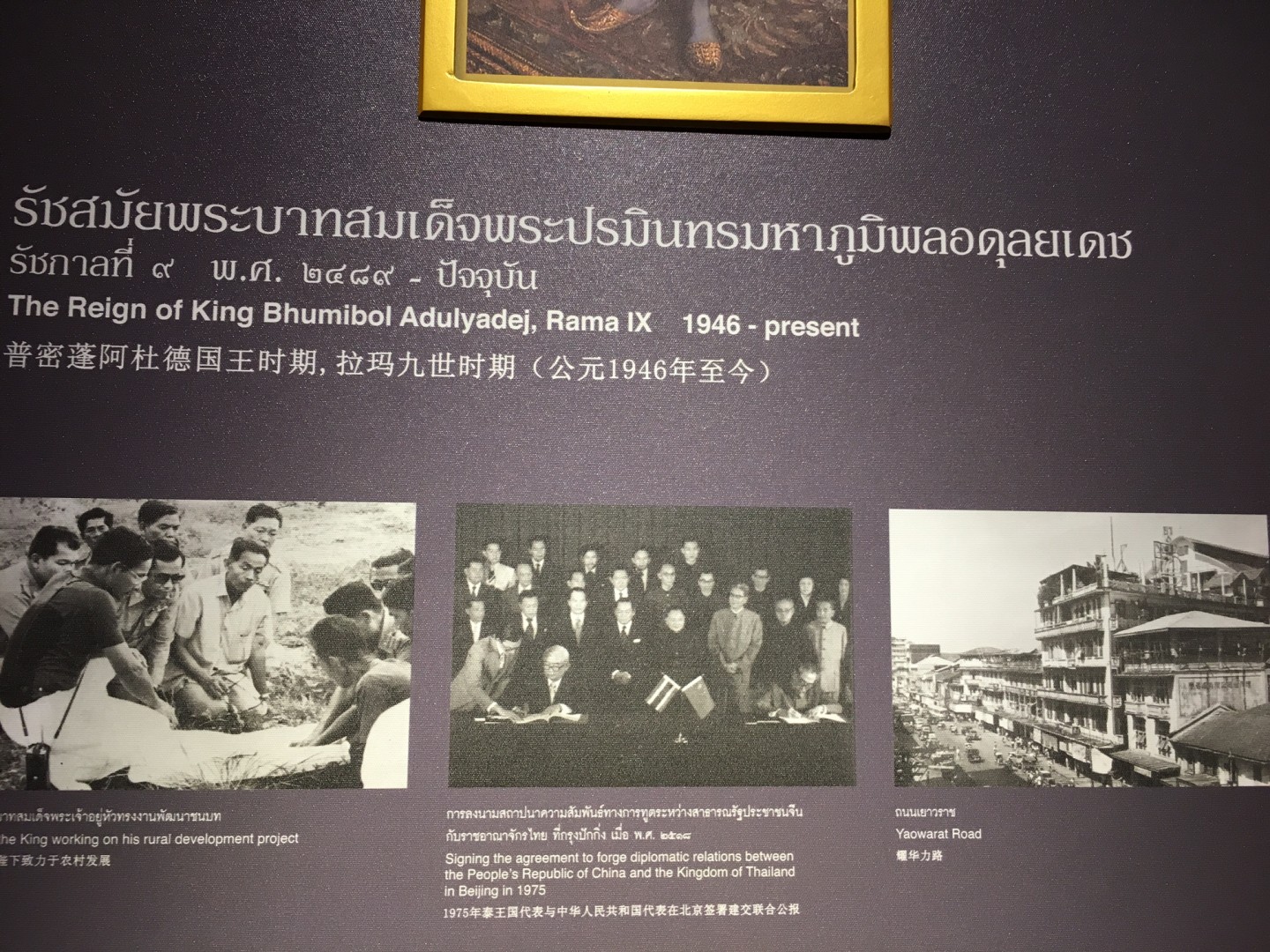 Successive military coups
For the first seven years of Bhumibol's reign, Thailand was ruled by a military dictatorship and the monarch was a mere figurehead.
In 1957, General Sarit Dhanarajata (Thanarat) seized power. The king declared General Sarit the "military defender of the capital".
Under the Sarit dictatorship, King Bhumibol set about redefining the monarchy. He made frequent visits to different parts of the country and gave his name to a raft of infrastructural projects.
For his part, General Sarit reinstated the custom that people crawl before the King on all fours.
By 1973, King Bhumibol was taking on a defining role in politics.
The military had opened fire on pro-democracy demonstrators.
The protestors were allowed to shelter in the royal palace. The move spelled the beginning of the end for the government of then prime minister, General Thanom Kittikachorn.
But three years later, the King turned a blind eye to the very public lynching of left-wing students. The Vietnam War had only just ended and it was a time when fears of communism were steadily on the rise in Thailand.
During the years of Bhumibol's reign there were many further attempts to overthrow the government.
In 1981, the King stood up to a group of armed soldiers who had staged a coup against the government of the day.
Although the rebel soldiers managed to occupy Bangkok for a while, troops loyal to the King soon intervened and regained control of the capital.
Still, King Bhumibol's tendency to side with the government during attempted coups led some Thais to question the King's neutrality.
1992 saw King Bhumibol intervene once again when dozens of demonstrators were shot after protesting against the attempt of a former coup leader, General Suchinda Kraprayoon, to become prime minister.
The King summoned Suchinda and the leader of the pro-democracy demonstrators to appear in front of him. Both arrived on their knees, as required by royal protocol.
After the audience, Suchinda resigned and the country returned to a democratic system of government.
In 2006, however, during the crisis that broke out over the leadership of Prime Minister Thaksin Shinawatra, King Bhumibol chose not to intervene despite numerous pleas for him to take action.
That said, when Thaksin's recent election victory was annulled by the courts, the King's influence was regarded as pivotal.
Thaksin was eventually ousted in a bloodless coup, when the military declared its allegiance to the King.
In the years that followed, both supporters and opponents of the deposed Thaksin claimed to have the support of the King.
In 2008, the entire country took part in celebrations to mark the King's 80th birthday. Bhumibol's unique status in Thai society was highlighted once again by the high levels of public attendance at these celebrations.
National reverence
General Prayuth Chan-ocha seized power in a military coup in 2014 and was made prime minister by the military appointed parliament a few months later.
The general promised comprehensive reforms to draw a curtain over the instability of recent years.
But opponents of the coup maintained that his real motive was to completely destroy the party of the former prime minister, Thaksin.
The nation's reverence for the King may have been genuine, but it was also carefully cultivated by a well-oiled public relations machine at the palace.
Thailand's strict lèse-majesté laws made any criticism of the royal family punishable by prison sentence, which in turn meant that both local and foreign media were restricted in what they could report on the King.
Throughout his long reign, King Bhumibol Adulyadej was faced with the formidable task of ruling a country in the continual grip of political turmoil.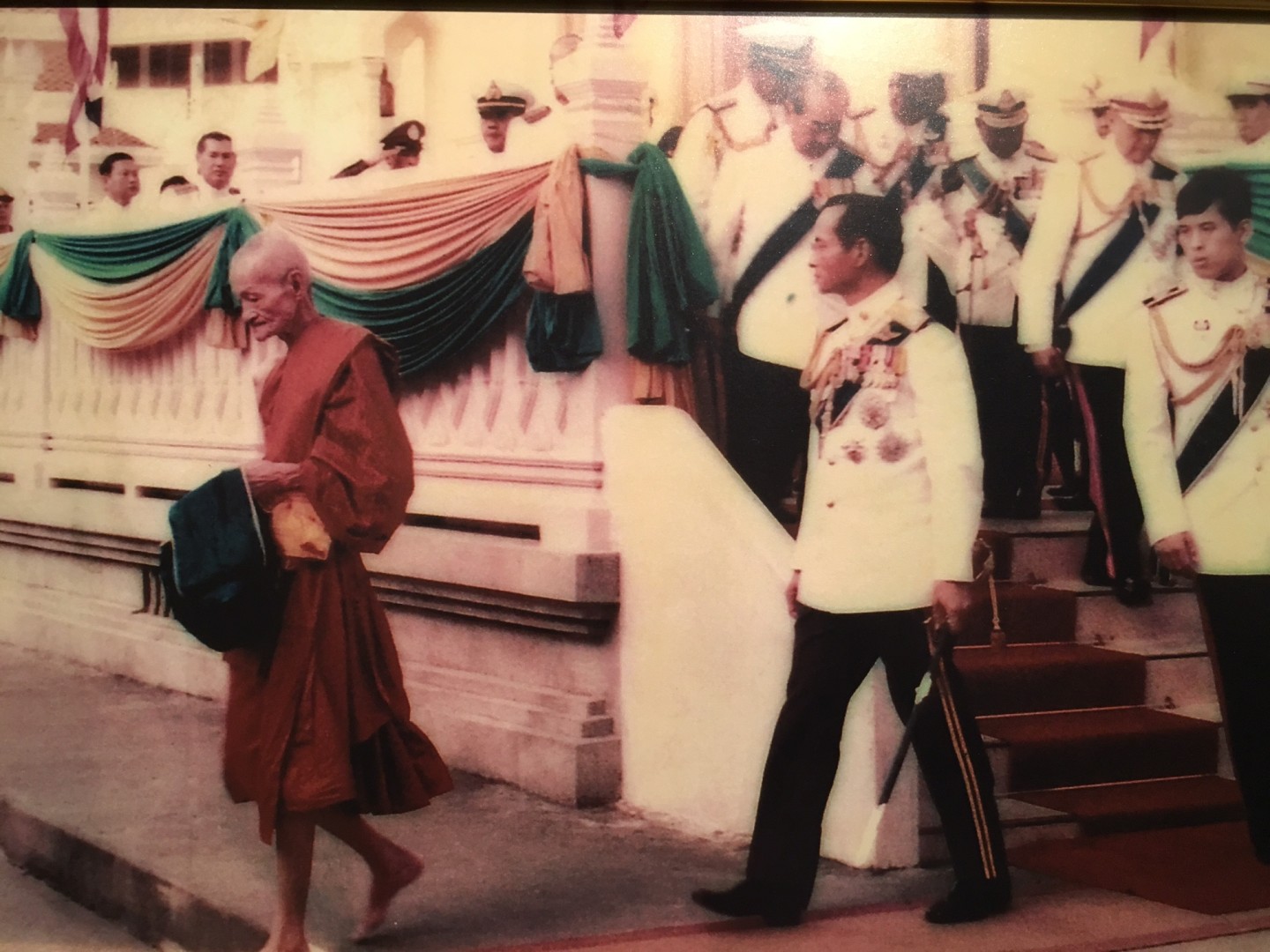 It surely speaks for Bhumibol's diplomatic skills and his ability to reach out to the ordinary people that the Thai monarchy is in a far stronger position today than it was 70 years ago. You can find pictures and statues of the late Thai King, as well as monuments to him all over the country. There are corners commemorating the king just about everywhere, from the hotels where I stayed in Phuket and Bangkok to restaurants, airports and the streets. Here's a small seIection of the memorials I came across to the Thai king: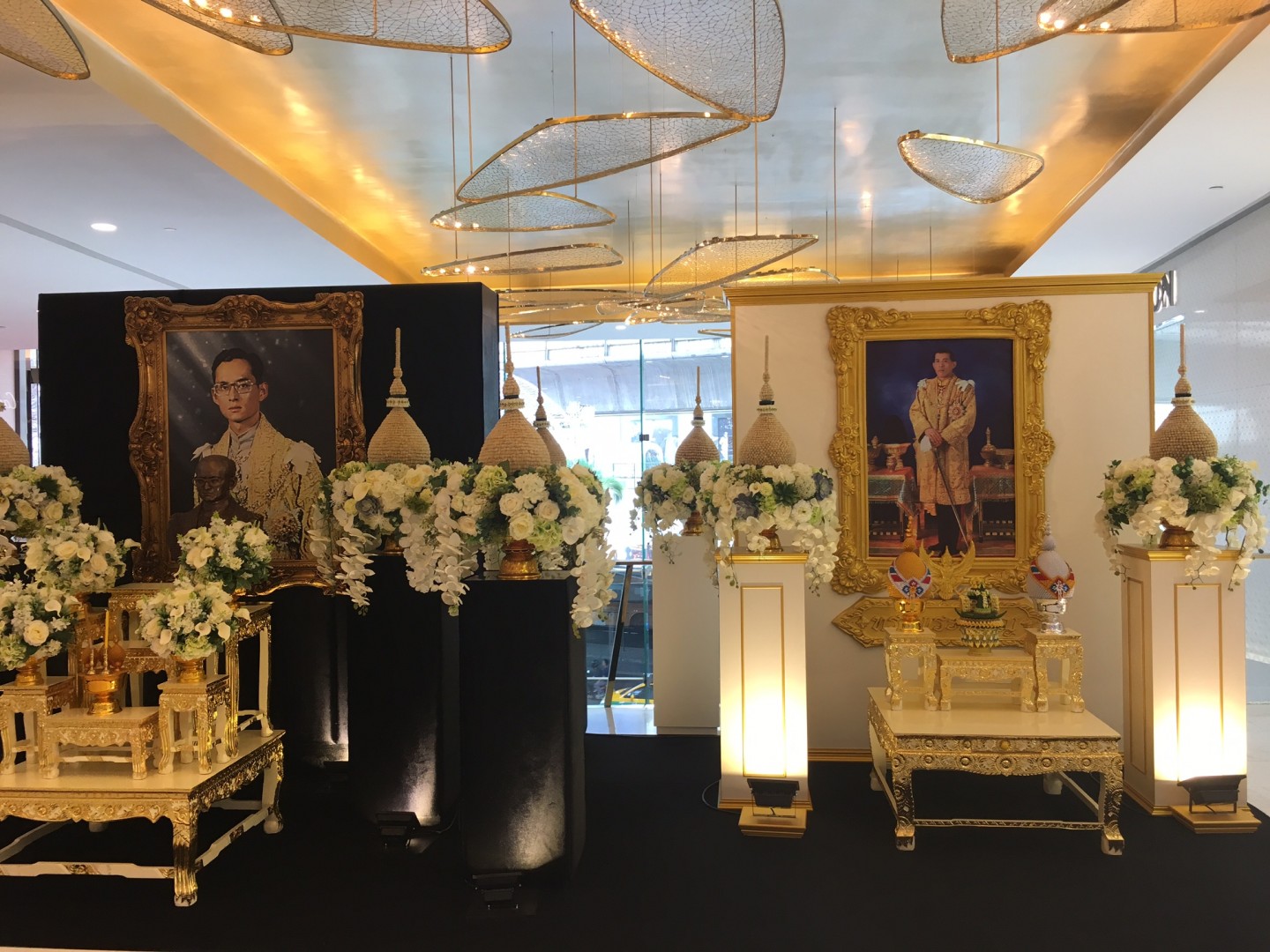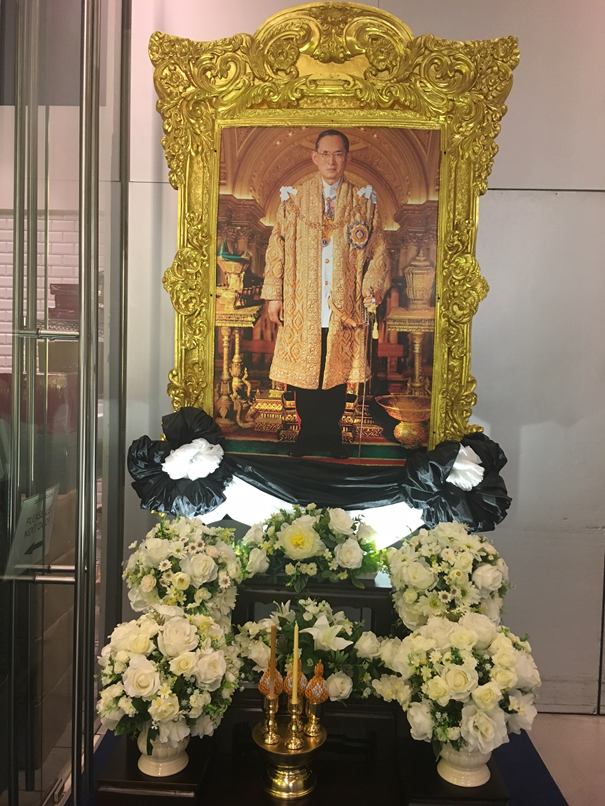 To inspire, maintain and even build on this tide of devotion over 70 years is no mean feat. So, let's pay tribute here to Bhumibol Adulyadej, a king who did much for his people.
Crown Prince Maha Vajiralongkorn, the 63-year-old son of Bhumibol, has now been proclaimed the new king of Thailand. Time will tell whether he's able to keep up the same level of respect that his father enjoyed.
Bangkok merits another visit
Last of all, I should point out that because my time in Bangkok was so fleeting, I didn't see half the sights that deserve seeing, so I plan to return for at least one more visit.
Meanwhile, let me share some recommendations by close friends who know the place well. Next time, the list will be longer.
-For one thing, if you go to Bangkok, you have to go to a floating market. This involves cruising around the market and making your purchases in rowboats. The floating market is one of Bangkok's classic tourist destinations.
-Having done kickboxing back in the day, I've always had an interest in Thai boxing. Originally known as Muay Thai, this combat sport differs from kickboxing in that it uses elbows and knees a lot. Attacking techniques are also more forceful and aggressive. It might be interesting to check out a Muay Thai event for the experience.
-You might also enjoy going to one of Bangkok's upmarket cabaret shows (the kind that avoids sex themes). Personally, I think I'd love all the colorful costumes, not to mention the music and dance which are such a big part of Thai culture.
- Restaurants: El Mercado, Nahm, Koi, Ton Krueng
- Bars: Bottoms up (Tong Lo), Iron Fairies, Clouds (Tong Lo Area)
- Brunch: The Gardens of Dinsor Palace, Rockets (Sukhumvit Soi 49)
Leaving Bangkok on the plane, I realized that this was the end of what had been a great holiday and I began to prepare myself for the business world of Singapore.
Next time, I'll be sharing my memories of Singapore. Until then, take care!

A sculpture in the international terminal of Bangkok airport.
Tag: yaşam, gezi, kültür, anı