A giant contact center rises from the ashes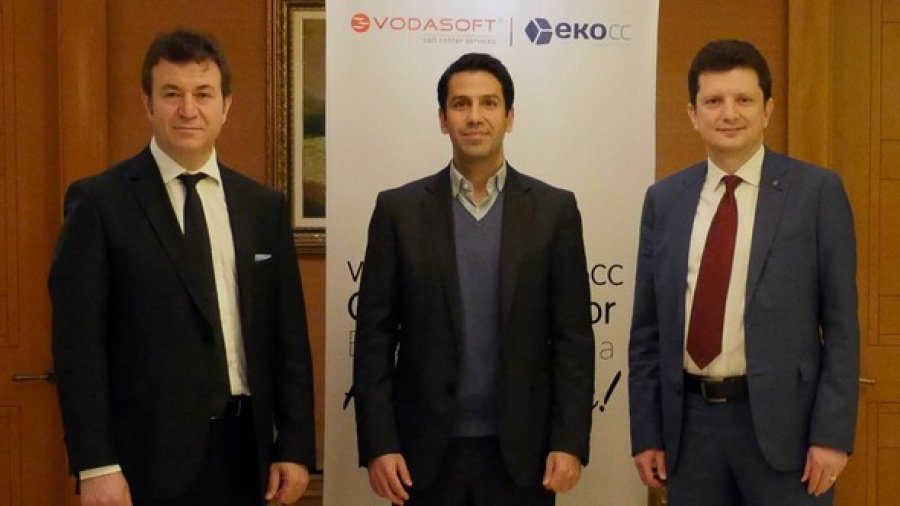 Although it was not among my business objectives, I was impelled to take over, rather than abandon, the contact center I had founded years earlier. That decision was made following a period during which I had begun to form a new "ecosystem" in my professional life. Despite some unexpected crises, we decided to take the company under our wing and support it. After last month's merger, the contact center, EkoCC, has been transformed into a giant serving a record number of brands. This week I will share the cautionary tale of this roller coaster of a process.
In December of 2009, after we took over the 50% stake our Qatari partner held in our KFC and Pizza Hut chains, they underwent a rapid restructuring under my leadership. Major changes were made to the restaurant company of which I was general manager, from finance and marketing, to human resources and operations. The planning and completion of this restructuring took 6 months. During this period, extensive improvements were made, and by the end of the 6 months we had re-introduced a company that was dynamic and profit-oriented. For example, during the second 6 months in which I was in charge we opened 25 restaurants. Can you imagine? In the first 21 years of the franchise we had opened a total of 81 restaurants, but in just 6 months we opened another 25, boosting the total to 106. What's more, we did it without any bank financing. Such was our pace that we opened multiple restaurants completely from scratch in a period of something like 13 days. We made time to address the problems of every department that was hobbling our company. For example, the contact center we worked with was plagued by operational issues. The lost calls ratio was extremely high. We warned that company once, then twice, and then we began researching which other companies were better placed to do the job.
Our market research showed that none of the existing contact centers were sufficiently acquainted with the specifics of food retail, especially home delivery. In the end, we made the strategic decision to do it ourselves. But with a difference: we would operate not under the umbrella of our restaurant company, Turkent., which owned the operating rights for Pizza Hut and KFC in Turkey, but through another company. Our reasoning was that the restaurant company would be unable to achieve the level of professionalism demanded, which would lead to constant interference from individual restaurants. In order to conduct this business in a sound and professional manner, we decided to begin operations within Eko Tesis Yönetimi, a facility management company that is part of the family firm, Süzer Holding. (As a side note, I am the one who came up with that company's name when I was working at Süzer Holding in 2002. Even back then, I had a thing for the term eco-).
After a series of interviews I conducted myself, we named Serkan Başöz, at that time the director of a contact center serving Holland, our General Manager. As his deputy, we chose Ali Koç, who was experienced in training and business incubation in the sector (sparking many jokes about my having hired the third-generation member of the Koç family who happens to share the same name). In positions under Serkan Bey, we placed people with restaurant experience. That is how we set up a sound operation that combined those with contact center experience with those with restaurant experience. And it worked.
Here are two images from our historical opening on May 6, 2011. The first one is of my father and the chairman of the executive board of the Holding, Sami Çakır. In the second photo, from left to right, are EkoCC general manager Serkan Başöz, Eko Tesis Yönetimi A.Ş. general manager Hür Aktaş and deputy general manager Ali Koç.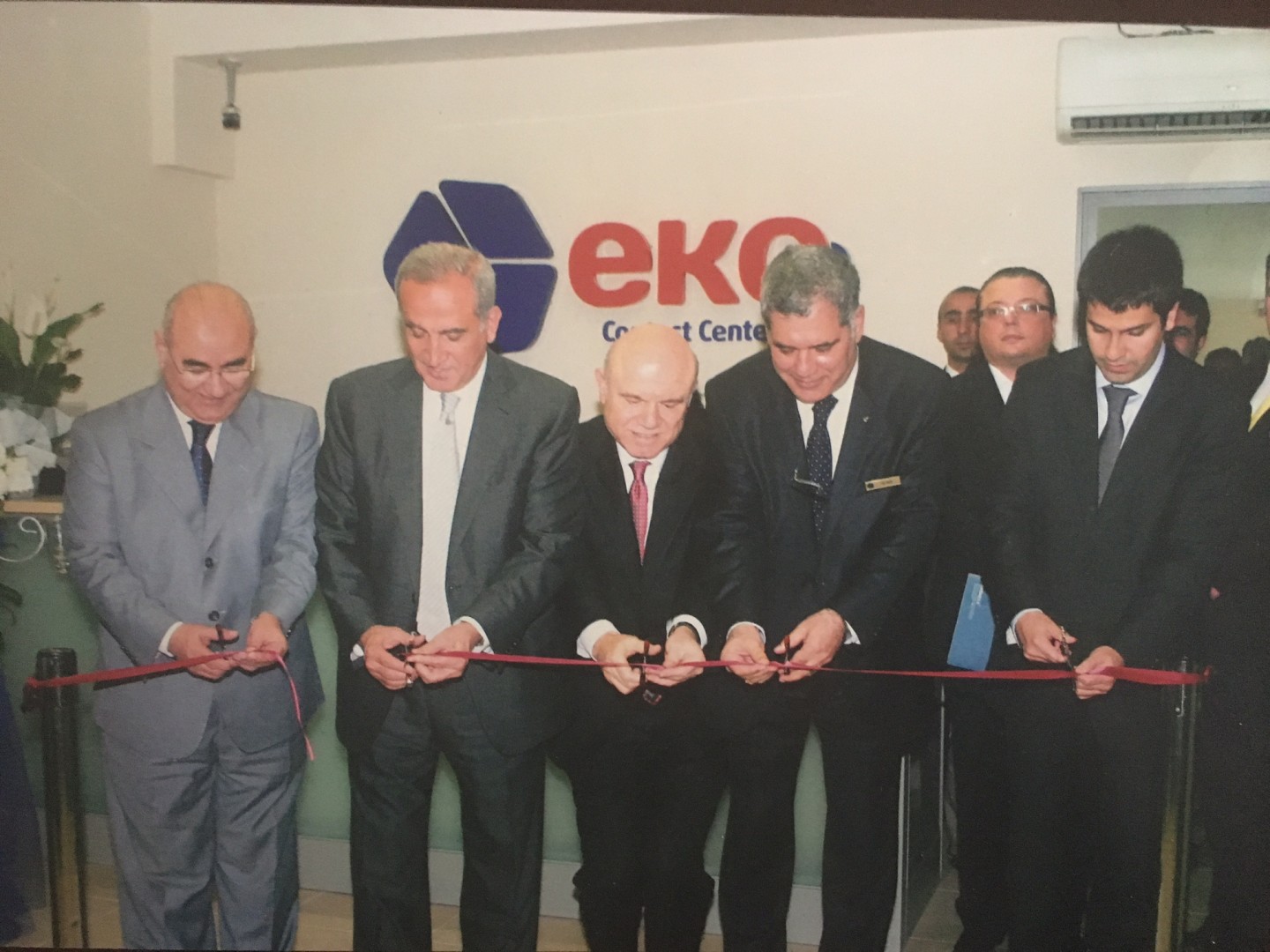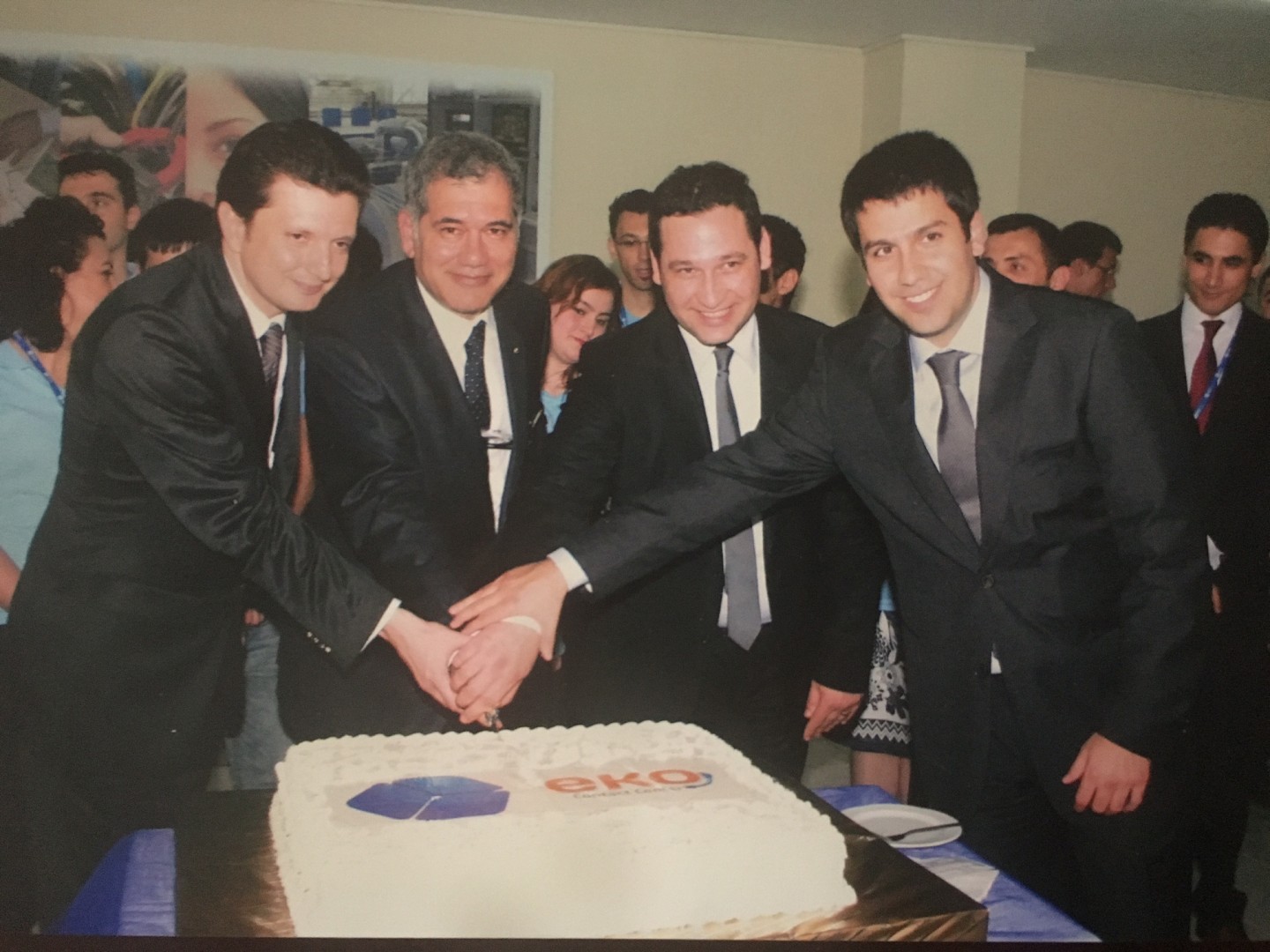 Even though we employed fewer people, we reduced our lost call rate by 20%. This resulted in higher sales and a higher percentage of home delivered meals. Under sound management, the contact center increased its weight in the company. When this operation was launched, 18% of sales were home deliveries and when I left the company in December of 2011 that figure had increased to 23%.

From a bluff to reality

After I first knocked on my father's door to broach the possibility of leaving the family firm, we spent the next few months discussing how to go about it. I wrote about this in an earlier post: http://serhansuzer.com/en/my-15-years-in-business-and-notes-on-the-future. From July until I actually left in November, we discussed a number of subjects at length. My father surprised me by asking about the contact center. I had assumed it would continue operations and said it could even get business from outside the firm. But Father said that contact center services were not part of the firm's core business and were not in line with its vision. I asked what he planned to do. He said he wasn't sure, but that the contact center would probably be closed after I left.
I had a lightbulb moment. As someone who thinks in images, I immediately visualized what would happen. The colleagues I had worked side-by-side with over the years, now unemployed, flashed before my eyes. It was terrible to think that my leaving the company would leave them without a job. I felt responsible.
And that's why, half-joking, half-bluffing, I reflexively blurted out: "If you're thinking of terminating operations, why not give it to me to run? I'll grow the business and make it one of Turkey's major call centers."
Even though my father paused for a moment to consider my words and pointed out that what I proposed wouldn't be easy, he called my bluff by saying, "Okay, it's yours. But be careful." I responded, "Don't worry, you'll see that this company becomes one of the sector's major players." After our discussion, my father informed his staff that the contact center would be split from the facility management company and sold to me.


The nightmarish general manager from Pakistan

That's how I unexpectedly entered a sector for which I'd had no real vision or thoughts. But as someone who focuses on his responsibilities until they are met, I rolled up my sleeves and got busy, along with my colleagues. As the contact center most familiar with the retail food business, it wasn't long before business came our way.
We got our first job from the bakery chain Komşu Fırın. Bless them. Our next business came, in order from Aslı Börek (baked goods), Keskinoğlu (poultry), tamustumegore.com (Our first e-commerce company, it had an interesting idea and project. We worked together for 3 years. The company is no longer active.) and Groupon. This list began growing.
In addition to food sector company, we began serving other retailers and e-commerce companies. Business was booming and going from strength to strength when we found ourselves up facing a major crisis.
One and half years after I left Turkent, the family firm, Süzer Group, sold the Turkish operating rights for Pizza Hut and KFC back to Yum International. A Pakistani general manager was then named the general manager of Yum International's company in Turkey. I wouldn't wish such a general manager on my worst enemy. The moment he set foot in Turkey, the man began dismantling and eliminating everything we had done for the KFC and Pizza Hut brands since 1989. Worst of all, dozens of managers in key positions were fired or browbeating into resigning simply because of their close relations with us. This would be bad enough in the finance, marketing and HR departments, but it was even more destructive when done in operations, the backbone of food retail. Experienced restaurant managers, regional managers and KFC/Pizza Hut operations managers who had been with the company for 20-25 years were sacked or forced to leave.
Turkent had posted its best period ever while I headed it from 2010 to 2013 and, until it was sold 1.5 years after I left, with the team I had assembled. It pains me to see how a company whose liquidity was surging and whose profits were setting record after record has been reduced to a company that is constantly shrinking and drowning in red ink. It's heartbreaking to see 24 years of hard work (including the 3-4 years me and my team worked so hard to make the company a success) go down the drain. I'll write about this in more detail at another time.
Right now, let me predict that due to the dismal performance posted by the inexperienced and fumbling general manager Yum International chose to post to Turkey, they will be forced to sell the franchise again at some future date. We'll all wait and see.

To quit or to continue?

Returning to the main subject of this post, once the mass sackings had taken place at Turkent, it was the contact center's turn. At that time, KFC and Pizza accounted for 62 of our customer representatives and 80% of our business (even if that rate was on the decline). The new general manager from Pakistan decided he would no longer work with our contact center simply because it was headed by a Süzer. Instead, he gave Turkent's business to the previous contact center we had stopped doing business with years earlier because of its lackluster service, high fees and dismal lost call rate. The contract with our contact center was terminated. Almost immediately, revenues from KFC and Pizza Hut home deliveries began falling, and I know that they continue to do so. That Pakistani general manager has been rightfully cursed by so many people that I'm confident he'll get what he deserves one day.
We at EkoCC had suddenly lost 80% of our business, which essentially meant losing the entire company. We were like a boxer knocked to the mat as the referee was counting to 10. A strategic decision had to be made. Would we quit or would we continue?
What do you think I decided?
"Continue!" of course.
There I went again. I decided to stand by my business. I didn't want to let my colleagues down. We, a self-sufficient contact center with serious growth potential, had been reduced for the reasons I've listed above, to a contact center one-fifth of its former size that was constantly burning through cash. 99% of the businesspeople in Turkey would have shut the company down, but I had faith in the knowledge and experience of my colleagues. I believed we would rise again.
I hope the managers from that period appreciate the fact that I stood by the company every step of the way and never left them in the lurch. Loyalty is extremely important to me, as I expressed in this post: http://www.serhansuzer.com/tr/buyuk-cogunluga-gore-vefa-bir-semt-ismidir


From ascent to merger

To tell you the truth, I wasn't thrilled about running a center that was bleeding cash at a time when I was particularly focused on investing in solar energy. As we drummed up a lot of new business over the next two years and became a contact center with 130 customer representatives providing services to 30 different brands, I slowly became acquainted with the other sectoral players.
Of these players, I liked Vodasoft, a company active in the same area with a similar business model. They were our biggest competitor and we were always trying to outbid each other, but I felt an affinity with them. Our companies had a similar style and we were both retail-focused. Their customers, like ours, were "incoming call". We were both relatively small companies that still served numerous major international and national brands. With the advantage that came from starting their company eight years before we did, they were three times bigger than us, but they continued to get new business and grow, as did we. The owners of this company served as its CEO and general manager. When I met Zekeriya Bey and Fatih Bey for the first time, I was even more surprised. I later met with their stakeholders Seyit Arslan and Yunus Kaya. Vodasoft's stakeholders were all unassuming and unpretentious, just like us. They were scrupulous about their finances and good at what they did. Our general manager, Serkan Bey, already knew and was friendly with Zekeriya Bey from their time at the Contact Center Association.
The history of Vodasoft, too, is a long story. Although they've had their ups and downs, they have survived for 15 years in Turkey's business climate without taking out any loans or receiving any outside backing. What's given them their staying power is their passion for their work, their keeping their core team together, and their loyalty and patience. The traits and talents that have caused Vodasoft to steadily grow for the last 15 years will now be benefitting EkoCCS.
The company's main stakeholder, Zekeriya Bey, is a visionary and doyen of the contact center sector, in which he is greatly esteemed. He became even more respected after he wrote the first and only English-Turkish dictionary on contact center terminology, which required him to find equivalent terms in Turkish.

And EkoCCS is born

With the participation of Serkan Bey, as well, we began talking about how we could form a partnership with Vodasoft. We discussed merger options that did not involve buy-outs. These discussions began in 2014, but we were unable to decide how to proceed. The subject remained unresolved. However, we were in constant contact and continued to hold occasional meetings.
I remember suggesting to Serkan Bey that we meet with Zekeriya Bey and his colleagues just one week after the disastrous coup attempt on the 15th of July. There were two reasons I did that:
1. Although we were constantly gaining new business, the contact center sector depends on economies of scale; that is, the bigger the company the greater the profits. The reason for this is that the fixed costs of a contact center become proportionally smaller as business increases, leading to increased cashflow and profits.
2. Call centers are sensitive to crises. Firms downsize during troubled times, resulting in their requiring fewer services from contact centers. Numerous contact center companies went bankrupt due to this unpleasant fact. Those smaller companies that weathered the storm naturally began consolidating. Bigger companies are better able to endure crises.
Vodasoft held similar views, and we resumed discussions about how to form a partnership. In the end, we agreed in principle to merge. We authorized the Gemicioğlu Law Office for the legal side of the merger and Aresa Public Accounting for the financial side. Bora Gemicioğlu, a partner in Gemicioğlu who is experienced in such mergers and acquisitions, and Filiz Yücesoy Eren, a partner in Aresa Financial Consultancy, handled the merger. Our financial advisor, Alper Gerdaneri, is deeply familiar with both contact center companies and he provided his expertise as well. The process was completed in the shortest possible time through the follow-up and quick work of the people listed above.
Let me share some details to give you a better understanding of the process. We held meetings several times in August and September. The letter of intent was signed in the first week of October. Then, at the beginning of November, we negotiated all the details, and because both sides were flexible and practical, we quickly finalized the Merger Agreement and signed it in early November. Then the merger procedure started. That process lasted about 2 months. On December 30, the last business day of the year, the companies' merger was registered.
Once the New Year holiday and a major snowstorm had passed, we held our joint press conference in mid-January to share this great news with the public. Below you can find a photo and video from that press conference.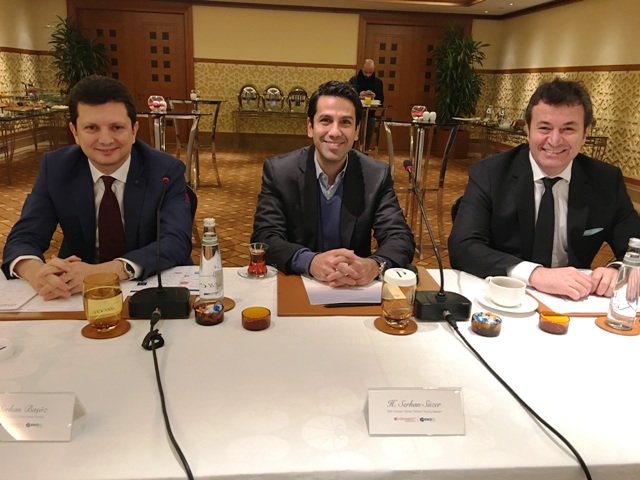 'First's and 'Most's

I'd like to share some of the interesting 'first's and 'most's this merger includes.
A new name and logo
After EkoCC and Vodasoft CCS merged, our new name became EkoCCS. The new logo for the new company incorporates both firms' symbols and names. An animated film on the new logo prepared by our art director, Oğuzhan Bey, can be found below: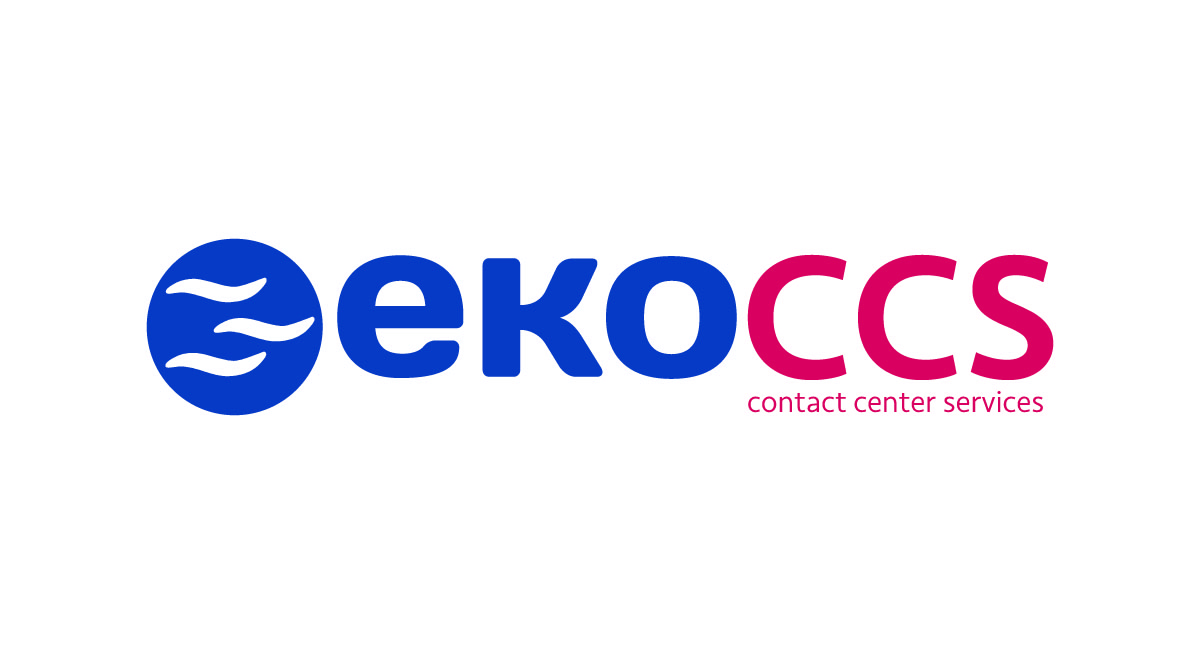 The biggest location
Our new premises in Çekmeköy, construction of which will soon finish, has an enclosed space of 8,500 m², making it the largest contact center in Istanbul under a single roof.
A record number of brands
Including the additional business that came after the merger, EkoCCS already serves more brands, at 110, than any other external contact center.
100% Local
Unlike our competitors, our merger relies entirely on local capital.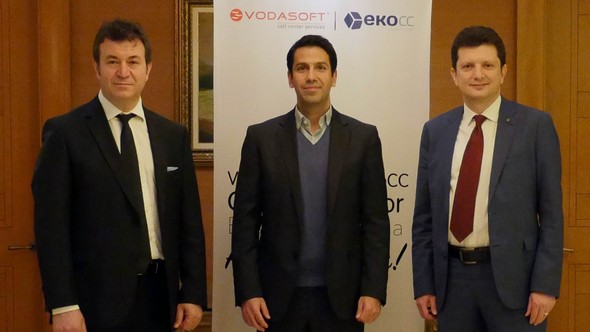 Social responsibility
As of 2018, we plan to serve the Arab world as well. In keeping with our commitment to social responsibility, we will provide employment to Syrians and Arabic speakers in our country who have acquired Turkish citizenship. The services we provide to Middle Eastern countries such as Qatar, Abu Dhabi, Dubai, Kuwait and Saudi Arabia, will be exports. This will contribute to our national economy both in term of job creation and GNP.
First merger
This is also the first merger in Turkey's contact center sector. Had this been an acquisition, the sector would have been more anxious about the new company (even if the owner was foreign). This applies to the customers of both companies in the merger. What we did was to combine our strengths in such a way that we created a more effective company with which to serve our customers, none of whom were concerned by the merger. Many members of the press are accustomed only to acquisitions, so they had difficulty understanding our merger and kept posing questions along the lines of: "Who acquired whom? Which one owns the company, EkoCC or Vodasoft?" We explained that we had merged, that one company had not acquired the other one, that we had negotiated percentages based on the size of each stakeholder. I can tell you this much: after the merger, Zekeriya Bey has a stake equal to mine. As the two biggest stakeholders, anything we agree upon is the final decision. Naturally, we each both seek unanimous agreement from our stakeholders and board members. I can describe our partnership as compatible and coordinated.
15% growth in the first 3 months
We have had nothing but favorable feedback ever since the merger. After we signed the first agreement at the beginning of October we slowly began to inform our customers and the market. Everyone responded favorably. Since then, the pace of new business has accelerated and over the past three months, even before we have made an official announcement, we have posted growth of 15%. As I always say to the press, this merger can be summarized as "2 x 2 = 5". It's the very definition of synergy. The momentum has brought about faster growth.

At a meeting at a bank the other day I asked a question to get a feel for the state of my own business and the market. "This past year has been a challenging one for the markets, hasn't it?" I asked. After everyone said, "yes," I remarked that the past year was the best in the last five years for my own companies. Then I asked, "Do you expect the coming year to be even more challenging still?" Everyone gathered around the table nodded. To my banker friends I said, "Despite everything, I expect this year to be better than last year for our companies, that is, for Eko Group."

We have begun reaping the fruit of the past 5 years, which really has been a difficult period, even as the economic crisis becomes worse. That's because we have remained true to our vision no matter what, worked hard, made the right decisions at the right time, and quickly implemented them…

Our contact center currently employs 540 people, including 450 customer representatives, our administrative staff and our management. We expect to have 700 employees by the end of the year.


I would like to thank our customer representatives, team leaders and all our other administrators who have been with us since our founding. Keep up the good work!

EkoCCS will continue to make great strides from now on as it contributes both to the Turkish economy and to its own ecosystem. Good luck and congratulations…

Last of all, let me present some press clippings about us: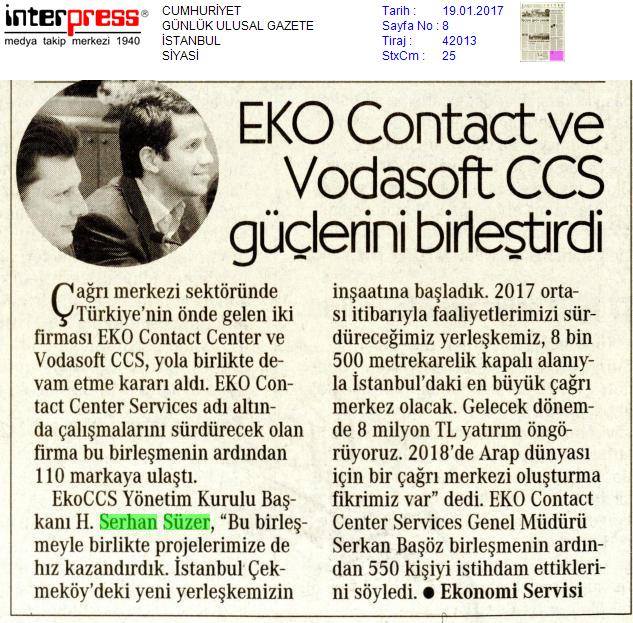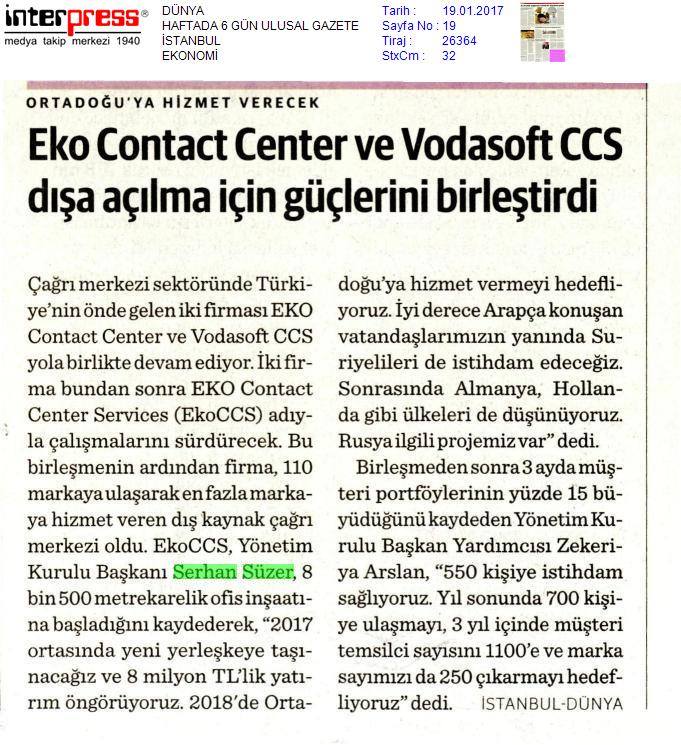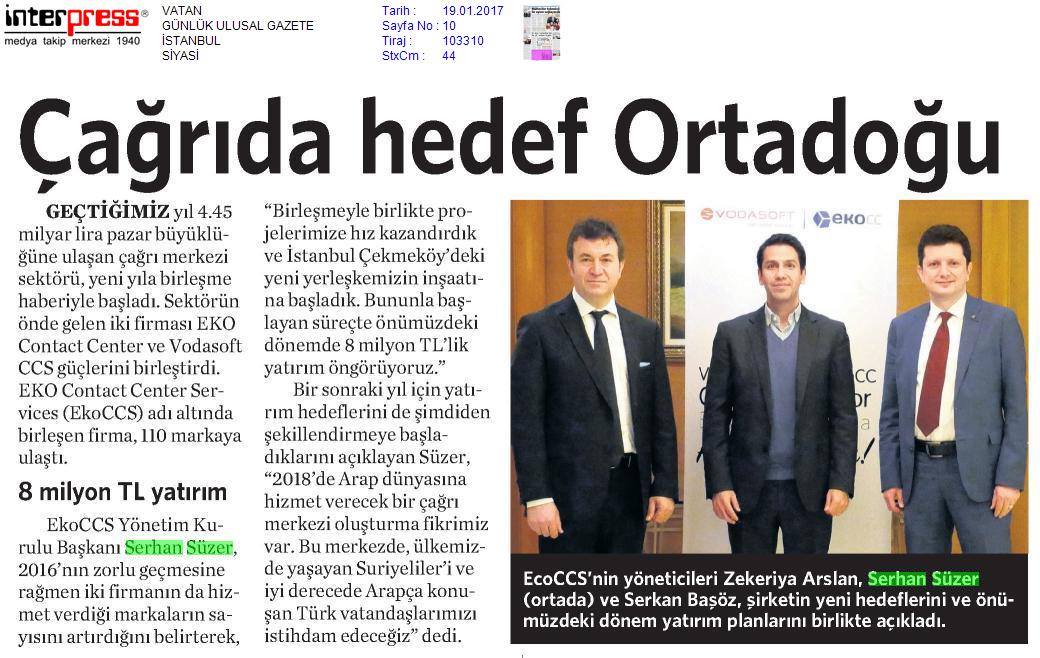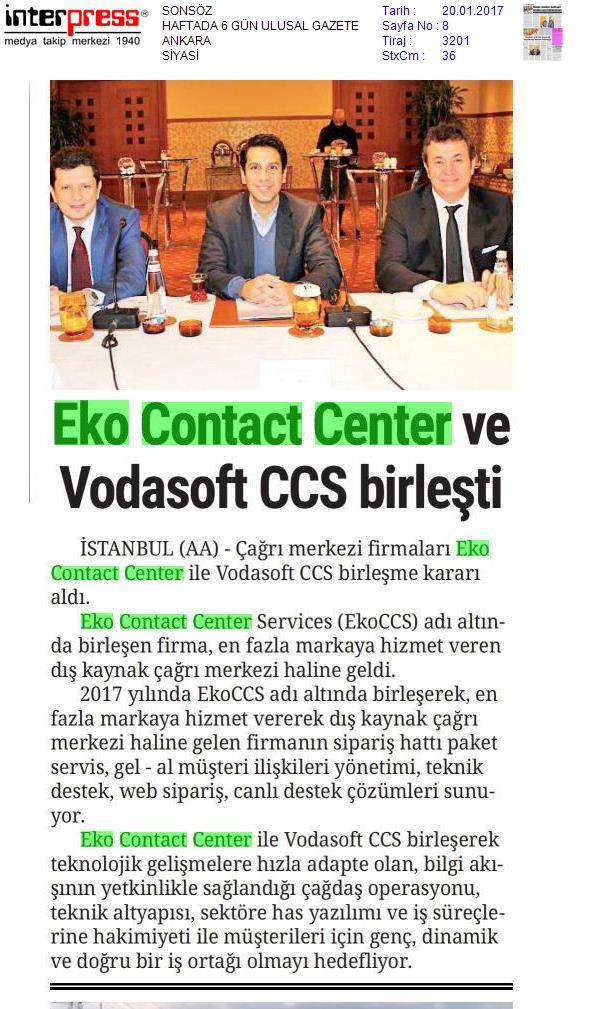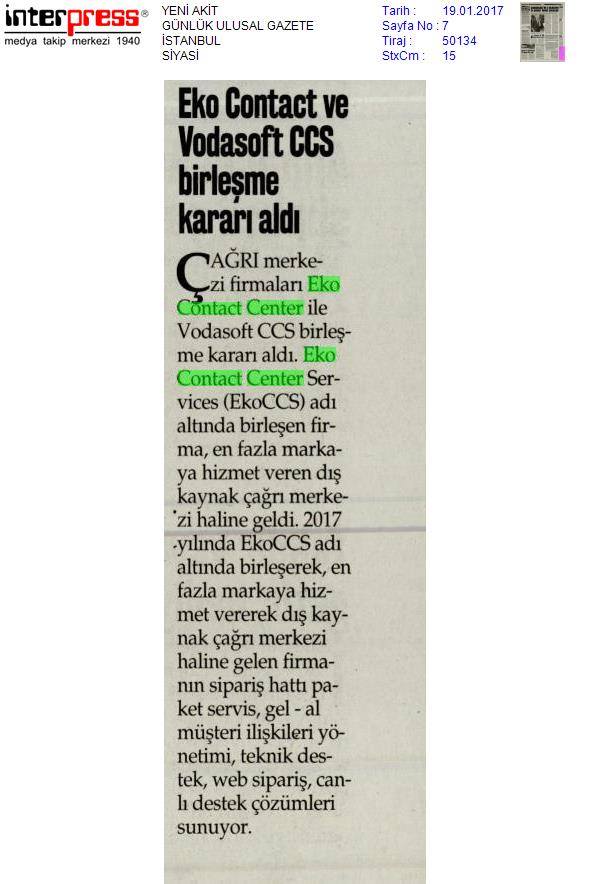 Tag: ekonomi